The Times Has Sacked An Award-Winning Reporter For Running A Fake Review Scam
Peter Yeung told BuzzFeed News that publishing fake reviews to get free perks was "the biggest mistake of my life".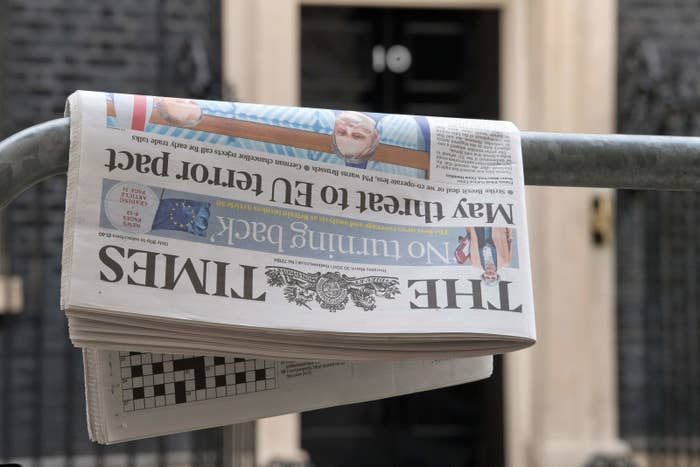 The Times has sacked an award-winning reporter for publishing concert and travel reviews on its website in return for free tickets and travel without the knowledge of his bosses, BuzzFeed News has learned.
According to five sources, Peter Yeung was sacked last month after a Times editor on the travel desk discovered that he'd been posting reviews behind the backs of editors and sending them to companies.
Yeung – who worked as a data reporter for the Times for nearly two years and wrote at least two front-page stories for the newspaper – was immediately sacked for "gross misconduct" and escorted from the newsroom when his system for posting the reviews was uncovered by Times management.
In 2017, Yeung won the Hugh Cudlipp Student Award and made the long-list for the Orwell Prize for Exposing Britain's Social Evils.

In multiple conversations with BuzzFeed News, Yeung admitted to posting reviews on the Times' website in exchange for the free perks, but also denied some of the specific allegations with regard to how he carried out the scam.
"This is the worst mistake of my life and I'm truly sorry for risking the reputation of the paper," Yeung said in a statement. "It was an idiotic decision and I've rightly lost my job and can't afford to pay rent."
"I don't know what I'm going to do with my life. But it's what I deserve."

Responding to a list of questions about how the newspaper had responded to Yeung's behaviour, a Times spokesperson said, "The Times does not comment on personal matters".
Two sources told BuzzFeed News that Yeung had used a feature of the Times' content management system for posting articles on the website. It is believed that the reporter uploaded the reviews to the internal system and then exploited a feature that allowed only those who were sent the URL to see the article.
It meant the public couldn't see the Times reviews unless they were sent the specific link. Sources said Yeung then used those fake Times reviews to convince companies to give him perks.
"Basically he'd get the [complimentary pass] from a venue or hotel, and upload the story to the Times website himself," one source said. "He filed stuff across arts/culture/travel."
In at least one instance, two sources claimed that Times management found that Yeung had swapped out a critic's byline for his own, seemingly in an effort to convince another company that he was a Times critic to get free access to an event.
"Peter made a big show of uncovering corruption and wrongdoing so it was fairly staggering," said another Times insider.

Yeung, who wrote one story for BuzzFeed News as a freelancer before joining the Times, denied using the CMS feature to hide the stories from public viewing and also said he didn't switch out another colleague's byline for his own.
In the days following Yeung's sacking, sources claimed Times management contacted the subjects of his reviews and paid back the cost of the freebies given to the reporter.
It's understood that editors have also been considering a full internal investigation into the reporter's past work, which includes combing through his emails and hard drive.
News of Yeung's dismissal has swept the Times newsroom in recent weeks, with one source saying people were "slack-jawed and flabbergasted" after discovering how he'd used the CMS system to hide the reviews.

"He was getting freebies around the world for putting articles up on the website without anyone knowing," said one senior Times reporter. "You can probably guess how everyone feels about it.
"Writing fake reviews is a pretty dark mark on the Times and our reputation."
UPDATE
Following publication of this article, Yeung told BuzzFeed News that while he admitted writing travel reviews without the knowledge of his editors, he disputed the allegation about concert reviews.