Rupert Murdoch's Sunday Times has told reporters not to delete any of their records relating to former UK prime minister Gordon Brown and Labour spin doctor Alastair Campbell, suggesting the newspaper is preparing to face legal action relating to new "blagging" allegations.
In an internal email obtained by BuzzFeed News, Sunday Times management sent the instruction to journalists in the wake of damaging new allegations by private investigator John Ford, which emerged last week.
Ford claimed he impersonated political figures in order to access private phone numbers and bank details at the direction of the Sunday Times. News UK, the publisher of the Sunday Times, has "strongly" rejected claims that the newspaper commissioned anyone to act illegally.
But the internal email suggests for the first time that the broadsheet Sunday newspaper could be drawn into the hacking scandal which has dogged Murdoch's media empire for years.
"You will have seen reporting over the past few days regarding John Ford, a private detective who has previously worked for The Sunday Times," read the email. "Please ensure that you preserve all records or material that you may hold, whether in paper or electronic form, connected to John Ford.
"It is essential that such material should not be altered, deleted or destroyed."
"In addition, any material you hold in relation to Gordon Brown or Alastair Campbell should also be preserved."
News UK declined to comment for this story.

BuzzFeed News spoke to John Ford over the phone on Monday. After being read out the Sunday Times directive to staff, Ford said the company should have "thousands of emails" on servers relating to his work from 1995 to 2010.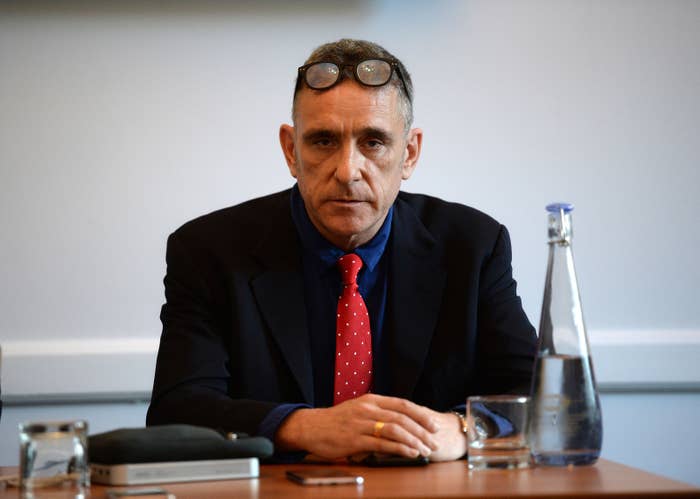 "There should be masses of emails," Ford said. "I've sent them thousands of emails, direct to the 'Sunday-Times.co.uk' addresses so I'd be all over their databases."
"Sometimes I'd get emails from idiot journalists who'd ask 'Can you blag this?' or 'Can you blag that?' and I'd have to tell them to do the real business over the phone."

"If something was very sensitive it was sent by fax or by Royal Mail special delivery."
He described a "typica|" piece of work for the Sunday newspaper: "Say it was Friday night and they were getting tense...and it might be an aristocrat or politician and you need to know the telephone of their home, or their country cottage.
"My job would be to jump on to recover the telephone number. The most simple one would be to get onto British Gas because they'd have the number as a security question.

"If it was Lord blah blah, I'd Google the first configuration of numbers and you'd be missing three digits, they'd then just say it for you."
According to Ford "the bigger story" with regards to the prospect of legal action against the Sunday Times could be "what have they already destroyed", pointing to the company's past record of destroying emails.
In 2013, a court was told Murdoch executive Rebekah Brooks had personally ordered the deletion of millions of company emails, with many permanently lost. Brooks is now chief executive of News UK — the publisher of the Sunday Times.
In the wake of Ford's allegations — first published last week by Byline, a crowd-funded website — Gordon Brown called for a police investigation.
Reached on Monday, a spokesperson for Brown declined to comment about whether the former prime minister had commenced his own legal action, but re-stated the claims the newspaper had violated criminal law dozens of times against him.
"According to the new evidence from John Ford — which corresponds with other information I have — there were at least 25, and up to 40, violations of the criminal law by the Murdoch group including impersonation, reverse engineering my phone and blagging, for no reason other than to discredit someone they wanted to undermine for their own reasons," Brown statement read.
"I am now calling for police to investigate this criminal wrongdoing."
Alastair Campbell could not be reached for comment. Meanwhile, former Labour deputy prime minister John Prescott told BBC's Today program last week that he was seeking legal advice off the back of Ford's claims.
"Here's a man who's had a conviction, who has said he's committed criminal acts paid for by the Sunday Times on what they called fishing expeditions," Prescott said. "I am taking legal advice.
"Are these stories true, did the Sunday Times act in the way that he now said he did?"