In case you forgot... this is Mark Latham.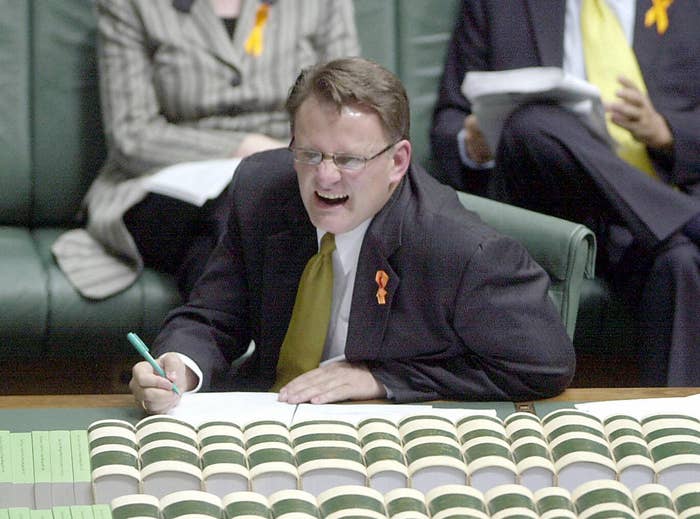 He's the former Australian Labor party leader once considered the great working man's hope of bringing down the Howard government.
You might remember when he aggressively shook the hand of the then PM in 2004.
On Monday, the current PM's good friend – and most senior transgender military officer in the world – Cate McGregor complained about the Twitter account @RealMarkLatham who had been calling her a "He/She" online.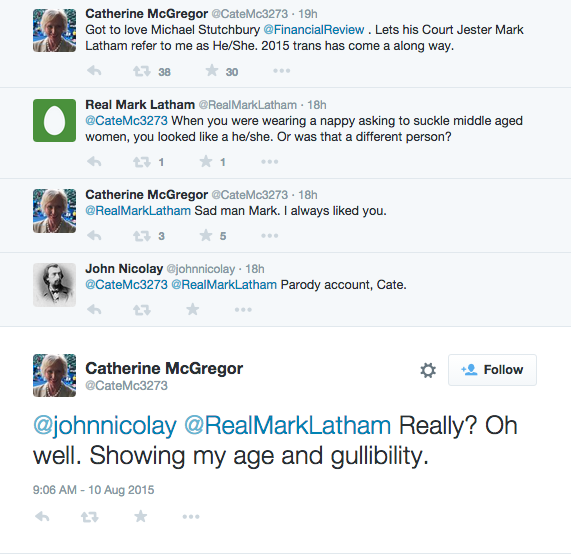 As you can see from the above exchange McGregor complained about @RealMarkLatham and was then told by someone the account was a parody.
Except one thing... it's probably not a parody.
Let's take you through some of the evidence BuzzFeed News suggests proves that Latham is indeed in control of the Twitter account.
Point 1: Latham's political and media friends interact with the account.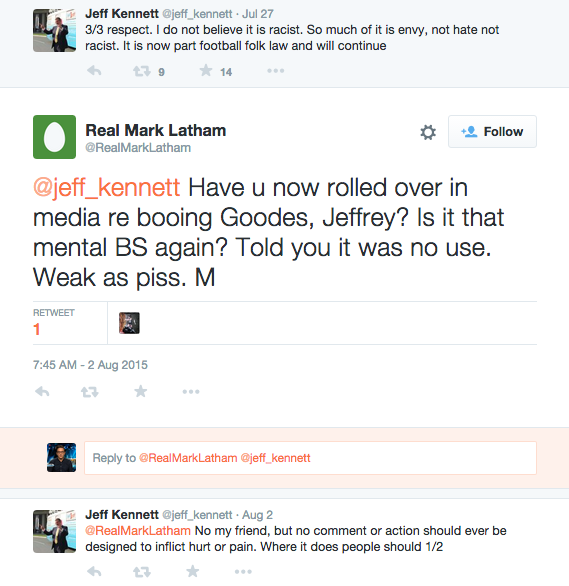 Former Victorian premier Jeff Kennett and Sky News broadcaster Paul Murray have both interacted with @RealMarkLatham as if it is indeed, the real Mark Latham.
Point 2: His employer has linked to his work including the handle.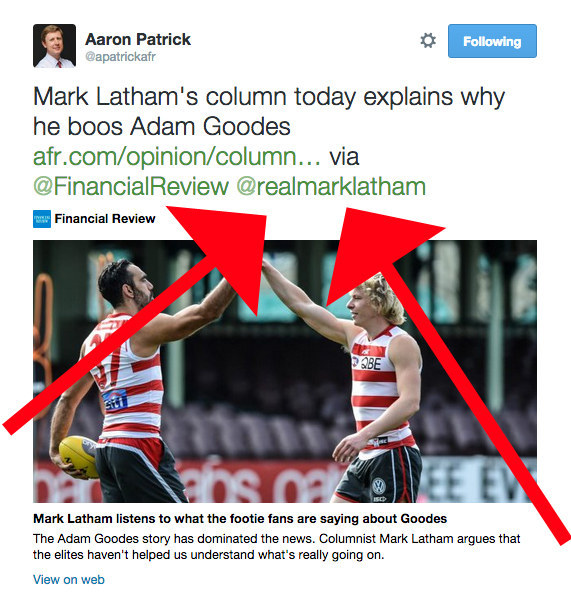 The Australian Financial Review's deputy editor Aaron Patrick has tweeted Latham's column using the random "egg" handle.
BuzzFeed News asked Patrick whether Latham was in control of the account, he replied, "I haven't asked him but based on who he follows it's possible."
mmmmm... anyway next evidence.
This one is the kicker.
Point 3: This tweet which makes several jokes about a trip to see the movie "Birdman" in January this year.
As tweeter Stephen Murray pointed out, on March 7, Latham's column about mental illness was also helpfully about the movie "Birdman".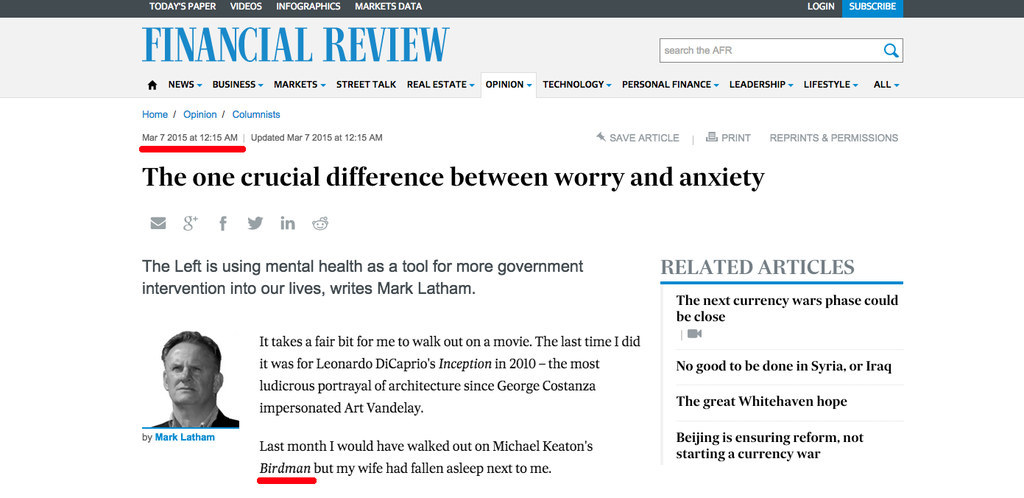 The columnist even name-checks the same cinema.

And delivered the exact same shit joke.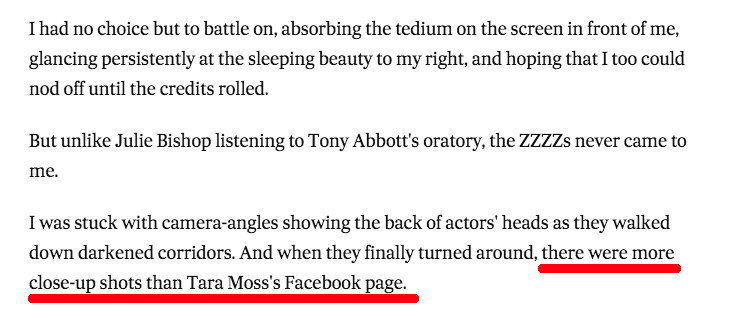 Point 4: The exact same thing happened two weeks ago. @RealMarkLatham tweeted the same anecdote about the Adam Goodes controversy to several high-profile Australian writers.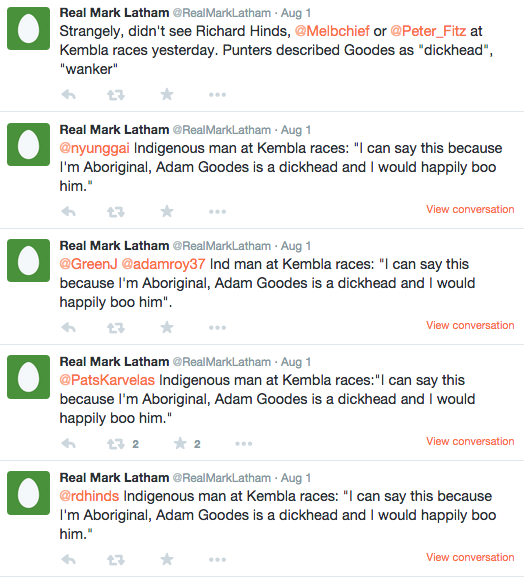 Seven days later, Latham wrote about the Adam Goodes affair in his AFR column.

And over and over... the content in @RealMarkLatham's tweets were included.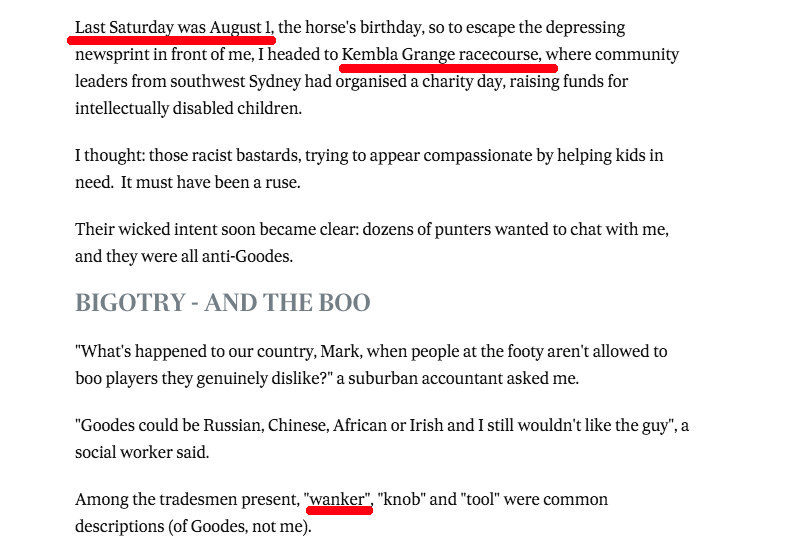 Even a full quote.

So think about it... either @RealMarkLatham is him... or the real Mark Latham is stealing anecdotes, quotes and sexist jokes from a parody account in his name. Which would be super bizarre.
BuzzFeed News understands the Australian Financial Review has been copping a huge number of complaints over his harassment of Australian of the Year Rosie Batty. Latham has targeted Batty in his columns and of course, there's these.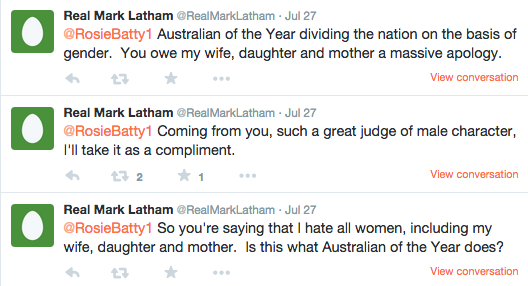 The account also constantly harasses prominent Australian women in the media. Like Mia Freedman and Annabel Crabb.
ABC 7:30 host Leigh Sales...
Writer Tara Moss...
Journalist Anne Summers...
Channel 9 journalist Lisa Wilkinson and writer Lisa Pryor...
Latham's personal vendetta against Pryor has resulted in the writer bringing a defamation suit against the former Labor leader, which is expected to re-appear in court early next year.
BuzzFeed News has emailed, called and tweeted Mark Latham.
In the meantime, Latham enjoys notoriety for his weekly columns published in Fairfax's premium newspaper and anonymity on Twitter. Maybe not anymore.