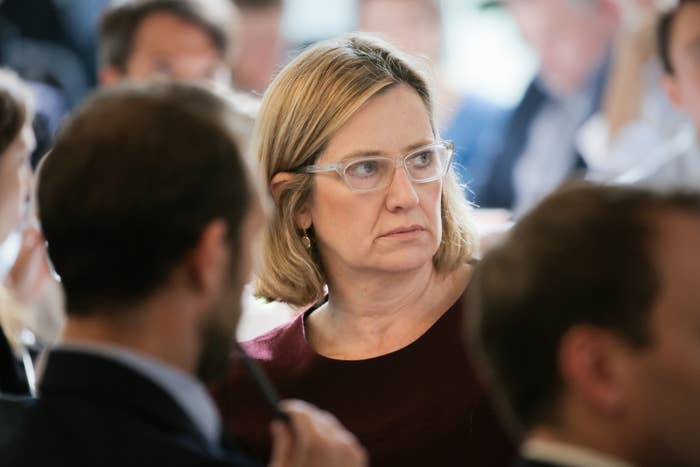 The UK Home Office will today unveil its newest tool to fight extremism online – a £600,000 piece of artificial intelligence code that detects ISIS videos – but even the London developers admit it won't be deployed across Facebook, Twitter, or Google.
During a trip to Silicon Valley on Tuesday, home secretary Amber Rudd will say the government is taking the "lead worldwide" with its new partnership with London startup ASI Data Science to develop the artificial intelligence algorithm.
"We know that automatic technology like this can heavily disrupt the terrorists' actions, as well as prevent people from ever being exposed to these horrific images," Rudd said in a statement announcing the new programme. "This government has been taking the lead worldwide in making sure that vile terrorist content is stamped out."
The Home Office had approached ASI to develop the code amid global calls for big US-based tech companies to do more to remove ISIS videos from the internet.
"We've created an artificial intelligence algorithm, which is highfalutin words for a sophisticated computer program to detect extremist content online," Dr Marc Warner from ASI told BuzzFeed News. "It works by spotting subtle patterns in the extremist videos that distinguish them from normal content, from the rest of the internet."
Rudd's department provided the artificial intelligence engineers with examples of ISIS propaganda material in order to enable them to develop their technology.

Warner said the code was designed to detect "well-produced, highly emotive" extremist videos, and not "somebody ranting into a phone camera in their basement".

But when pushed about who stands to benefit from the Home Office algorithm, everyone involved in the programme was left to concede the world's most popular video platforms had their own AI teams developing extremist-detecting tools.
"Not every company has access to the sort of AI talent of a Google or a Facebook or we have at ASI," Warner said. "We are going to make this methodology to responsible organisations that can make use of this."
The Home Office said the programme cost £600,000 to develop and it would now be looking to find small platforms that wanted to use the technology. However, it could not offer any firm examples to BuzzFeed News because the algorithm is still in development and it is only making it public for the first time.

A spokesperson said the technology was aimed not at major tech companies but at "smaller platforms who don't have the resource to do this by themselves".
The Home Office highlighted the likes of high-end video site Vimeo, publishing site Telegra.ph, and file-sharing site pCloud as examples of smaller platforms that could potentially be interested – but the spokesperson confirmed those particular services had not been approached about the new technology.