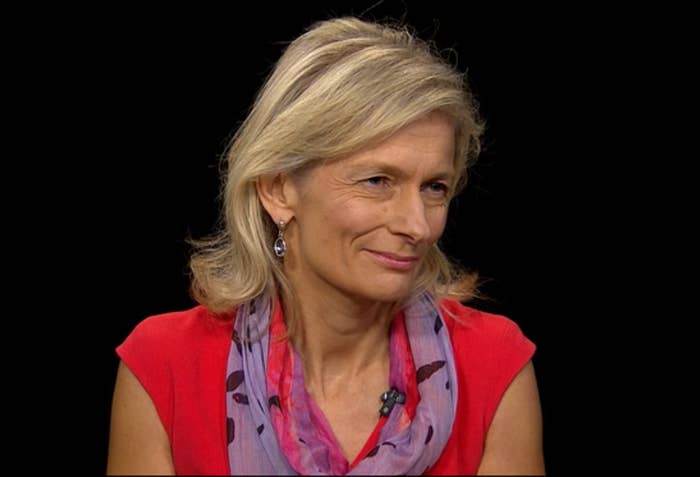 The Economist's editor-in-chief, Zanny Minton Beddoes, has responded to a Medium post calling out the British magazine's lack of racial diversity, admitting that less than 1% of its staff is black and that "black people are under-represented" at the publication.
Earlier this month, activist Ahmed Olayinka Sule wrote a "Valentine's Day message" to the Economist on Medium, where he called out the racial makeup of the publication's journalists and in-house economists using its online staff directory.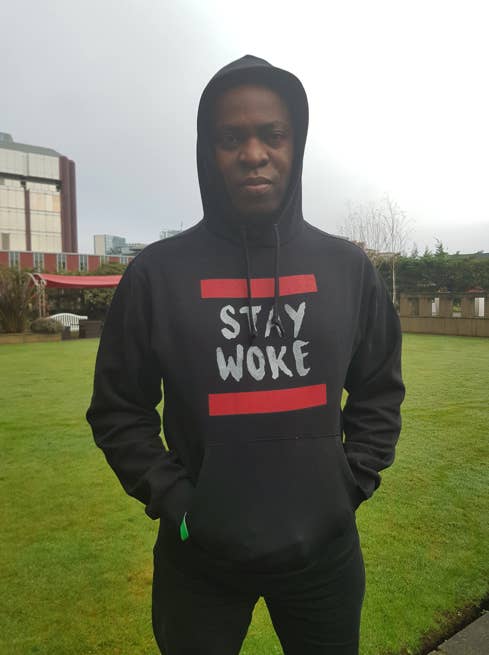 "How will a black graduate feel when he checks the online directory only to discover that people who look like him are not represented in the organisation? Will he feel that it is a 'black-free zone'? Will she look back at her life and wonder whether she wasted three years in school studying a course, which is not open to people with her melanin? Will she feel a sense of disappointment when she learns that her white and Asian colleagues have got their offer letters even though they all have equal academic and professional abilities? Representation matters."

Sule went on to conclude: "For the sake of clarity, I am not calling or suggesting that anyone within the Economist Group is racist. I am only questioning the structural framework, which has led to the exclusion of black economists."

According to a source at the Economist, the blog sparked two reactions at the magazine. First, the publication updated its staff diversity figures on the website up to August 2018.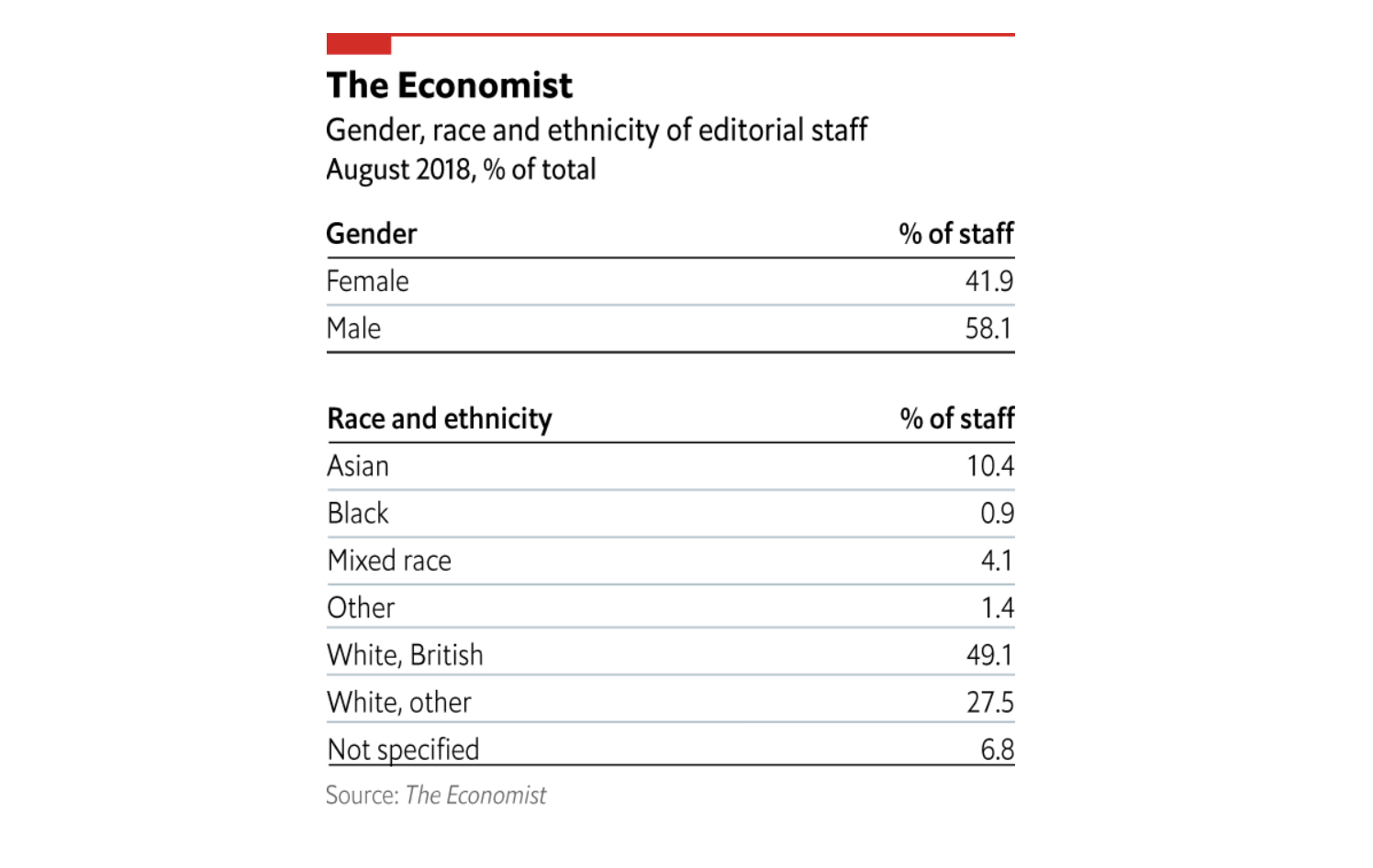 According to the figures, the Economist has 42% female staff to 58% male, while nearly 50% of the staff are "White, British" and 27.5% are "White, other".
It also shows less than 1% of the publication's staff is black.
Second, Minton Beddoes, the magazine's editor-in-chief, replied directly to Sule and circulated the email to the magazine's staff.
In the email obtained by BuzzFeed News, Minton Beddoes thanked Sule for the blog post and claimed the Economist needs "to hire from the deepest talent pool possible". She also admitted the London-based publication had a problem with underrepresentation of black staff.
"Our 230 editorial staff include people of 22 different nationalities and have a fairly even gender balance," Monton Beddoes wrote. "But as you will see from the numbers, black people are under-represented at The Economist compared with whites and Asians.
"That is something we are conscious of and that we keep in mind when hiring. Like you, we recognise that we could do better and are striving to do so."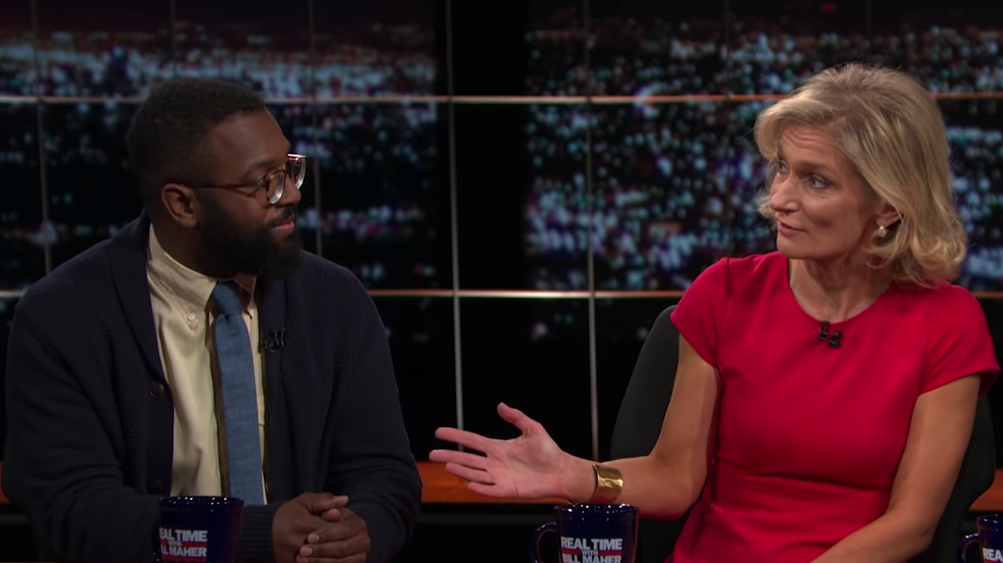 The Economist declined to comment when approached with questions from BuzzFeed News.
Racial and religious diversity in the UK media has become a pressing issue in recent years, with one "damning" 2016 study from the City University of London showing 94% of British newsrooms are white. The same study showed 0.4% of UK journalists are Muslim, while 0.2% are black.
It's led to focused training schemes for ethnic minorities at the BBC, where the broadcaster has increased efforts to boost the numbers of BAME journalists. The latest figures show 14.8% of BBC staff come from a BAME background.
Sule told BuzzFeed News that he was left unsatisfied with Minton Beddoes' response, asking for her to explain what the magazine was doing about addressing the issue.
"Zanny has not addressed the issues raised in my letter," he said. "What is the point of having statistics which highlight the under-representation of blacks if nothing has been done about it?

"Concrete actions to address the racial imbalance are long overdue."