On Tuesday the National Union of Journalists (NUJ) sent out a strongly worded statement condemning the apparent strip-search of a photographer outside the prime minister's office.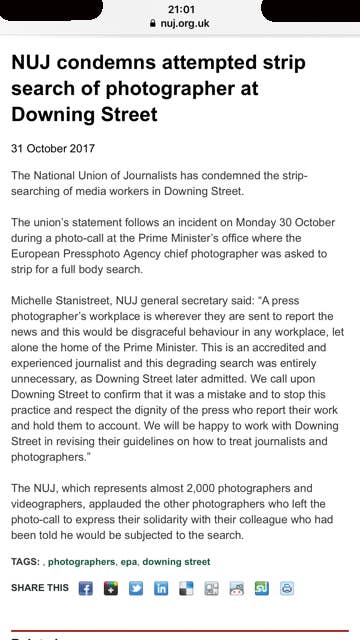 "The National Union of Journalists has condemned the strip searching of media workers at Downing Street," the statement read.
The NUJ claimed there was an incident during a photo call at Downing Street where the chief photographer of the European Pressphoto Agency was strip-searched.
"This is an accredited and experienced journalist and this degrading search was entirely unnecessary, as Downing Street later admitted," said the NUJ's Michelle Stannistreet.
"We call upon Downing Street to confirm that it was a mistake and to stop this practice and respect the dignity of the press who report their work and hold them to account.
"We will be happy to work with Downing Street in revising their guidelines on how to treat journalists and photographers."
The only problem was that it didn't happen.
Tom Nicholson is a press photographer who was assigned to cover the events at Downing Street on Monday, October 30.
Nicholson told BuzzFeed News Theresa May received the Welsh first minister in the morning, then in the afternoon photographers snapped her donating to Remembrance Day veterans.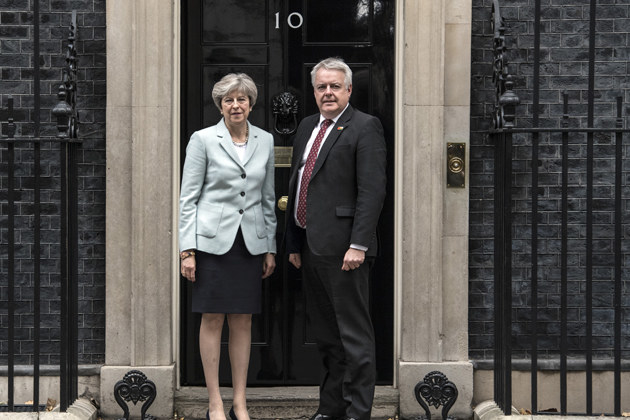 Nicholson said that, contrary to the NUJ's version of events, no one was told to strip by security guards.

"Yeah, no one was strip-searched," Nicholson said. "On a personal level, the security at Downing Street are actually nice, friendly blokes."
He said Downing Street photographers were subject to "airport-like" screening ahead of being admitted to areas to take photos of the prime minister.
On Tuesday, the NUJ realised it had got it wrong, releasing a correction that said it received the tip about the strip-search from a "trusted source" but no one at the journalists' union made the "necessary checks".
"Yesterday we published a statement condemning a decision to strip-search media workers at the Prime Minister's Office in Downing Street," it said.

"We now accept that this was incorrect. The information was provided from a trusted source. However, neither the source nor NUJ staff made the necessary checks before publication.
"The event in question did not take place in this country. We apologise unreservedly to all concerned."

In fact, the incident took place in Israel.

According to the Times of Israel, a European Pressphoto Agency photographer was asked to take off his pants for inspection by security at a press conference involving the Israeli and Australian prime ministers.
BuzzFeed News also called Downing Street on Wednesday afternoon and confirmed no press photographers have been asked to take off their pants.