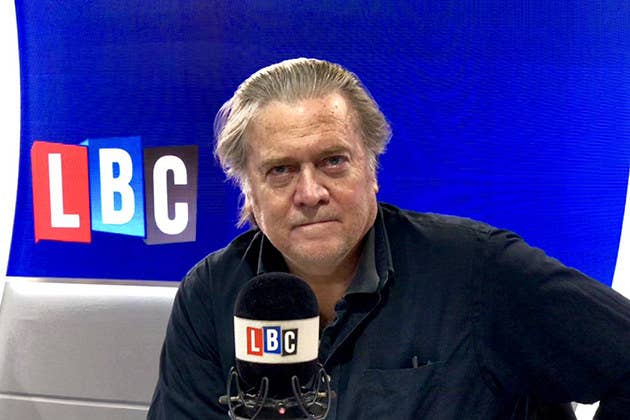 Former Trump strategist Steve Bannon unleashed a tirade against a political journalist who challenged him over his support of jailed activist Tommy Robinson, according to multiple people present.
Bannon was being interviewed by former UKIP leader Nigel Farage during his Sunday program on LBC radio in the UK, with the two self-appointed Trump surrogates joined by the station's political editor, Theo Usherwood, who contributed questions.
But a hot-tempered argument about Bannon's support for Tommy Robinson led to the former White House strategist attacking Usherwood when the program ended and the microphones were off.
According to a tweet from Usherwood, Bannon said: "Fuck you. Don't you fucking say you're calling me out. You fucking liberal elite. Tommy Robinson is the backbone of this country."
Multiple people present, including those associated with Bannon and Farage, did not dispute the journalist's version of events.
Usherwood had been questioning Bannon over his support for ex-English Defence League leader Tommy Robinson – whose real name is Stephen Yaxley-Lennon – who pleaded guilty to contempt of court and was subsequently jailed in May after broadcasting live onto his Facebook page from outside a major sexual abuse trial.
Members of the far right and pro-Trump activists have been campaigning for Robinson to be released, claiming he's a victim of anti-free speech laws. Yesterday, Reuters reported that Trump's ambassador for international religious freedom had directly lobbied the British ambassador in Washington over Robinson's case.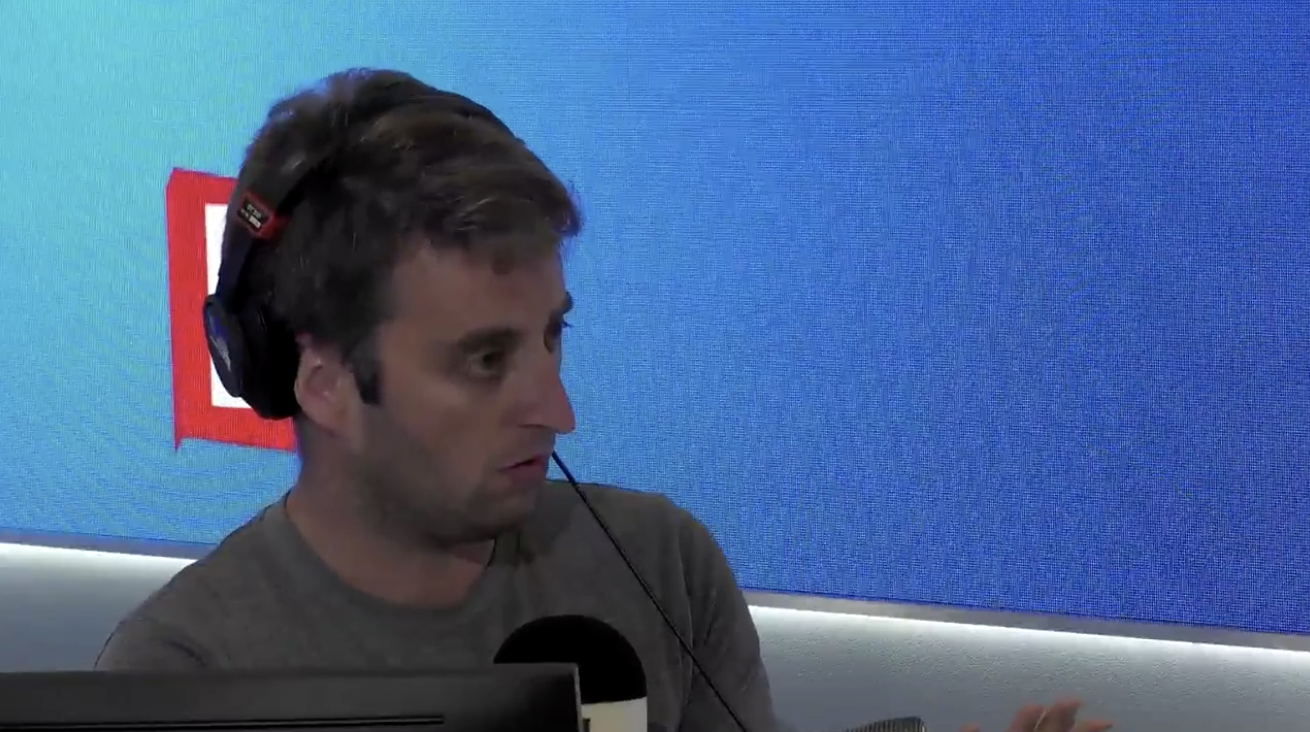 On Sunday, Usherwood asked why Bannon was supporting Robinson, while also arguing that Donald Trump's crackdown on illegal immigrants – including the separation of families – was justified because they'd broken the law.
"I don't think Tommy's a bad guy; I think he's a solid guy and he's got to be released from prison," Bannon said.
Usherwood replied: "But he broke the law."
Bannon twice described the law as "highly technical," going on to blame the judge in the case: "According to the interpretation of that judge a lot of people would say that law is way too restrictive. It's just free speech."

Former Breitbart London editor-in-chief Raheem Kassam, who was also present for the interview, launched into an argument with the journalist, claiming the off-mic exchange was off the record.
LBC has been contacted for comment.
Bannon's appearance alongside Farage on LBC – owned by the UK's largest commercial radio group, Global Radio – caps off several weeks of saturation for Bannon in the British media.
Despite exiting both the Trump administration and his website Breitbart over the last year, Bannon has been profiled or interviewed by the Times, ITV, LBC, the Daily Telegraph, and BBC in recent weeks.