Resources Minister Resigns From Cabinet After Doubts Over Possible Italian Citizenship
The shocking citizenship drama in Australian politics has claimed its next victim.
The federal resources minister Matt Canavan has resigned from Cabinet after doubts were raised over him potentially holding dual Italian citizenship status.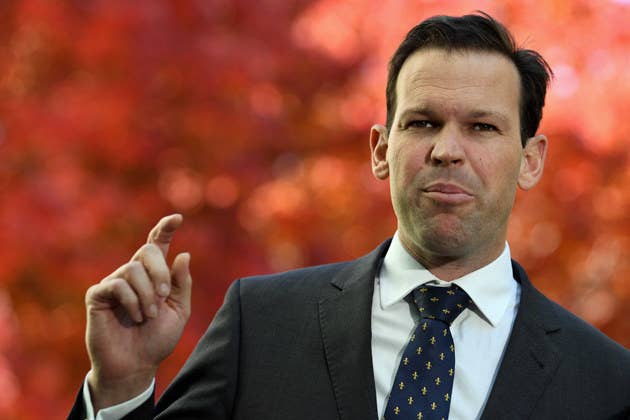 At a shock press conference on Tuesday night, standing alongside attorney-general George Brandis, the Queensland Liberal National senator said he'd be standing down from Cabinet until the matter was sorted out.
"On the basis of the advice the government has obtained, and that George outlined, it is not my intention to resign from the Senate," Canavan said. "However, given the uncertainty around this matter, I will stand aside until the matter is finally resolved, and resign as a minister for resources and Northern Australia."
Canavan told the press conference his mother had applied for his Italian citizenship in 2006, when Canavan was 25.
"While I knew that my mother had become an Italian citizen, I had no knowledge that I, myself, had become an Italian citizen – nor had I requested to become an Italian citizen," he said.

"Following the reporting of [Greens senators Scott Ludlam and Larissa Waters] last week, my mother raised with me the possibility that I was, in fact, an Italian citizen on Tuesday evening. I have, since then, taken steps to check my citizenship status with the Italian authorities, and that has confirmed that I was registered as an Italian citizen in January 2007."
Brandis signalled to the press conference that the government would contend Canavan should not lose his Senate spot as he had no idea he was a citizen.

"It is the government's preliminary view that, because the registration was obtained without Senator Canavan's knowledge or consent, that he is not in breach of Section 44 of the constitution."
Both Ludlam and Waters said during their resignations that they didn't know they were citizens prior to concerns being raised.
Brandis added that the government would move the matter for determination by the High Court when parliament reconvenes next month.
Canavan is the most high-profile name to be caught in the parliament's citizenship mess after the two Australian Greens senators were forced to resign after discovering they unknowingly held overseas citizenship.

Dual citizens cannot sit in the federal parliament under section 44 of the Australian constitution.
In the wake of the news, one of the senators who resigned, Waters, tweeted personal support for Canavan.
The other – Ludlam – took a more light-hearted approach.