When Matteo Salvini faced the media in the wake of Monday's huge Italian election result, the anti-immigration leader had some special groups to thank.
"Thank God for the internet, thank God for social media, thank God for Facebook," he said.
Local journalists said Salvini — a member of the European Parliament and leader of the far-right Lega party, which now stands to act as a kingmaker in the coming coalition negotiations — had shaken up the election with the now notorious populist strategy of attacking the traditional media and adopting a hyper-personal and hyper-partisan Facebook strategy.

"Facebook was a huge part of his surge in the polls," Il Post's Davide Maria De Luca told BuzzFeed News. "In the last month of the election campaign he launched what was called a 'revolution of common sense', presenting himself like your good neighbour who has all the good ideas."
Many of the most popular news posts and videos on his Facebook page — now liked by more than two million people — played into the strategy most famously used by Donald Trump during the 2016 US presidential election.
"His political Facebook posts were always about immigration," De Luca said. "There was also crime committed by migrants and well, crime in general."
Running on a campaign slogan of "Italians first", Salvini's Lega swept northern parts of Italy in Sunday's election, with fellow populists the Five Star Movement capturing the south.
The fact neither of the populist parties – Five Star or Lega – won an outright majority has left what some are calling a "muddle" or a "hot mess", in which the anti-establishment movements are negotiating with each other and more moderate parties to form government.
According to experts, Salvini's anti-immigration political message worked for one simple reason: Italians absolutely love talking about politics on Facebook.
"In Italy, we are all football coaches when the Azzurri [the national football team] play," Italian blogger and fake news expert David Puente told BuzzFeed News. "With politics it's the same thing, but it's an endless game.
"Through Facebook you can find like-minded people and feel your strongest idea, and you feel free to say what you want and inform other people."
Perhaps because of this, Facebook took out newspaper advertisements to warn the public about fake news and conspiracy theories during the election season. As BuzzFeed News has previously reported, websites which peddled fake news and pro-Kremlin propaganda have been operating in Italy for several years.
Questions were raised about an army of co-ordinated unofficial groups and websites which produced and shared pro-Salvini material. A report had found the official Salvini website shared unique identifiers with other websites producing wild conspiracy theories attacking the establishment candidates.

But Puente said Salvini used Facebook videos, often filmed on an iPhone, to "incite action". Many of his videos were viewed several million times, playing on immigration fears or suggesting the traditional media were trying to censor the party.
"On one he would write, 'In 2 MINUTES I have slaughtered them'," said Puente, describing Salvini's "highly emotional" viral videos.
According to IPSOS' analysis seen by BuzzFeed News, Salvini's most popular Facebook video in the election campaign was a video of him addressing the European Parliament which – the post claimed – was being censored by mainstream TV. It was viewed more than four million times.
One month before election day, the Lega leader also raised eyebrows for running a bizarre competition, which encouraged followers to drive up the engagement on his Facebook page.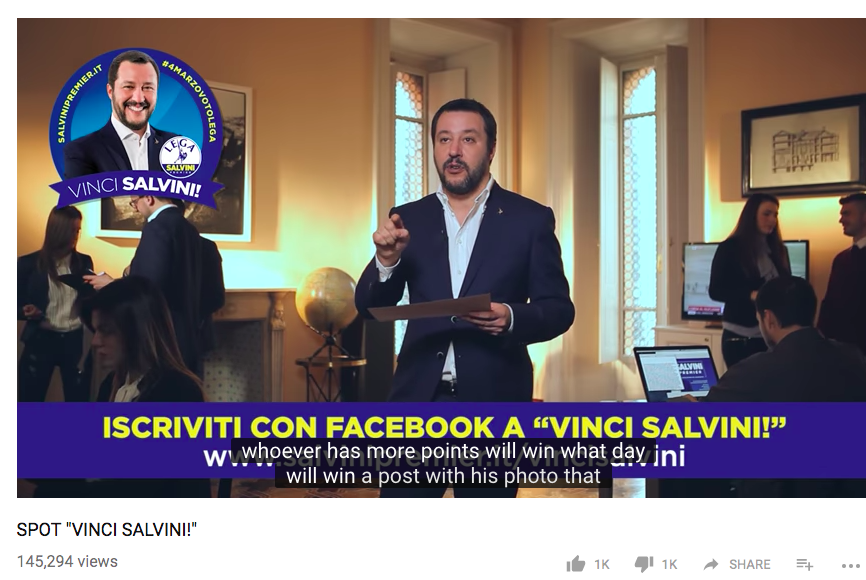 "It was called 'Vinci Salvini', meaning 'Win Salvini'," De Luca said. "You participated by liking and sharing Salvini's Facebook posts, with the ones who shared and liked the most named the daily winner."

Salvini had turned his Facebook page into a game, where thousands of people were focused on inflating the engagement on his page.

"Each winner got a phone call from Salvini, a photo posted on the page and sometimes a one-on-one coffee," De Luca said.
And while Salvini's Facebook-centric content was important, De Luca said it always felt like the anti-immigration leader, like Donald Trump in the US and Nigel Farage in the UK before him, was on TV.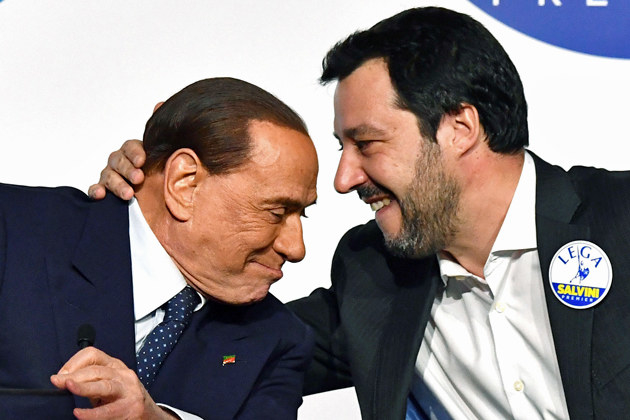 "In Italy they also talk about politics on TV all day and night" he said. "You could see Salvini on the TV every single day."
"There were TV programs that the other leaders didn't want to go on, and they'd say, 'Your program is at midnight, nobody is watching so I won't bother, while Salvini would say 'yes, yes I am coming'."
"He was active on Facebook, but you musn't forget he was also everywhere in the traditional media."