One of the independent board directors charged with deciding whether taxpayers will loan Indian company Adani $900 million to build Australia's largest coal mine has scrubbed her hyper-partisan Facebook page.
In the last few days there has been a call for businesswoman Karla Way-McPhail (right) to recuse herself from the Northern Australia Infrastructure Facility's (NAIF) role in granting Adani the $900 million loan.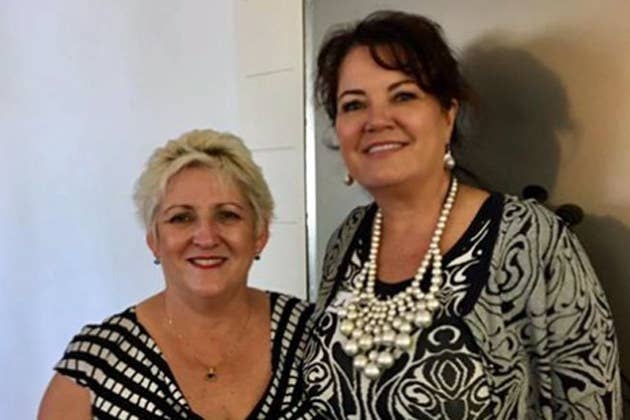 Way-McPhail is one of the independent directors of the Northern Australia Infrastructure Facility which will make recommendations to the federal government on whether it should loan hundreds of millions of dollars for the controversial mine.

Earlier this week ABC News revealed Way-McPhail is chief executive of two businesses which could potentially commercially benefit from the coal mine in the Galilee Basin.
Green group Environmental Justice Australia has called for Way-McPhail to recuse herself from NAIF's recommendations over concerns she has a conflict of interest.
Since the article was published, Way-McPhail has deleted her personal Facebook page, which regularly posted comments in favour of the federal government.
Screenshots obtained by BuzzFeed News show Way-McPhail in the comments of Liberal National MP Michelle Landry.
One comment from the businesswoman's account read: "... it is unbelievable to me that anyone in Coal would be a member of the Union or vote for the ALP !!!... both of them are dictating the industry closure !!!"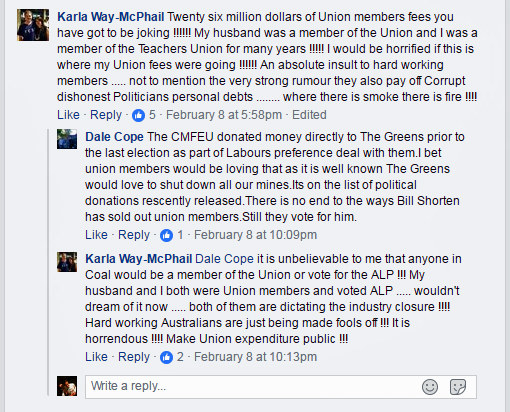 Another, in the comment section of an anti-Labor article about the Adani mine, shows her correcting a commenter about the conditions of the mine's loan.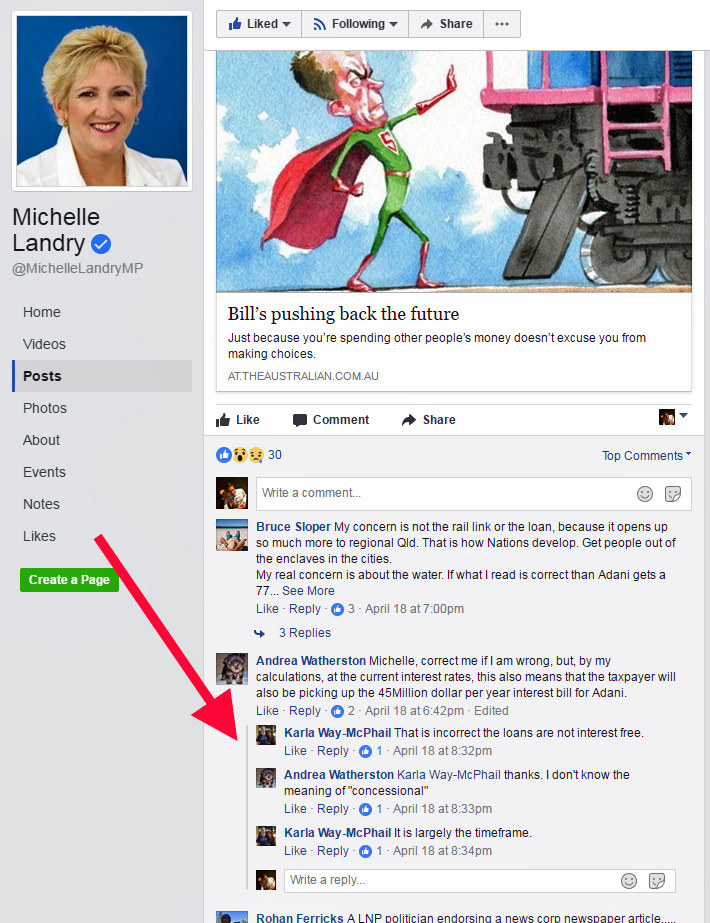 Way-McPhail also posted in the Facebook comments of resource minister Matt Canavan, who'll be the final decision maker on the loan to the Indian company.
"... a vote for the ALP = a vote for the Greens = a vote for the end of the Resource Sector," wrote the independent director. "The silence by our State members on supporting mining is deafening !!!!"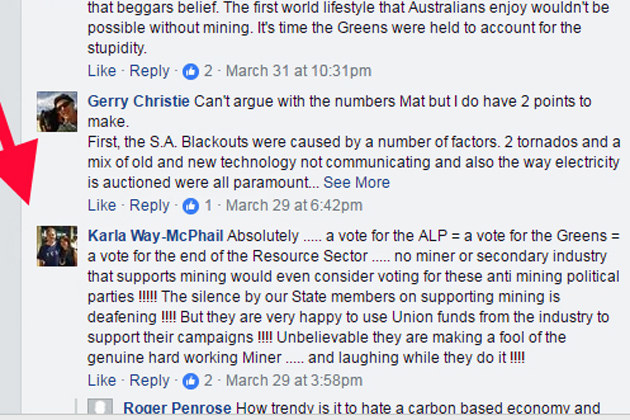 The latter comment was made in March this year, which is almost a year after Way-McPhail was appointed as an independent director to the NAIF board.

BuzzFeed News has offered Way-McPhail multiple opportunities to comment about the Facebook posts.
A spokesperson for NAIF said there have already been potential conflict of interests flagged, but would not disclose if any related to Way-McPhail.
"There have been a number of actual, apparent or potential conflicts of interest declared as per the NAIF Conflict of Interest Policy," the spokesperson said in a statement.

"I am unable to disclose the details which relate to any particular project."

Last year, Canavan said the decision about the Adani loan will need the green light from the NAIF board.

"Any loan has to stack up for the Commonwealth and that is why the Government has appointed an independent, skills-based board to the NAIF," he wrote in The Australian Financial Review. "