A senior WA Liberal figure has labelled the party's policy committee chairman Sherry Sufi an "idiot" for posing in a happy snap with Pauline Hanson days out from the state's election.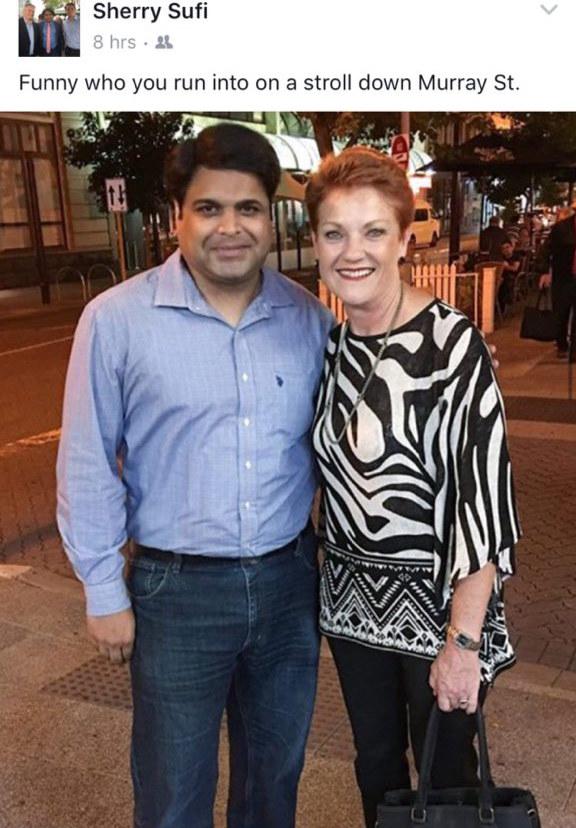 BuzzFeed News was sent the photo, which had been uploaded to Sufi's private Facebook account.
"It doesn't surprise me that this idiot is willing to stand next to Pauline the week of the election," a senior WA Liberal told BuzzFeed News.
"It shows the measure of the [man] that he's sitting around the city on the week of the election and then posts the photo on Facebook like a hero."
Sufi has been a magnet for controversy in recent years.
He once railed against what he described as Indigenous Australia's culture of "victimhood", and was dumped as the 2016 Liberal candidate for Fremantle after a video emerged of him making lewd comments about a former boss.

Sufi insisted to BuzzFeed News he just "ran into" Hanson and "stopped by for a pic". He refuted suggestions he had been angling to join Hanson's One Nation.
"She is a democratically elected representative of half a million Australians who voted for her," Sufi said. "That said, my ultimate commitment is to the Liberal Party."
Despite the WA Liberals doing a preference deal with Hanson, premier Colin Barnett has spent the election trying to differentiate his government from the candidates and policies of the far right populist.
"Is she actually popular?" asked the senior party figure. "If we say that Pauline is popular at 10% primary vote, well at the same time the Greens have the same share of the vote."