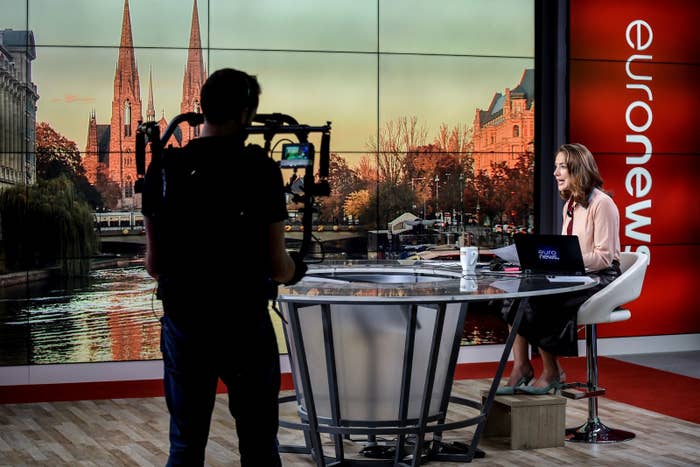 A European news channel has unwittingly been helping to fund a right-wing British website specialising in hyperpartisan content about English anti-Muslim activist Tommy Robinson.
Euronews, a 24-hour channel based in France and part-owned by NBCUniversal, which also owns a stake in BuzzFeed, acted this week to stop third-party aggregation of its content to a far-right website.
The hyperpartisan site, called Politicalite, often focuses on covering Robinson, the former English Defence League leader, and his causes, such as covering gangs of Muslim men accused of sexually assaulting girls.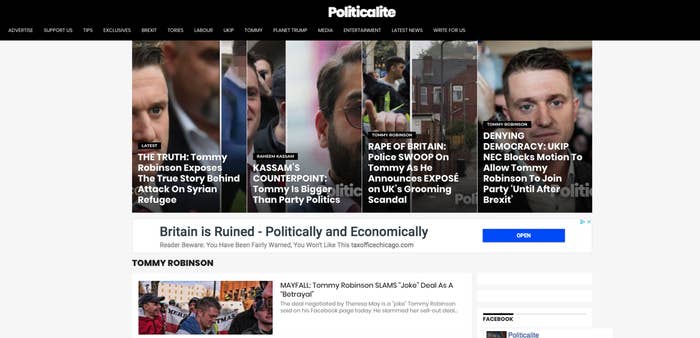 The site, launched last year by a 25-year-old British man, Jordan James, featured Euronews videos on every story, including on its most viral piece about Labour-run authorities allegedly failing to uncover and deal with Muslim grooming gangs. The videos were embedded at the top of each page, with a Politicalite logo imposed over the Euronews original.
Politicalite was running the videos through a complex chain of aggregation deals via an Israel-based, third-party native video advertising company called Primis. According to its website, Primis allows clients to "upload your own videos to our platform, choose which leading content providers you want on your site or simply send a request to our content creation team".
Clients can put their own logo over the automatically served video content and Primis monetises any user clicks through its ad network.
BuzzFeed News asked a Primis spokesperson about the Euronews videos appearing on Policalite. The spokesperson pointed to the company's commercial relationship with a video-aggregating service called VideoElephant. According to VideoElephant's website, it licences Euronews videos.
Euronews said in an emailed statement that it was unaware its videos were being used in this way and acted immediately to remove them.
"We were not aware that Primis aggregated videos from Video Elephant. As soon as we found out, we immediately asked Video Elephant to blacklist Primis from our content and get the videos removed from the Politicalite website, which was done promptly. We are currently speaking to all our video service providers to ensure this does not happen again."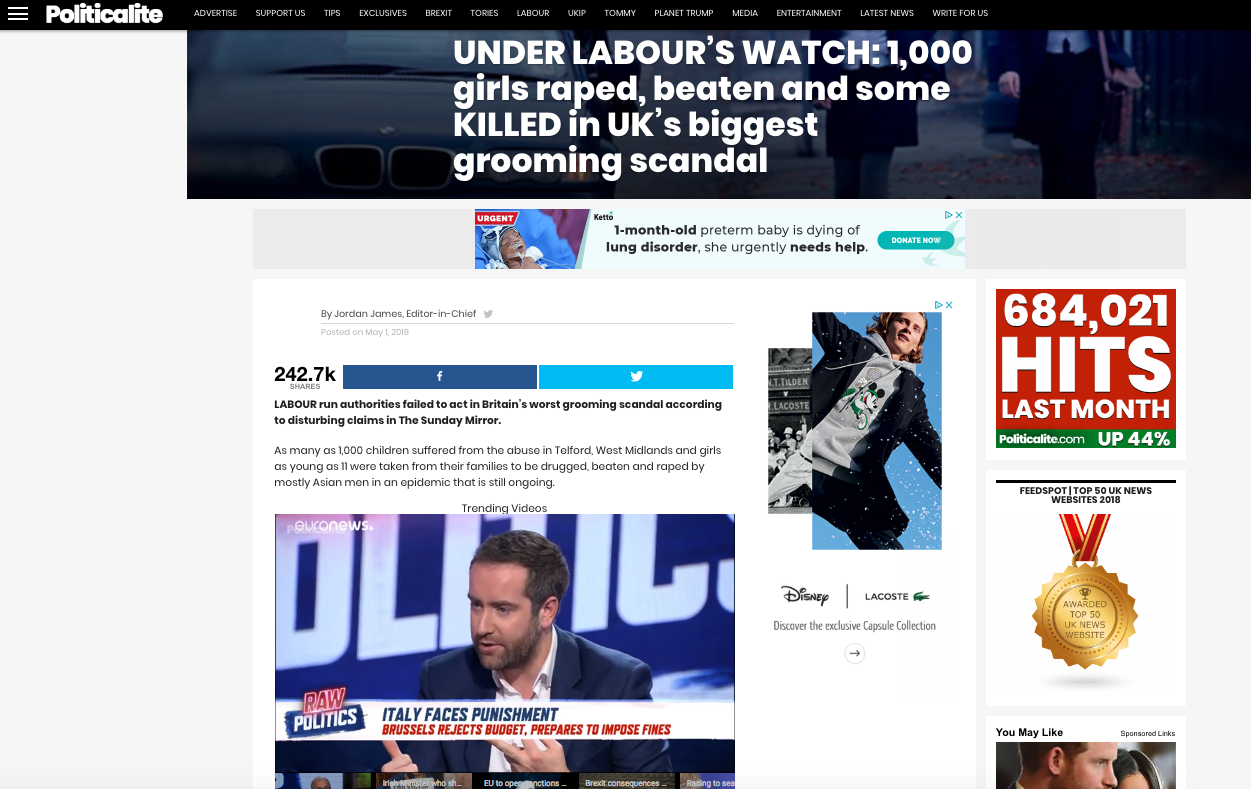 Many of Politicalite's stories have gone viral on Facebook in recent months, being shared by pro-Brexit and far-right pages, including on the former English Defence League's own Facebook page.
It's one of several new hyperpartisan websites which continue to get huge audiences on Facebook, despite the social media platform de-prioritising "news" earlier this year.
Politicalite's most viral story this year was titled: "UNDER LABOUR'S WATCH: 1,000 girls raped, beaten and some KILLED in UK's biggest grooming scandal".
The Politicalite story claims to have been based on a widely-acclaimed Sunday Mirror investigation published many weeks earlier about the scandal of grooming gangs around the UK.
But, other than the first 61 words of the 900-word article, the entire piece was lifted word-for-word from the Sunday Mirror investigation. At the bottom of the story it reads: "Article courtesy of The Sunday Mirror".
According to social media monitoring tool BuzzSumo, the Politicalite article was shared on Facebook more than 120,000 times — which would rank it among one of the most shared UK political stories on Facebook in the past year. (The Sunday Mirror's story was shared 67,000 times on Facebook.)
BuzzFeed News briefly spoke to Jordan James via Twitter direct message earlier this week.
"Politicalite works with a wide range of advertisers and companies via third parties to help fund the running costs of our citizen-based alternative news outlet," James said. "We don't have gleaming offices and our writers all work from home, and most have other jobs.
"The ad revenue we raise helps to pay our writers, who aren't Oxford graduates — most are every-day working class people, just like me who feel they deserve a voice and feel their political opinions deserve a platform.
"It also helps us to continue to give a balance to the mainstream media narrative, which we don't feel represents working-class people like myself or our readers."
Hours later, Politicalite published a post titled: "EXCLUSIVE: BuzzFeed is attempting to take down Politicalite over our coverage of Tommy Robinson."
In the post, James insisted the website wasn't "far-right", and denied knowing Robinson or his team. "I'm a GAY MIXED-RACE GUY, why would I promote the 'far-right?'" he wrote.
"Tommy Robinson IS NOT far right, he's just RIGHT. He left the EDL because it was infiltrated by Neo-Nazis. FACT."