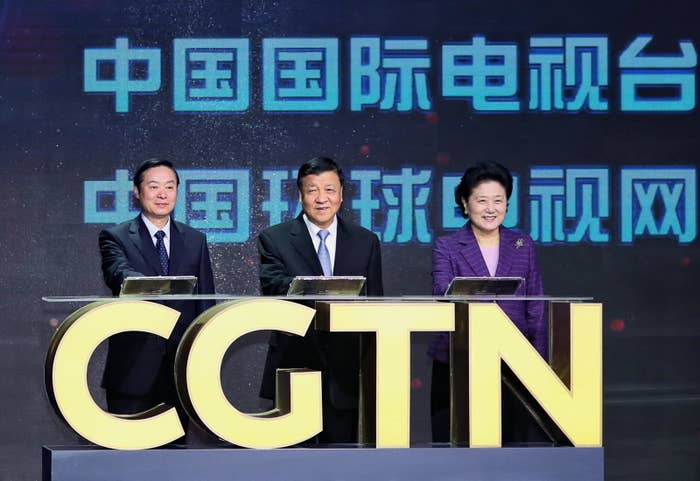 Chinese state broadcaster CGTN is hoping to hire more than 350 London-based journalists in less than 18 months, according to a recruiter's email seen by BuzzFeed News.
Despite severe job losses across many London-based media companies in recent years, the China Global Television Network has embarked on an eye-watering recruitment drive in a bid to set up a new European hub of operations in west London.
According to the email sent from a local recruiter to a senior journalist, seen by BuzzFeed News, CGTN wants to be operating out of London by December 2018, with a launch workforce of a dozen executives and more than 60 journalists.
Over the next 18 months, up to 300 more producers and journalists will be hired for the station to be based in the suburb of Chiswick. According to one person approached for a role, the salaries are "well over" the average for journalists in London.
CGTN did not return repeated requests for comment.
The 24-hour news service – the "flagship" channel is in English, but also broadcasts in Spanish, French, Arabic, and Russian – was established at the end of 2016. It was reportedly part of an effort to rebrand six of China's state-owned channels. The network's existing regional headquarters are in Beijing, Washington, DC, and Nairobi.
Several job ads for the new CGTN roles have also started appearing in recent weeks. One advertisement in the Sunday Times for a "Director of News" described CGTN's mission as providing "objective, balanced, and impartial current affairs content, reporting the news from a Chinese perspective".
"We aim to differentiate ourselves from leading Western media organization by pursuing a larger international vision; focusing on nations, regions, and stories often ignored by western media," the ad reads.
In another job ad for an "Operations Editor", CGNT said it will be "shortly opening up a Production Centre at Chiswick Park, London, to house a digital and television hub, producing news, online, and other content to feed into our global English language platforms".

Just what CGTN's ambitions are for broadcasting news into the UK remains unclear. But state-run broadcasters have had a bumpy time trying to following Ofcom's local broadcasting rules in recent years.
Iran's Press TV had its Ofcom licence revoked in 2012 over repeated regulatory breaches and the failure to pay a fine. The British broadcast regulator announced seven investigations into Russia Today over the Russian channel's recent coverage of Syria and the poisoning of Sergei Skripal.