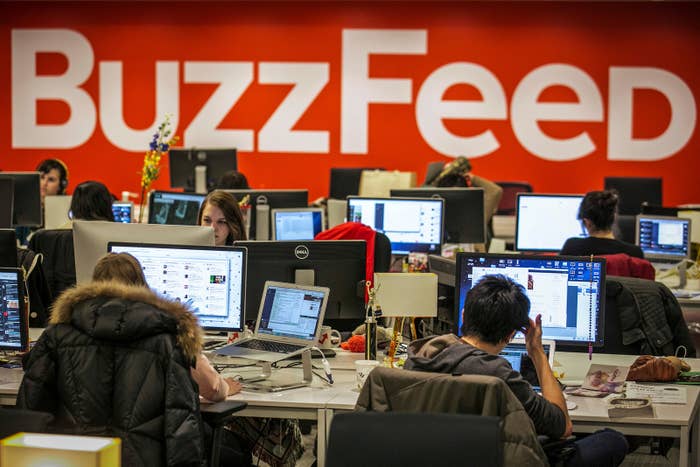 Staff at BuzzFeed UK have voted against union recognition in a secret ballot conducted by the independent Central Arbitration Committee, which was the final step to resolve whether the London editorial team would unionize the newsroom.
BuzzFeed management told staff on Wednesday that members in the potential 29-member bargaining unit voted against union recognition with the National Union of Journalists.
"We appreciate our employees' decision to continue our direct relationship with management here in the UK and believe this is the best way forward for BuzzFeed," a spokesperson for BuzzFeed said.
"As always, we support and respect the right of individuals within our staff who continue to be members of the NUJ."

The final vote was 22 votes against unionization to 4 in favour, according to a BuzzFeed source.
The staff-led push for union recognition began in November 2016, with a majority of staff across the desks signing union cards calling for recognition with the UK's National Union of Journalists.
Late last year, BuzzFeed announced a restructure of the UK newsroom, which included redundancies among the editorial staff.
BuzzFeed management has consistently objected to unionization. Company CEO Jonah Peretti has argued staff would be better off if they negotiated directly with management.
A spokesperson for the BuzzFeed NUJ chapel said: "We were disappointed to hear about today's result, though not entirely surprised.
"We first asked our management for recognition more than 18 months ago, after months of organising, and at that point, there was enormous enthusiasm among BuzzFeed UK employees for a stronger voice in the workplace and a collective push for improvements.
"Today, though — following heavy redundancies over the winter and a series of departures since — the makeup of the staff has changed. BuzzFeed has poured considerable resources into challenging our bid for recognition, and we have had to contend with a protracted legal process that has at times eclipsed the positive change we've been trying to achieve."