These Emails Show John Bercow Cancelled An Interview After The BBC Refused To Give A Written Promise He Wouldn't Be Asked About Bullying
In emails seen by BuzzFeed News, Bercow's agent told producers the former speaker had "good reasons" for the condition.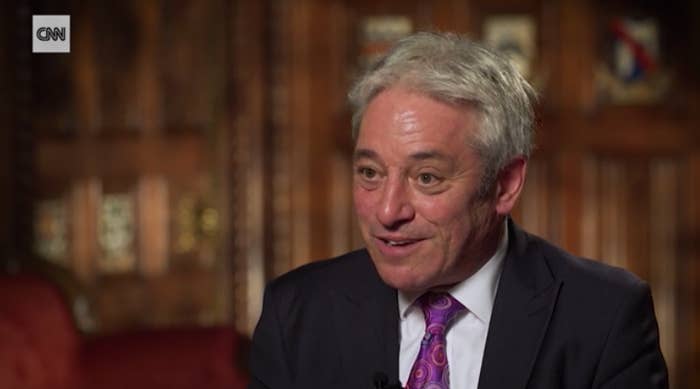 Former House of Commons speaker John Bercow cancelled a sit-down interview with the BBC after producers refused his demand for written assurances that the interviewer wouldn't ask questions about allegations he bullied his staff.
According to emails seen by BuzzFeed News, Bercow's agent from the corporate speaking company JLA attempted to set restrictions on the questions a day before the former speaker was due to sit down with the BBC News Channel's feature interview programme "HardTalk", presented by Stephen Sackur.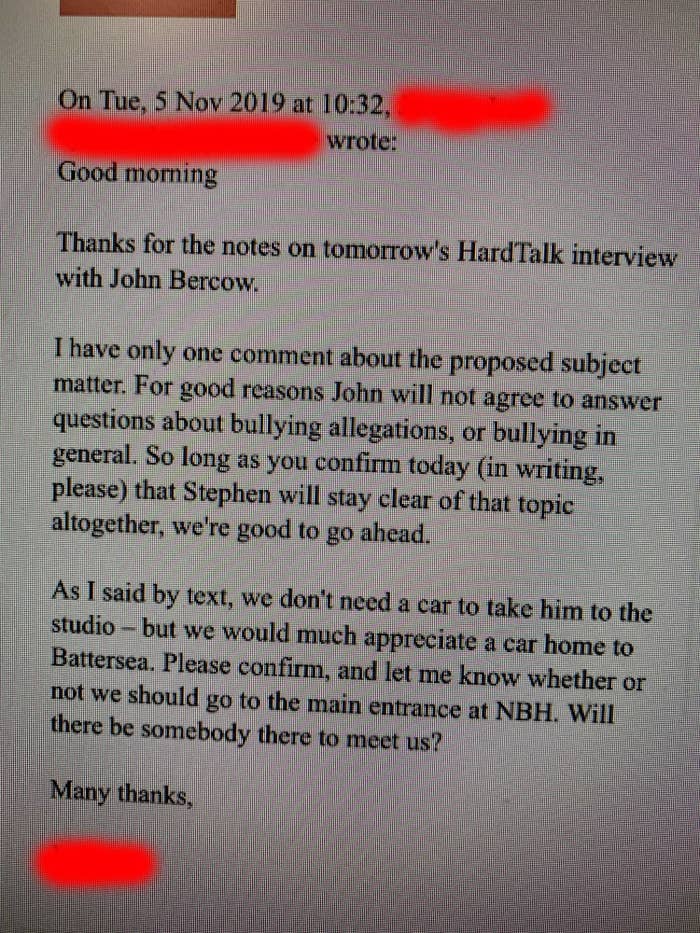 "I have only one comment about the proposed subject matter," reads the email from Bercow's agent. "For good reasons John will not agree to answer questions about bullying allegations, or bullying in general.
"So long as you confirm today (in writing, please) that Stephen will stay clear of that topic altogether, we're good to go ahead."
BBC sources said that request was subsequently refused by the show's producers.
In a follow up email, Bercow's agent was unapologetic about cancelling the interview because of the failed demand. "Just to wrap this up, [redacted], it's definitive 'no' from John Bercow as a result of this morning's conversations," he wrote.
"'I'm pleased to say we're doing a number of foreign press and media interviews, and a 130-strong session with the FPA (Foreign Press Association), so those around the world who are interested in hearing John's views will get the opportunity."
In a statement to BuzzFeed News, a BBC spokesperson said: "In accordance with BBC editorial policy, Hard Talk does not accept any preconditions from interviewees as to what questions can be asked."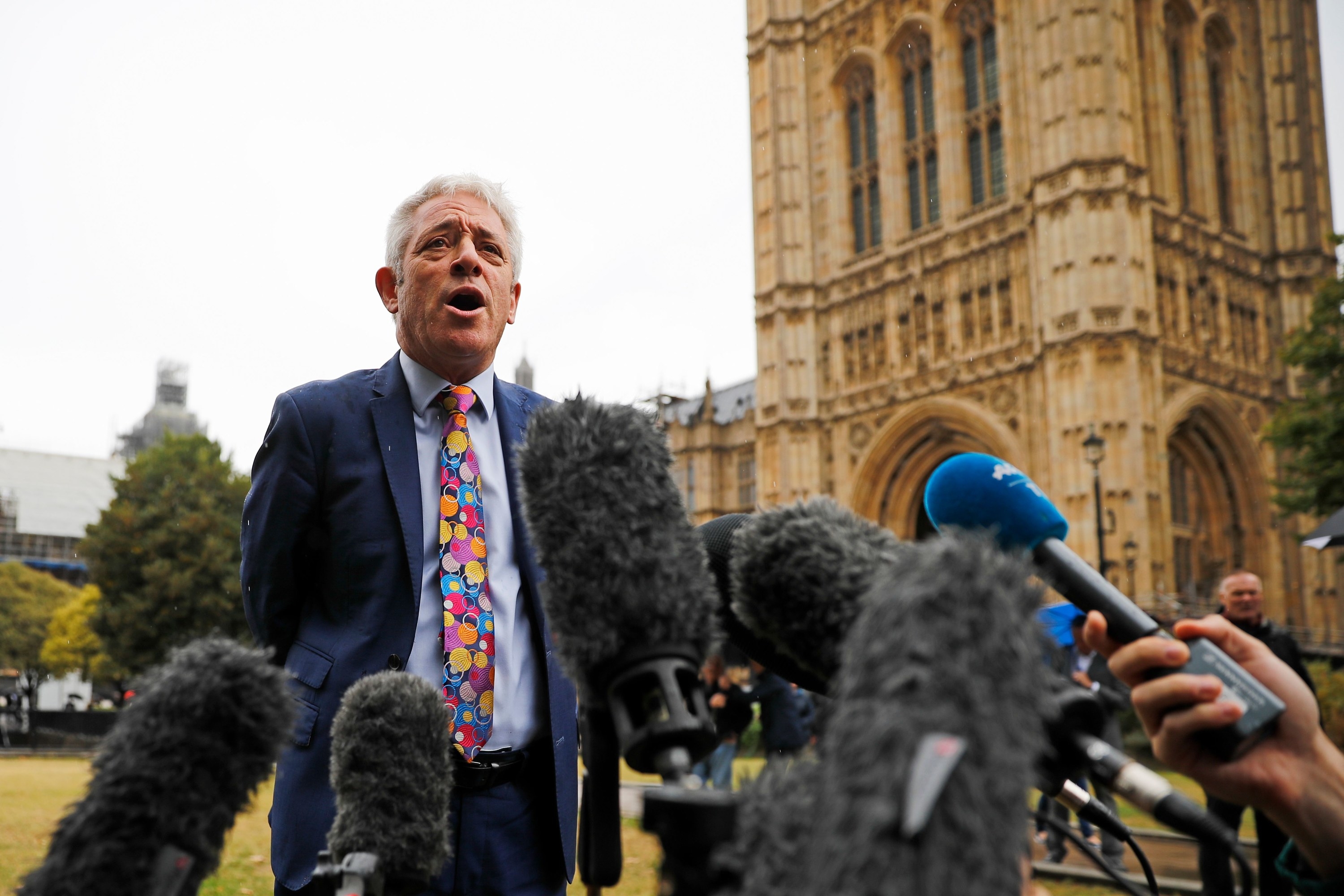 Bullying allegations against Bercow were first reported by BBC Newsnight in May last year. His former private secretary Angus Sinclair alleged he faced angry outbursts, obscenities and mimicry from his former boss. According to Newsnight, Sinclair was paid more than £85,000 in a deal that also saw him sign a non-disclosure agreement. Bercow denies the allegations.

One senior BBC source in Westminster told BuzzFeed News the BBC had been "bidding for years" to get a sit-down interview with Bercow. "It was always, 'no, no, no, no, no!'"
The opportunity came as Bercow embarked on a flurry of glossy exit-interviews marking the end of his long-tenure as speaker last month.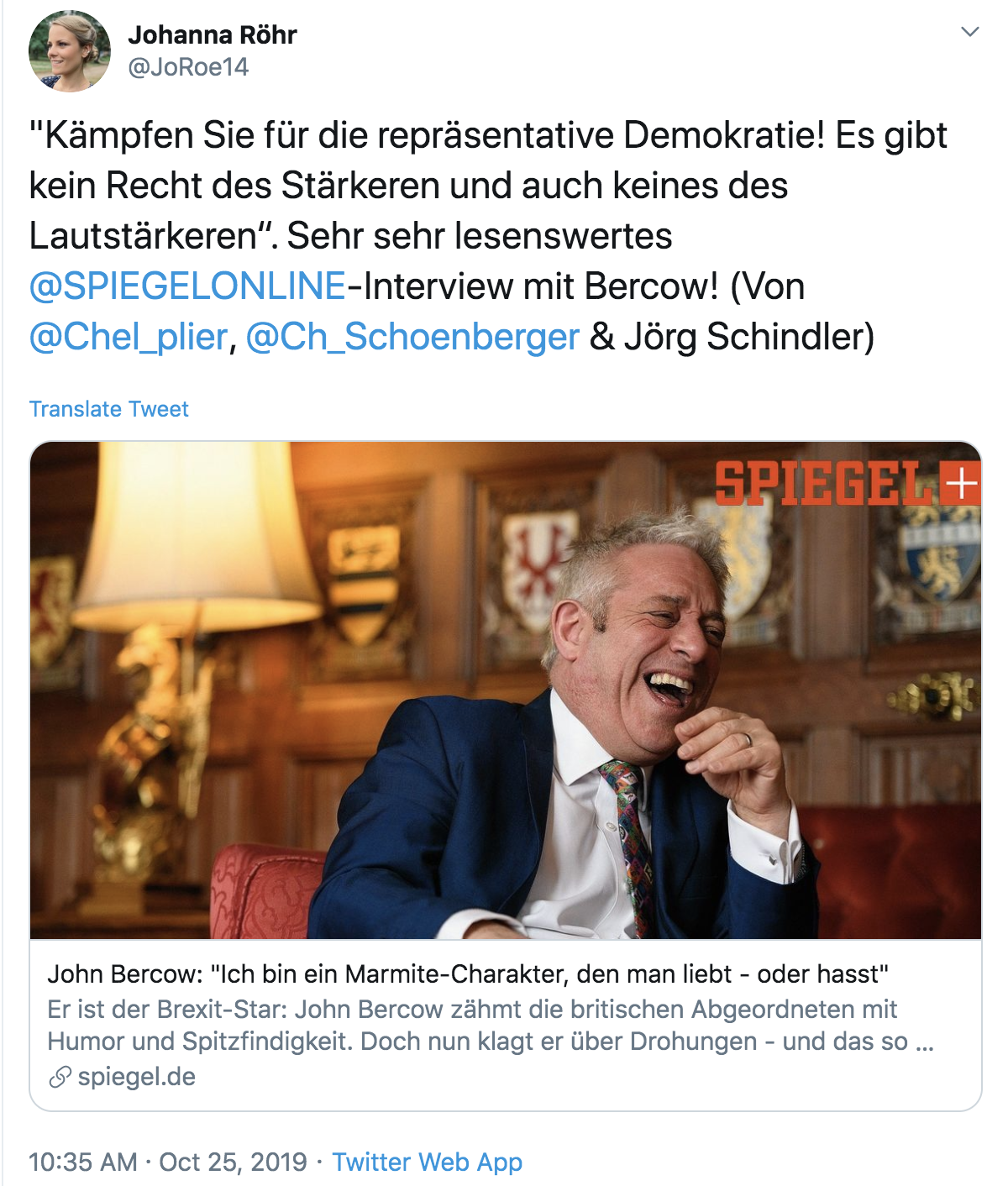 He sat for interviews with two US networks, which included a feature interview with CNN and the 60 Minutes-treatment on CBS, while doing a sit-down with German news outlet Der Spiegel and a press briefing with international journalists at the Foreign Press Association. He also sat for a GQ interview with former Labour communications chief Alastair Campbell and for a profile in the Observer.

BuzzFeed News asked all the outlets whether journalists had agreed to similar written demands from Bercow not to ask about allegations of bullying staff. CNN, Der Spiegel, The Observer, 60 Minutes, the Foreign Press Association and GQ said Bercow's team made no demand.
The allegations of bullying were raised in two of the interviews. The Observer makes a passing reference only to say Bercow will not discuss them. Alastair Campbell asked whether the allegations keep him up at night.
"I've never bullied anyone, anywhere, at any time, in any way," Bercow replied. "You can't make people feel what they don't feel and I don't want to make any criticism of an individual, but if you're saying, well, 'Didn't it upset you?', no, because you have to have faith in yourself.

"Some working relationships don't work."
Inside the BBC, Bercow's attempt to impose conditions on the interview have been contrasted with , Prince Andrew's decision to appear on the British public broadcaster this week with no strings attached.
"There's Andrew, a royal, with serious sexual allegations against him agreeing for a full-on, no red-lines interview," a BBC source said.
"Then Bercow, trying to puff up his post-speaker career on the talk circuit, throwing a tantrum and cancelling an interview with the Beeb."