Daisy Jones & the Six is a limited ten-episode series based on the novel of the same name which debuted in 2019.
Both the book and series lean into the retro Fleetwood Mac vibes of 1970s rock. The book is actually crafted as an oral history of fictional people, but the source material was reshaped into a documentary style narration instead.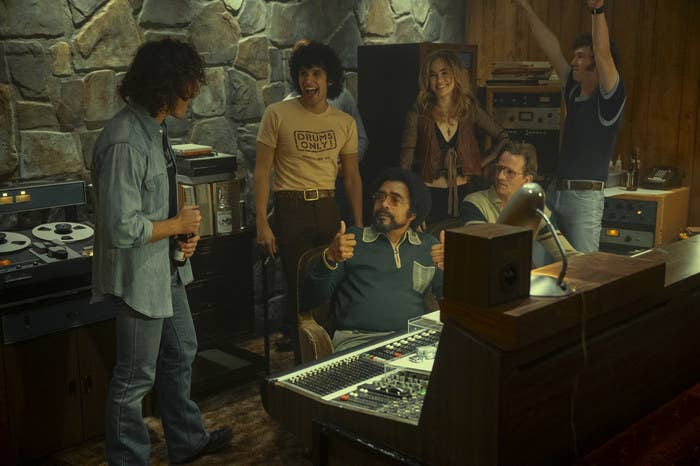 In speaking to Maire Claire, the author shares she herself didn't have a musical background prior to writing the book, but she wanted the band's story to feel like a biography.
"I wanted to feel like you were reading nonfiction and be like, Oh is this a real band?" Jenkins Reid told the outlet. "I did a lot of research to find out the process of the art they make."
Jenkins Reid also expressed excitement about Reese Witherspoon, who served as an executive producer on the adaptation under her production company, Hello Sunshine, taking on her story.
"Reese Witherspoon is so good at understanding how to tell women's stories," she continued to the outlet. "I'm thrilled about the TV show—not just because of the actual show, but because she's paying attention to the right things."
The series includes original music created just for the show.
The vinyl is a really nice touch, aethestically.
There's an orange version at Amazon and a teal one at Barnes & Noble, which is giving Taylor Swift Midnights vibes.
Daisy Jones & the Six premiered on March 3 on Prime Video. You can catch new episodes every Friday.