Less Than A Third Of The UK's Top Political Advisers Are Women
Theresa May's government has fewer female special advisers than Cameron's did, which could harm policymaking, former spads told BuzzFeed News.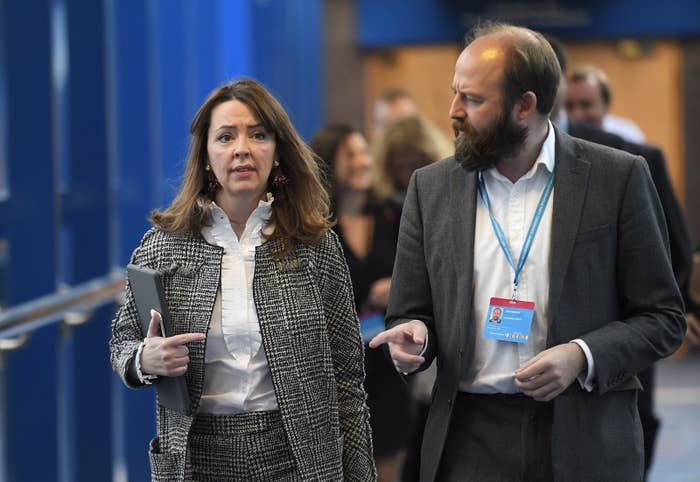 Less than a third of the government's new special advisers are women, documents released by the Cabinet Office this week have shown.
Out of the 83 special political advisers – the influential civil servants known as spads – employed to support Theresa May and her ministers, only 23 (28%) are women, in a move former advisers said could see some matters dismissed as "women's issues".
More than half of government departments – including the Foreign Office, the Department for Exiting the European Union, and the Department for Health – have not hired a single woman to advise them, the annual list of spads shows. Ministers pick their advisers, and they are then approved by Downing Street.
May's government has seen a fall in the ratio of female spads compared with David Cameron's, for which 38% of advisers in last year's list were female – 35 out of 92.
Among the group picked to work directly for the prime minister, 9 out of 32 (28%) advisers are female, while Cameron had 14 women and 18 men working for him – meaning 44% were female.
Speaking to BuzzFeed News, former special advisers from several major parties said this imbalance could threaten good policymaking, and claimed women still have to fight to be heard in the corridors of power.
Ayesha Hazarika, who was an adviser to Harriet Harman in Gordon Brown's government, said spads have "a massive amount of power". In her experience, she said, the fact that many are men meant some policy areas weren't explored as they were seen as "women's issues" and therefore less important.

"I think it's one of the reasons why we have not made significant progress on issues that are really important to women," she said. "Say childcare, for example: It's such a massive issue, it's not going away, people are not going to stop having kids, more dads are getting involved in terms of wanting to spend time with their kids – yet it is always a Cinderella public policy issue.
"It's not regarded in the same way as, say, infrastructure. Nobody ever sees childcare as part of infrastructure, partly because the people around the table will have never thought about it in that way, because they're not the ones having to do the primary care.
"Take care of elderly relatives as well – that's a thing that women in the length and breadth of the country always bring up as an issue, but it's never been the focus point of those discussions."
Hazarika added: "Most special advisers, especially in big departments, have a massive amount of power. A lot of things do not get done if they've not signed it off, and everything has to get signed off before it even gets to the secretary of state.
"Clearly in the bunker, where the power really, really mattered, it was a small group of people, they had immense influence, probably more influence than most people in the cabinet or shadow cabinet, and it largely was white Oxbridge men."
A special adviser who worked for Cameron's government, and did not want to be named, said they noticed a "misbalance" in policy caused by the gender ratio.

"I think some of the misbalance on the policy side came from the external hires – the actual policy specialists tended to be men," she said. "It tended to be for men to land the higher policy positions from the private sector. Men would tend to be the experienced hires."
Polly Mackenzie, who worked for Nick Clegg when he led the Liberal Democrats in opposition and during the coalition years, suggested female advisers were not always used to their full potential.
She remembered being summoned to a meeting by a woman working in the policy unit for Cameron when he was prime minister: "She convened me and a group of people... basically all the women she could find, because the prime minister had basically said, 'I need more policies that appeal to women!', and then we had a brainstorming session. And then 'That's women done for now, and we can come back to it in a year,'" she recalled.
Mackenzie thought that the Lib Dems "were better than the Tories" in terms of having female advisers at the start of the coalition in 2010, but said the party hired more male advisers over its term in power. "Nick's office in opposition was very female-dominated, actually, but then when we went into government that did change, we pulled in other people who were mostly men," she said.
"It did deteriorate over the course of the coalition, and there definitely fewer women left at the end than at the beginning."
Hazarika believes that the kind of work special advisers do can also be dependent on their gender. "There's massive job segregation," she explained. "I think, in politics, working for a party, women tend to find that the easiest way to get to good jobs at the top is to do the softer side of politics, more external relations, looking after the boss, doing logistics, lots of travel, organising their diary, looking after them on a personal level, catering, all that.
"There's not that many women who go through to the really senior things like policy and strategy, and though quite a lot of women go into comms, they get to a certain level, but then they don't really progress to those top jobs."
This, she thought, is partly due to the fact that ministers' communication teams seek to mirror the mainly male journalists they work with in the lobby, the name given to the group of reporters covering parliament.
"If you're going to be the director of comms for a senior politician, your main source of business is going to be the lobby, and that's still very, very male at the top as well," Hazarika said. "That reinforces the whole 'Oh, I'll pick a bit of a laddy bloke who's really good mates with people in the lobby, because why wouldn't I?'"
The ex-advisers also criticised the media for sexist portrayals of spads, which they thought could deter women from trying to get senior political jobs.
While May has been praised for hiring a man and a woman, Nick Timothy and Fiona Hill, as her joint chiefs of staff, Hazarika said the media attention given to each of them is notably different. "There's so much more interest in male special advisers," she said, "because they're seen as the brains of the operation. I think there's more coverage about Nick Timothy than Theresa May! I mean, I've not seen him in his leather trousers yet but...
"And there's nothing about Fiona Hill. Nothing. We don't know what her political views are, her political hinterland. The only thing I can recall from her is some picture of her outside Downing Street, she stuck her tongue out at photographers."

The former adviser to Cameron's government, who asked to remain anonymous, said she was "absolutely disgusted by the coverage of Thea and Isabel", referring to George Osborne's former Treasury aide Thea Rogers, who was reported to have "tantrums" and "hissy fits", and Isabel Spearman, Samantha Cameron's aide who was referred to as her "stylist" in the media.
"I mean yeah, Isabel helped pick Sam's dresses at conference – that was one day every year. To think that these two very successful women were just called 'stylists' was pretty hard going," she added.
Hazarika also claimed Rupert Harrison, Rogers' predecessor with Osborne, was written about "like he was a god among men, he's got this super big brain, he knows everything. Thea gets the job, and it's all 'Yeah, she put him on the 5:2 diet, sorted his hair out, and does his makeup,'" she said.
May has hired a female director of communications, Katie Perrior, and a female press secretary, Lizzie Loudon. "To her credit, it's very good that she's appointed joint chiefs of staff, a man and a woman, and her director of communications is a woman, who I believe has children as well," said Hazarika. "I think that is a historic first in Downing Street, to have a director of communications who's a woman with children."
But she warned that a lack of female special advisers overall risks making the focus of politics too narrow. "You can't just have the same people who are just a monoculture, coming from the same backgrounds, the same schools, the same universities… That's how your politics gets so out of touch," she said.
"You just become this kind of echo chamber, and I think that's why it affects policy, because if there's only one view in the room, even though they don't realise it, they will go against different ideas.
"If you want to come up with a set of policies which will appeal to the public and speak to them, they need to have proper representation of the population, because if they don't, the public will keep rejecting the ideas."
A government spokesperson told BuzzFeed News: "Special advisers are appointed on their ability to do their job, not their gender. Indeed, we have a female prime minister, a female joint chief of staff, and a female director of communications. The chancellor's chief economic adviser is a woman. So women are in more senior positions."