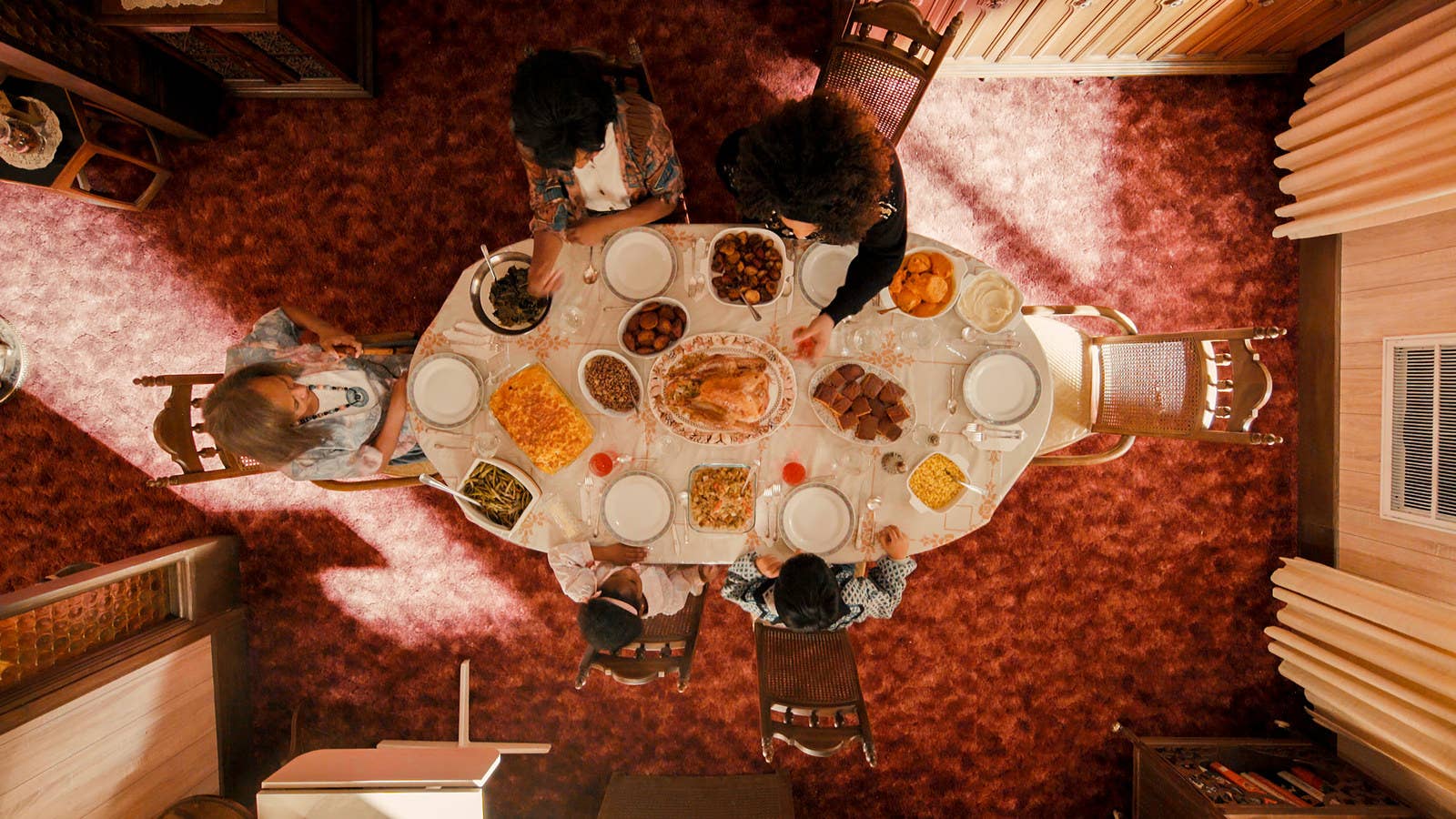 Denise (Lena Waithe) was a breakout character in Season 1 of Master of None. She was Dev's (Aziz Ansari) cool friend who gave him and the gang levelheaded advice, outdressed them in various blazers, and made them laugh with tales of voicemails from Lil' Funyuns. But in Season 2, with the episode titled "Thanksgiving," viewers gained a whole new understanding of Denise and got a rare look at a black queer woman's coming-out story on a major television platform.
The episode, which is set during a series of Thanksgiving holidays over a span of 30 years, reveals how Dev came to have a familial relationship with Denise, how Denise came to terms with her sexuality, and how the women in her family — her mom Catherine (Angela Bassett), her Aunt Joyce (Kym Whitley), and her Grandma Ernestine (Venida Evans) — came to terms with it as well.
"Oftentimes queer women of color are told to sit down and be quiet and not have a voice."
It's a narrative that's based on Waithe's own coming-out story, but she told BuzzFeed News she never intended to make it TV fodder. "I never felt the need to tell it," she said. "I'm a big fan of telling a story about queer people post-coming-out, because the truth is we're more than our coming-out story." But when the opportunity arose with Master of None's second season, she thought, "This will be the one and only time I do this. Let me do it right, let me knock it out the park, because I'm not going to tell that story again."
The "Thanksgiving" episode, Season 2's eighth installment, begins in the early 1990s with Denise, around age 9, learning what a minority is after she mistakes Dev for black in front of her mom. Then, the episode jumps to Thanksgiving '95, when Denise makes it clear that dresses are not for her — and in Thanksgiving '99, she makes it clear to Dev that dating women is for her. In Thanksgiving '06, viewers see Denise come out to her mother, and in Thanksgiving '15, she finally brings a date home. While Denise's family is clearly unimpressed by her "friend" who's been to China, the date Denise brings home the following year for Thanksgiving — a woman known for her Instagram handle, @Nipplesandtoes23 — fares even worse. And by Thanksgiving '17, Denise returns with her first date to a family that's finally willing to accept her and her partner.
Waithe and the team behind the episode decided that if they were doing a coming-out episode, they wanted it to be more authentic and innovative than anything seen on TV before. "I think it's revolutionary, honestly, because oftentimes queer women of color are told to sit down and be quiet and not have a voice," Waithe said. "So the fact that everyone has embraced mine, I think, is definitely a wonderful step in the right direction."
The idea for the "Thanksgiving" episode came about in a very organic way. During preproduction on Season 2 — after much acclaim, and even an Emmy award — co-showrunners Ansari and Alan Yang began thinking of how they could expand some of the characters' stories. Los Angeles–based Waithe remembered them bringing her into the writers room in New York to ask her, "What's some stuff we can do with Denise this year? Is there anything that happened?" Waithe started to describe what was going on in her day-to-day life and how she'd recently brought her girlfriend home to meet her mom. "That's an interesting scene. Maybe it's like, Dev goes for Thanksgiving," said Ansari. Then Yang stopped her to ask: "How did you come out to your family? Just out of curiosity." "I started talking to them about it, about what it was like growing up in a house full of black women," Waithe recalled. She didn't think anything of it, but when she got back to her hotel room, she received a call from Ansari and Yang, who'd decided, "Yo, we've got to tell that story!"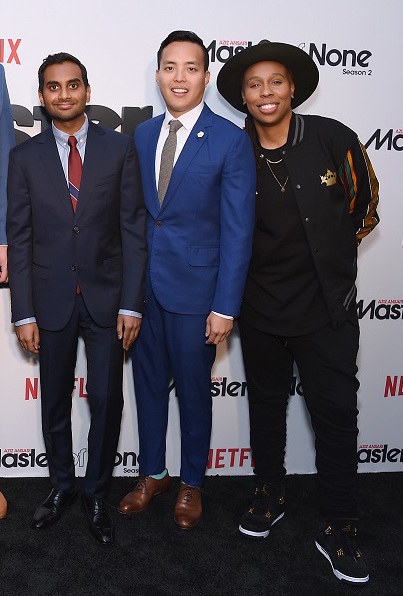 But they were determined to show a coming-out story in a way TV viewers hadn't seen before. It was fellow Master of None writer Aniz Ansari, Aziz's brother, who then said, "What if we do 30 years of Thanksgivings," a pitch Waithe thought was "brilliant." Aziz then flew to London, where Waithe was filming Steven Spielberg's Ready Player One, to put it all on paper. "He and I sort of passed the laptop back and forth to do a script together," Waithe remembered. "That's really kind of how it was born. It was very organic, as most things are on that show."
Once the script was written, they needed to find a director, and Ansari and Yang had their eyes on Melina Matsoukas, who'd gained acclaim for directing music videos for Beyoncé and Rihanna as well as for being the main director on the debut season of HBO's Insecure. Yang told BuzzFeed News that part of the reason they wanted Matsoukas, besides the fact that she was the rookie of the year as far as television directors go, was that "Thanksgiving" is "largely a story about black women relating to each other, and the last time Aziz and I checked in the mirror, neither of us were black women." Matsoukas, a native New Yorker of Jamaican, Cuban, Greek, and Jewish descent, was able to add a fellow black woman's perspective and the authenticity the Master of None team craves for each episode they write.
Yang and Ansari asked Waithe to personally reach out to Matsoukas to see if she could get her on board. She got Matsoukas's contact information from her friend, Insecure showrunner Prentice Penny, and when Waithe finally got Matsoukas on the phone, she was "really pleading with her." "I need you to do this, I need you to come on and do this episode, because you're the only person I would trust to tell the story with me," Waithe remembered saying. "You're a woman of color, you're someone who has such a great vision, and just a phenomenal artist. I know that if you do it you'll knock it out the park."
Matsoukas was just as effusive talking to BuzzFeed News about what made her sign on to do the episode. "I saw a terrific opportunity," she said of the script. "I'd never seen a black woman come out on television before, and it's done in such a dramatic and humorous voice. I really was about it, and we had a long conversation and it was just like, 'Oh, wow, we speak the same language,' and I really wanted to collaborate with her."
"It had to stay true to Lena."
Matsoukas said working with multi-hyphenates like Waithe and Ansari who can write, direct, produce, and act allowed the "Thanksgiving" episode to feel like a true collaboration. "I love the kind of team approach to it, and that's definitely what the story needed," she said. "It couldn't feel like my story, because it had to stay true to Lena. So I could pick her brain and I could learn about the story and develop it and create a visual approach to it and put as much of my stamp on it, but I always wanted to remain true to her and have her input and Aziz's input."
And Ansari was not afraid to take a step back from the lead narrative (exhibit A: Season 2's "New York, I Love You"), so he was fine with Dev having just a cameo in the "Thanksgiving" episode. "Dev is always going to be in every episode whether Aziz likes it or not, but it's always about to what extent," Waithe said. "He's sort of driving the story, or he's in the passenger seat or he's in the back seat." According to Waithe, they all agreed that the "Thanksgiving" episode would be a good opportunity to do a "cool origin story" about how "Denise and Dev actually grew up together."
Plus, it gave Waithe and Ansari a rare chance to cross "casting actors to play themselves and their family" off their bucket lists.
Waithe and Ansari had a mind meld on how to tell the story of these two kids growing up in '90s New York and who they wanted involved. Ansari noted at the Vulture Festival in New York on May 20 that they bonded over "a lot of the same cultural references from when we were kids." Their biggest shared obsession was ABC's miniseries The Jacksons: An American Dream, "which is why it's really awesome we got Angela Bassett," said Ansari.

Luckily, it didn't take much to get Bassett on board to play Denise's mom, Catherine. Ansari simply sent their script to the actor's team and she said yes.
For Waithe, casting Bassett was one of the greatest parts of making the episode. "For every black woman, Angela Bassett, she's iconic," she said. "I think for the world, she should be iconic, but I think for black women in particular she's such a role model and she's so representative of who they are and their best selves."
Waithe joked that she bowed when Bassett came onto set. "She's somebody that you straighten up your posture when she walks into the room because she really is Hollywood royalty," the actor said. But she also said it was "just so easy" to build a mother-daughter bond with Bassett. "She walked on set and greeted me saying, 'Hello, daughter,' and I said, 'Hello, mom.'" While Bassett has done a lot of television lately as part of Ryan Murphy's American Horror Story troupe, Matsoukas explained that "working in a comedic kind of space was just pretty new to her, and was also something that she was interested in."

Comedian Kym Whitley, who's lived and breathed comedy for the past three decades, was Waithe's first choice for the role of Aunt Joyce. Whitley was a mutual friend of Bassett's and Waithe's, and Waithe considers her "one of the unsung heroes of this business" who doubles as "every person's aunt and mom's best friend." Matsoukas said that pairing Whitley with Bassett created "these great comedic moments that you really couldn't write … It was really just perfect casting."
"It is sort of a weird, surreal world to be looking at a younger version of your character slash you."
And for fans of Love & Hip Hop: New York, the women brought in former cast member Erica Mena as Nikki, Denise's less-than-popular new girlfriend in the 2016 portion of the episode. Matsoukas is a fan of the Love & Hip Hop franchise, and she said Mena "was at the top of our list." "We had our casting director reach out to her, and she came in to audition, and we thought she was great, and in the callback she was even better," Matsoukas said. "We knew that we needed somebody that was going to poke fun at themselves and kind of have fun with it," Waithe said, and Mena delivered. "We were really blown away by her performance," added Waithe, "and the craziest thing was she was able to riff with Aziz. Not everybody can do that; it's not the easiest thing to do. It's super intimidating because obviously he's a comic, and she came in and was comfortable, super funny, and she to me is such a great little gem in the episode."
The dialogue in the episode, for the most part, is what's on the page, but Matsoukas and Ansari did cite some of the episode's funniest moments as improv successes, like the scene where Nikki has dinner with Denise's family. Ansari said he was "improvising more and more nonsense," trying to get Waithe to laugh, and he decided to take a break and visit his brother Aniz, Matsoukas, and Yang, who were watching the scene play out on the monitors. Ansari's brother suggested, "What if you say, 'Is it nipples and the word "and" toes, or is it ampersand?'" in reference to Nikki's Instagram handle. "I was like, 'Oh man, they are not going to make it through that,'" Ansari recalled. It worked — Matsoukas said she and the cast "could not stop dying laughing."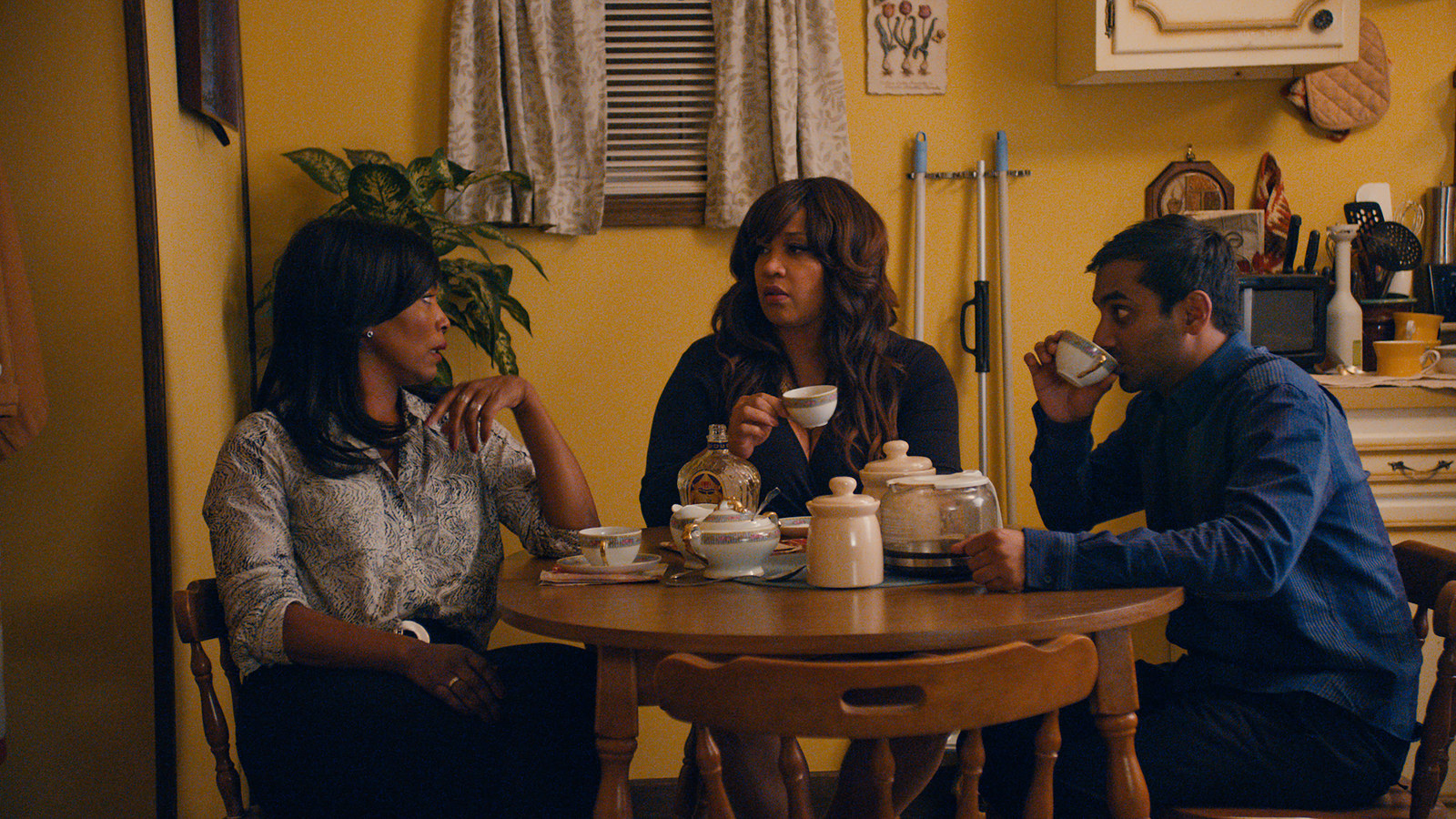 Matsoukas added that the little moments of Aunt Joyce trying to comfort Catherine, who just found out her daughter is gay, by filling up her wineglass and Dev screaming across the table at Grandma Ernestine were some of the moments it was hardest to keep a straight face on set. "When Aziz was yelling at the woman, the lovely Venida, who played Ernestine, we kind of couldn't hold ourselves together," Waithe said. But Bassett, according to Waithe, "is like frickin' ice cold." "She's just so good that she never broke… Angela was always the consummate professional." By the end of those scenes, Matsoukas said, "I want to watch this Angela and Kym Whitley Show, or whatever this is becoming — there's a whole spinoff here."
They also had fun with the actors who played the young Devs and Denises. "All the kids were fantastic," Waithe said. "We just got watch them play and we were cracking up, and we just found it to be so funny and amusing, but it is sort of a weird, surreal world to be looking at a younger version of your character slash you, but we just knew that people would get a kick out of it."

Because the "Thanksgiving" episode exists outside of the narrative of Season 2, Matsoukas relished in the opportunity to add her own style to Master of None, from the nostalgic glow to the stellar music cues. "I wanted it to feel and look different," she said.

While Matsoukas has a director of photography she normally works with on her music videos, TV shows have one DP that they work with. "I think they have a certain language that was there and I came in and kind of understood what that was," she said.
The Master of None team was also open to Matsoukas "shooting something in a way they hadn't before," but she tried to incorporate the stylistic choices that consistently come up in the show. For instance, Ansari likes to shoot in one take, and Matsoukas did the same for the final scene of the "Thanksgiving" episode. And in a season that references classic cinema shot on film, Matsoukas's influences just so happened to align. "I love shooting actually on film, not that I get to, but in the digital space, I work hard at making it feel like it has a soul like film does," Matsoukas said. "I work really hard at bringing texture and story to the visuals of it, and also being able to see the influences of that culture and that life in the scenes… I think that makes part of it feel nostalgic in some ways."
"There's a lot of magic in black women's hair, and that's kind of like our crown and our pride."
The set design also helped in that aspect. Waithe grew up in her grandmother's house, "so she wanted [Denise's house] to have that history to it when you saw it, and have all the influences of the different eras and how that house kind of evolved and progressed as the years passed," Matsoukas said. "It was important it had that history in every frame." Ultimately, they built the set for Denise's family home off of a house in Queens. To create Denise's bedroom, though, Waithe gave them pictures of her childhood bedroom. She and Matsoukas "picked each other's brains about who we wanted to highlight and what actresses really influenced her," the director said. "She's a huge '90s sitcom fan — and obviously that takes place in the script too — and it was important to highlight some of those actresses." That includes Vanessa Williams, whose poster is at the foot of Denise's bed, and Jennifer Aniston from Friends, who smiles down on Denise from the ceiling every time she lies down. "It was so surreal walking onto that set, because it was literally like my room evolving over the years," Waithe said.

Another important factor in getting the look of the episode right was the women's costumes, and more importantly, because the episode focuses on a family of black women, their hair. "It wasn't necessarily something that I thought about in writing it, but when we got into production … even Angela and Kym were very vocal about different looks and different vibes," Waithe said. "We definitely go through different phases in life, and our hair tells that story," Matsoukas said. "In order to show those different eras, it was pertinent that not only the styling and the production design follow suit, but it would only seem natural that somebody's hair would evolve through the years as well... There's a lot of magic in black women's hair, and that's kind of like our crown and our pride." Waithe said those aesthetics are "just such a huge part of the culture and just black women in general." "It's like hair, makeup, clothes, it's just so much to...for our swag, how we get down, how we look at the world," she said. "Production design, and wardrobe, and hair and makeup, like they really make that episode something special, because without them doing all the time jumps and that kind of stuff, I don't think the episode would pop the way it does."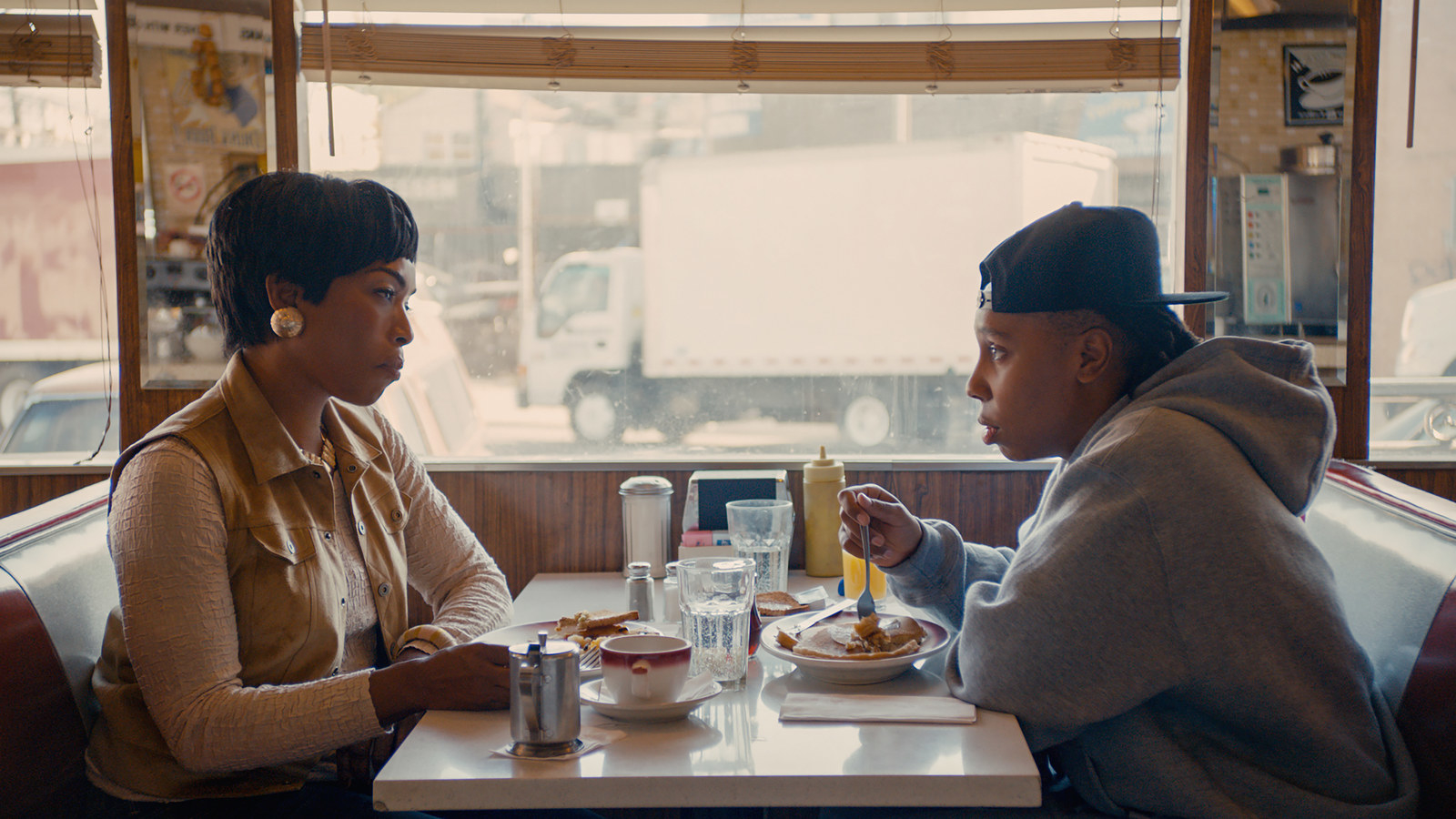 One of the last major steps was adding music, and with songs from artists like D'Angelo and New Edition, the soundtrack to "Thanksgiving" pushes the episode even further in terms of being true to the time periods in which it's set. "Melina, and Aziz, and obviously our music supervisor, they do a great job of picking the right songs and the right moments, but Melina is a big music head, obviously, and she definitely got a lot of say with those songs," Waithe said. There weren't musical cues in the script, but that gave Matsoukas an opportunity to add more of her own touches. "How I direct is usually that I'll just spend a day working on music, and I wanted everything to feel pertinent to that time and place," she said. Having grown up in New York in the '90s, she "could speak well to what was popular and cool and underground at the time, and also fitting to the story and the scene. So I had actually a lot of fun going back and putting some music to it."

But there was some territory that was unfamiliar to everyone on set. The final part of the episode takes place in the future — at Thanksgiving 2017 — and it hits a particularly optimistic note, given the fact that some people feel like we are now in a time where futures, particularly for LGBT people, don't seem so certain. At the end of the episode, Catherine has finally come to accept Denise's girlfriend Michelle (Ebony Obsidian), inviting her to help prepare the holiday feast.
"It's very validating when a queer woman of color speaks up and the audiences respond with a rousing round of applause."
The moment conveys, as Waithe described it, that "your life is your home and you have to live it as authentically as possible and not hide from it." Matsoukas also noted the timeliness and importance of the episode. "When you have these strong familial ties and these strong relationships in order to kind of survive what's going on in the climate outside of the home, showing the support that she is able to get from her family was pertinent, I think, to making it through our days today," the director said.
Those messages have shone through in the many positive responses to the episode, including Waithe's mother's. "She's finally seen the episode, and she really likes it," Waithe said. "She didn't care what the episode was about, she was just like, 'I just love the idea of Angela Bassett playing me.'"
For Waithe, the general reaction to the "Thanksgiving" episode is greater than she could've anticipated. "It's just sort of like very validating when a queer woman of color speaks up and the audiences respond with a rousing round of applause," she said. "I think it's a beautiful thing, I think it's a celebration."