1.
Cook Real Hawai'i — this scrumptious cookbook is by celebrity chef Sheldon Simeon. Simeon shares 100 different Hawaiian dishes with an eclectic mix of ingredients. Inside you'll find wok-fried poke, pork dumplings made with biscuit dough, crispy cauliflower katsu, and more. Um, YUM. 
Promising review: "I have a lot of cookbooks. I have a lot of celebrity chef cookbooks. This is by far one of the most artistic and authentic cookbooks I've seen. The stories inside, the photos, and of course the recipes are all simply stellar. We made the Spam Musubi first because it was quick and easy – it turned out perfect. The only thing I couldn't taste was the ocean air! Sheldon, thanks for the book – it makes us love you even more!" —Brian

Get it from Amazon for $21.99.
2.
Xi'an Famous Foods: The Cuisine of Western China, from New York's Favorite Noodle Shop — as a frequent customer at Xi'an's, I can personally say that we are ALL lucky this cookbook exists! Jason Wang's iconic recipes were first served to guests in Flushing, Queens. Since then he has become a culinary icon, and this book is gonna give you a chance to try out some of his most famous recipes yourself! You're gonna drool over the flatbread with caramelized pork, cumin lamb and hand-pulled Biang Biang noodles.
Promising review: "This is a must-buy! I cracked the book open as soon as it arrived. The pictures are amazing, as is the story about his family's immigration to the States and the opening of Xian Famous Foods. The recipes are clearly written. I've now made three of the recipes from the book, including the biang biang noodles. They all turned out really well. The instructions are easy to follow; just make sure you've made any sauces you need beforehand. I'm so glad I can eat Xi'an famous foods in my own kitchen in California now!" —Caturday

Get it from Amazon for $11.44.
3.
Korean Home Cooking: Classic and Modern Recipes — this *delicious* cookbook has over 100 classic recipes. Browse through the book and get ready to drool over the kimchee, mung bean pancakes, seaweed soup, japchae noodles, soondae (blood sausage)...the list goes on and on! I own this cookbook and can personally confirm that Sohui Kim's recipes are a MUST try. 
Promising review: "I believe this book is one of the best Korean cookbooks on the market. The recipes I've tried taste authentic and delicious! It has pictures of the necessary Korean ingredients you will need and some pictures of 'how to,' but the most important thing for me was the easy reading and clear instructions that led to 100% success!" —DH

Get it from Amazon for $27.49.
4.
The Honeysuckle Cookbook: 100 Healthy, Feel-Good Recipes to Live Deliciously — written by the host of "Honeysuckle" on YouTube, this fun option is perfect for anyone who wants easy meals that offer a balanced diet for breakfast, lunch, and dinner. Author and chef Dzung Lewis takes simple recipes and turns them on their head by adding something totally surprising. Lewis' overnight oats are an online sensation for a reason! 
Promising review: "I've been a fan of the 'Honeysuckle' YouTube channel for a long time and have always enjoyed watching Dzung come up with new culinary twists for a variety of recipes such as her genius drink concoctions, amazing overnight oats, awesome chia puddings, epic-ally creative toasts, etc. She and her hubby put so much work into making an extremely professional channel, that is so aesthetically appealing, I knew her cookbook was going to be just as spectacular! I've already ear marked the matcha-almond breakfast loaf, garlic noodles with crab, pan-fried rice cakes, etc. Thank you so much for sharing your culinary talent with the world, Dzung! You deserve all the best and this cookbook is just the tip of the iceberg of greatness that is coming your way!" —Doodah Dame

Get it from Amazon for $19.88.
5.
The Boba Book: Bubble Tea and Beyond — authors Andrew Chau and Bin Chen wrote this collection of imaginative boba recipes so readers can skip the instant mixes and create one-of-a-kind drinks with the attention to detail (and better ingredients) that give justice to this internationally beloved style of beverage. 
Promising review: "I was taken aback by how well done this book is. It's visually stunning. If you want a great gift for the boba lover – this is it. It's a great coffee table book. The content is like Julia Child's Mastering The Art of French Cooking but in this case it's boba. It is that well done. Soup to nuts or milk to booze. The authors tell you about the history of boba, layout the needed tools, the recipes have stunning pictures, and they explain the ingredients. The book is complimented by their personal antidotes throughout (speech bubbles were a nice add). You feel like they are talking to you about their passion." —D Lee

Get it from Amazon for $15.79.
6.
Japanese Home Cooking: Simple Meals, Authentic Flavors — flip through the pages of this cookbook and soon you'll realize your kitchen wasn't complete without it! With this in hand you'll serve up meals like vegetable soup with buckwheat dumplings, onigiri, mochi waffles, and mouthwatering fried chicken (that is, if you aren't too ~chicken~ to test out these tried-and-true techniques yourself!). 
Promising review: "Sonoko Sakai's book is the ultimate anthology for Japanese home cooking. Ms. Sakai is a wonderful storyteller. She writes about the traditions and principles behind Japanese ingredients and recipes and adds historical contexts where applicable. If you're like me and a bit anxious about food safety, you'll also appreciate that she gives you tips on how to store leftovers and how long the ingredients will keep! There are so many delicious recipes in here. 
I made soba noodles from scratch and it was actually really easy! The soba in homemade bonito and kombu dashi was so good! The noodles were sooooo much tastier than store-bought! Ms. Sakai shows you how to make your own shichimi togarashi, la-yu, Japanese curry bricks, and natto (for those feeling adventurous). I finally learned the proper way to cut kabocha...I'd been doing that all wrong. I can't wait to try the mapo tofu with handmade tofu! My family is also excited to try Ms. Sakai's ozoni recipe for New Year! Mmm and okonomiyaki and crab cream croquettes! It's going to be a delicious new year. There's something for everyone in here. Enjoy!" —M Carr
Get it from Amazon for $31.49.
7.
Mooncakes and Milk Bread: Sweet and Savory Recipes Inspired by Chinese Bakeries — if steam buns are your kryptonite and the thought of kneading dough without a stand mixer feels like an impossible ask, this book by cooking instructor and Bay-area native, Kristina Cho is the "textbook" you need in life. I promise the results of your hard work are gonna be extra sweet!  
Promising review: "I love everything about this book. The recipes are thorough and well written. I too love visiting Chinatowns wherever I go and have tasted many buns and mooncakes…the mooncake recipe in this book tasted better than the mooncakes I purchased during this years Mid Autumn Festival. I look forward to baking my way through the whole book!" —Georgia

Get it from Amazon for $17.65.
8.
Filipinx: Heritage Recipes from the Diaspora — New York Times contributing writer Angela Dimayuga gets personal with the memory-filled recipes collected in her book. If you believe photography is key when looking for cookbooks, you're sure to savor every gorgeous image in this 100-recipe option! 
Promising review: "Filipinx is as beautiful as it is brilliant. It has the food my titas and titos made for every Filipino party/birthday/karaoke session of my childhood, except with recipes that have measurements and useful instructions – not just 'Use enough vinegar until it tastes right!' It's the cookbook you need if you have even a passing interest in Asian cuisine. I highly recommend it." —Anna Martin

Get it from Amazon for $22.49.
9.
The Pepper Thai Cookbook: Family Recipes from Everyone's Favorite Thai Mom — learn why Chrissy Teigen is so bubbly and delightful *and* where she got her incred cooking skills through this book written by her mama! Spoiler alert: it's because she was raised by the best! These recipes are full of flavor and *lots* of love. Gimme. 
Promising review: "Wow just wow! All I've ever wanted in a Thai cookbook and more. I especially like the section of the cookbook that includes an ingredient guide/common substitutions. Simple ingredients, with recipes that aren't too complicated for an everyday home cook. This cookbook will be in my weekly rotation for sure." —Amazon Customer

Get it from Amazon for $15.92.
10.
Milk & Cardamom: Spectacular Cakes, Custards and More, Inspired by the Flavors of India — Master Chef competitor Hetal Vasavada makes life a little sweeter with this scrumptious compilation of desserts. Your sweet tooth is gonna love life when you bite into the brown butter ghee shortbread cookies, pomegranate curd brownies, and mango lassi macaroons Vasavada cooks up!
Promising review: "The recipes in this cookbook are easy, approachable, and full of delicious flavors! The melding of classic recipes and Indian flavors is just astounding!! The first thing I made was almond chikki and everyone who tasted it was floored by how delicious it is! The delightful flavor of freshly ground cardamom and the earthy sweetness of jaggery are such wonderful surprises in what looks like an ordinary almond brittle! The recipes in this book make my day sweeter and brighter!" —Greeneyeddi
Get it from Amazon for $21.99.
11.
The Korean Vegan Cookbook: Reflections and Recipes from Omma's Kitchen — vegans, Joanne Lee Molinaro is the cook you can count on! Through heartwarming memories of her mother's kitchen, Molinaro helps veg-based readers connect with Korean dishes that are naturally vegan-friendly. Why limit yourself to BBQ when Jjajangmyun, Gamja Guk, and sweet bean cake are all waiting for you? 
Promising review: "This book is beautiful and the first thing I noticed is how heavy it is, thorough and thoughtful; you could use it for weight lifting too! It is a vegan love letter to Korean food and the author's family and heritage! The pages are filled with beautiful photographs of vegan Korean foods that get my mouth is watering. It's very touching embracing the many different culture's cuisines that make up the USA's melting pot! This book honors Korean cooking while allowing vegans to stay true to the beliefs that motivate us to be vegans! This book is beautiful – just turning the pages feels like a series of journeys...culinary, family and more!" —Susan B. 

Get it from Amazon for $19.25.
12.
Solo: A Modern Cookbook for a Party of One — this cookbook is a *need* if you'd like to start cooking at home more but hate figuring out how to cut online recipes as a party of one. Learn how fun it is to treat yourself, literally, with Michellin-starred chef Anita Lo at your side!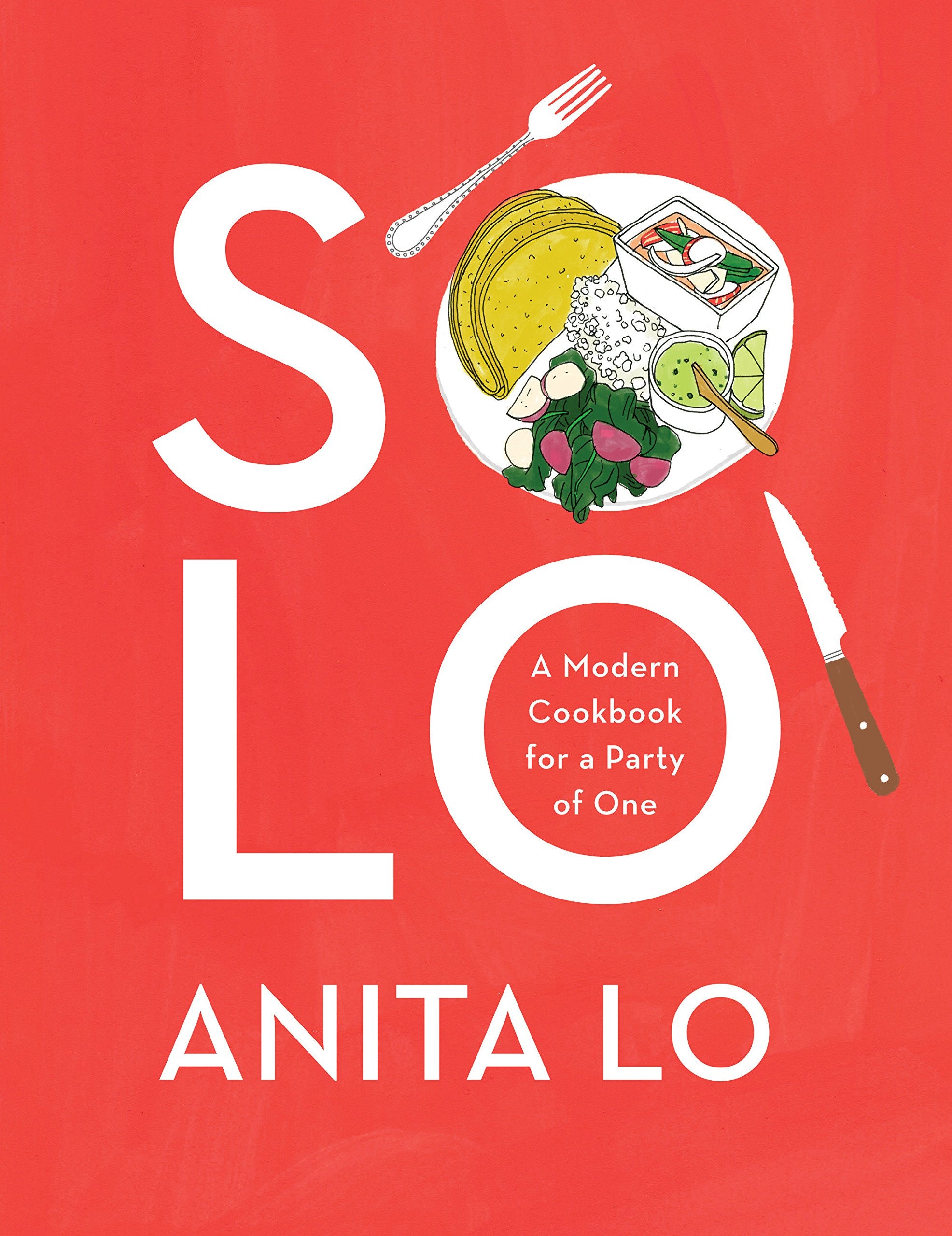 Promising review: "Cook like a 5-star chef! I love this book! It helped me jazz up my dinners at home easily and affordably. Anita's flavor-forward cooking style and clear explanations made it easy to bring her gorgeous style of cuisine to my kitchen table. Thanks, Anita!!" —Patty Gentry

Get it from Amazon for $14.95.
13.
Vietnamese Home Cooking — when The Slanted Door opened in 1995, Charles Phan gave many Americans their first taste of the rich, decadent flavors of Vietnamese food. With his cookbook, Phan teaches the basic techniques that'll make Vietnamese meals just as accessible at home. 
Promising review: "I'm a professional cook and I found this book very amusing. I love the pictures and his techniques for prepping food. The way he approaches Vietnamese cooking is different from any other Viet-Chef cookbook. It's not only the traditional way, which is maybe why I love it. He combines Western and Eastern techniques and explains them clearly. I tried almost half of the recipes and everything has turned out really tasty and delicious." —Kat Ng

Get it from Amazon for $24.55.