"Over 100,000 people are living with HIV in the UK. Globally there are an estimated 34 million people who have the virus. Despite the virus only being identified in 1984, more than 35 million people have died of HIV or AIDS, making it one of the most destructive pandemics in history." – World AIDS Day
Guatemala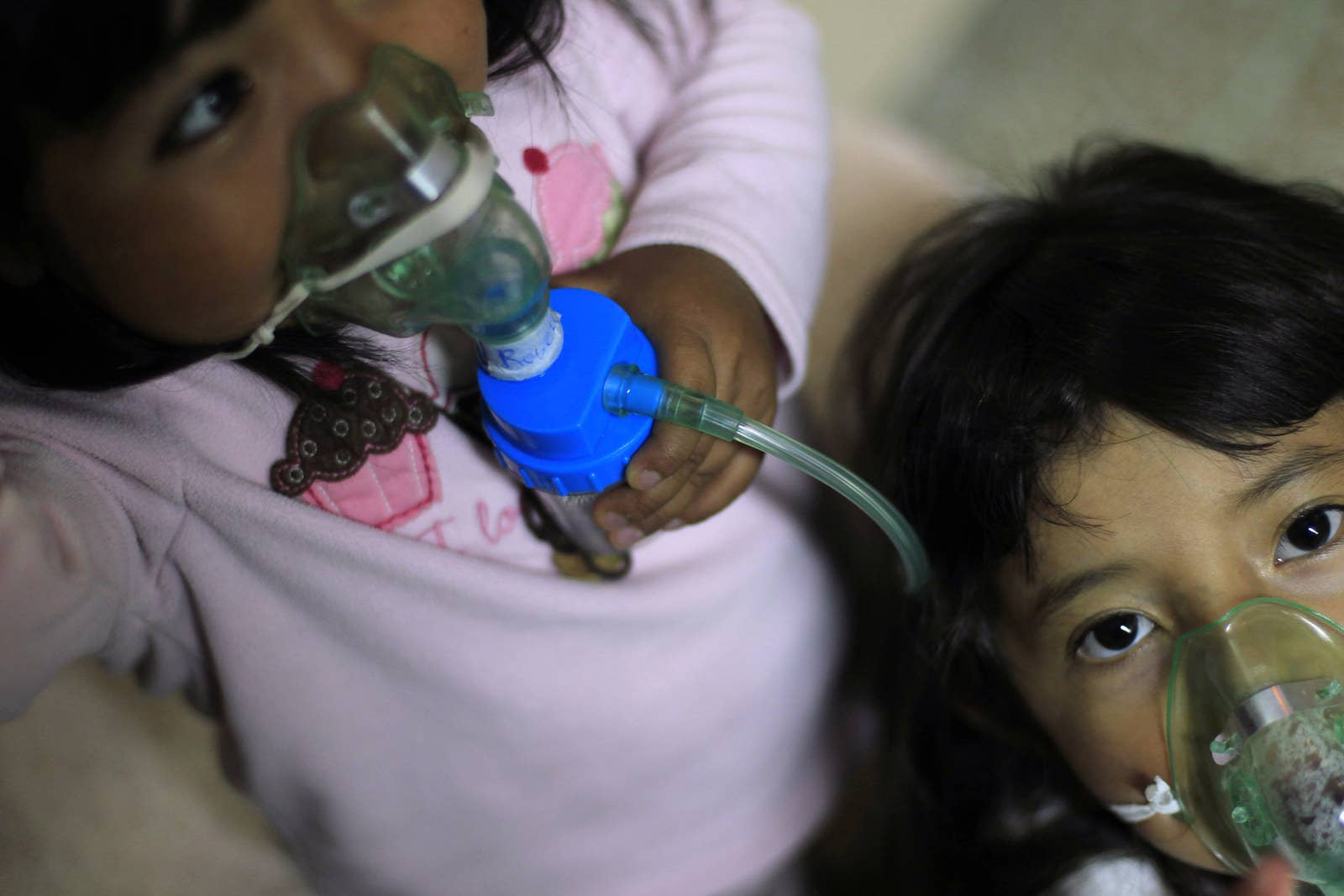 Children receive treatment for breathing problems in the San Jose Hospice, Sacatepequez, near Guatemala City, 2012. HIV-infected children receive free medical care at the hospice; many of them were found abandoned in markets, churches, fire stations, and in some instances, brought in by their families who cannot afford to pay for their medical treatment.

Thailand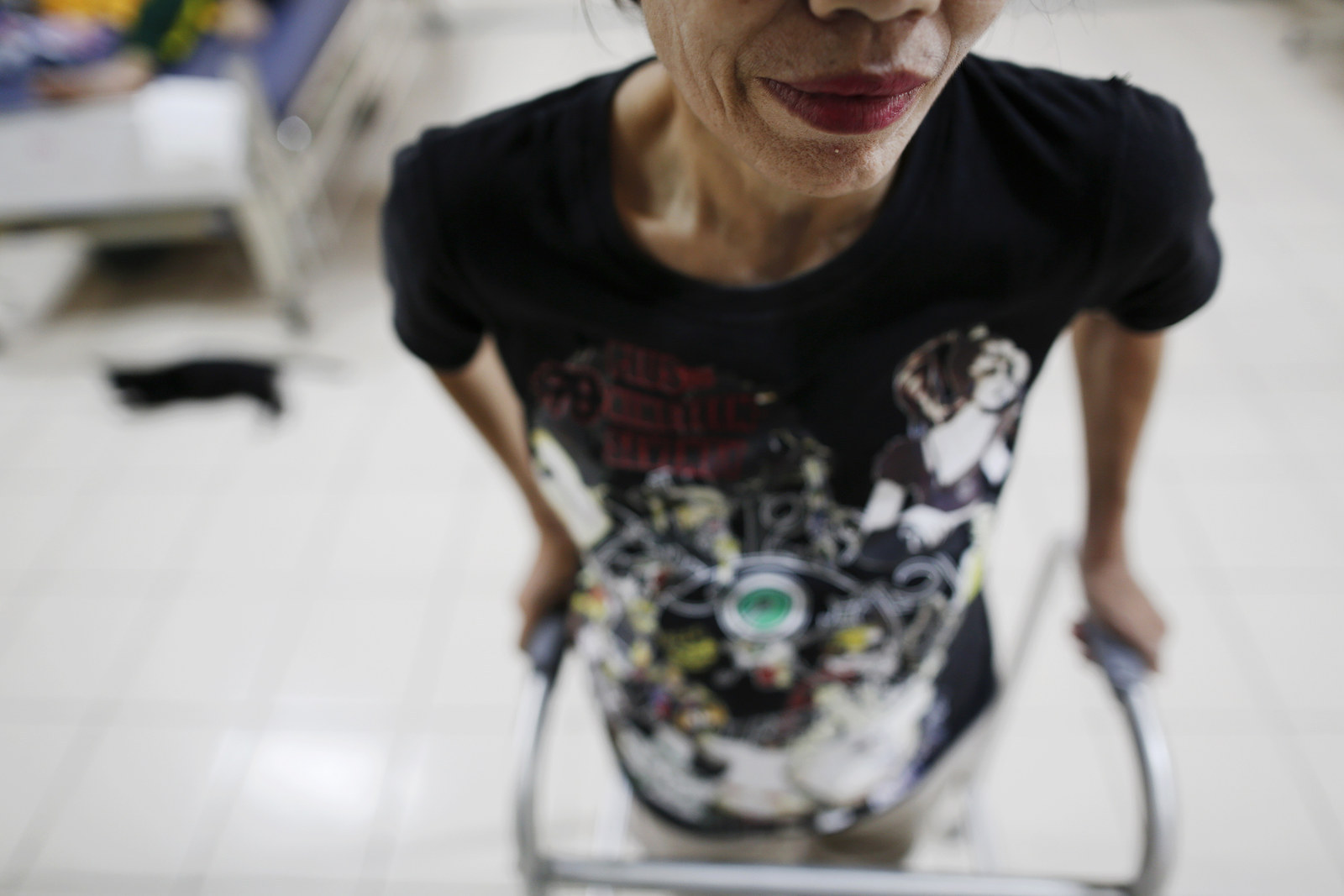 A patient makes her way through a hospice for those dying of AIDS at Buddhist temple Wat Prabat Nampu, 2012. The hospice is the largest of its kind in Thailand, providing housing for HIV positive patients and palliative care for those in the final stages of the disease.

South Africa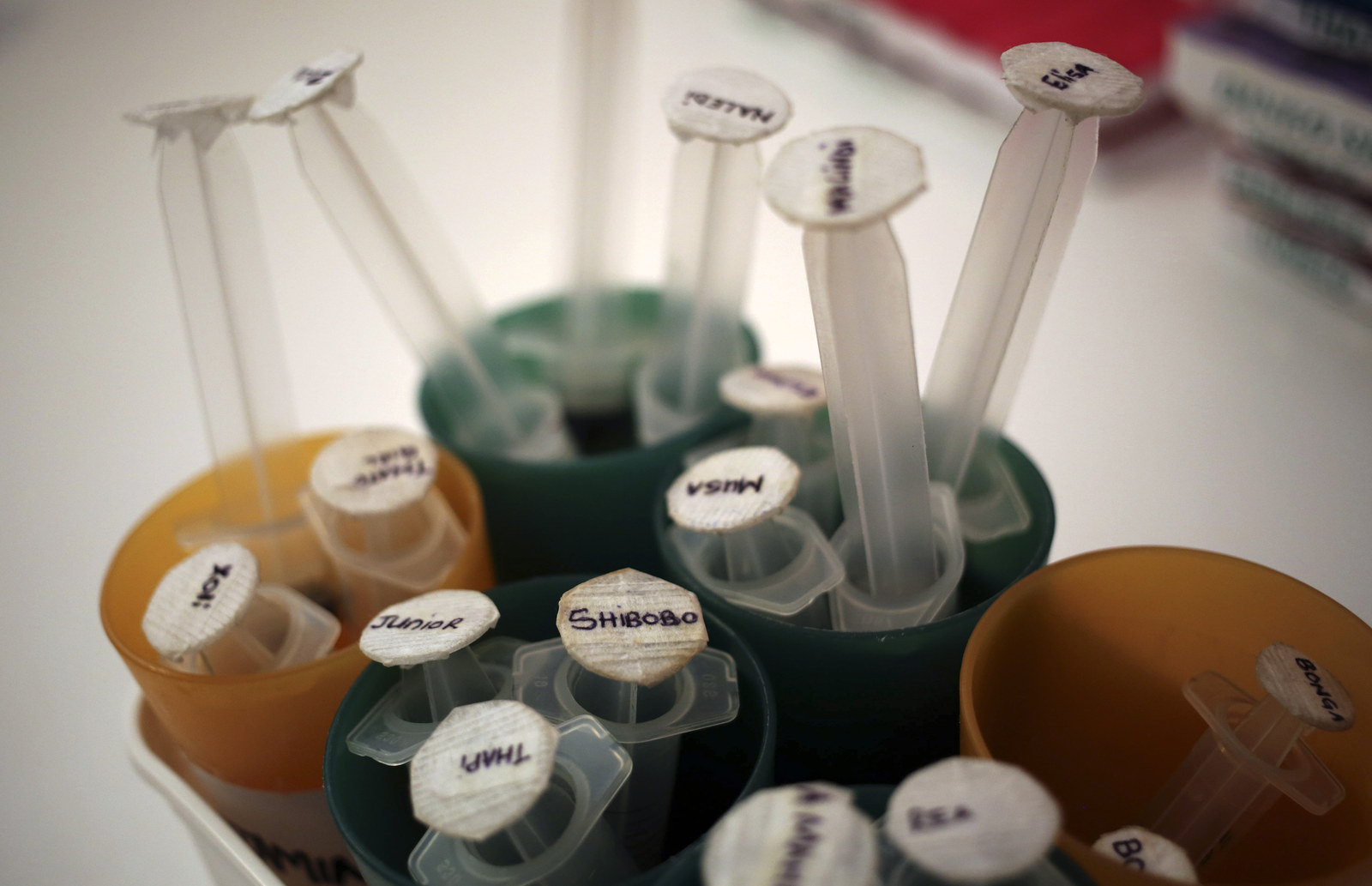 Names of patients on syringes at Nkosi's Haven, south of Johannesburg, 2014. Nkosi's Haven provides residential care for destitute HIV-positive mothers and their children.

India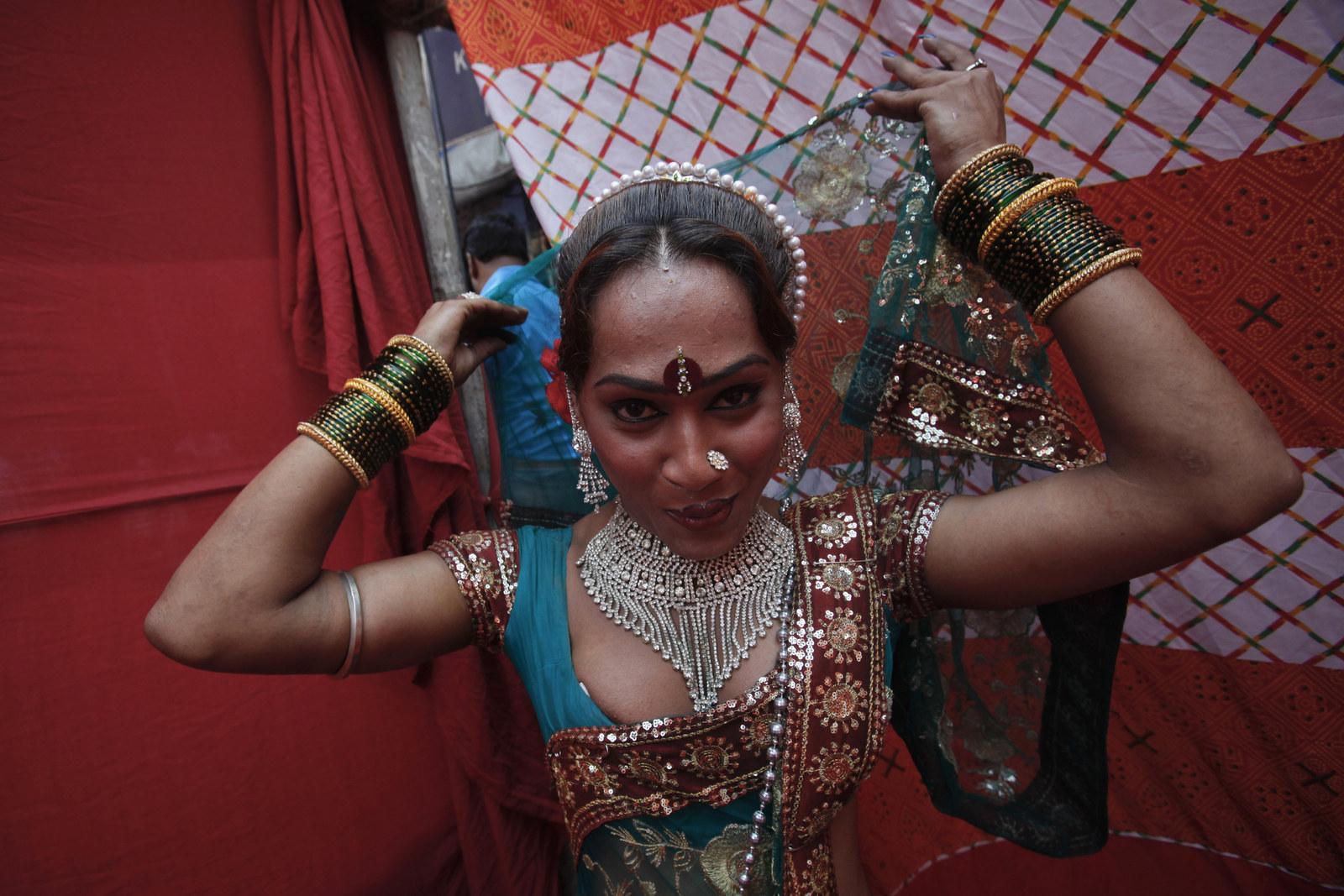 Raksha, 25, a sex worker, prepares for a performance in Mumbai's Kamathipura red light district, 2011. Social Activities Integration, an organisation that provides free condoms and medical care to people living with HIV/AIDS, holds a commemoration for sex workers who died from AIDS.

Nepal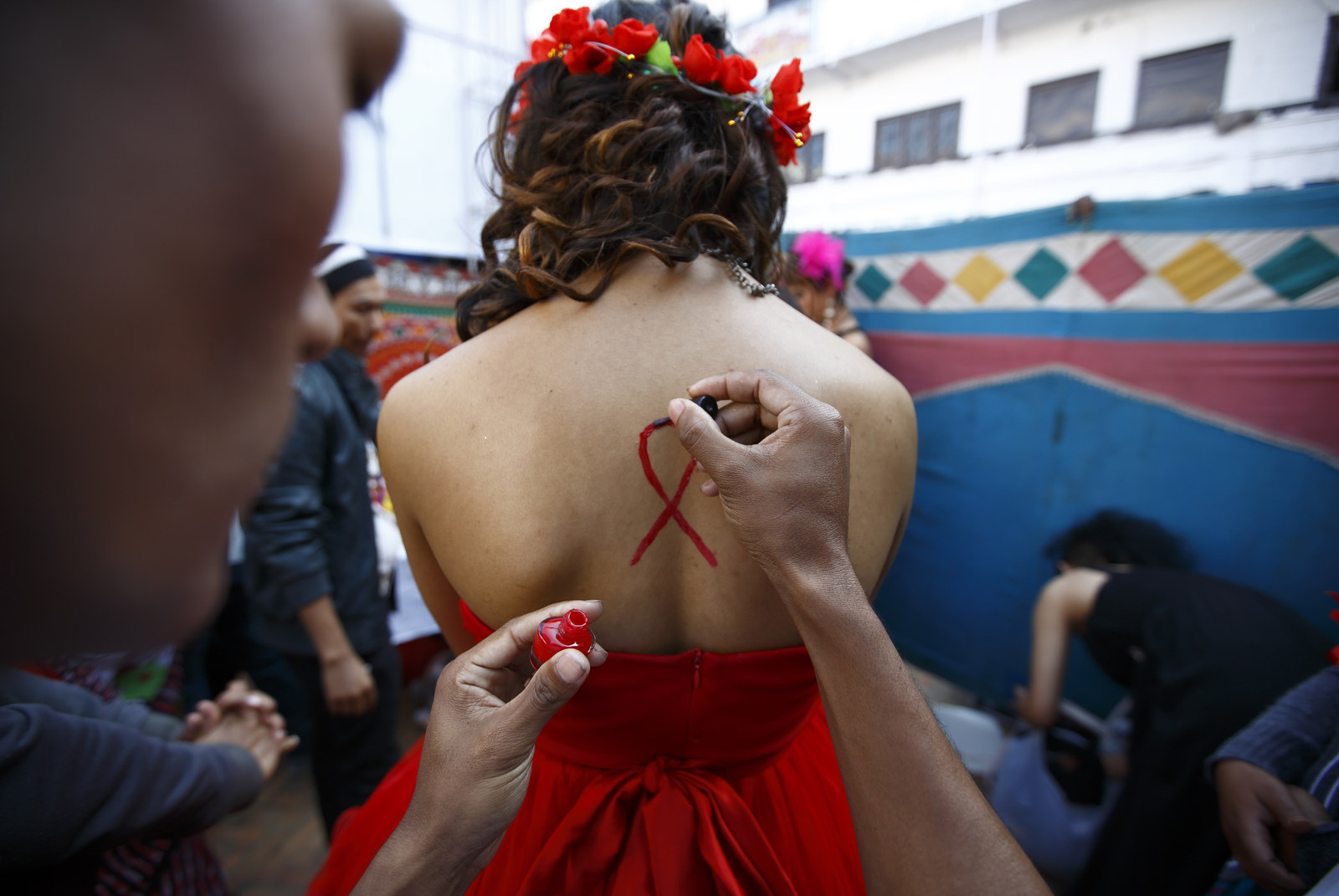 A Nepalese transgender woman in Kathmandu has a red ribbon drawn on her back to show support for people living with HIV on World AIDS Day, 2013.

Myanmar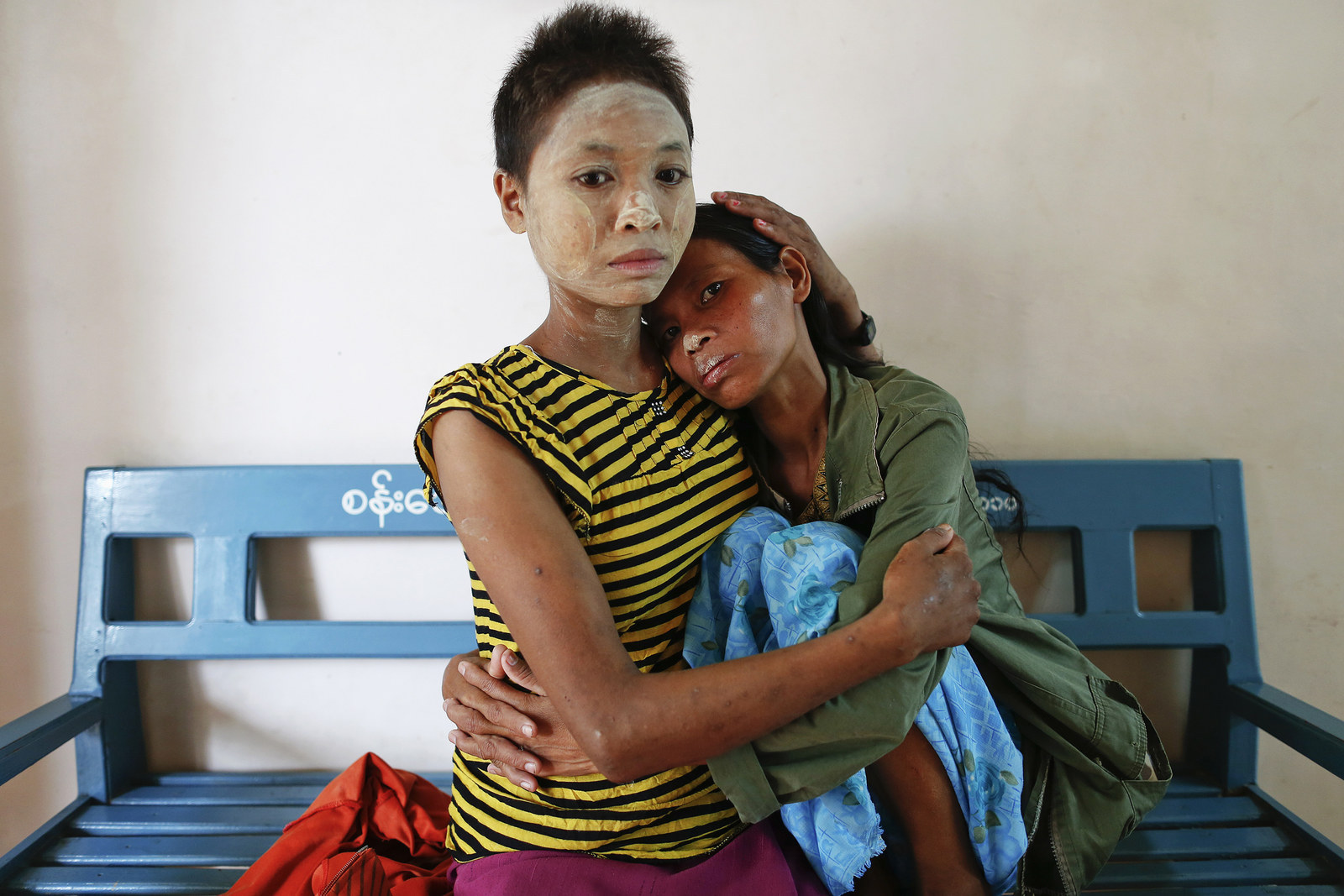 Mye Nyo (right), 39, is comforted by Thi Darwin, 23, at a Catholic-run hospice for HIV/AIDS patients in Myitkyina, Kachin State, 2013. Both residents of the hospice were infected by their husbands, who were heroin addicts who died of AIDS.
Vietnam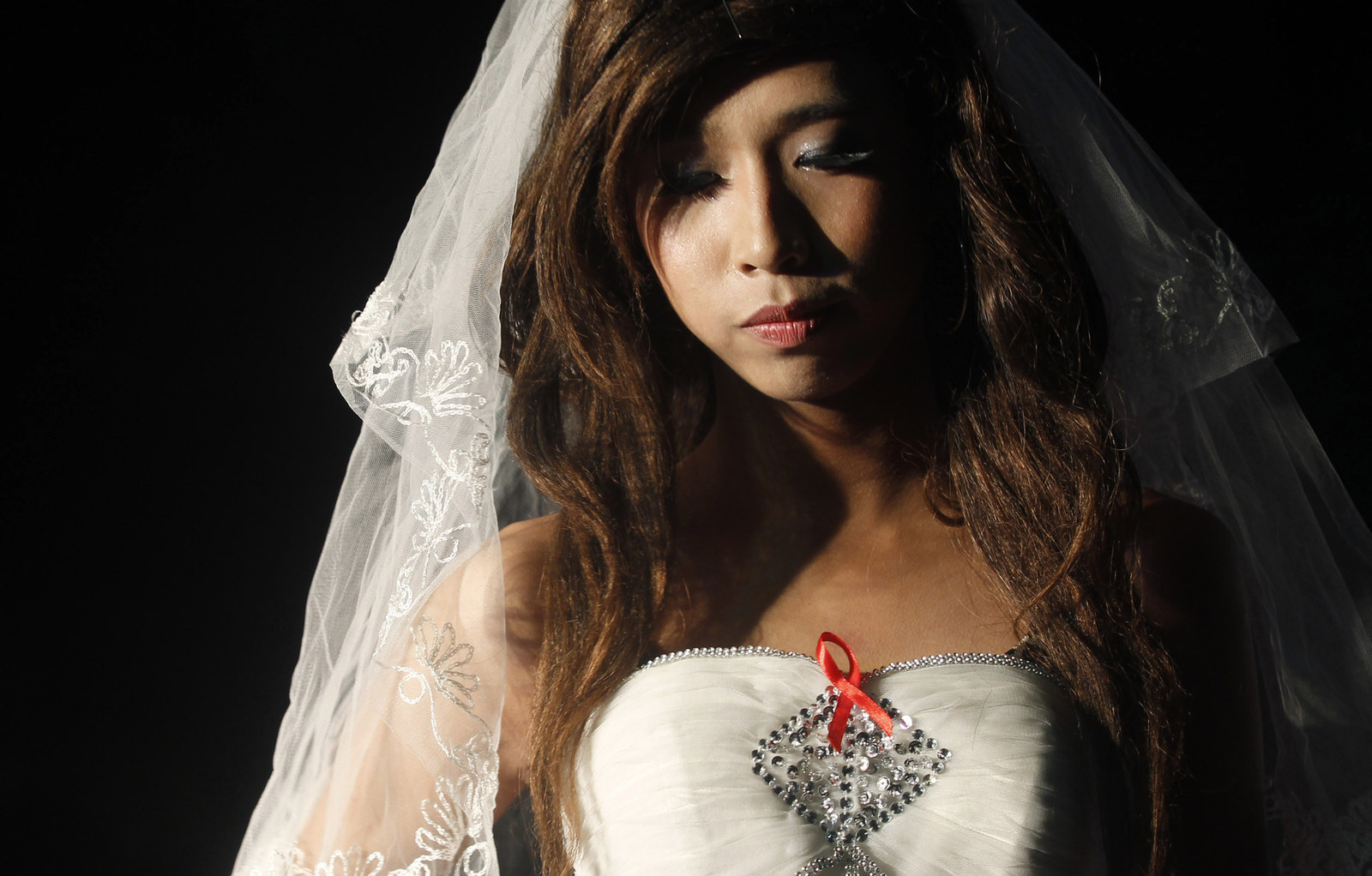 A member of the MSM (Men who have Sex with Men) Club, wears a red ribbon while performing at an HIV/AIDS awareness campaign in Hanoi, 2011.

Mexico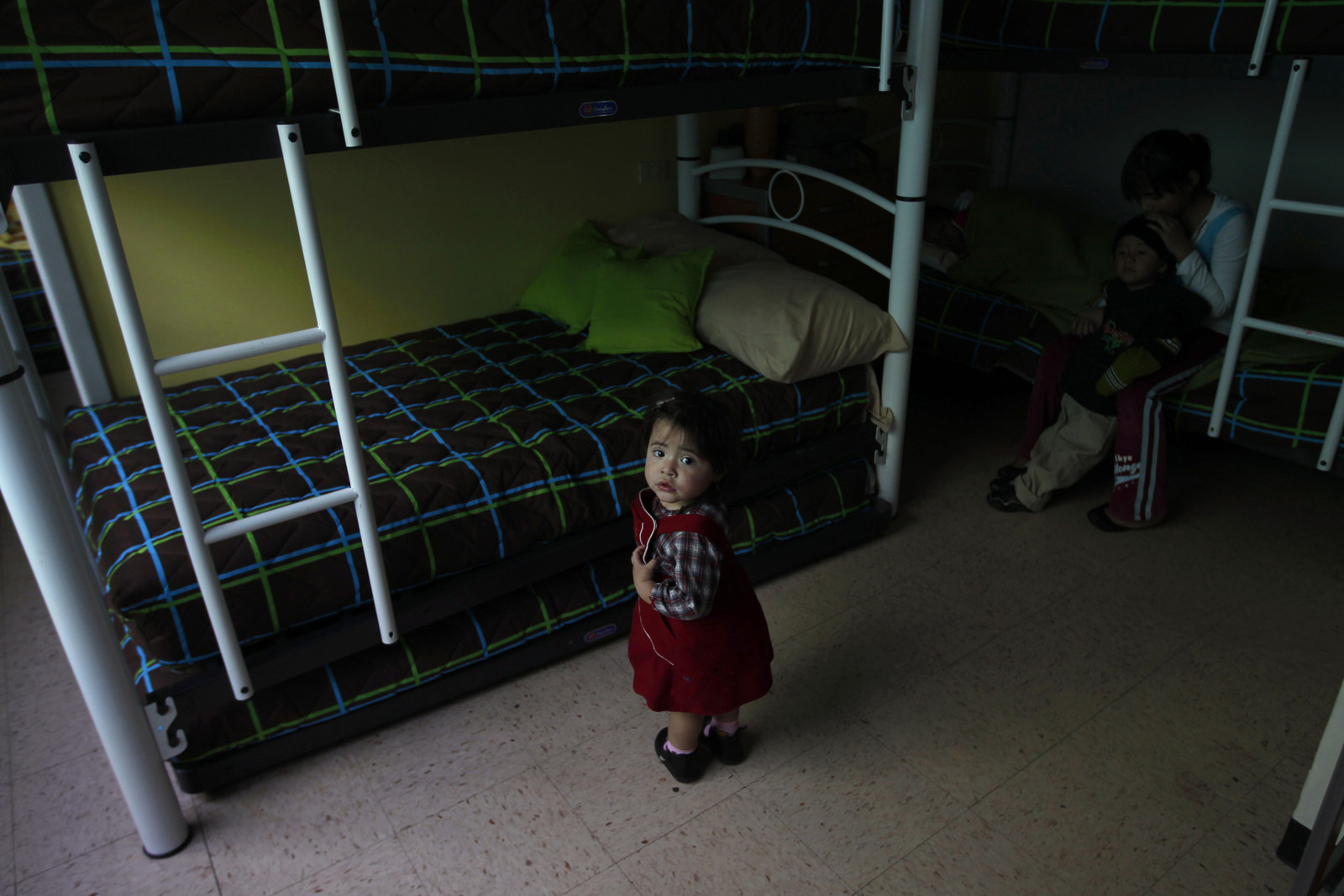 A girl looks at the camera inside the Hostel Domus Alipio in Mexico City, 2011. The hostel provides shelter, medication, and therapy to orphans and women and children from low-income families affected by HIV/AIDS.

South Africa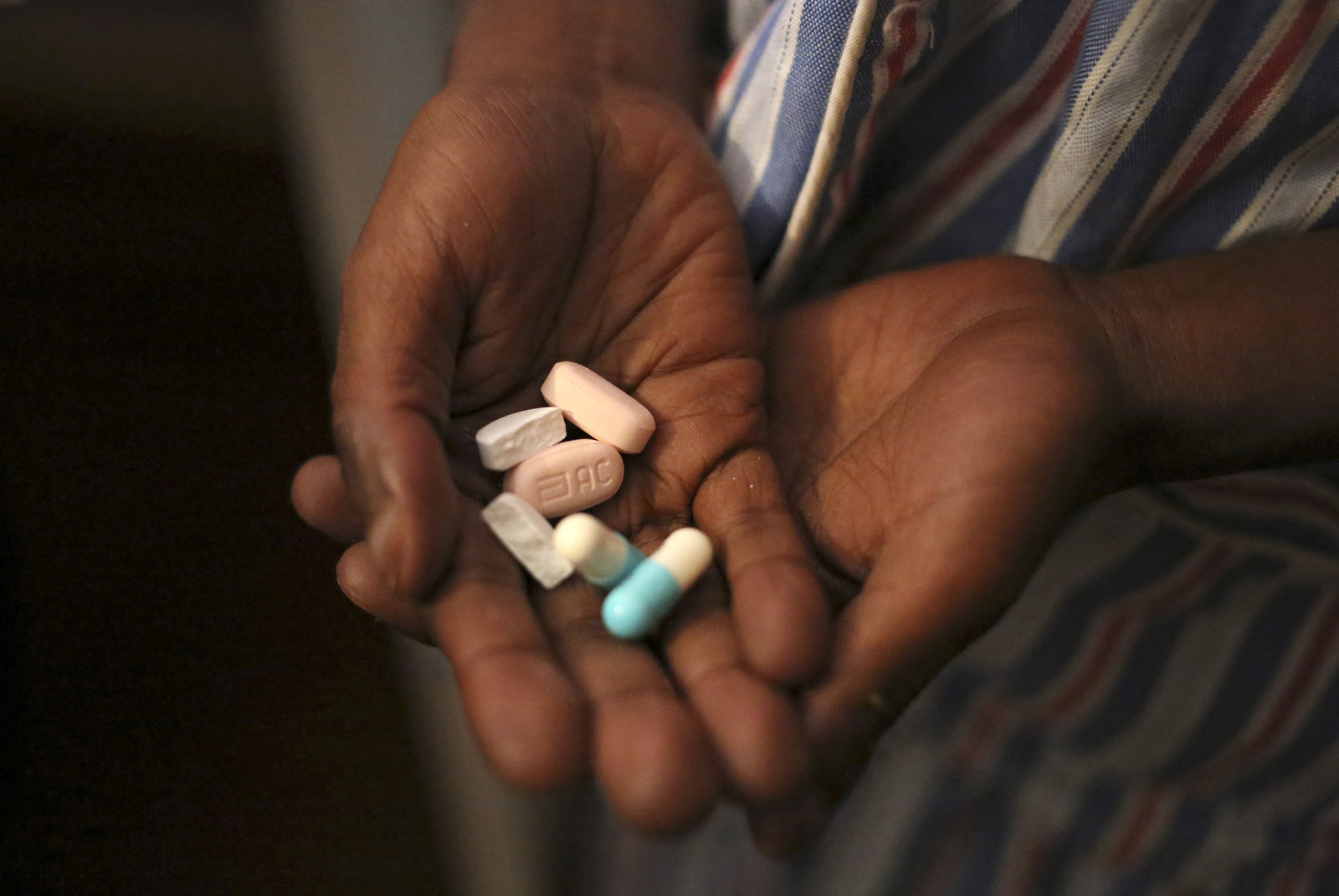 Nine-year-old Tumelo shows off antiretroviral (ARV) pills before taking his medication at Nkosi's Haven, south of Johannesburg, 2014.
Myanmar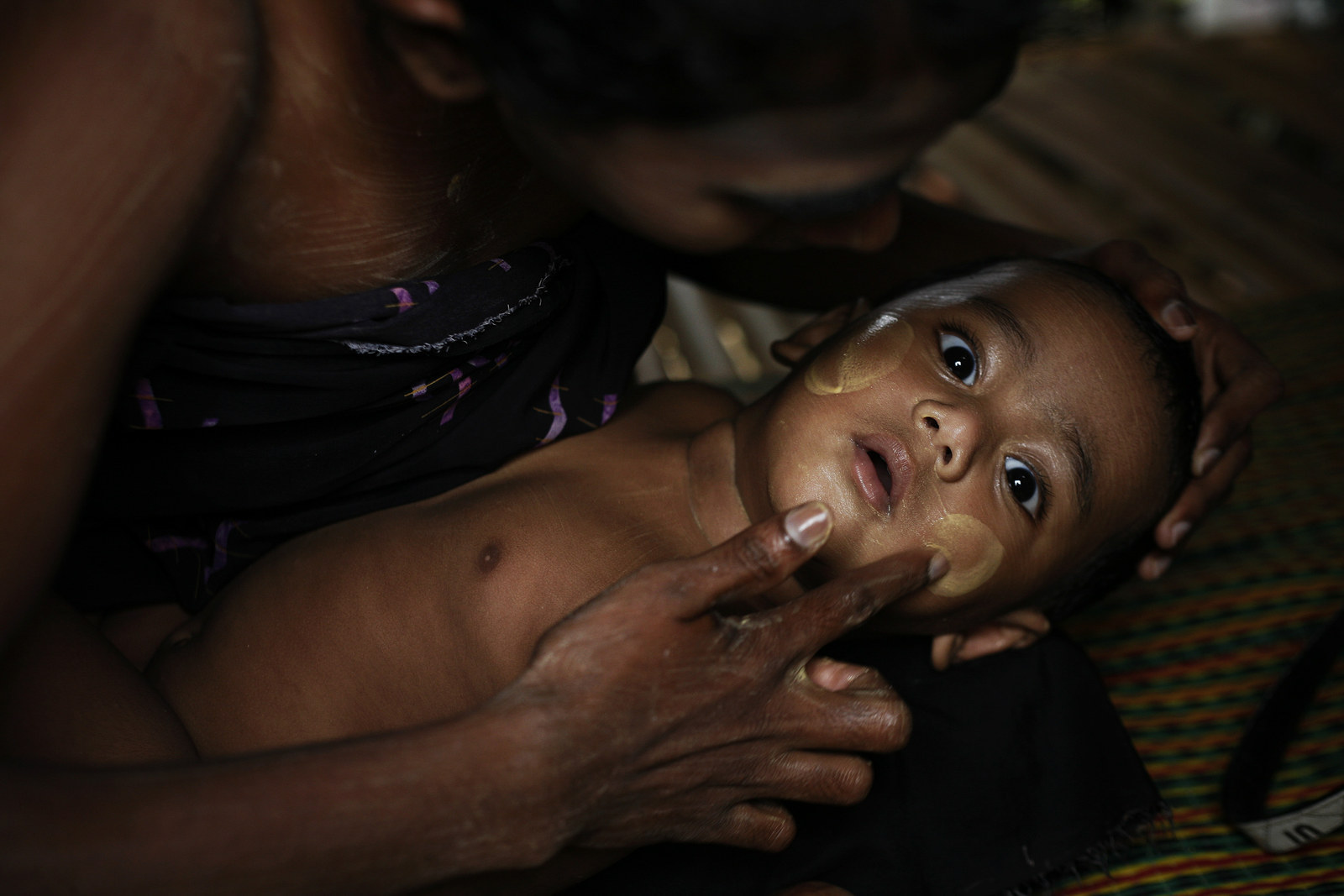 A mother with HIV puts "thanaka" (a cosmetic) paste on her son at the HIV/AIDS hospice in Yangon, 2012.

China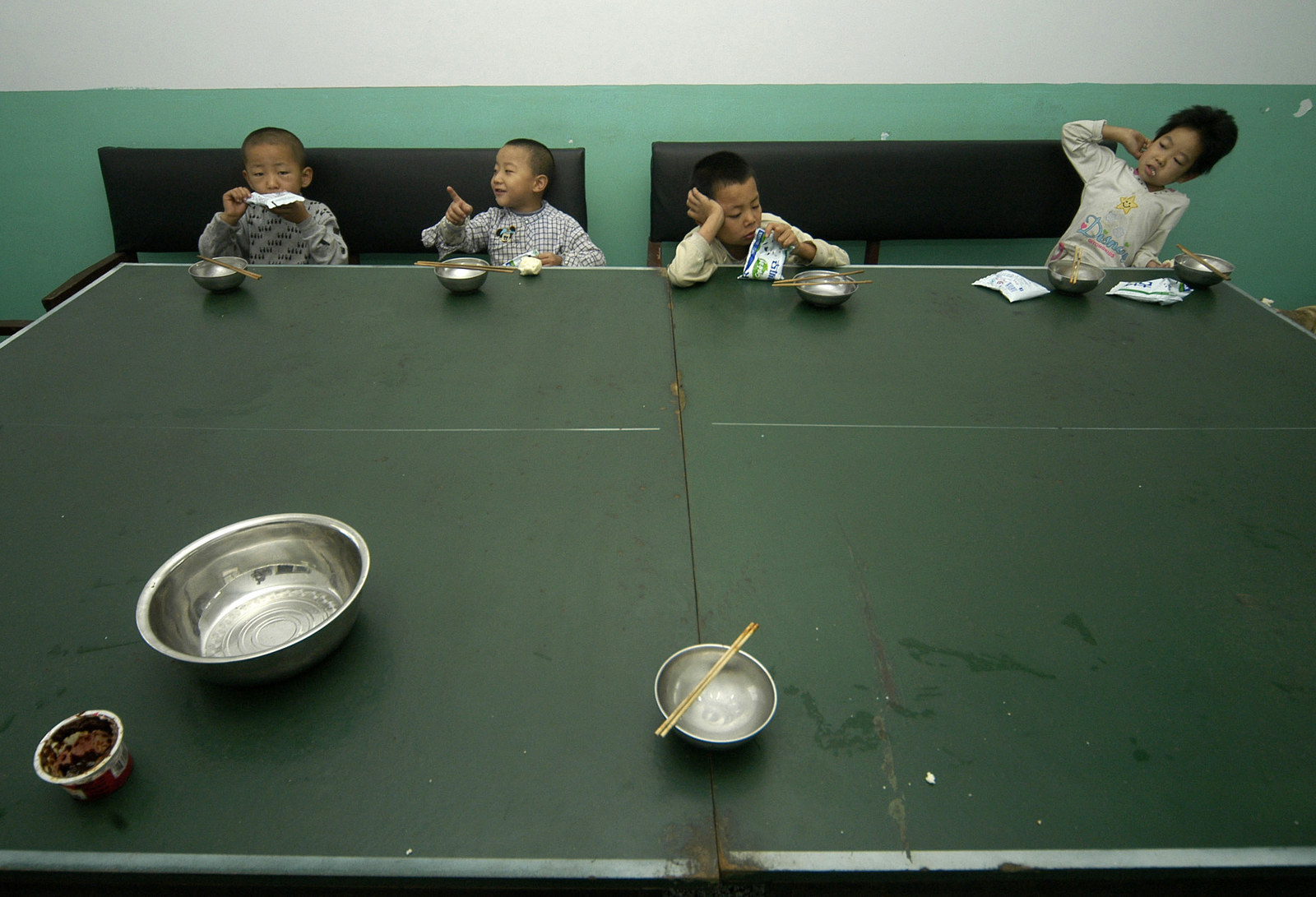 Children living with HIV have their breakfast at school in north China's Shanxi province. The school, operated by a hospital since 2004, provides cultural courses and lodging for 11 HIV-positive children aged 7 to 12.

Thailand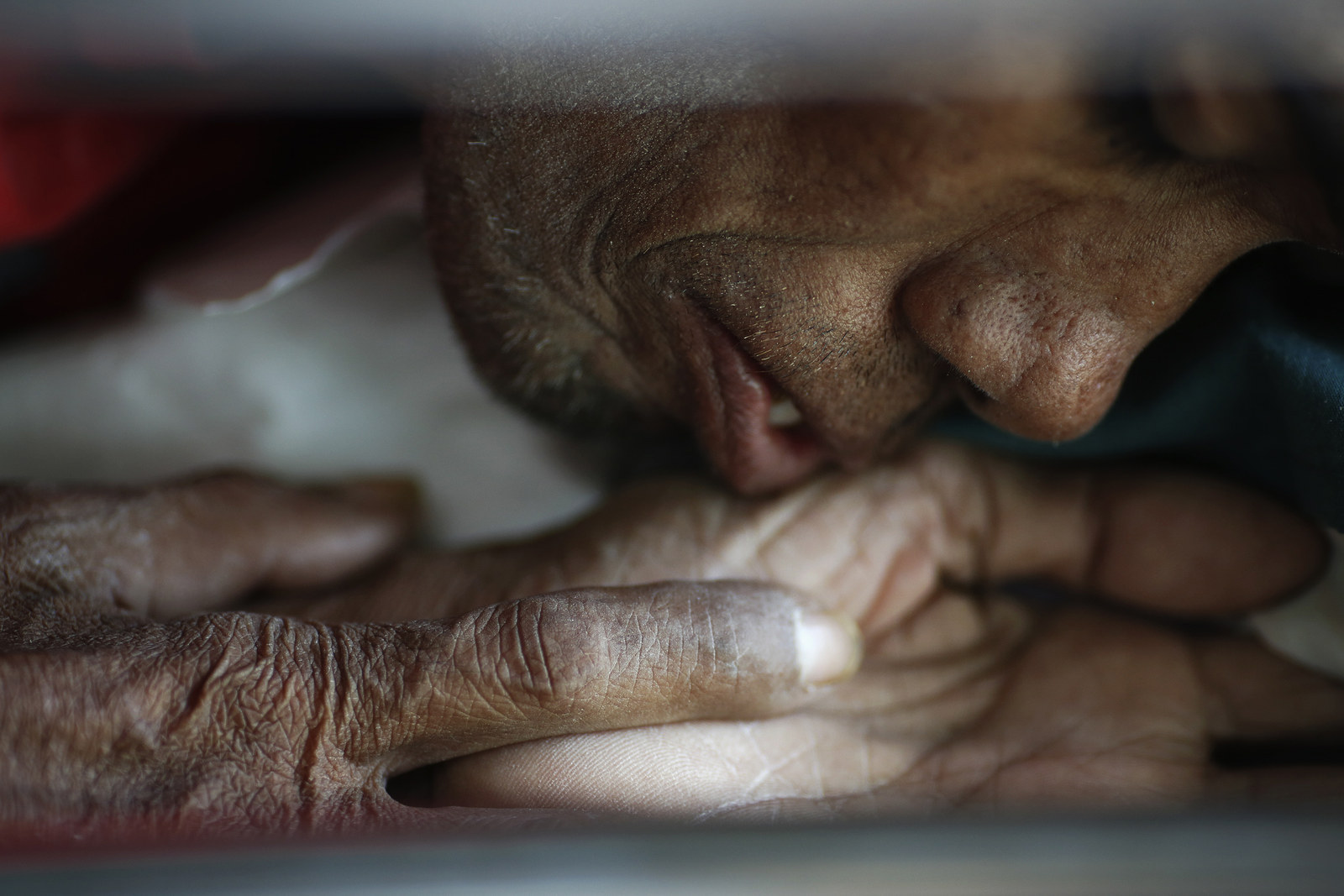 A terminally ill patient rests in a hospice for those dying of AIDS at a Buddhist temple in Wat Prabat Nampu, 2012.

China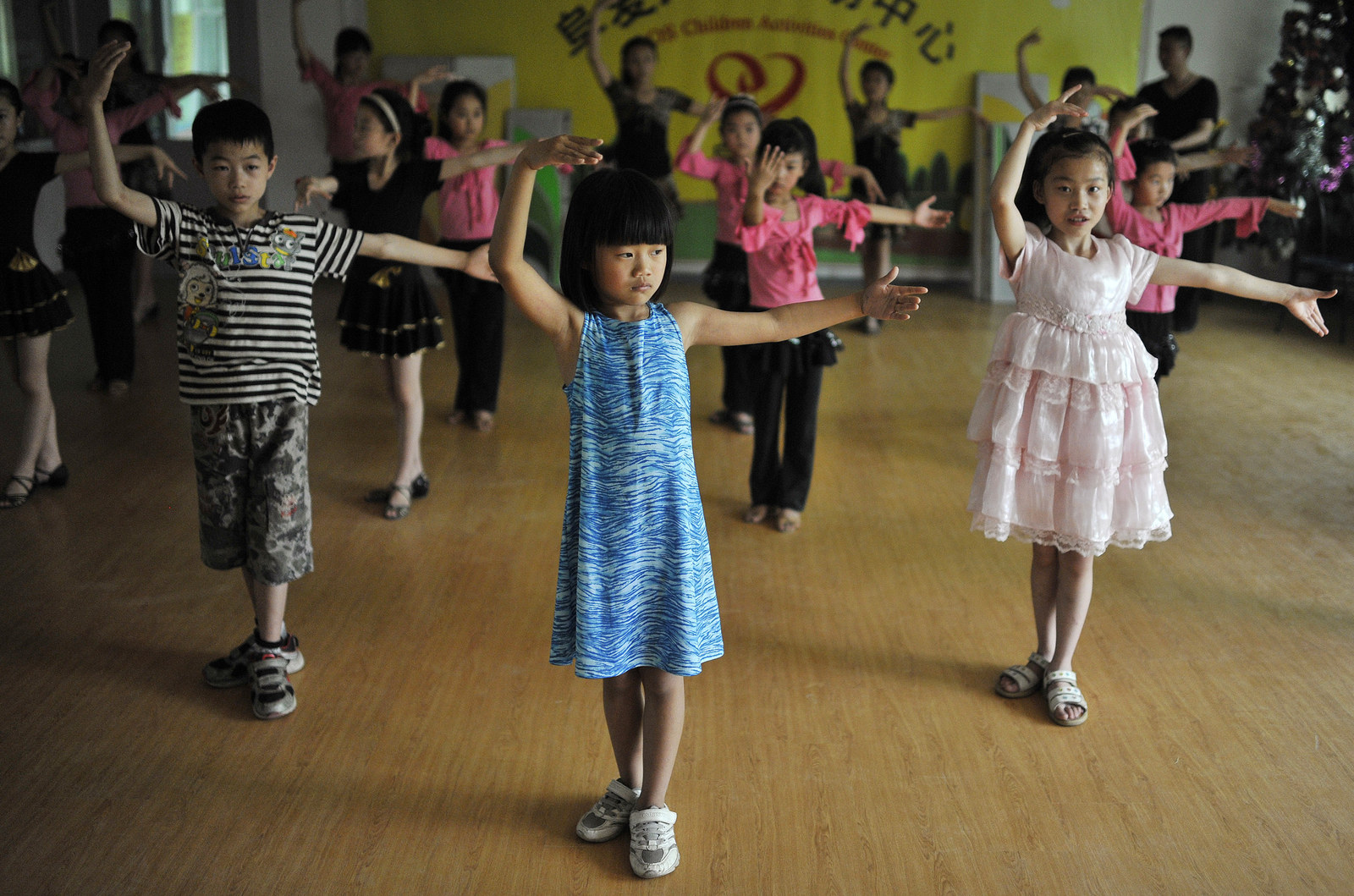 HIV-positive children Zhenzhen (centre), Yueyue (right), and Haohao (left) practise dance moves as they prepare for a performance to celebrate International Children's Day at an orphanage run by the Fuyang AIDS Orphan Salvation Association in Fuyang, Anhui, 2014.

Cambodia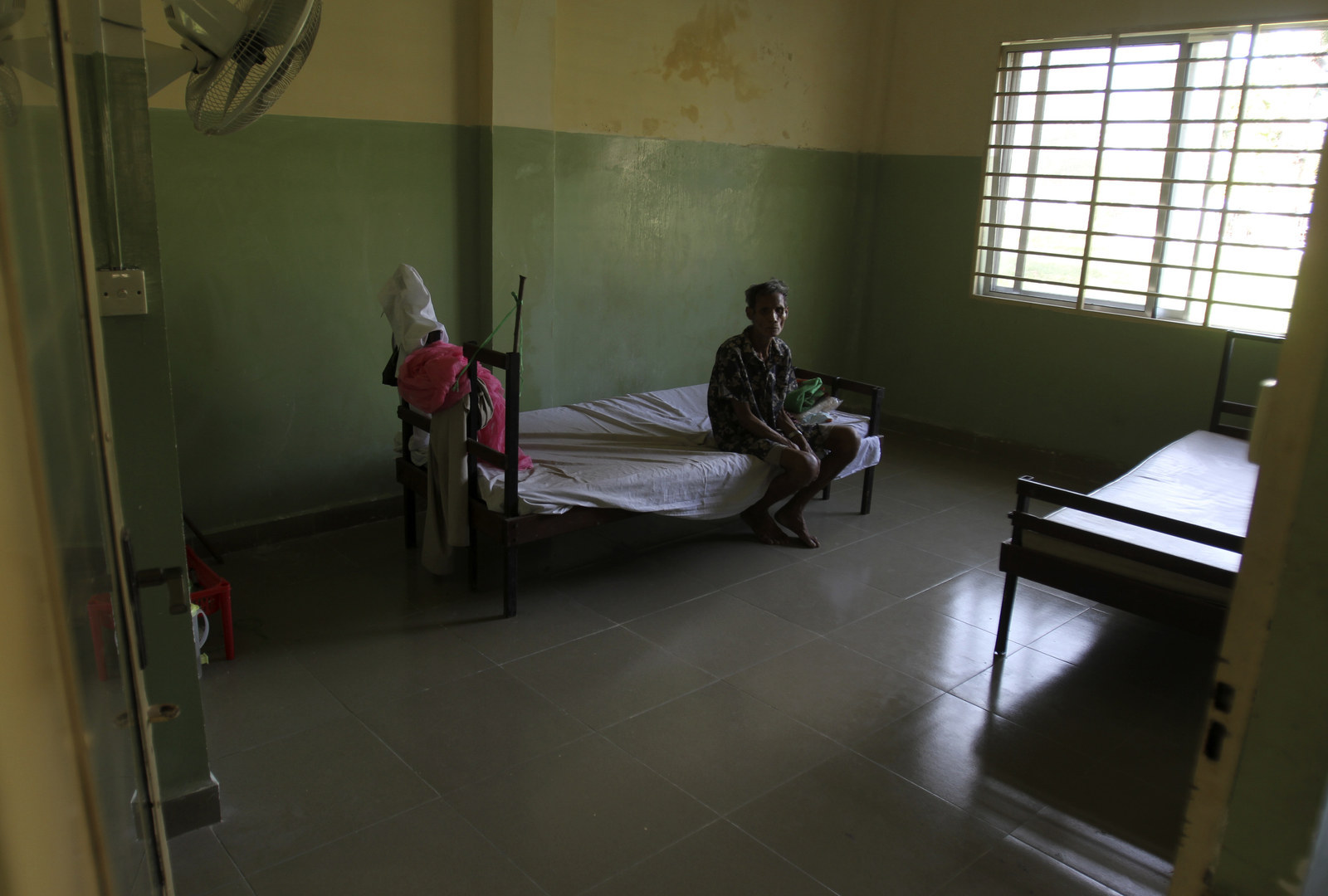 Prum Chhorn, 58, an HIV-positive patient, rests at the Khmer-Soviet Hospital in Phnom Penh, 29 November 2011.

Greece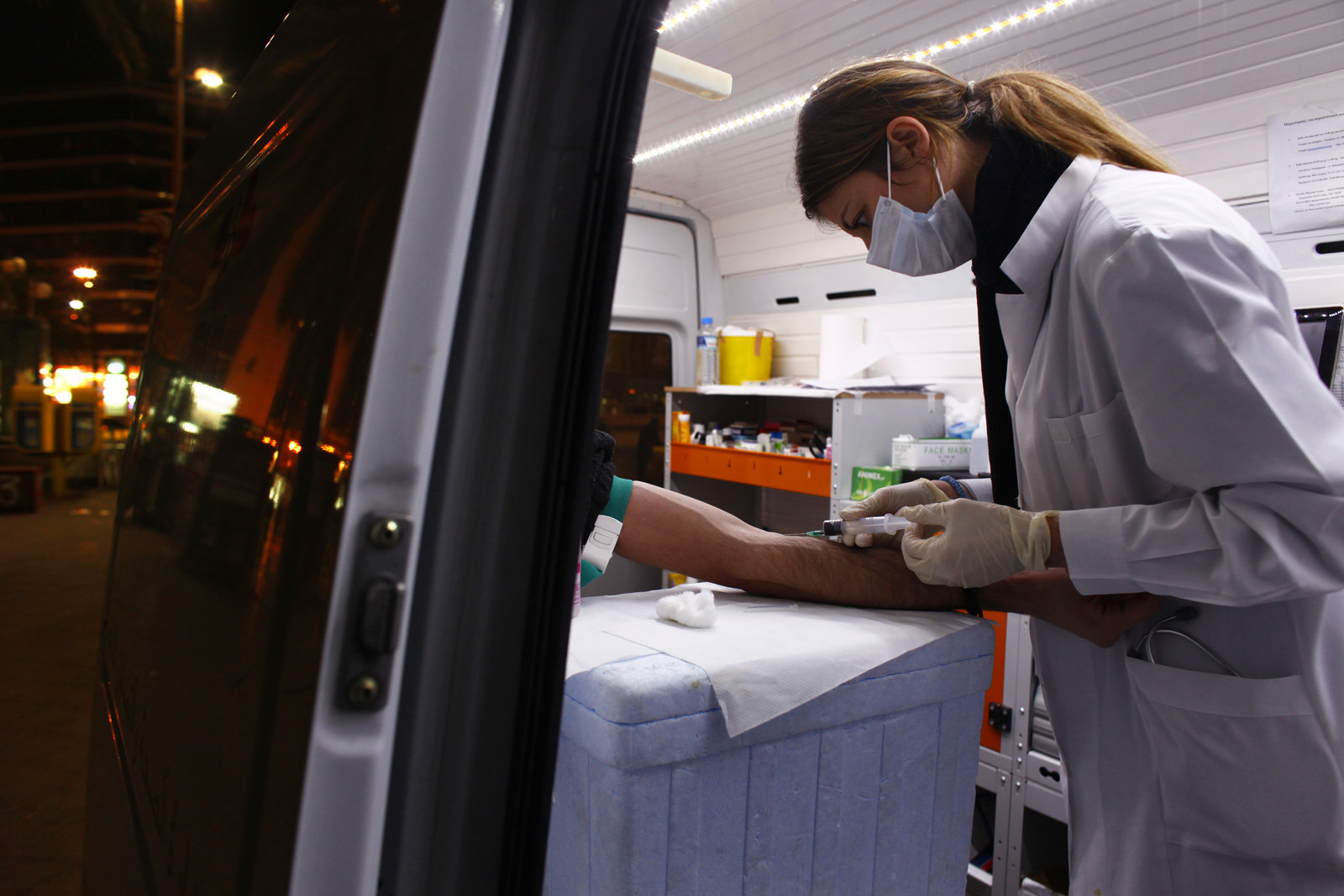 Nurse Maria Vatista draws blood for an HIV test from a Greek drug addict in a mobile HIV testing van in Omonia Square, Athens, 2011.
Cuba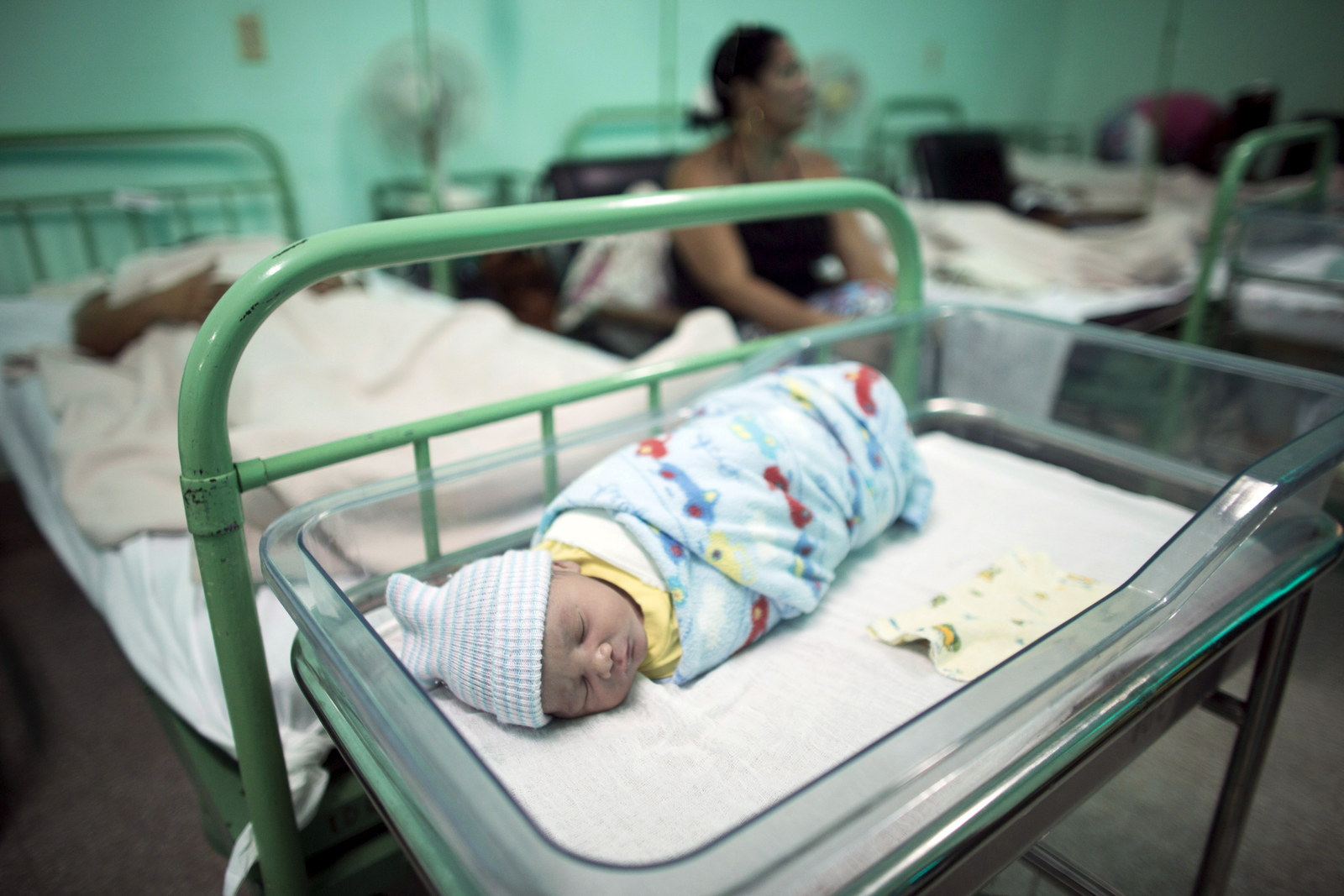 A newborn baby rests beside his mother Dailyn Fleite (left), 29, at the Ana Betancourt de Mora Hospital in Camaguey, Cuba, 2015. The World Health Organisation declared Cuba the first country in the world to eliminate the transmission of HIV and syphilis from mother to child.

India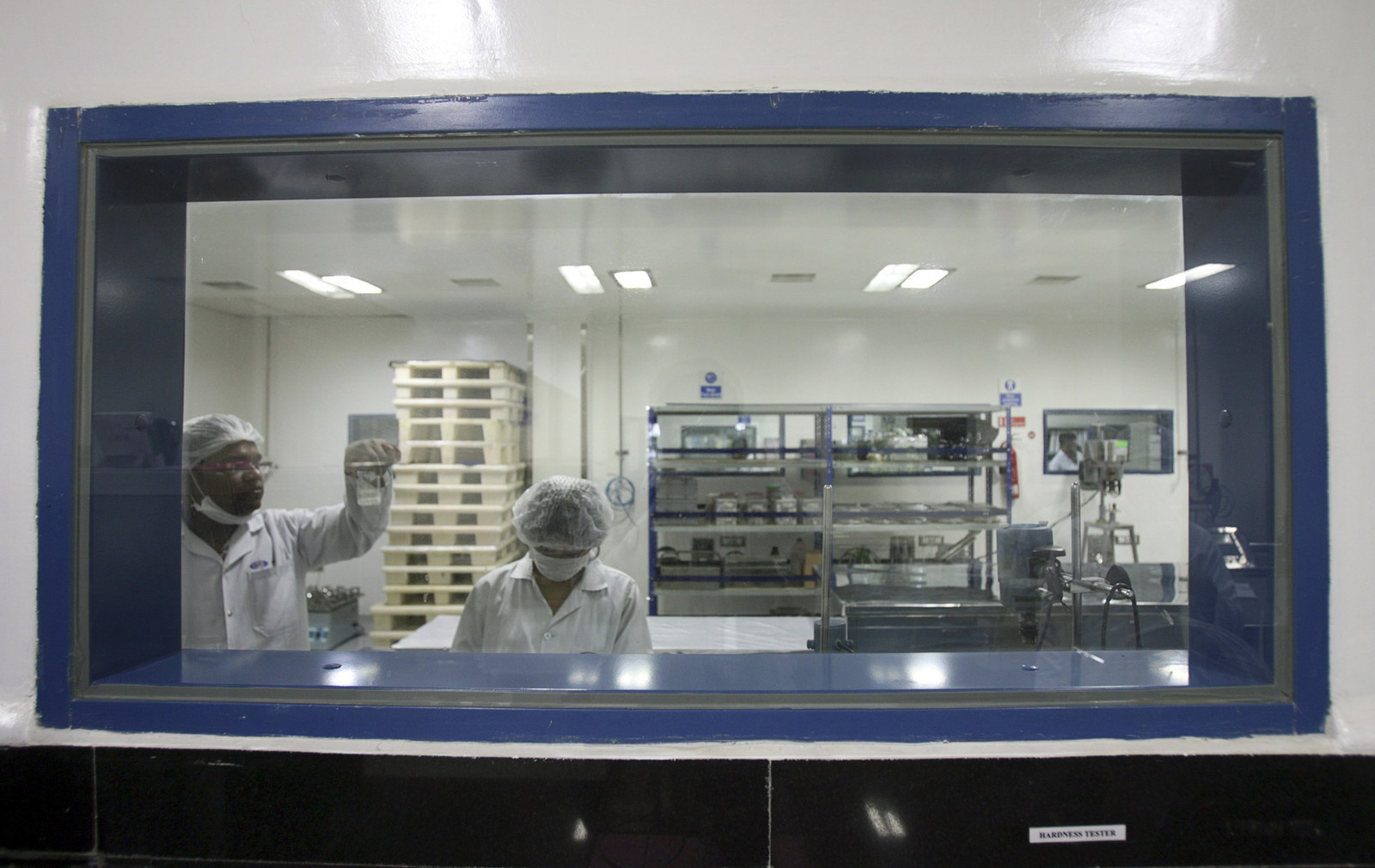 Pharmacologists work inside the Natco Research Centre in Hyderabad, 2012. That year, the Indian Patent Office effectively ended the pharmaceutical company Bayer's monopoly on its Nexavar drug and issued its first compulsory license, allowing local generic maker Natco Pharma to make and sell the drug cheaply in India.

India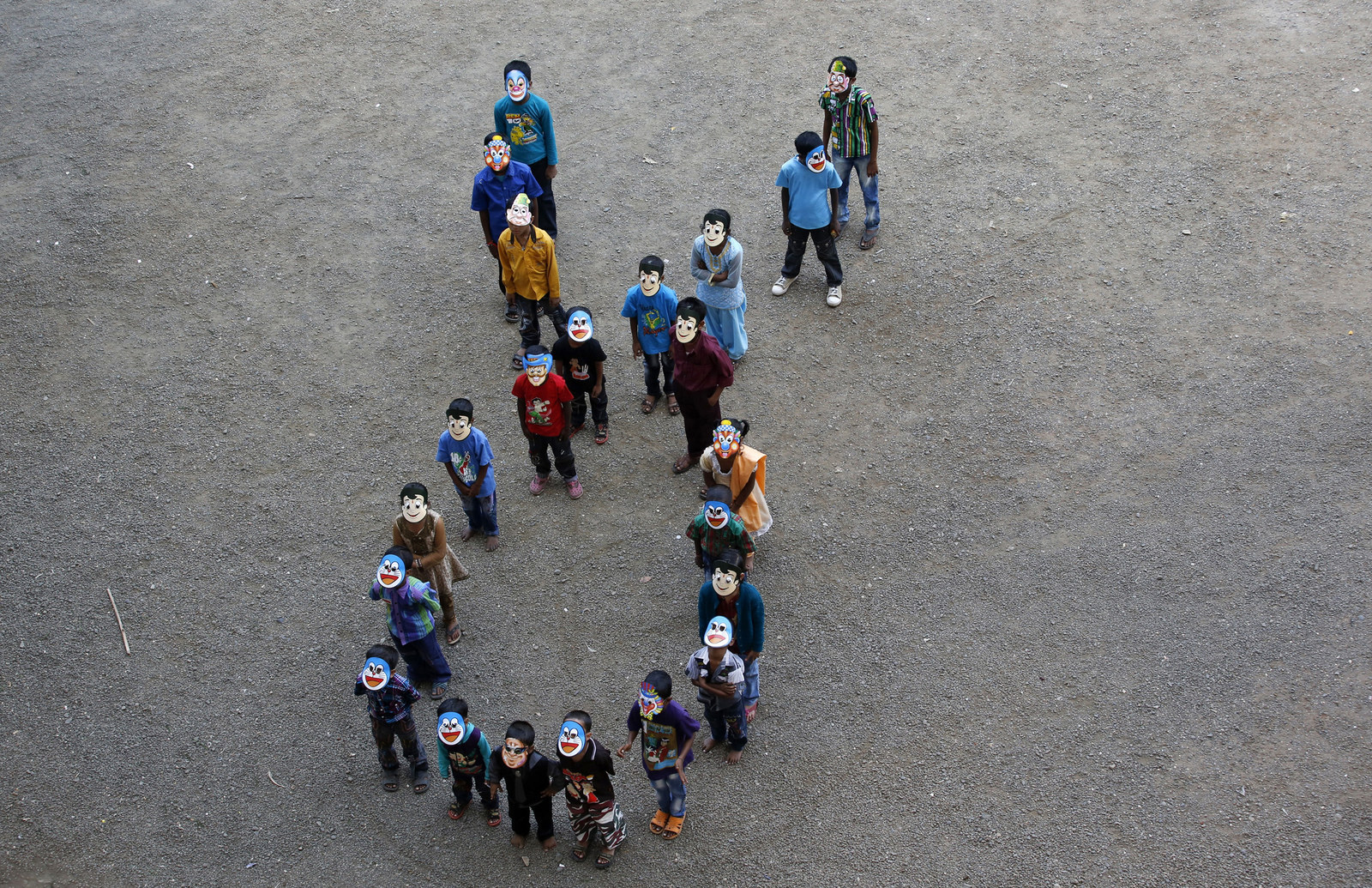 Children with HIV/AIDS line up to form an AIDS awareness ribbon on World AIDS Day, 2012. The children are wearing masks in order to protect their identities.

Ukraine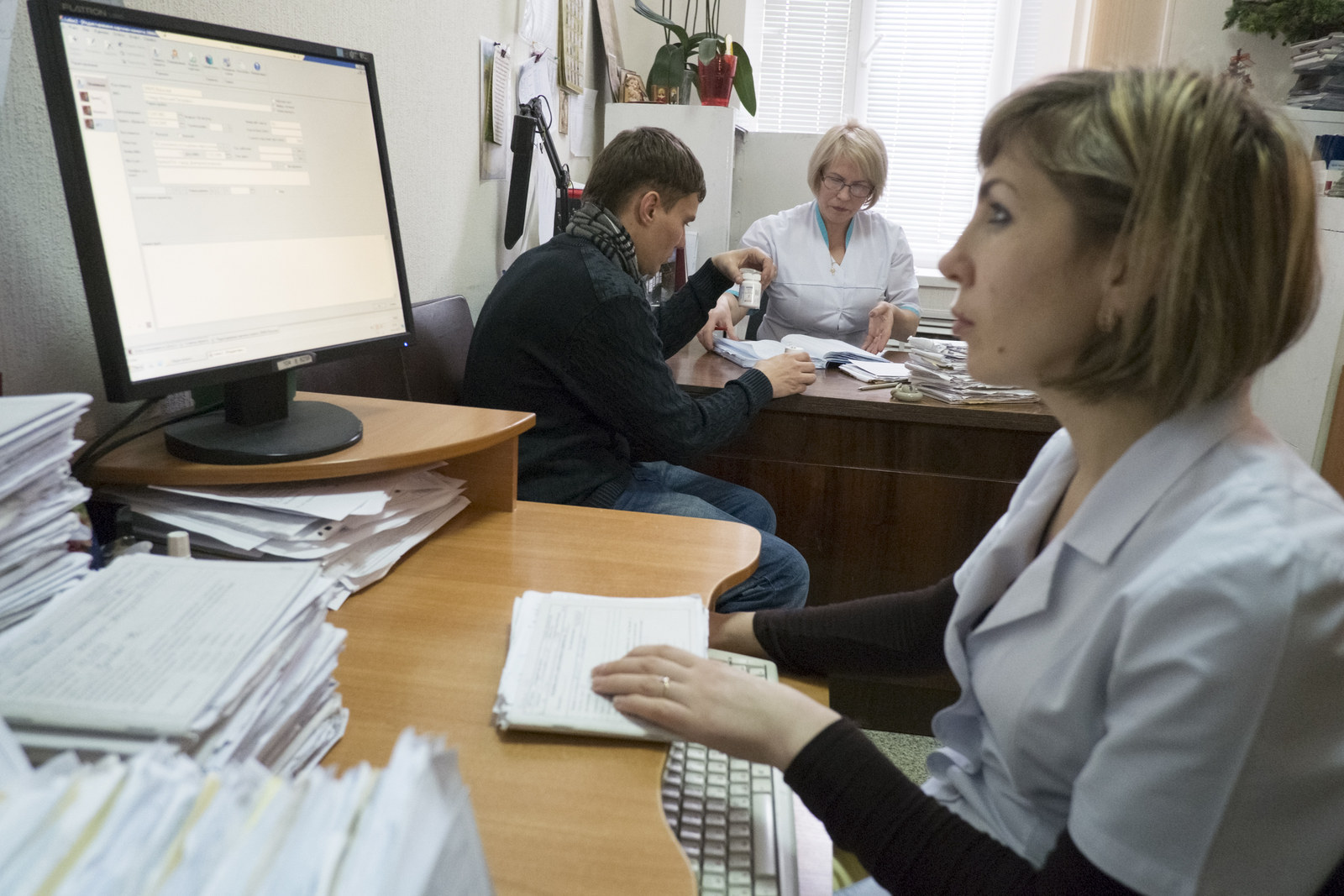 A HIV-positive patient receives medication from a doctor at the state-run Lavra clinic, Ukraine's main HIV treatment centre, in Kiev, 2013.

Pakistan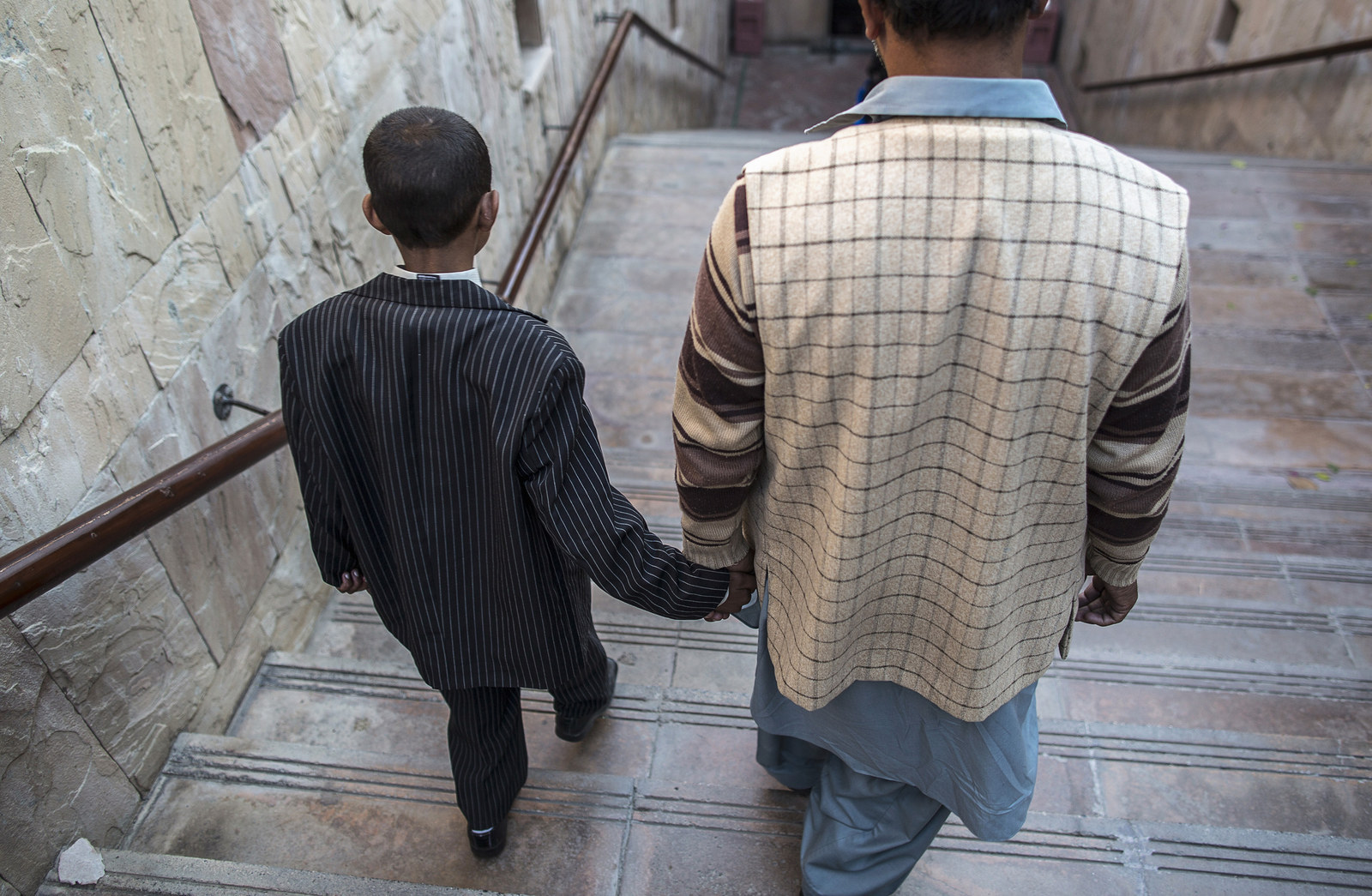 Waqas, 12, who contracted HIV through a blood transfusion, walks down a flight of stairs with his father after an interview with Reuters in Islamabad, 2014.

United States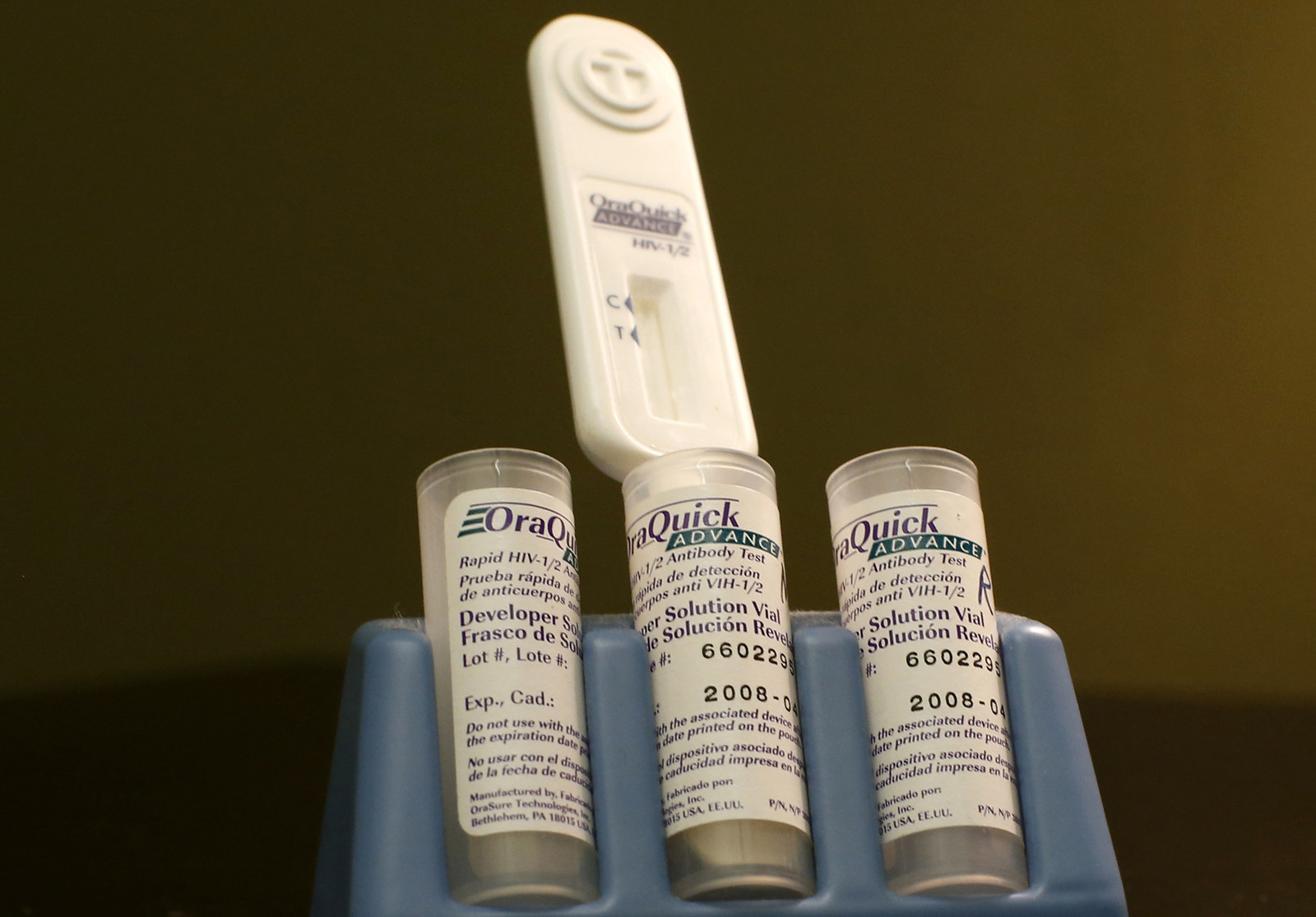 A rapid HIV test kit is seen at the AIDS Service Center NYC, 2012.

France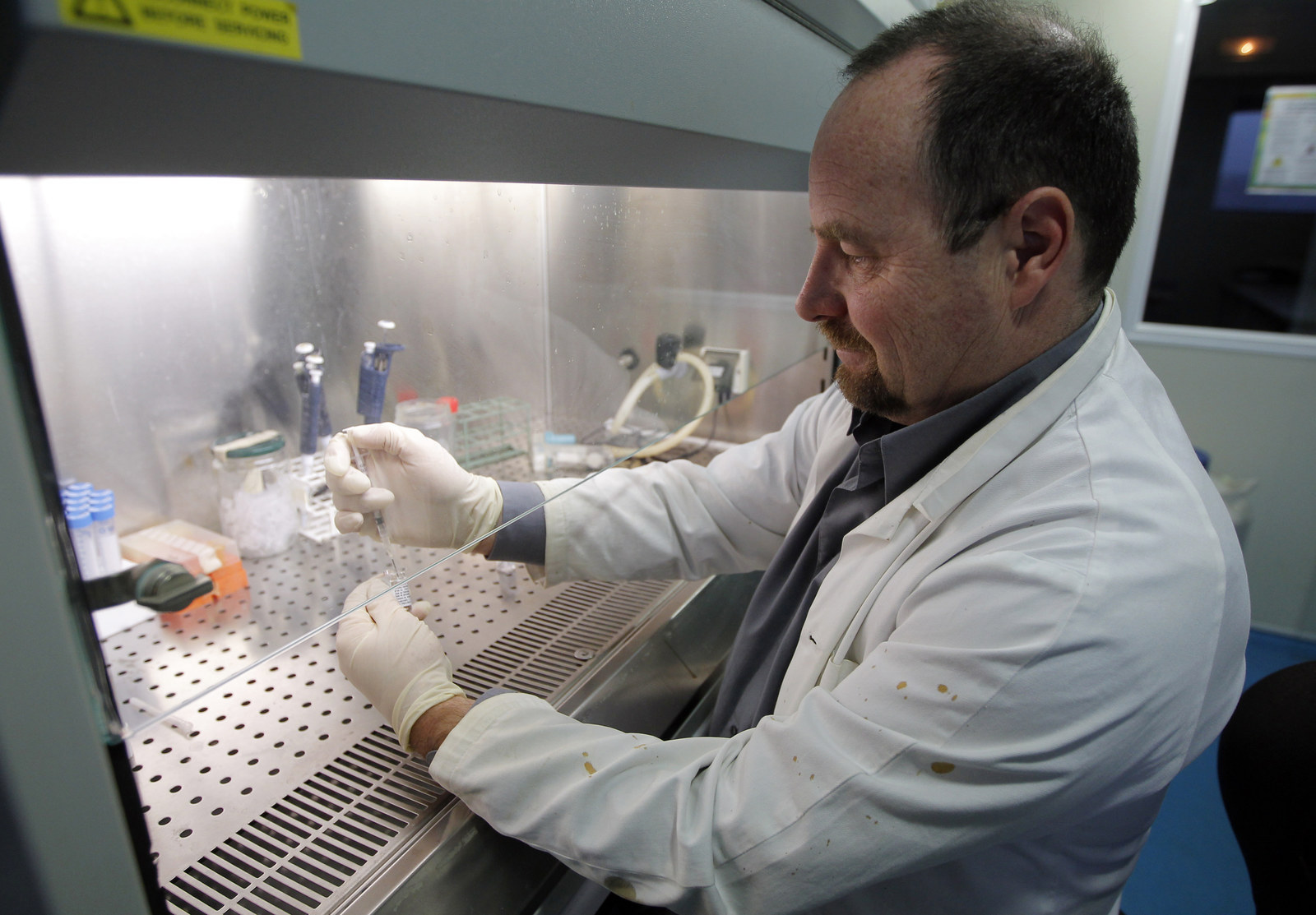 French professor Erwann Loret works on samples of a vaccine against HIV in his laboratory in Marseille, 2013.

Zambia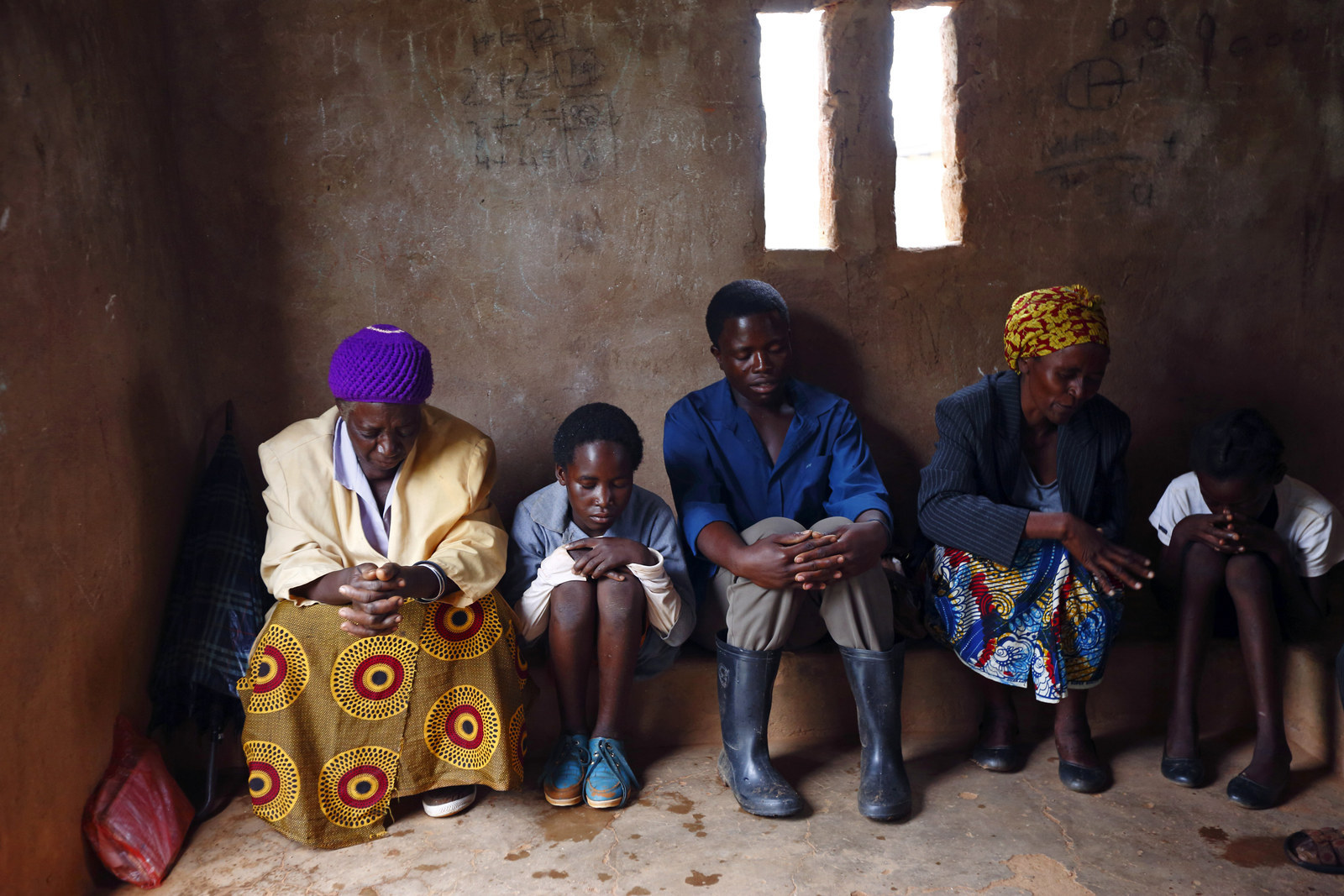 HIV-positive members of a self-help group pray at the start of a meeting in the village of Michelo, southern Zambia, 2015. Caregivers in the home-based project offer training and assistance in crop-growing and animal rearing, as well as offering companionship and treatment monitoring.
United States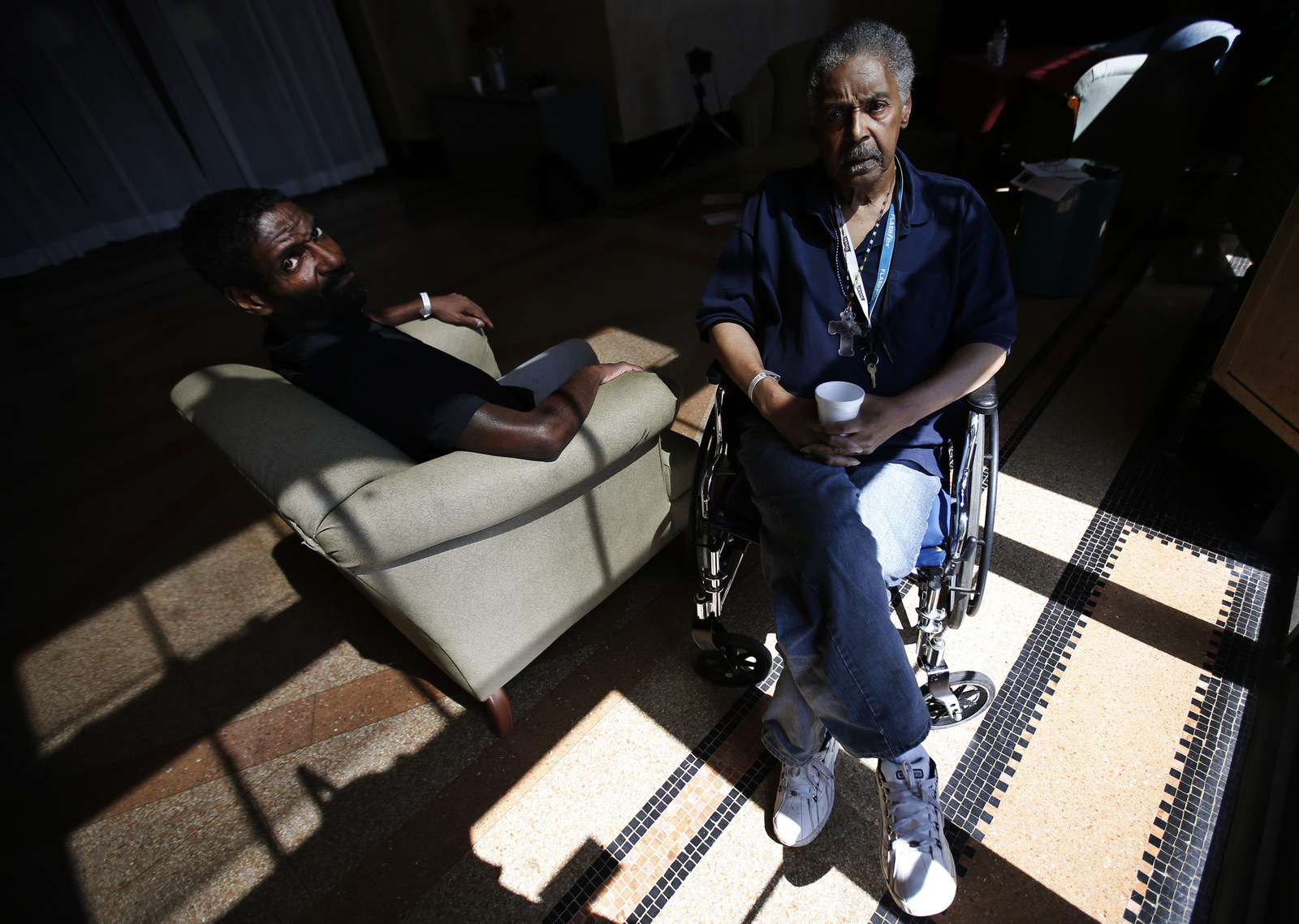 A 2012 photo of Bobby Billingsly (left), 40, and Woodrow "Woody" Barron, 69, from New Jersey, patients at the Broadway House for Continuing Care, a specialised nursing facility for people living with HIV/AIDS.

Myanmar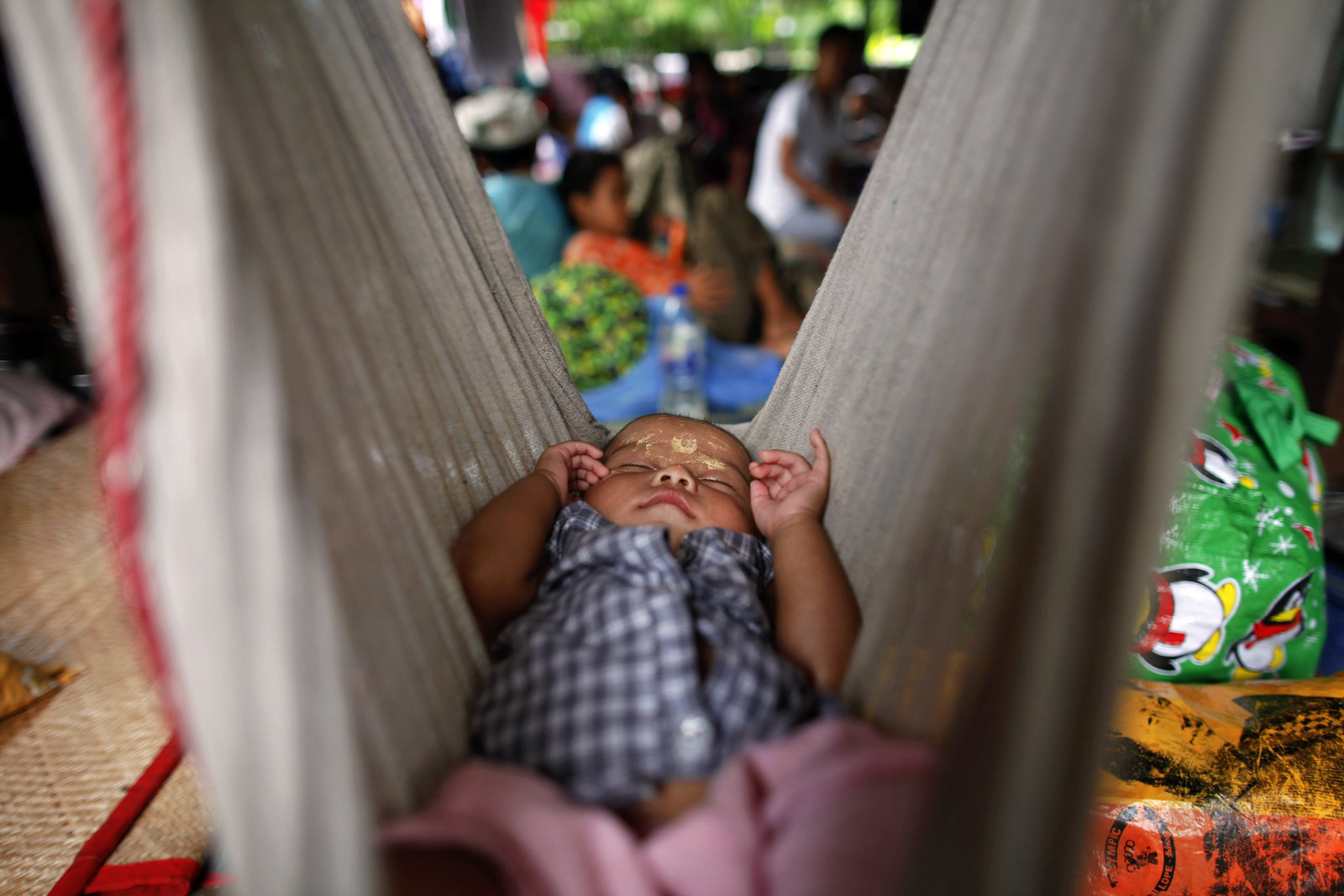 HIV-positive Ei Ei Phyu, who lives at the hospice with his HIV-positive mother, sleeps in a hammock at an HIV/AIDS hospice in the suburbs of Yangon, 2012.
Togo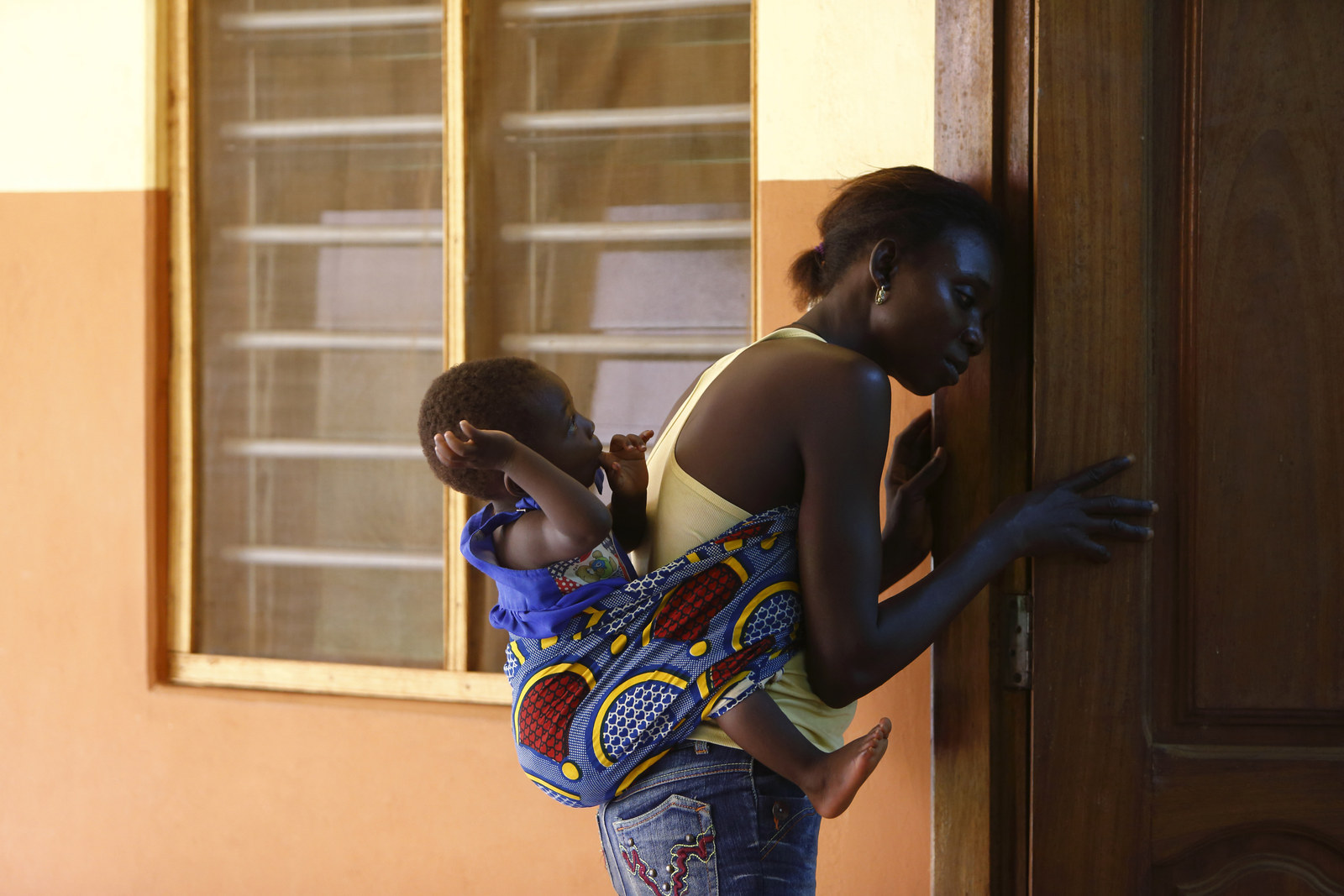 A woman with her child strapped on to her back attends a support group for people with HIV and their families at the headquarters of the Centre Esperance Loyola in a suburb of Lome, 2013.

Myanmar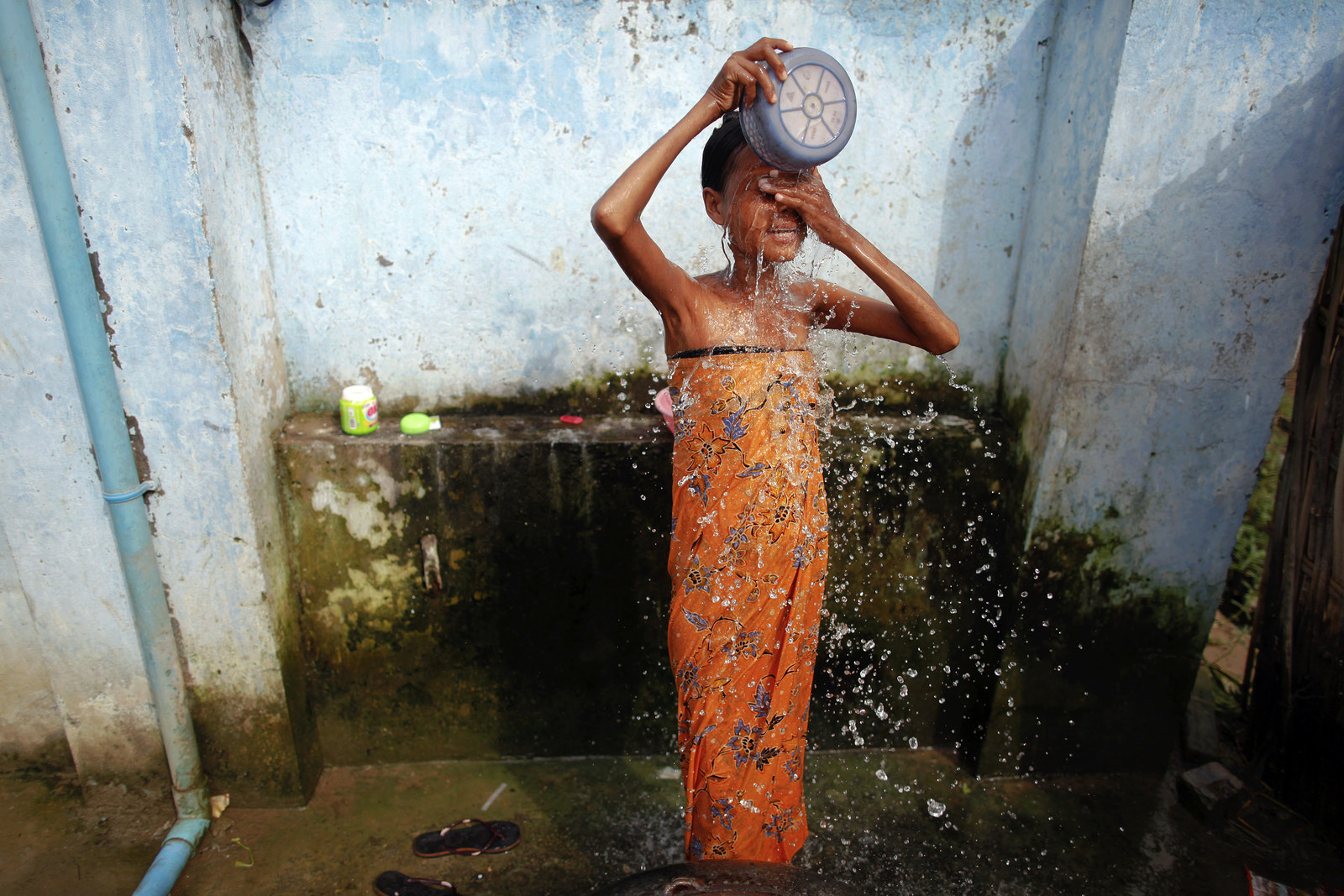 Twenty-seven-year-old HIV-positive Zinmar Nwe, whose husband died of AIDS, bathes at an HIV/AIDS hospice in the suburbs of Yangon, 26 May 2012.
Hungary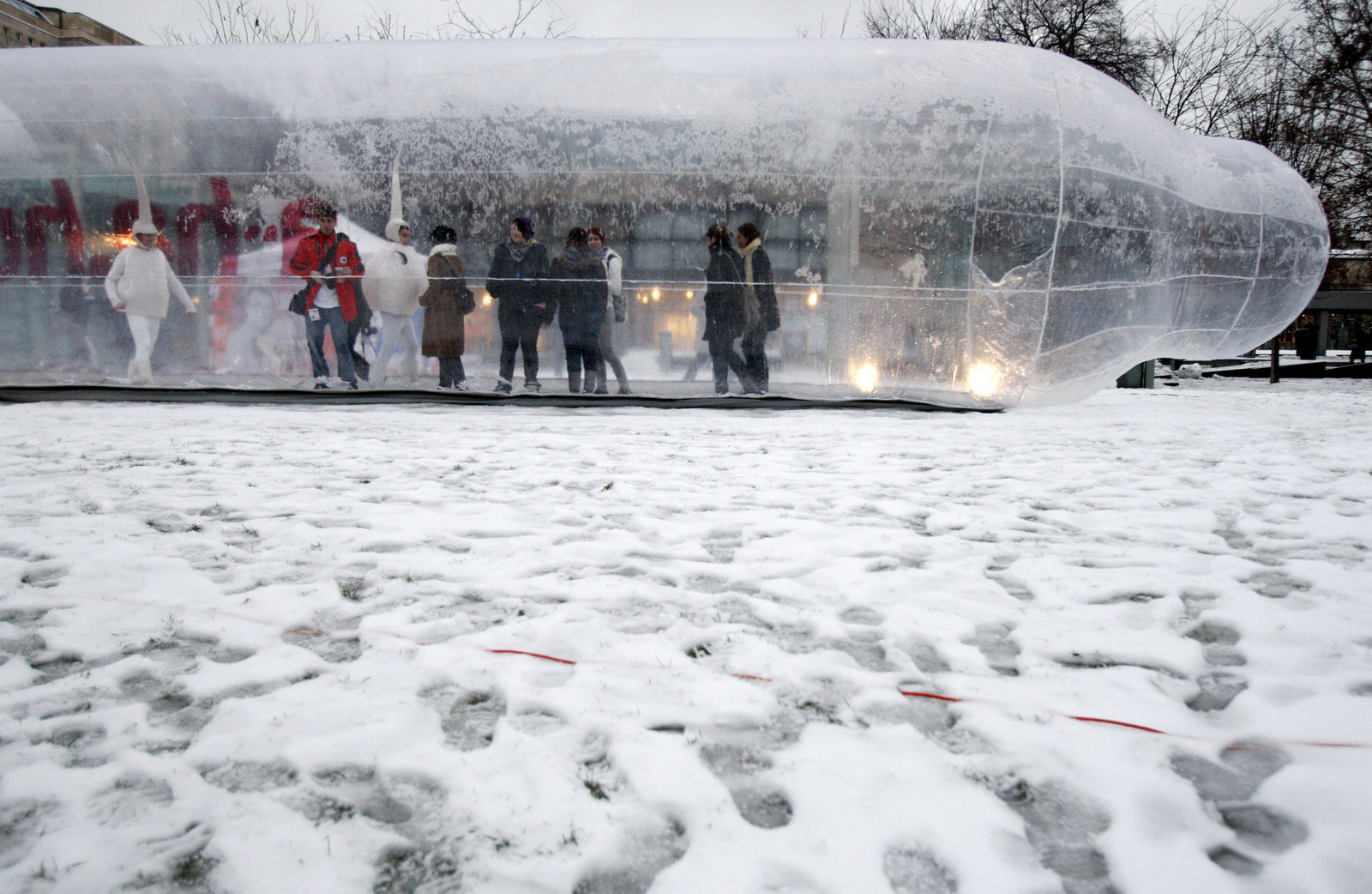 People walk inside a giant condom on World AIDS Day in central Budapest, 1 December 2010.

Kenya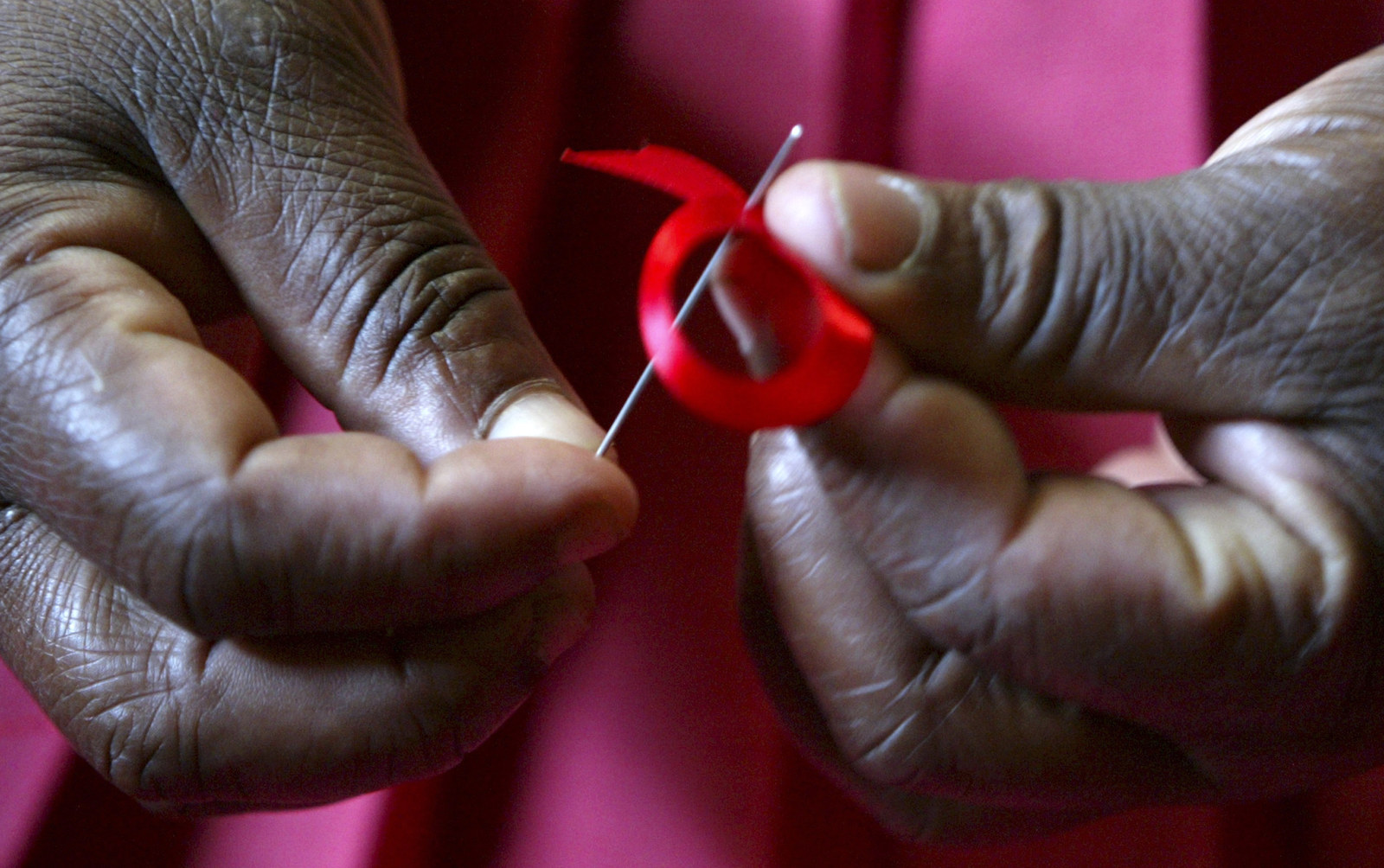 A Kenyan woman prepares ribbons ahead of World AIDS Day at the Beacon of Hope centre, a non-governmental organisation formed to address women's HIV/AIDS problems in Nairobi.
Mexico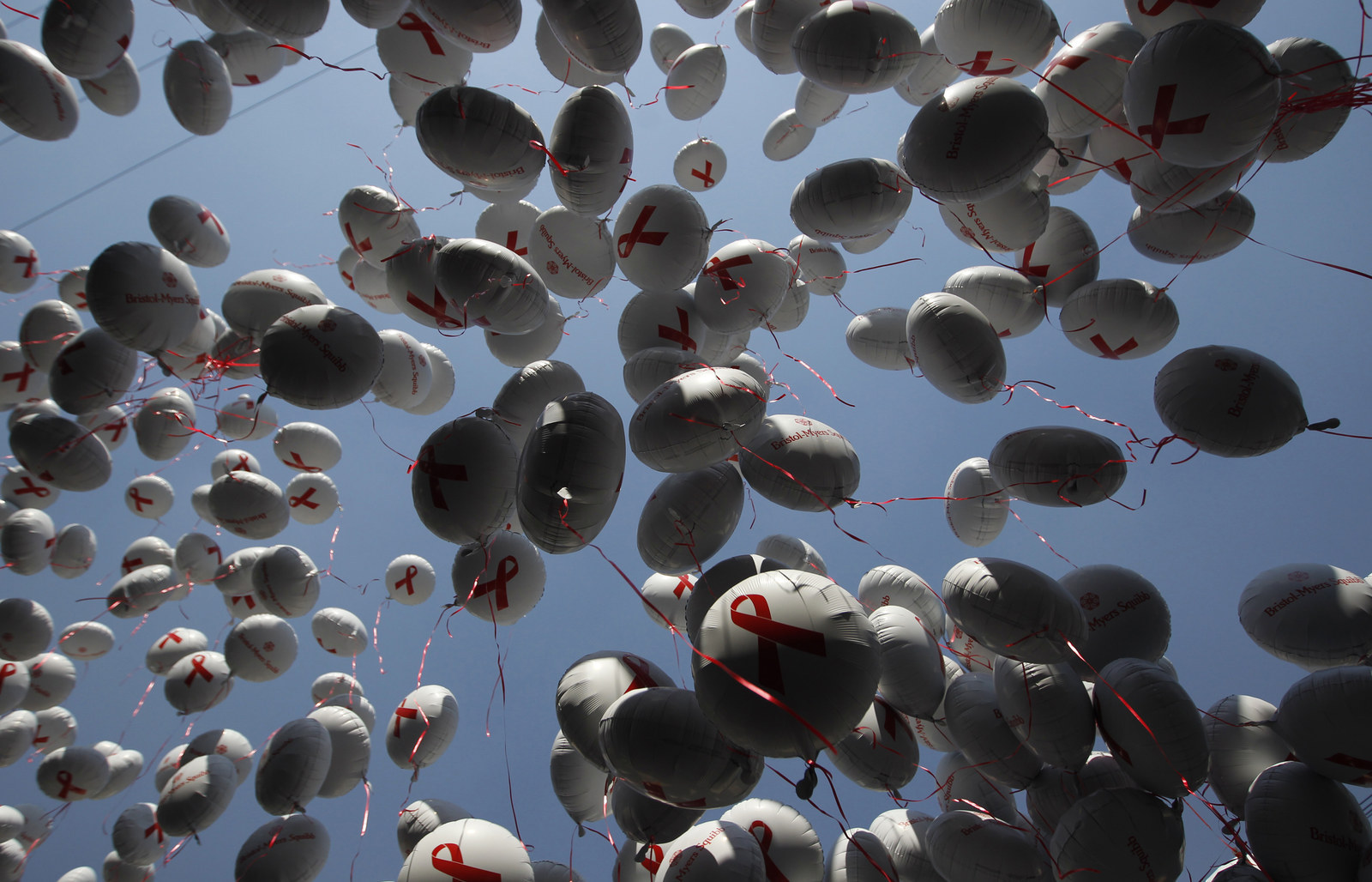 Balloons with red ribbons are released to commemorate World AIDS Day at the Condesa Clinic in Mexico City, 1 December 2011. Condesa Clinic specialises in the care of people with HIV/AIDS.