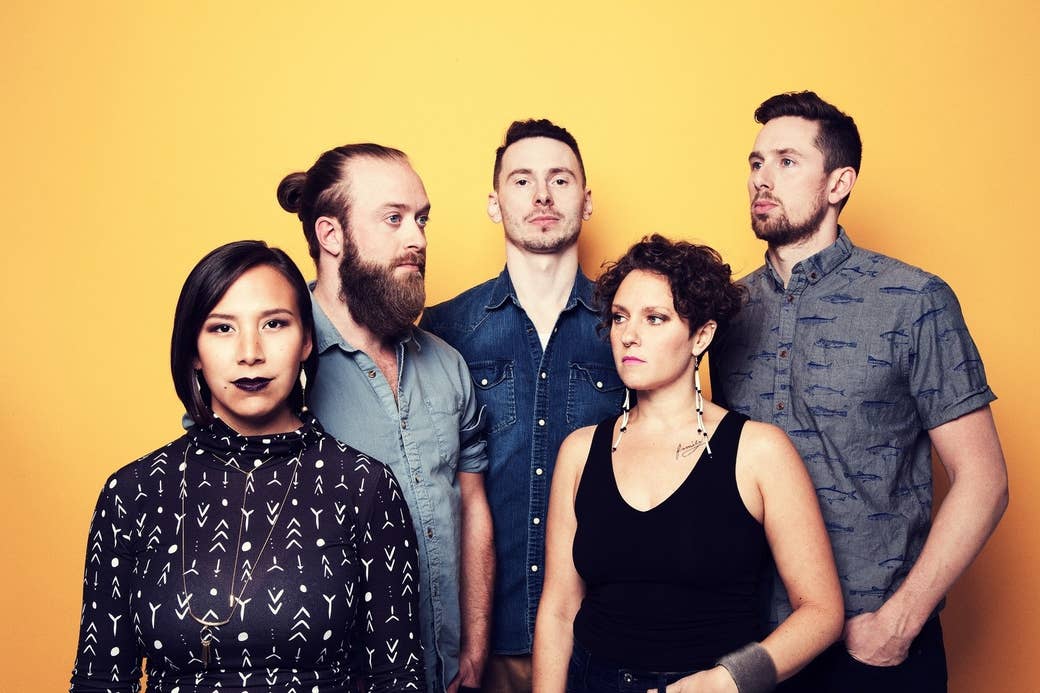 In any language, the Jerry Cans aren't quiet. The Iqaluit folk-rock quintet tore through a riotous, triumphant rendition of its biggest single, "Ukiuq," at this year's Juno Awards — the Grammys of Canada. It was the only televised performance that wasn't in English — like almost all Jerry Cans songs, "Ukiuq" is sung in Inuttitut, an Inuit dialect.

After the band acknowledged that they were on the unceded homelands of the Musqueam, Squamish, and Tsleil-Waututh First Nations, and thanked these nations for sharing their land, Nancy Mike's throat singing rippled through a darkened Rogers Arena in Vancouver. Cue lights. The other four Jerry Cans members came into view, as did four more individuals: throat singer and multi-instrumentalist Avery Keenainak, veteran metalhead James Ungalaq, indie-pop sensation Rita Claire "Riit" Mike-Murphy, and blues-rock belter Joshua Qaumariaq.
For the uninitiated, these are some of the musicians who, along with the Jerry Cans and many others, form the bedrock of the Nunavut music scene.
The Juno organizers asked the band who they might like to collaborate with, pitching legacy names the likes of which most Canadian musicians might dream of working with. They decided that they'd rather collaborate with artists from Nunavut and spent most of their Juno budget to fly them down to take the stage beside them.

Though the band didn't win either award they were nominated for that night, what the Jerry Cans did at the Junos was a victory. For the first time in the awards show's history, a group performed a song entirely in Inuttitut. The band did it on their own terms: surrounded by musicians and friends from Nunavut, repping Inuit designers like Ugly Fish Design, Hinaani Design, Mathew Nuqingaq, and Victoria's Arctic Fashion, and, of course, wearing plenty of sealskin.
The victory didn't belong just to the Jerry Cans. It belonged to Nunavut.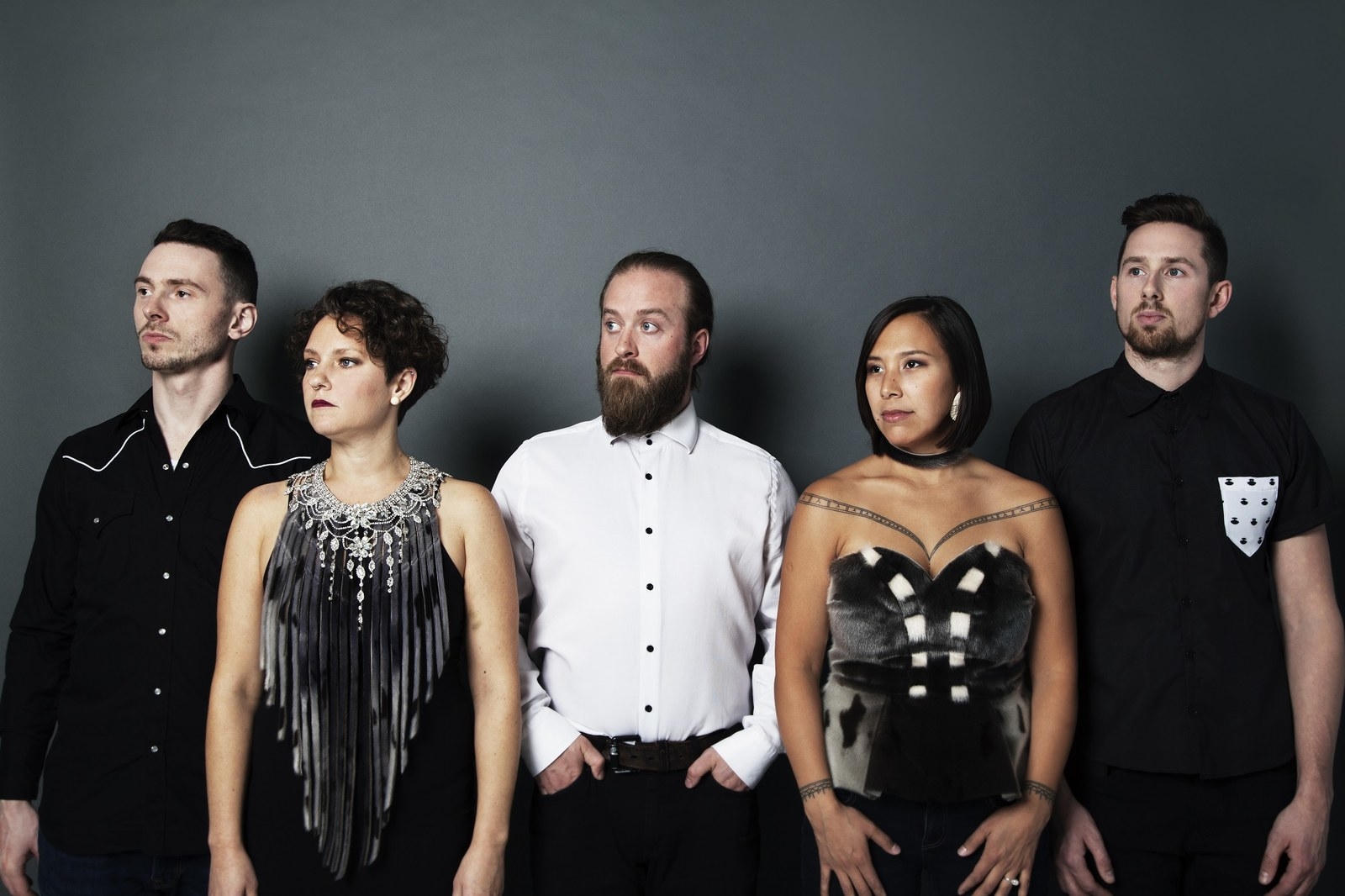 "We were like, 'How about we spend our entire budget on getting these people from Nunavut to come to Vancouver?'" says Andrew Morrison, who helms the group with his gruff vocals and acoustic strumming alongside his wife Nancy. The Junos supported the decision. "Sometimes the significance of these things is lost on Southern audiences," he continues. The platform is not one a group from Iqaluit has every day. "We take every opportunity we have to share with everybody else in Nunavut."
This year's successes are coming on the heels of a banner year for the Jerry Cans, the beloved five-piece from the North. (No, not like your Raptors shirt. Farther north.) The group played shows in Australia, Germany, and the United States, as well as festivals across Canada. They brought a group of delegates from the Canadian music industry to Iqaluit for the first-ever Nunavut Music Week. They also garnered their first Juno Award nominations — not one, but two, for Breakthrough Group of the Year and Contemporary Roots Album of the Year.

Though the Jerry Cans didn't win either award, none of them seem phased when I phone each of them separately. Drummer Steve Rigby was with Ungalaq, vocalist and guitarist of the legendary Igloolik hard rock band Northern Haze, when the news broke. "We were in the middle of losing Breakthrough Group of the Year," Rigby recalls, "And [James] was like, 'We've already won. We're here.'"
After all, the band began with its beautiful northern community. Bassist Brendan "Dotes" Doherty recalls moving to Iqaluit when he was 6 after living in other northern communities like Kimmirut. "At that time, it was a huge city to me," he chuckles. He met Morrison on his first day in the city. A few months later, he met Rigby. They've been best friends since.
Around age 15, the trio started jamming classic rock covers. Rigby was saddled behind the drums, Doherty wound up with a bass guitar, and Morrison held onto his six-string. After high school, the three studied in Peterborough and formed a folk-punk band that found them opening for the likes of Fucked Up. "That's where we got used to touring and the whole thing of how you be in a band," says Doherty.

It wasn't until Mike and Nova Scotia–born violinist Gina Burgess joined in 2011 that the band was crystallized.
Mike grew up in Pangnirtung, a hamlet of around 1,400 people. After moving to Iqaluit, she recalls watching the three boys play before she joined, mostly to white audiences. After she joined, they started performing in Inuttitut and "people were ecstatic."
"Once we started singing in Inuttitut, Inuit were interested. They wanted to see us. They were excited to see a new band singing Inuttitut music," she says.
Violinist Gina Burgess adds, "It's a very different vibe performing these songs in front of an audience that lives off the land [and] knows what we're singing about versus people who don't."

Morrison agrees, explaining that the English-dominated Canadian music industry offers little room for Indigenous-language music. While support is growing now, just two years ago they faced barrier after barrier to access.
"People can intellectually understand what it's like to sing in Inuttitut and understand what it means to hear 'no' all the fucking time, but you never know what it feels like if it's not you writing these songs and you putting your whole life into it," he says. The Juno moment was a breakthrough. "That gratifying moment of being able to be onstage like that was pretty powerful for all of us."

He recalls Ungalaq's response to their Juno appearance: "He was in tears. An old man who's dedicated his life to music is seeing how the entire country is finally starting to understand why singing in Inuttitut is beautiful and important."
"I was so proud to wear everything that I wore, head to toe, because I knew they came from my home and from my people."
The apparent shift that the Jerry Cans are part of stretches across their territory. The Juno performance packaged that shift clearly: Nunavut and Inuit culture deserve a place in the Canadian music scene. For many Inuit, it's a long-overdue acknowledgment and goes far deeper than what gets played on the radio.

Alethea Arnaquq-Baril's 2016 documentary Angry Inuk and Tanya Tagaq's "sealfie" campaign lent critical shine to how decades of anti-sealing sentiments have materially damaged Inuit. In the context of a legacy of anti-sealskin campaigns, seeing sealskin flaunted on a primetime broadcast was exciting. Later, when the Jerry Cans joined Barenaked Ladies onstage during "If I Had $1000000," Steven Page retorted his line, "But not a real fur coat, that's cruel," and Burgess lifted her fur kamiks in front of the camera. "I heard the line and said, 'You know what, I'm wearing fur right now, and I'm proud of it.' So many people in Nunavut are proud to eat and wear sealskin, and they should be."

For Mike, the red-carpet festivities before the awards ceremony presented another opportunity to showcase artists working with these materials: "They often ask you, 'What are you wearing?' I was excited to tell them about these Inuit artists who are awesome and amazingly talented people. I was so proud to wear everything that I wore, head to toe, because I knew they came from my home and from my people."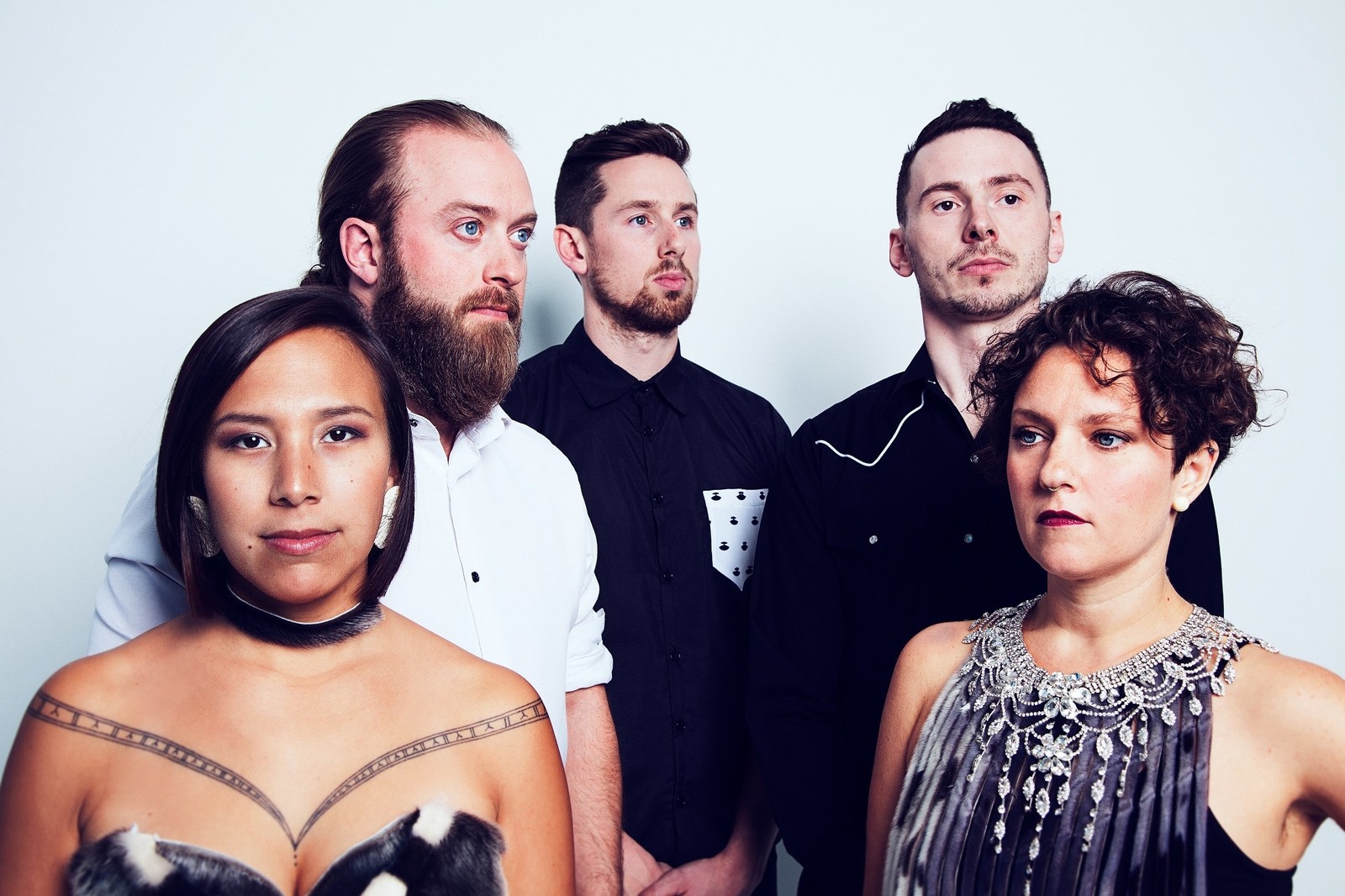 Mike says that it wasn't always easy to feel pride in her culture. The arrival of the federal government in Nunavut in the 1940s and '50s put systems in place that oppressed and erased Inuit culture, and instated whiteness as a standard. The effects of that trauma continued to resonate through Mike's generation. "When I first started throat singing, amongst my friends a lot of the boys would be like, 'Stop throat singing! I don't ever want to hear it,'" she says. "I'm pretty sure that was something that was passed from their parents because their parents were told by missionaries not to do that.
"As Inuit, we might doubt ourselves because we have been assimilated or oppressed for so long that it affects all of us. I felt like I couldn't do certain things, or didn't believe that I could, because I am Inuk."

Traditional country food like seal meat and caribou were painted by colonizers as lesser next to southern canned goods. Mike's father was a full-time hunter who provided his family with plenty of country food. "I wasn't proud to eat it," she says. "I would go to school and my classmates would be like, 'You had seal meat for lunch? Gross.' It wasn't something that any of us could be proud of because of colonization."
So the Jerry Cans wrote a song celebrating country food, called "Mamaqtuq." The YouTube upload of the song has more than 130,000 views. A mother spoke to Mike excitedly about the song. "She said, 'My 4-year-old son doesn't want anything else besides seal meat!'" says Mike.
"It's been a long journey," says Mike. "Things are moving the right way, and I'm trying to teach my children to be proud to be Inuk."
Morrison says that representation in music is intertwined with mental health in the North. For him, music is a way to connect shared experiences, which fosters a sense of community. Tracks like "Dear PETA" and "Northmart" railed against exorbitant prices and anti-sealing campaigns, but they were more than that — "Dear PETA" was inspired by Mike's father. "He was a full-time seal hunter getting fucked over by these animal rights activists," says Morrison.
"We're very proud to create art that comes from the experience of growing up as a young person in Nunavut, which fucking sucks sometimes, but it's also super awesome sometimes."
"Part of the songs on our second and third album were about mental health issues, and what we mean by mental health issues is suicide," he continues. "That's something that's so fucking intertwined in our reality up here. It's challenging to figure out ways to talk about it and to deal with our trauma. Music is a big part of that. It seems political in a way, but it's just part of creating art that's reflective of our life and hoping that it can encourage people to not feel so isolated in living up North.
"All of the music, all the books, everything was coming from the south. I don't see my experience in any of that. We're very proud to create art that comes from the experience of growing up as a young person in Nunavut, which fucking sucks sometimes, but it's also super awesome sometimes."
It's easy to view the Jerry Cans as leaders of this Nunavut music movement, but they're quick to cite those who broke down barriers before them, like Tanya Tagaq and A Tribe Called Red.
"[They] are, in my opinion, the catalysts of this movement," Morrison interjects, noting that Buffy Sainte-Marie and Susan Aglukark "started the movement." He cites Indigenous music platforms like Revolutions per Minute as proof of the current Indigenous music boom. "Tanya and Tribe broke down the barrier, and there's a whole wave of us coming through."

The band is invested in making sure that wave doesn't break. They operate Nunavut's only record label, Aakuluk Music, to develop artists across the territory, and after the hectic Juno weekend, they headed off to smaller northern communities like Cape Dorset and Inukjuak to perform and put on workshops. Mike explains that their most recent stop included workshops on doing live sound and lighting. Before joining Jerry Cans, she, Morrison, and Burgess taught at music camps across the territory.

This work is beginning to pay off. The Junos moment was proof of that; in the wake of the show Riit has inked a management deal (which she says is critical for northern artists to gain a foothold outside of Nunavut), and Qaumariaq has signed with Paquin Artists Agency. Morrison considers this a good start. "Our goal is to have a larger and larger Nunavut delegation at the Junos every year," he says firmly. The group fondly calls it a "Nunavut invasion."

Rigby hopes that a proper recording facility will be built in Nunavut so that work can be completed there instead of being outsourced to the South. Part of that change includes having industry representation for the Inuit peoples. That way, Rigby says, "the interests are totally in what the artist wants and the language. There's someone that they can trust, someone that they can talk to that understands where they're from."
For now, the band is looking forward to spending as much time at home in the North as they can. All of them brightly recall their homecoming in Iqaluit after the Junos. Morrison laughs that it was "Nunavut-style Beatlemania," with folks cheering in the airport. Mike recounts how she spoke with a woman whose 10-year-old son watched the Juno performance: "When her son saw us on TV, he was like, 'Anaana, you're right. We can be anything we want to be in our life.'"