So, a recap, if you've missed all of this. *deep breath*
Meek Mill accused Drake of using a ghostwriter. Drake released two diss tracks in response, one 🔥, one not so 🔥. Meek Mill released a diss track in response, but it was not good. In the midst of this, Meek Mill was dating Nicki Minaj — who is obviously a close friend of Drake — and the two released a video together (unrelated to the beef), but are now rumoured to have split up. All of which led up to Drake's OVO Fest performance on 3 August in Toronto.
First up, Drake appeared before the festival wearing a "Free Meek Mill" shirt, part of a run printed in 2014 to show OVO's support of the imprisoned Meek Mill.
And when Drake played his diss track "Back to Back", he accompanied it with dozens of memes made by fans over the course of the beef.
So many memes.
Some Nicki memes...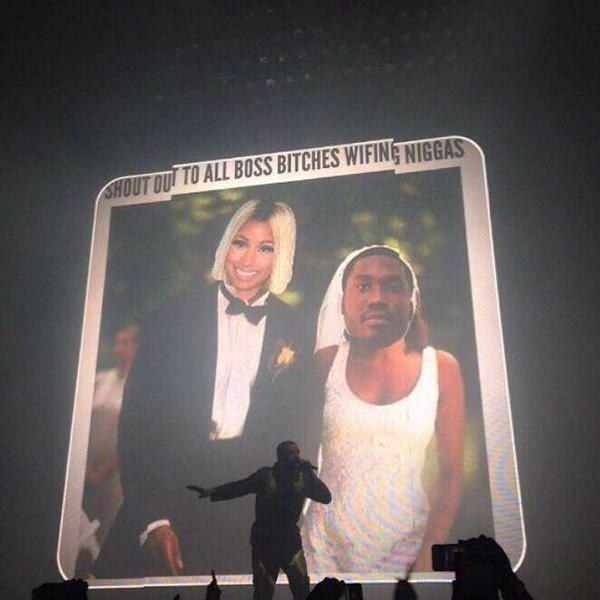 Many Nicki memes...
Though even at the height of the beef, Drake is still Drake.
During the show he also brought out Kanye, who brought along Big Sean and Travis Scott.
Skepta performed "Shutdown" as well.
At one point Drake started talking about his rumoured third Meek Mill diss track, "3 Peat", but it's unclear whether he actually intends to release it.
Whataburger got involved as well for some reason.
Finally he called out Meek Mill, saying "You did it to yourself," and defending his city.
After the show, Will Smith and Kanye were backstage with Drake, and it certainly seemed as if they were enjoying the moment.
Really enjoying themselves.
Few believed that anyone other than Drake was coming out of it well.
Because he did do it all with a PowerPoint presentation.