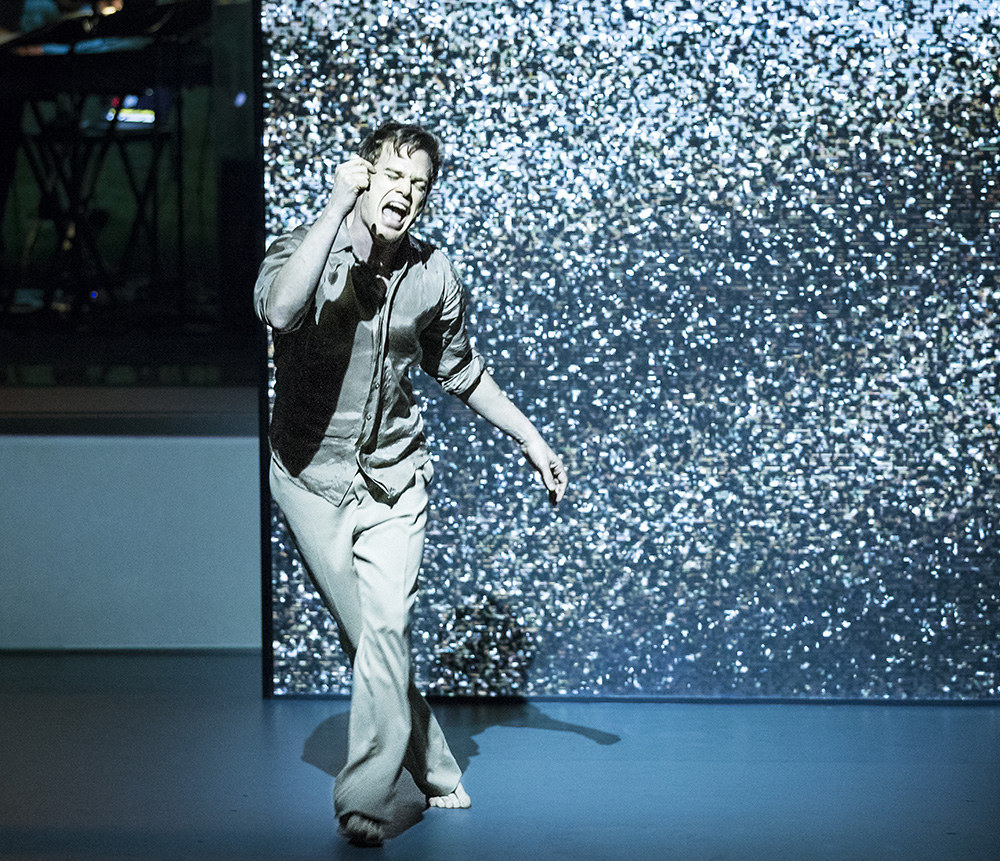 It's hard not to get chills approaching the New York Theatre Workshop, where Lazarus, a musical co-written by David Bowie and Enda Walsh with Bowie's songs as the score, is currently playing. Since Bowie's death, fans have left rows and rows of flowers in front of the East Village theater. Heartfelt letters, bottles of booze, and a pair of plastic bright green aliens share the sidewalk with amateur portraits, album sleeves, and a pair of headphones.
Emotions trailed into the lobby, where a tribute to Bowie was looping on a screen above the packed crowd. A photo with "In Memoriam 1947–2016" transitioned, appropriately enough, to lyrics from the title song "Lazarus": "This way or no way / You know, I'll be free / Just like that blue bird / Ain't that just like me."
But the most poignant moment of the evening came shortly after the musical began when its central character Thomas Newton lamented, "I'm a dying man who can't die."
Death hangs over everything in Lazarus, which is based on Walter Tevis' novel The Man Who Fell to Earth. The book was adapted for the screen in 1976 and saw Bowie play the titular alien, Thomas Newton. The show, which stars Michael C. Hall as Newton, began at the NYTW on Nov. 15 of last year and closes Jan. 20, after a final extension of its run.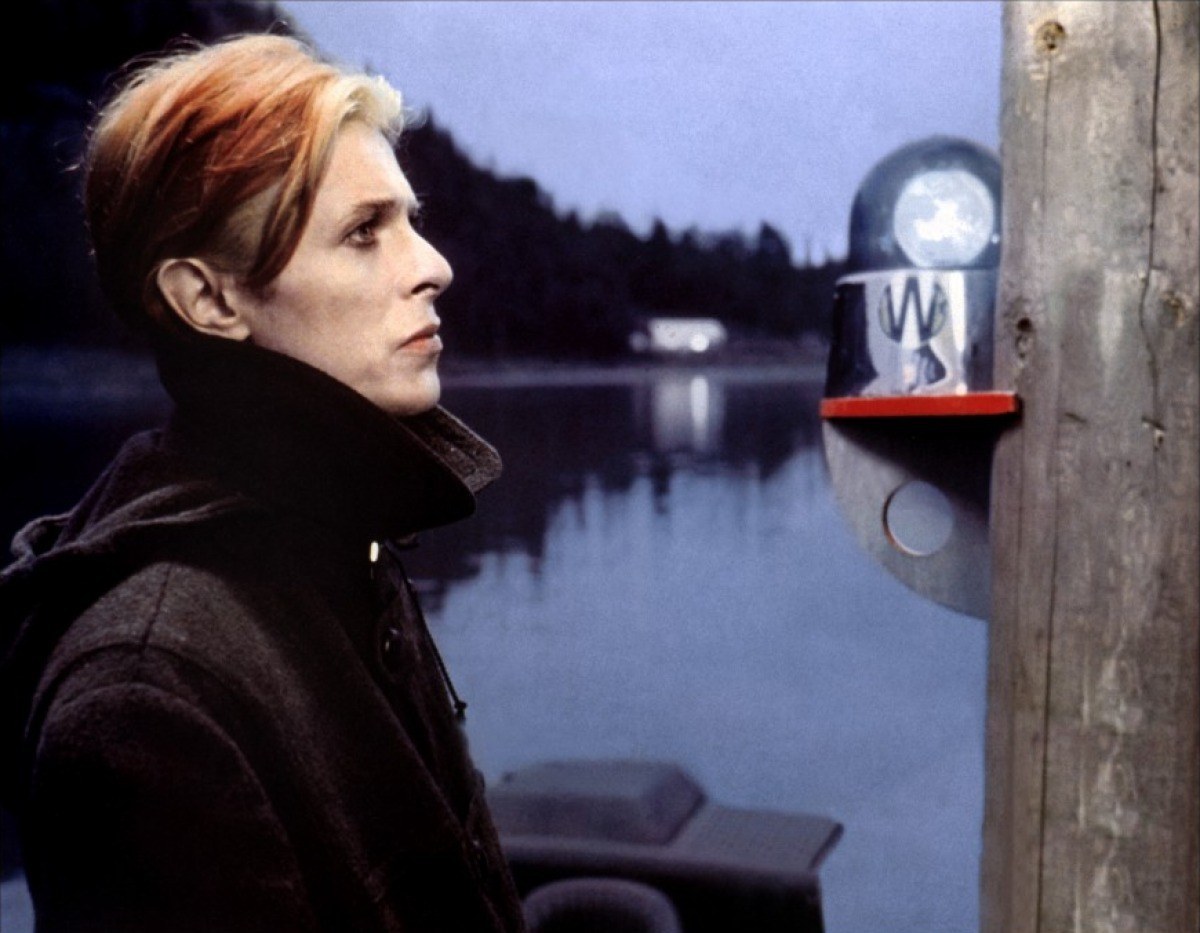 I had always planned on seeing Lazarus — thrilled by the combination of Bowie's words and music, and direction from the typically avant-garde Ivo van Hove — but it was simply a matter of timing that led me to attend the Tuesday night performance, the first since Bowie's death on Jan. 10. Much like the album Blackstar from which the song "Lazarus" is drawn, Bowie's first and last musical is another parting gift.
Lazarus picks up far from where the movie version of The Man Who Fell to Earth left off, with Newton, abandoned by his love Mary Lou (Candy Clark in the film), sinking deeper into his despair. When Lazarus begins, Newton, more aimless and alcoholic than ever, longs to be done with it at all, but finds himself trapped on Earth, unable to leave by dying or returning to his home planet. Those around him — including his assistant Elly (Cristin Milioti) and a mysterious girl (Sophia Anne Caruso) — struggle through their own finite lives.
It's a thoroughly strange but stunning production, infused with Bowie classics (Milioti sings a frenetic "Changes," while Caruso impresses with "Life on Mars") and more recent additions to his catalog (Michael Esper, as the nefarious Valentine, sings Bowie's 2013 song "Valentine's Day"). Hall captures the feeling of Bowie's Newton without doing an impersonation. After all, his last theater credit was as the title character in Hedwig and the Angry Inch, a glam rock star who cited "crypto homo-rocker" Bowie as an inspiration.
We can't know exactly what was going through Bowie's head as he revisited The Man Who Fell to Earth to co-write Lazarus, but given the timing, it can't be a coincidence that so much of the musical concerns dying. Blackstar producer Tony Visconti confirmed that the album was all part of Bowie's careful planning of his final year, and we can safely assume that Lazarus — which he was working on in conjunction with the album — is another message deliberately left behind.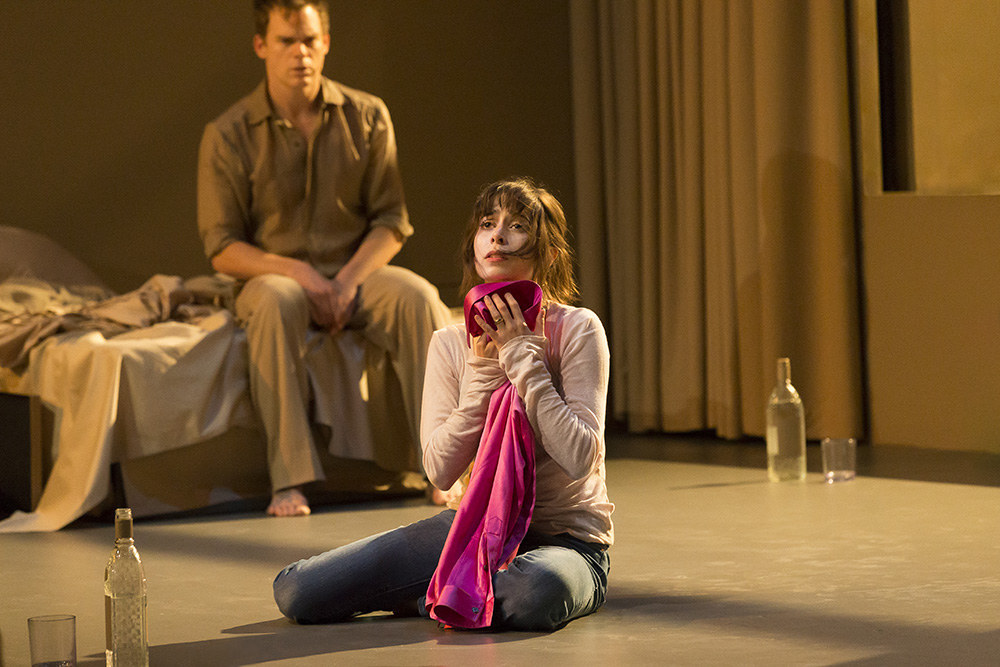 Lazarus isn't so much about death as it is about liminal spaces. Newton is a humanoid alien trapped between two worlds. Another character is revealed late in the show to be lingering quite literally between life and death. Bowie, while working on Blackstar and Lazarus, existed somewhere in that space, slowly making the transition from the mortal world to the other side.
To that end, it makes sense that no one gave a speech after the curtain call. A publicist for the show had explained to me that the cast and crew chose to let the work speak for itself. Emotions were obviously high — some cast members were visibly crying — but Lazarus is thoroughly Bowie's voice. And, in the silence that followed the bows, the audience had time to sit with it, processing his message on our own terms.
Lazarus's poignant ending — which I won't spoil here — echoes an exchange between two characters earlier in the show: "Is there an end to it?" "You'll be free." The musical may be opaque and consciously ambiguous, but its arc is clear — and while it's not exactly a happy ending, it's at least a sort of compromise. Lazarus is not about the acceptance of death, really, but it's not mournful either. It offers a third option, a means of stretching out and finding comfort within those in-between states rather than simply letting go.
To say that Bowie lives on in Lazarus hints at its power, but it's not entirely accurate. Instead, the musical reflects an artist wrestling with that very space in between being here and leaving it all behind. Like Newton, he was "a dying man that can't die." And in the meticulously constructed messages he continues to speak to audiences with, it's clear Bowie hasn't quite finished leaving.