"For me, summer means music festivals," says Kirsty James, who's 27. She's registered blind and is a keen festivalgoer, having attended Glastonbury, Boomtown, and Nozstock: The Hidden Valley.
Being in crowds and muddy fields when you have sight loss isn't always easy, but James says the atmosphere makes up for it. "The best thing for me is that everyone is so friendly and happy that if I bump into someone, they either don't care or don't notice and just carry on dancing.
"I usually get around with the help of my guide dog, Bass, but a music festival isn't really the place for him so instead I rely on my friends and husband, Tom, to guide me, particularly at night or over uneven ground that all looks flat to me."
James has Stargardt's disease and Charles Bonnet syndrome, meaning she's totally blind in her central vision with some peripheral vision in the top left of both eyes. She has no depth perception and cannot see faces or detail.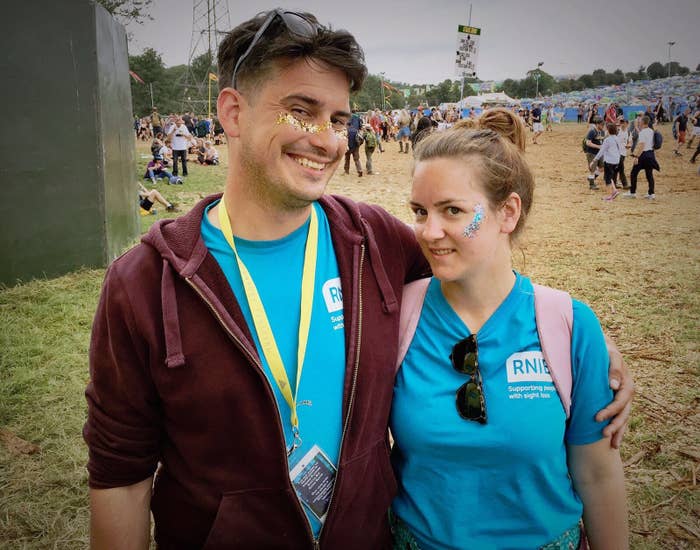 But with the 2017 festival season underway, James doesn't feel like she misses out. She can't see the stage but gets someone to describe what's happening, and what the performer is wearing. "The crowds look like blobs and I can't distinguish whether they're male or female. It doesn't matter, though. I just focus on the area I'm in and close my eyes, feel the music, and dance. It used to bother me not being able to see the stages, but I've now realised I'm there for the music, not what's happening onstage."
Nicki Kelly, 32, another festival fan, lost her sight in 2007 and was diagnosed with optic atrophy and severe keratoconus. She's been to lots of festivals and gigs including Fusion Festival, Party in the Park, and Glastonbury, which she attended for the first time this year to represent the Royal National Institute of Blind People (RNIB).

"Most of the time my fellow festivalgoers would never know that I have sight loss," Kelly tells BuzzFeed News. "Navigating through the crowds is where things get tricky. I always go to festivals with a friend to help me get around, and once people see my cane they're usually helpful and try to move out of the way. But without a doubt, the worst thing at a festival is rain and bad weather – my cane has got stuck in the mud before."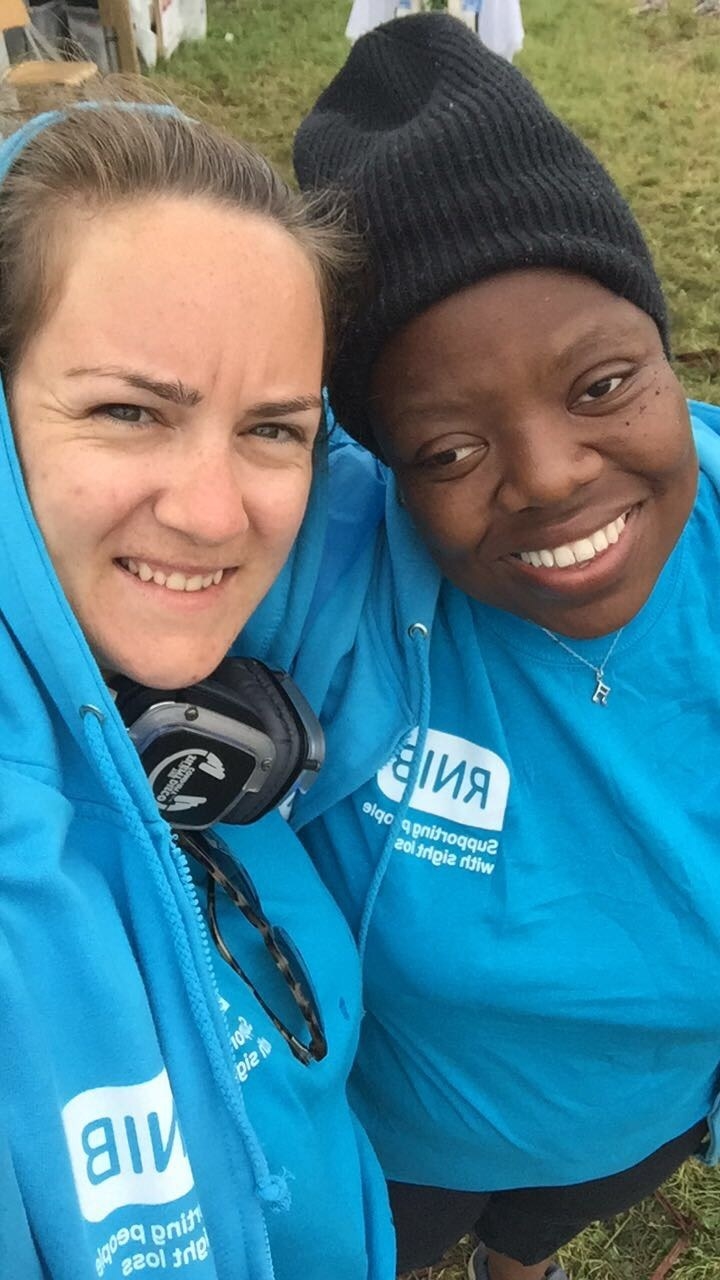 Toilets can be difficult. "There are often limited accessible toilets and so sometimes it's easier to get to standard toilets," she says. "The toilets were quite dark so at Glastonbury it was essential to always have a torch with me, or my cane to hit where the pan is, in order to find my way. Also, there were steps up to the standard toilets that were difficult as they had gaps that my cane would get stuck in."

Kelly camps, and finds it difficult not to trip over guy ropes from other tents. "Once I figured out a route to our tent, other people started to arrive and put up their tents which would make my route void and then I needed help."
The viewing platforms at this year's Glastonbury, which let disabled people avoid the big crowds, were essential. Her favourite moment this year was getting on to the
viewing platform at the West Holts stage to see Solange.
Despite positive experiences, Kelly and James both think festivals and music venues could do more to support people with sight loss. "Currently it seems as though the focus is on ensuring accessibility for wheelchair users," Kelly says, "but to be truly accessible, festivals and music venues also need to consider the needs of people with sensory loss and other disabilities."
"The key thing I've learned is to ask for help – sight loss at a festival can be expensive if you don't," James says. "Struggling to read the menu at a food stand, I once paid a tenner for a wrap, but I don't even like wraps – I thought it was a baguette."
She'd like festivals to have programmes in accessible formats, such as audio, large print, and braille. "It seems like a small thing, but an accessible programme would mean that I could see who's on and decide which bands to watch rather than relying on recommendations from others."
Kelly also feels lighting in toilets and more information on where festival staff can be found are needed.
For the first time this year, the RNIB teamed up with Glastonbury festival as its official health charity partner. BuzzFeed News has used image filters created by the charity to show what some typical festival scenes would look like with different eye conditions.

Glaucoma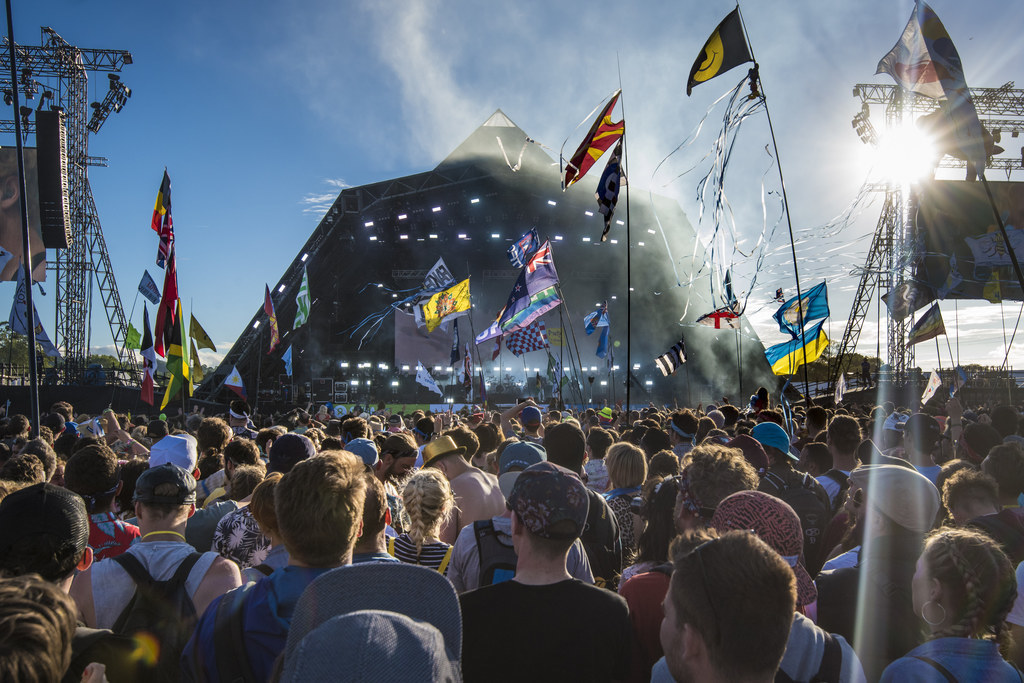 Glaucoma occurs when your optic nerve is damaged by the pressure of the fluid inside your eye. It can be caused by raised eye pressure or a weakness in the nerve. It can affect people of all ages, but it's most common in adults. Most types of glaucoma have no symptoms, so an eye test is the only way to know you have the condition.
Diabetic retinopathy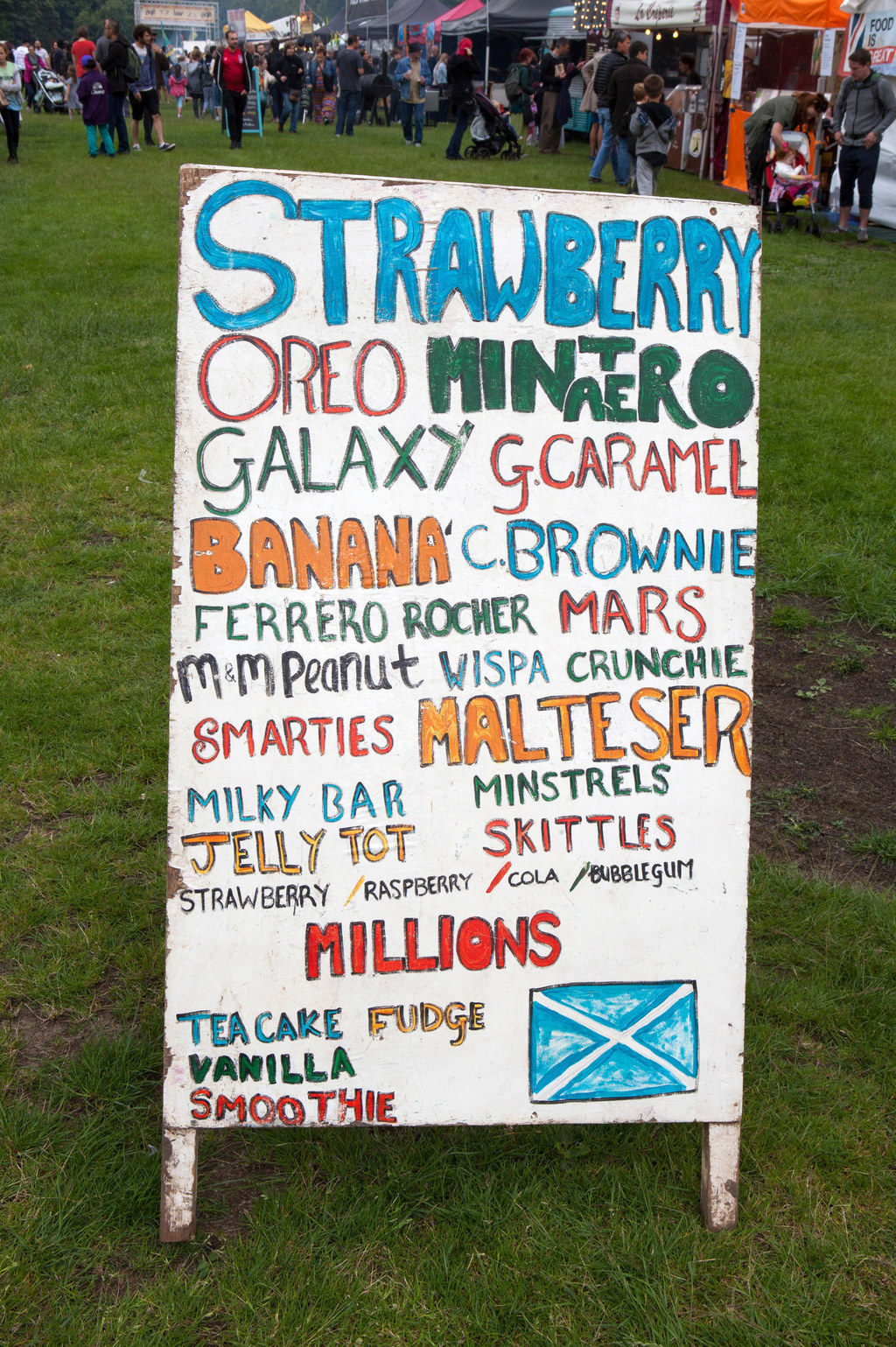 Diabetic retinopathy is the most serious sight condition related to diabetes, where tiny blood vessels at the back of your eye become blocked and leak. Around a million people in the UK are at risk or affected by it. People with type 1 diabetes are offered screening to pick up early symptoms.
Age-related macular degeneration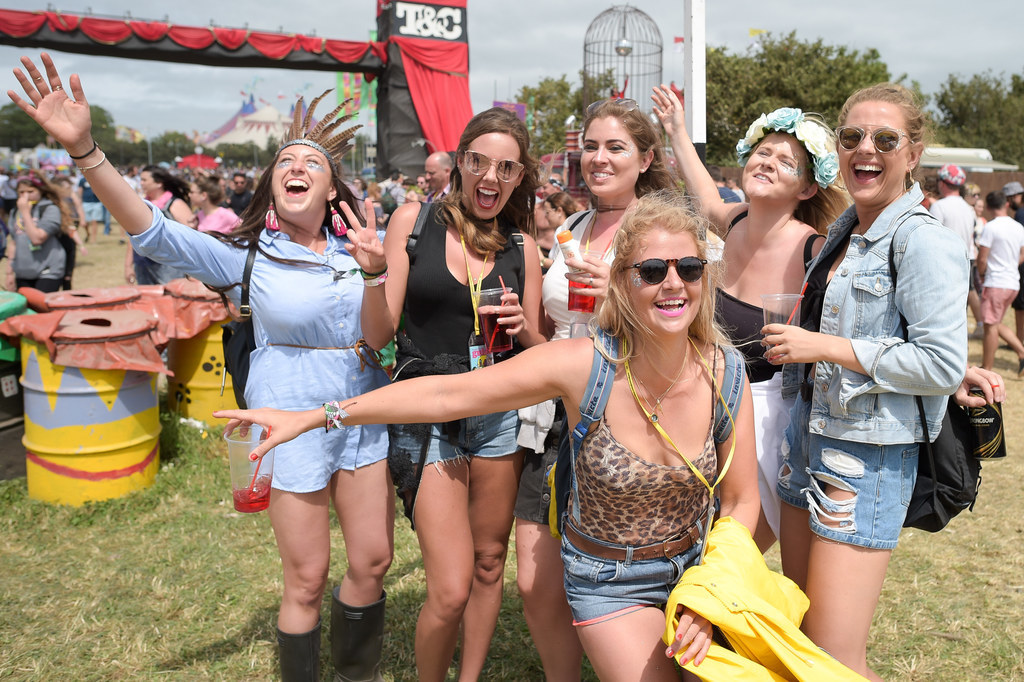 Age-related macular degeneration, aka AMD, is, as the name suggests, usually found in older people. It's an eye condition that affects the central part of your retina, which is called the macula, and causes changes to your central vision.

Medium-stage cataracts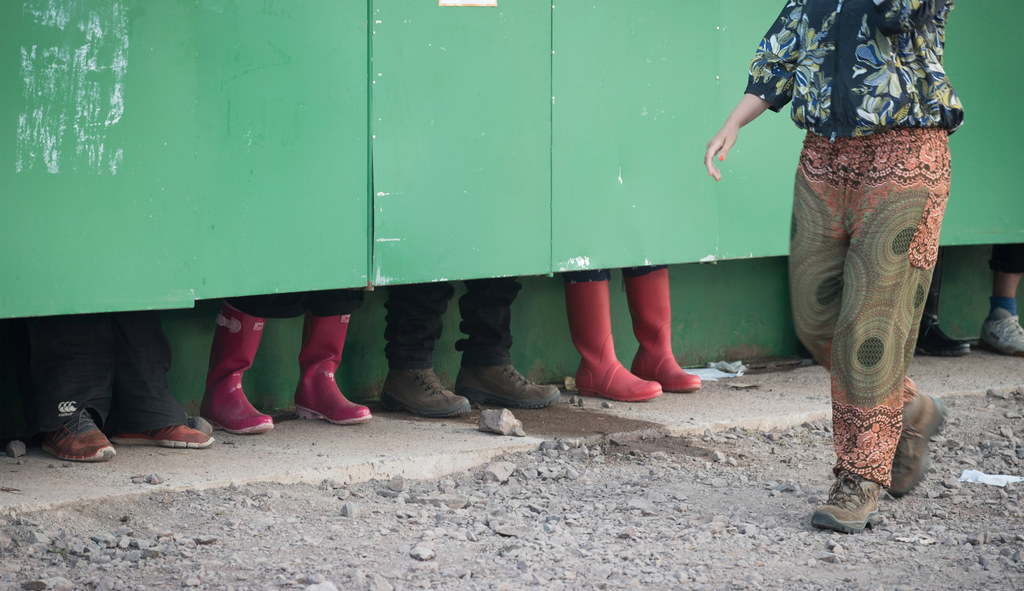 Cataracts are when the lens of your eye becomes cloudy, making your sight misty. They are treated with surgery to have an artificial lens put on your eye. Though most of us correctly associate cataracts with older people, some babies are born with cataracts, and children can also develop them. People in their forties and fifties can also be diagnosed.
Late-stage cataracts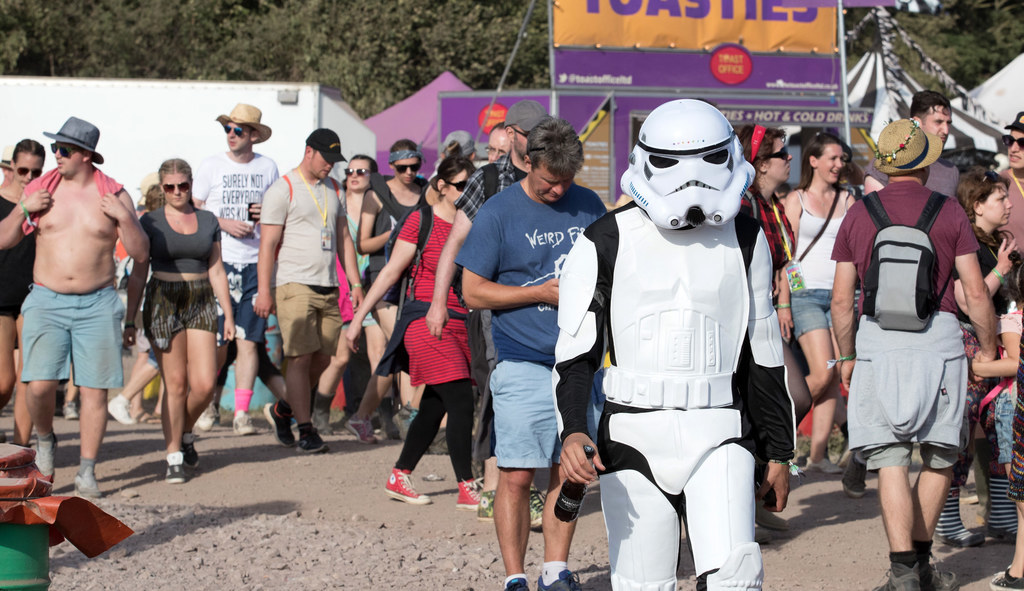 As cataracts get worse, there's a visible white, milky spot on your eye and more advanced vision loss.
Sally Harvey, RNIB chief executive, says people should have their eyes tested at least once every two years.

"Eye tests aren't just about glasses or contact lenses – they are also a check on the health of your eyes," she says. "Conditions such as diabetic retinopathy, glaucoma, age-related macular degeneration, and cataracts can be detected early by your optometrist, meaning that treatment can be more effective and reducing the likelihood of sight loss.
"Having your eyes tested is only the beginning, however. Lifestyle factors such as stopping smoking and eating healthily are all too often overlooked, but can make a real difference to your eye health. And if you're going to a festival this summer, make sure you wear sunglasses with a CE or British Standard mark to protect your eyes."
For information on how to help you look after your eyes, visit the RNIB's website. If you're blind or partially sighted, check out the charity's tips for going to a festival this summer.