Khloé Kardashian Just Fired Back At Body-Shamers For Calling Her Too Thin
"First I'm too fat and now I'm too skinny."
Khloé Kardashian is straight-up over it.
The 32-year-old star, who recently lost nearly 40 pounds thanks to dieting and fitness, is fed up with people criticizing her weight.
The ~workout queen~ took to Twitter to vent about the fact that she really can't win when it comes to her body: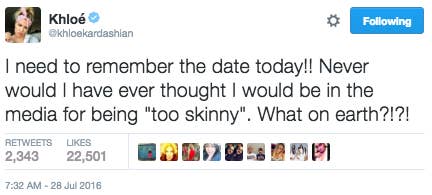 Khloé has been hitting the gym hard in recent months, frequently posting videos on Snapchat of her at-home workouts with trainer Don Brooks...
Oy. Just keep doing you, Khloé.