Seventy miles northwest of Orlando International Airport, amid the sprawling, flat central Florida nothingness — past all of those billboards for Jesus and unborn fetuses and boiled peanuts and gator meat — springs up a town called Wildwood. Storefront churches. O'Shucks Oyster Bar. Family Dollar. Nordic Gun & Pawn. A community center with a playground overgrown by weeds. Vast swaths of tree-dotted pastureland. This area used to be the very center of Florida's now fast-disappearing cattle industry. The houses are low-slung, pale stucco. One has a weight bench in the yard. There's a rail yard crowded with static freight trains. The owners of a dingy single-wide proudly fly the stars and bars.
And then, suddenly, unexpectedly, Wildwood's drabness explodes into green Southern splendor: majestic oaks bearing spindly fronds of Spanish moss that hang down almost to the ground. What was once rolling pasture land has been leveled with clay and sand. Acres of palmetto, hummock, and pine forest clear-cut and covered with vivid sod. All around me, old men drive golf carts styled to look like German luxury automobiles or that have tinted windows and enclosures to guard against the morning chill, along a wide, paved cart path. It's a bizarre sensation, like happening upon a geriatric man's vision of heaven itself. I have just entered The Villages.
This is one of the fastest-growing small cities in America, a place so intoxicating that weekend visitors frequently impulse-purchase $200,000 homes. The community real estate office sells about 250 houses every month. The grass is always a deep Pakistan green. The sunrises and sunsets are so intensely pink and orange and red they look computer-enhanced. The water in the public pools is always the perfect temperature. Residents can play golf on one of 40 courses every day for free. Happy hour begins at 11 a.m. Musical entertainment can be found in three town squares 365 nights a year. It's landlocked but somehow still feels coastal. There's no (visible) poverty or suffering. Free, consensual, noncommittal sex with a new partner every night is an option. There's zero litter or dog shit on the sidewalks and hardly any crime and the laws governing the outside world don't seem to apply here. You can be the you you've always dreamed of.
One hundred thousand souls over the age of 55 live here, packed into 54,000 homes spread over 32 square miles and three counties, a greater expanse of land than the island of Manhattan. Increasingly, this is how Americans are spending their golden years — not in the cities and towns where they established their roots, but in communities with people their own age, with similar interests and values. Trailer parks are popping up outside the gates; my aunt and uncle spend the summer months in western Pennsylvania in a gated 55-plus community, and when the weather turns they live in one through the winter to play golf and line-dance in the town squares.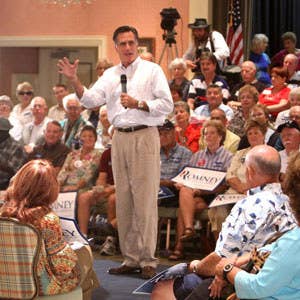 There are people, younger than 55, generally, who suspect that this all seems too good to be true. They — we — point to the elusive, all-powerful billionaire developer who lords over, and profits from, every aspect of his residents' lives; or the ersatz approximation of some never-realized Main Street USA idyll — so white, so safe — exemplified by Mitt Romney's tone-deaf rendition of "God Bless America," performed at one of his many campaign swings through The Villages. But those who live and will likely die here and who feel they've earned the right to indulge themselves aren't anguishing over it. I am living here for a week to figure out if The Villages is a supersize, reinvigorated vision of the American dream, or a caricature, or if there's even a difference. The question I'm here to try to answer is a scary one: How do we want to finish our lives?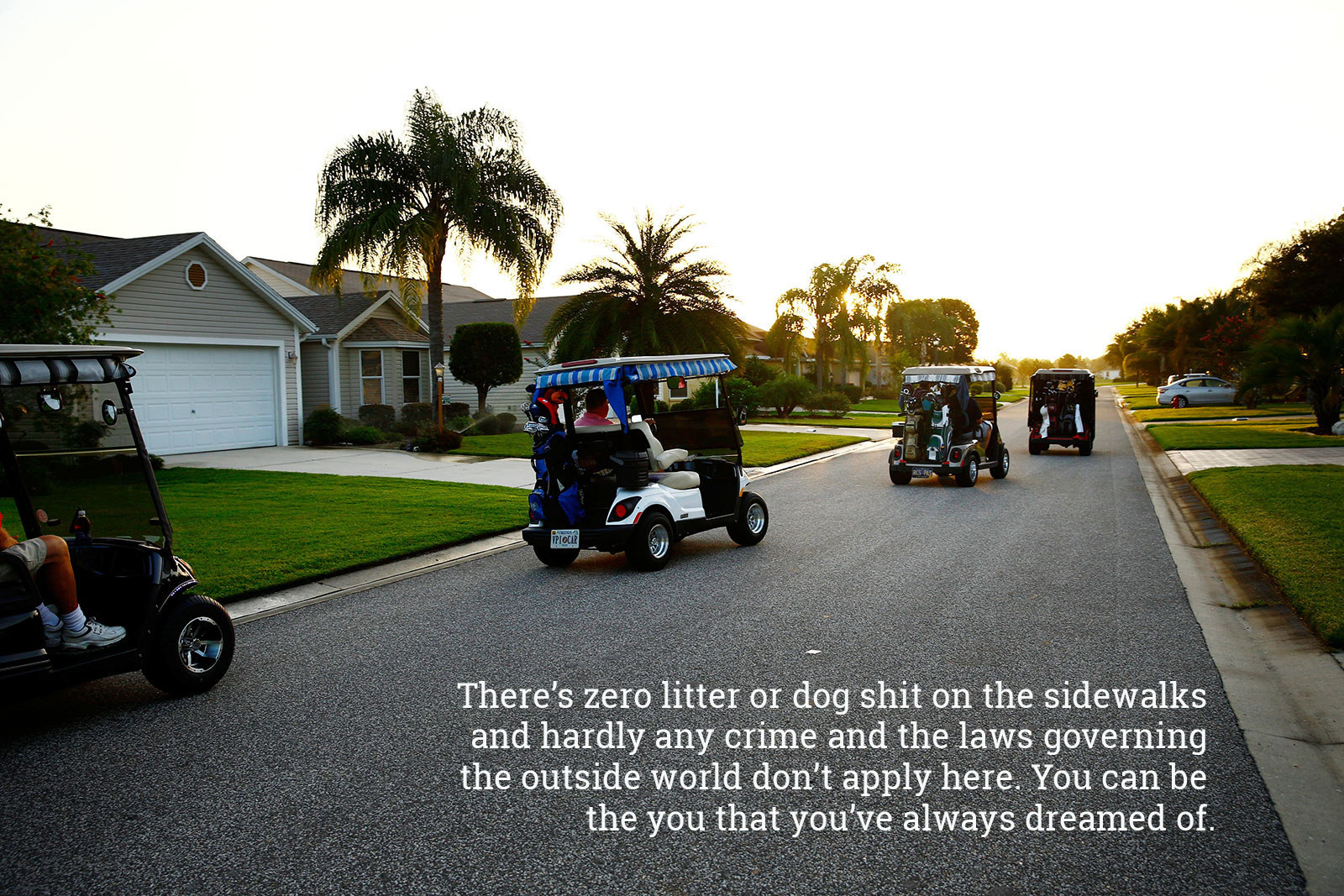 For the first few days of my visit I'm crashing with some family friends, recent retirees Bob and Georgann Ozbolt. Bob had told Georgann that I was planning on staying at the Waterfront Inn, the community's upscale hotel, and so she emails me: "Why don't you start off by staying with us to 'immerse' yourself. There should be plenty of Erectile fun and swimming, too!" For a beat I consider keeping my hotel reservations — the sexual mythology surrounding The Villages is terrifying. Turns out, though, that it was nothing more than an autocorrect gaffe that Georgann apologizes for later.
Residents live in subdivisions with names announced with baroque stone signage. There's Village de la Vista and the Village of Zamora and Harmeswood of Belle Aire. Village del Mar is located in close proximity to two retention ponds. The houses are packed in so close together that you can hear your neighbor flush. All the roads are county roads, anybody can pass in and out of The Villages, but there are security checkpoints at the entrance of every subdivision that provide a sense of exclusivity. The guard stations are attended by retirees in golf shirts upon my initial entrance, but they're intimidating just the same.
The Ozbolts settled here two years ago after a lifetime of moving in service of Bob's career. He was an Army Ranger and later became an Army pilot before retiring to a cushy gig with Gulfstream flying movie stars and foreign royalty. He's 6 feet 5 inches and recently slim from the Wheat Belly Diet, the sort of guy who un-self-consciously wears a Santa hat out to dinner during the holidays. I really can't overstate how much I like Bob Ozbolt. He's deeply knowledgeable on everything from meteorology to economic theory. He occasionally attends tea party meetings but is still eager to listen patiently to what even the most liberal of pinkos has to say. And Georgann is sweeter than a sun-ripened tangelo. She's gorgeous, with straight blonde hair and bangs that accentuate a set of gargantuan cornflower-blue eyes. And she's force of nature: informed, opinionated, principled, an expert people watcher and virtuosic gossip. They raised kind and well-rounded kids too — both wildly successful banker types — who do things like go into a K-Mart around the holidays and anonymously pay for some less fortunate family's entire layaway order.
Bob and Georgann dwell in a smartly decorated three-bedroom that backs up to the ninth hole of one of The Villages' 33 "executive" nine-hole golf courses. They looked at retirement communities all over the country. They considered Sun City, Arizona; Georgann's parents retired there. They considered a place in Miami, not far from their grandbabies, and another in Hilton Head, South Carolina. "We were out at dinner by one of the communities in South Carolina and there was a woman out to dinner all alone and I could just see the sadness in her eyes," Georgann tells me out on the lanai. "That's when I knew we had to move here."
Bob suggests we go for a tour. As we get driving, Georgann speculates that I'll be spending a handsome amount of time pulled over consulting a map. This place is huge and shapeless like a growing crude spill; the golf courses are laid out first and then the roads and neighborhoods are built around them, Bob tells me. There are two primary thoroughfares — Buena Vista Boulevard and Morse Boulevard — running north and south through the development. A broad road called El Camino Real cuts through the center. Farther south, Route 466 runs east to west while Route 441 cuts The Villages at a sloppy diagonal. We drive through a mess of roundabouts, clear across campus, to the gates of Orange Blossom Gardens (OBG).
Bob refers to OBG as the "historical district." The homes are mostly double-wides and prefabs that were built in the mid-'70s and early '80s. Georgann comments that people around The Villages talk about OBG like it's the ghetto. But the homes here have real character — neat and white with bright aqua trim and white slat awnings over the windows, plastic flamingos and garden gnomes and ornate birdbaths on the lawns, old Cutlasses and sun-battered Plymouth minivans in the driveways. They call to mind simpler times: Gerald Ford, orange juice from concentrate, smoking on airplanes, pubic hair.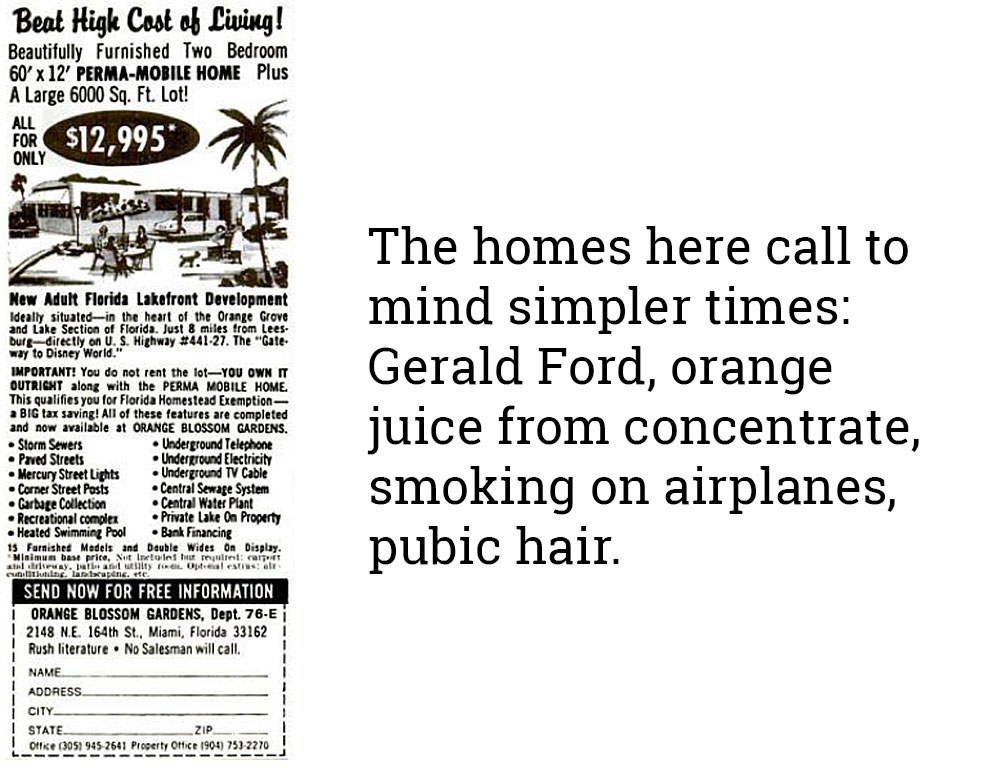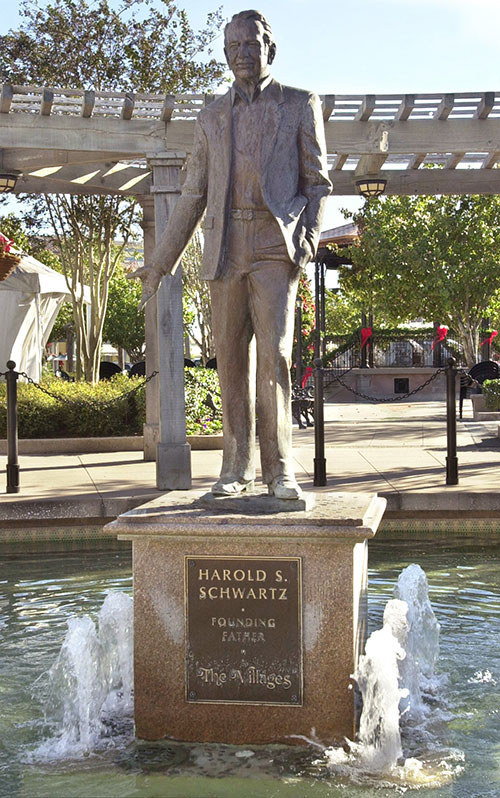 The father of Orange Blossom Gardens was Harold Schwartz. As detailed by Andrew D. Blechman in his 2010 book about retirement communities, Leisureville, Schwartz made his fortune selling vitamins, cuckoo clocks, and wallets with zippers through the mail. By the early '60s he was into real estate; in the late '60s he bought several hundred acres up around the town Lady Lake (not far from where we are now), chopped that land into quarter-acre parcels, and sold it off — undeveloped and sight unseen — for $295 per parcel. When the Florida legislature nixed mail-order land sales in the early '70s, Schwartz left his partner, Albert Tarrson, in charge of the land. Tarrson decided to build a trailer park but only managed to sell fewer than 400 homes over the next decade. In 1983, when Schwartz bought the land from him outright, it was just trailers, a clubhouse, shuffleboard courts, and a nine-hole golf course. During a visit with his sister Ethel in Sun City, the retirement community opened by Del Webb in 1960, he figured out that Sun City's success stemmed from the lifestyle it offered, not its location. Inspired, Schwartz called on his son H. Gary Morse (most Villages residents call him simply "The Developer") to help him get his new community off the ground.
The Developer, a college dropout — he allegedly adopted his stepfather's name because his mother was afraid Nazis were going to invade and kill all the Jews — nurtured his business acumen managing his mother's steakhouse in northern Michigan. Once he arrived in Florida, he and his father renovated and expanded OBG's golf course. Schwartz's stated goal from the beginning to was to offer a "millionaire's lifestyle on a retirement budget" and "free" golf was part of that vision.
By 1987 OBG had $40 million in annual sales. They added pools, a country club, another recreation center with its own restaurant, and 18 more holes of golf. They had trouble recruiting retail and service providers — this place was still the sticks — so members of Schwartz's family opened up a gas station, liquor store, restaurant, and laundromat. Development spread to the west side of 441, and by 1989 there were 17 gated neighborhoods with their own rec centers and pools. Shops, restaurants, churches, golf courses, and medical facilities opened. They had their own media too — a newspaper and radio and television stations.
In the late '90s Schwartz retired and spent his remaining years in an OBG prefab. Meanwhile, The Developer crafted his own fantasyland, collaborating with an entertainment consultant who'd designed big theme parks and took control of The Villages full-time in '94. Schwartz died in 2003 and his cremains are housed inside a brass statue of his likeness next the square's fountain.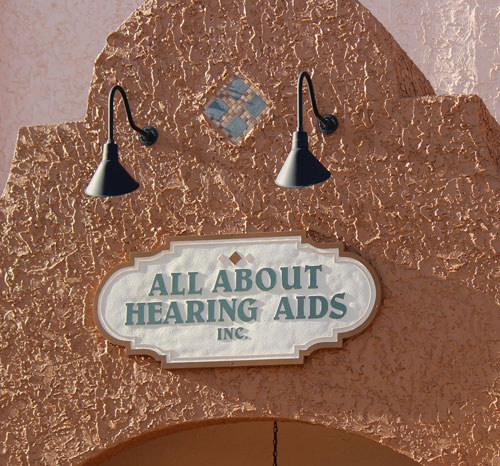 Bob drives us to Spanish Springs. Schwartz wanted to create a town square, a sort of community gathering place, so he used a million bucks of his own money to get the development started. We walk the square, passing a movie theater, a hulking church, and all manners of age-appropriate retail ("All About Hearing Aids, Inc."). Music from The Villages radio station is piped out over speakers — we're served up a helping of some oldies — and then a current events update from Fox News.
We approach a restaurant called Katie Belle's and Georgann tells me that every so often they host a Mamma Mia brunch: At 7 a.m. a bunch of ladies file into the restaurant and watch Mamma Mia. The cost of admission includes bottomless mimosas. "Whenever a musical number comes on we all get up to sing and dance. People here have no inhibitions. We don't have to worry about our kids feeling embarrassed by us," she tells me. It's late morning now and the only other soul out here is a homeless man shuffling through the square. Nobody lives in Spanish Springs, or in the other town squares, and maybe that's why it feels like we're walking around on the Warner Bros. lot in Hollywood.
One myth surrounding Spanish Springs is this is where Ponce de Leon's long-searched-for Fountain of Youth is located. That's less believable than the narrative surrounding Spanish Springs: that it was established sometime in the 19th century. Historical society-type plaques tell the story of a wealthy deb named Katie Bell Van Patten. Faded advertisements for Charlie Chaplin's The Pilgrim and Ben Turpin's Pitfalls of a Big City are painted on the wall of the Rialto movie theater. Elsewhere on the square there are aged-looking signs for a gunsmith and a telegraph office.
We drive past the massive, tree-camouflaged compound where The Developer and his family live, past pockets of preserve land before pulling into Lake Sumter Landing, an estimated $120 million Civil War-era town square. The lake is man-made; there's no maritime activity to speak of, but a big lighthouse looms in the middle distance. Train tracks run through the square, though neither train nor trolley have been used around here. Lake Sumter Landing's downtown looks a Southern coastal city — clapboard houses with second-floor balconies.
Critics of The Villages see something tragic and sinister at work here. One blog called Fake Nation laments, "The Villages is a mausoleum for a desiccated culture, a place of fake history which will be regarded by history as the most desperate attempt of a generation [boomers] that squandered its inheritance to craft something enduring."
Driving south, heavy machinery becomes visible. The air is coated with dust. Twelve homes are built every week. We make a quick stop in the newly erected Eisenhower rec center. The walls are covered with war memorabilia collected from Village residents. The floor and the window treatments are exact replicas of what you'd find in the West Wing. No building here can ever just be a building.
We arrive in Paddock Square, Brownwood's yet-to-be-completed town center. It butts right up to Wildwood. Brownwood is dressed up like an old cattle town. I've been following the progress of construction for a few years now. Watching clips of full-grown oaks being lowered into the ground by massive cranes are what first made me want to visit.
Georgann pulls me into the Barnstorm Theater, the town's multiplex. The exterior is done up like an old barn. The movies are listed on a marquee wrapped around a corrugated aluminum water tower. The interior is all dark wood and low beams. A hayloft is decorated with bales of straw, a stuffed ewe, an old spinning wheel, and a butter churn. Georgann gets misty and says, "It reminds me so much of my grandfather's barn in Oklahoma."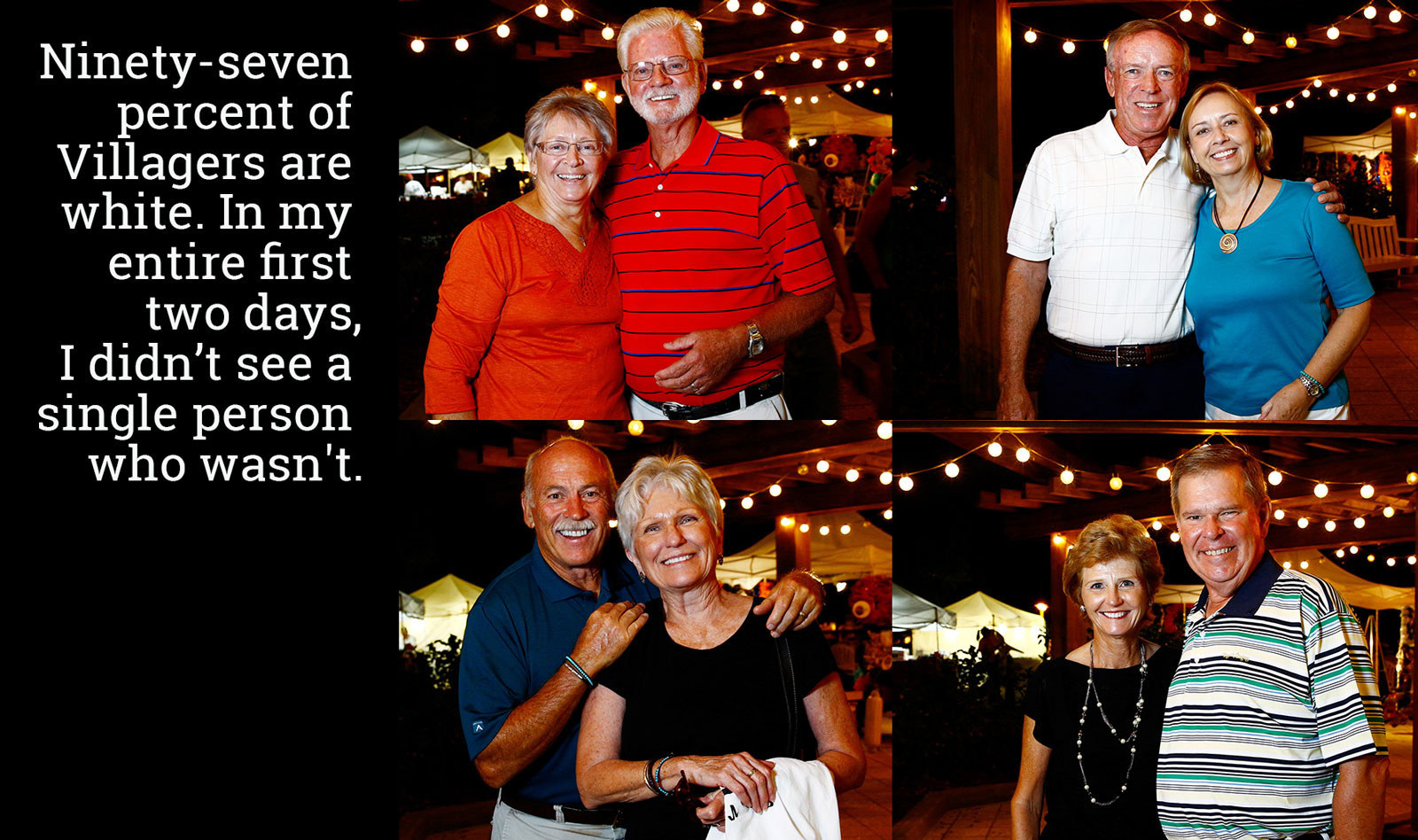 On my second night in town, Georgann and Bob invite 35 of their closest friends over for cocktails and spinach dip. It's a Monday night, but nobody's keeping track. Guests shuffle in right around sundown, exchanging hellos while attacking the Shiraz and mixed nuts. Low-60s temps and nobody's sure how to dress — the guys are in golf shirts and shorts and flops or else and sweaters and khakis. The gals don bedazzled knits that betray their ages. They talk about golf. About what they did today, which was play golf. And about the state of their golf swings. About Bob's disappearing waistline. They bitch about the goddamn snowbirds (renters who come down for the winter and go back north for the warmer months) taking all of their tee times and dinner reservations and messing up the traffic patterns because they don't know the rules of the road.
Georgann's guests fill out a sign-in sheet — name, city of origin, pre-retirement career. She tells them it's for her New York journalist friend to use as reference, but privately admits she's curious about their lives too. Everybody in attendance is white; 97% of residents are. In my entire first two days I didn't see a single person who wasn't. (Harold Lumpkin, the head of the African American club, later tells me that his meetings are attended by about 95 Villagers, a good portion of them white people who support the community.) One of Bob's friends tells me earnestly in a hushed tone that she thinks the president is a Muslim, and when I say that he's not, and that it wouldn't matter if he were anyway, she squints her eyes and smiles.
Georgann says what you did on the outside doesn't matter — everybody here is equal. People with a $77,000 house have access to the same stuff as people who own $2 million houses. Their friends come from Cincinnati and Westchester and Minneapolis. They were university professors and physicians and bankers and interior designers and collision technicians.
Patty is a former school administrator; her ex-husband wanted her to move back north after he left her for another woman, but she has her own villa now on the other side of Route 466 from him. Paula and Jim were friends of the Ozbolts from the same townhouse community in Minneapolis. Paula worked in a veterinary clinic. Jim was in the Navy for three years and three months. He has faded tattoos on his forearms and wears fancy glasses that make him look like a German sports car salesman. They first retired to Arlington, Texas, but fled because Jim was worried about Mexican drug cartel violence spilling over the border. Alan and Iris fell in love with Africa when he worked as a courier for the foreign service and Iris was a secretary. They have spent their lives hungry for adventure; now they're Villagers.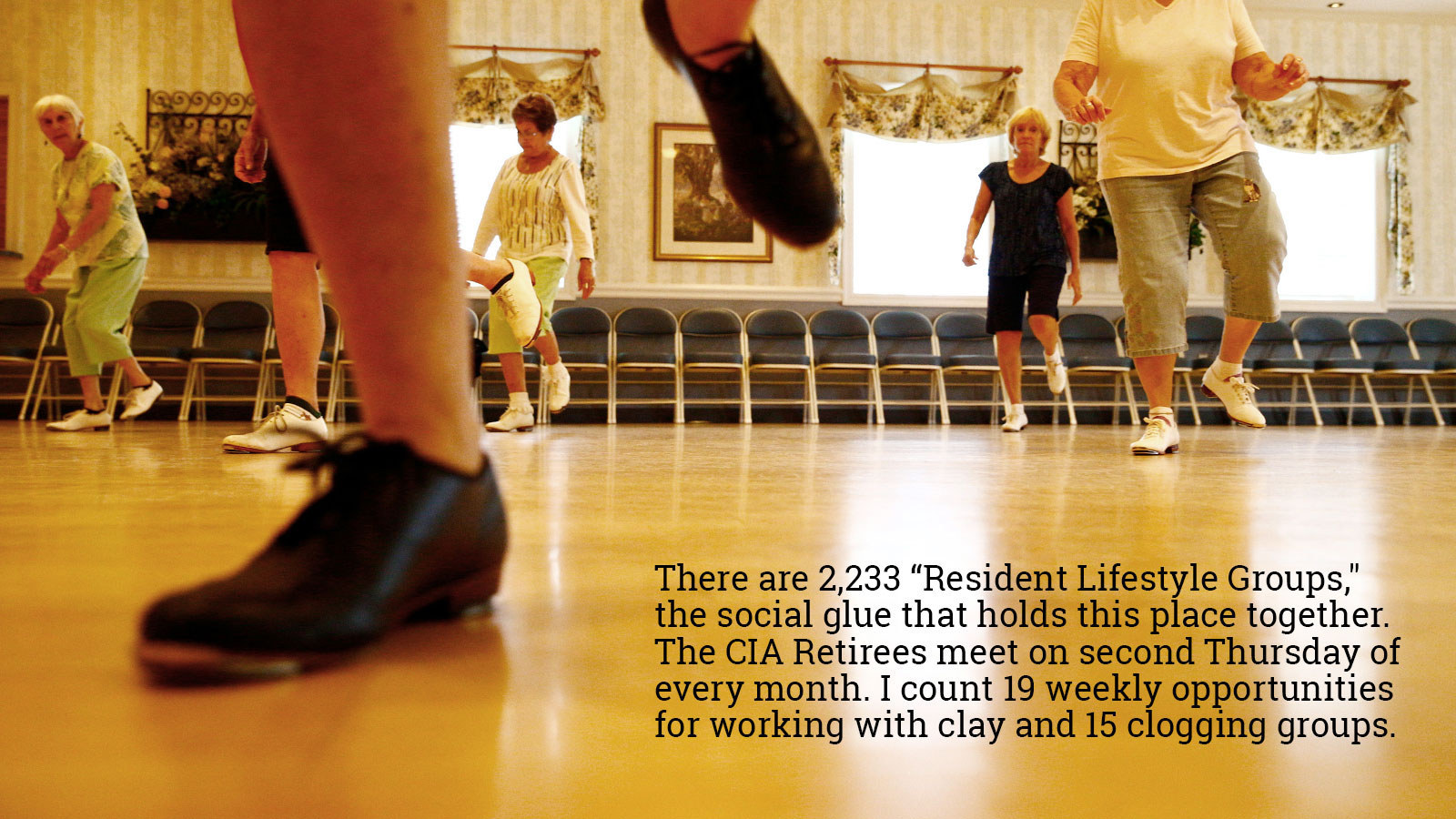 Self-discovery is made easy at The Villages. At last count there were 2,233 "Resident Lifestyle Groups," the social glue that holds this place together. There are dozens of art-related clubs (everything from watercolor painting to wearable art to something called glass fusion). There's a cheerleading club — the waiting list is two years long — and they perform at parades and on special occasions on the town square. One of Bob's friends tells me that a great number of the gals on the cheerleading squad here are likely the gals that didn't make their team in high school.
The CIA Retirees group meets on the second Thursday of every month at 2 p.m. in the Lake Minoa rec center. I count 19 weekly opportunities for working with clay and 15 clogging groups. The Ozbolts volunteer with The Villages Optimists Club, doing service work with kids out in the greater community. There's a group that sends care packages to servicemen in Afghanistan and another that takes WWII vets up to D.C. to see the National World War II Memorial.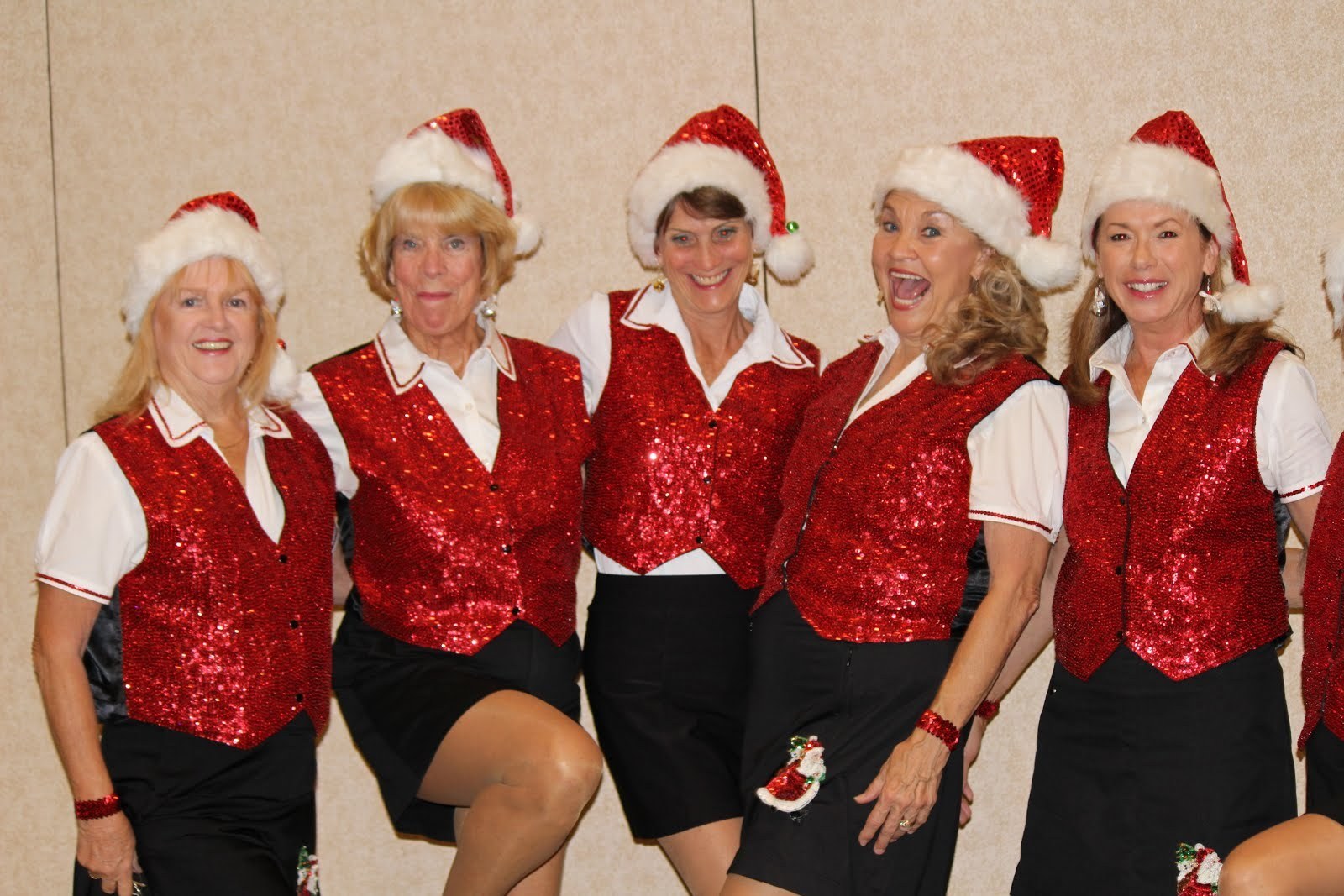 There are six pages of exercise-related groups and classes in alphabetical order from aquatic dancing to Zumba. There are no fewer than 39 clubs devoted to line dancing. There's a model railroad club, polka lovers, a meeting for former Naval cryptologists. One of Bob's old Army buddies — a sweet guy named Sarge — plays in multiple softball leagues. He and his wife plan their yearly schedule around the playoffs.
All of the possibilities get me to daydreaming about what sort of retiree I'd be if I lived here. The marketing department is aware of this sensation; they have a sales video online called "Permanent Vacation." I price real estate. I spend hours at night perusing the activities bulletin. In this fantasy every day begins with a bike ride or lap swimming and then tennis. I'd spend my afternoons kayaking or learning golf or playing H-O-R-S-E with a rotating cast of old sonsofbitches who like drinking Coors more than shooting hoops. I'd partake in Pilates and competitive dragon boat racing. I'd carve out time for some occasional indoor activities — maybe join the "Wanna Be Writers" group or take a woodworking class.
"The only reason I pay for a newspaper subscription is so I don't lose track of the days," says Bob's pal Cork. "Most mornings I leave the house at 9 a.m. and don't get home until 10 or so." I meet Cork at one of the country clubs for sirloin salads and Arnold Palmers. Cork has sandy hair and blue eyes. He's a career Navy guy. He chews an acorn-sized wad of dip and I never once see him spit. We shoot hoops until we get thirsty and then take off in his golf cart for a bar in Lake Sumter Landing. It's 3 p.m. and the place is packed with old Marines in leather motorcycle vests and Vietnam veteran hats. They're all glassy-eyed and hell-bent. Sun's low. We start in on the Coors Light.
Cork moved down here four years ago; we get to talking about his wife of 37 years and the day that she learned that she had cancer and was going to die. "She was here and then she was gone," he says. After her death, he got lost. His two sons got him through it. He spent a few months up in Maryland working on his oldest son's house. They finished a room over the garage — kitchen, plumbing, the whole kit and kaboodle. When they were done, Cork's son asked him stay there for good. He wasn't about to put himself out to pasture. He had to make a new life for himself. "We busted our asses for retirement. We saved. She died so suddenly and now I'm reaping the benefits of all that hard work and I feel so guilty."
He wound up down here. "When I moved, a friend asks me, 'How many fridges you got?' I says, 'Two.' He says, 'Once the ladies find out you're unattached they're going to start bringing casseroles!'" And they did. Cork dated one woman for a few weeks but she tried to change the way he dressed and dictate his diet. A golf buddy matched him up with Carolyn. She moved down after her husband died a few years back.
Carolyn is in her early sixties, elegant, with high cheekbones and salt-and-pepper hair. She's from Nashville and when I meet her at a cocktail party she's still wearing the engagement ring her husband gave her. Her husband was the love of her life and Cork's OK with that. Cork excuses himself to go meet Carolyn for a cheeseburger. "What I like about this place is this is an easy place to start over."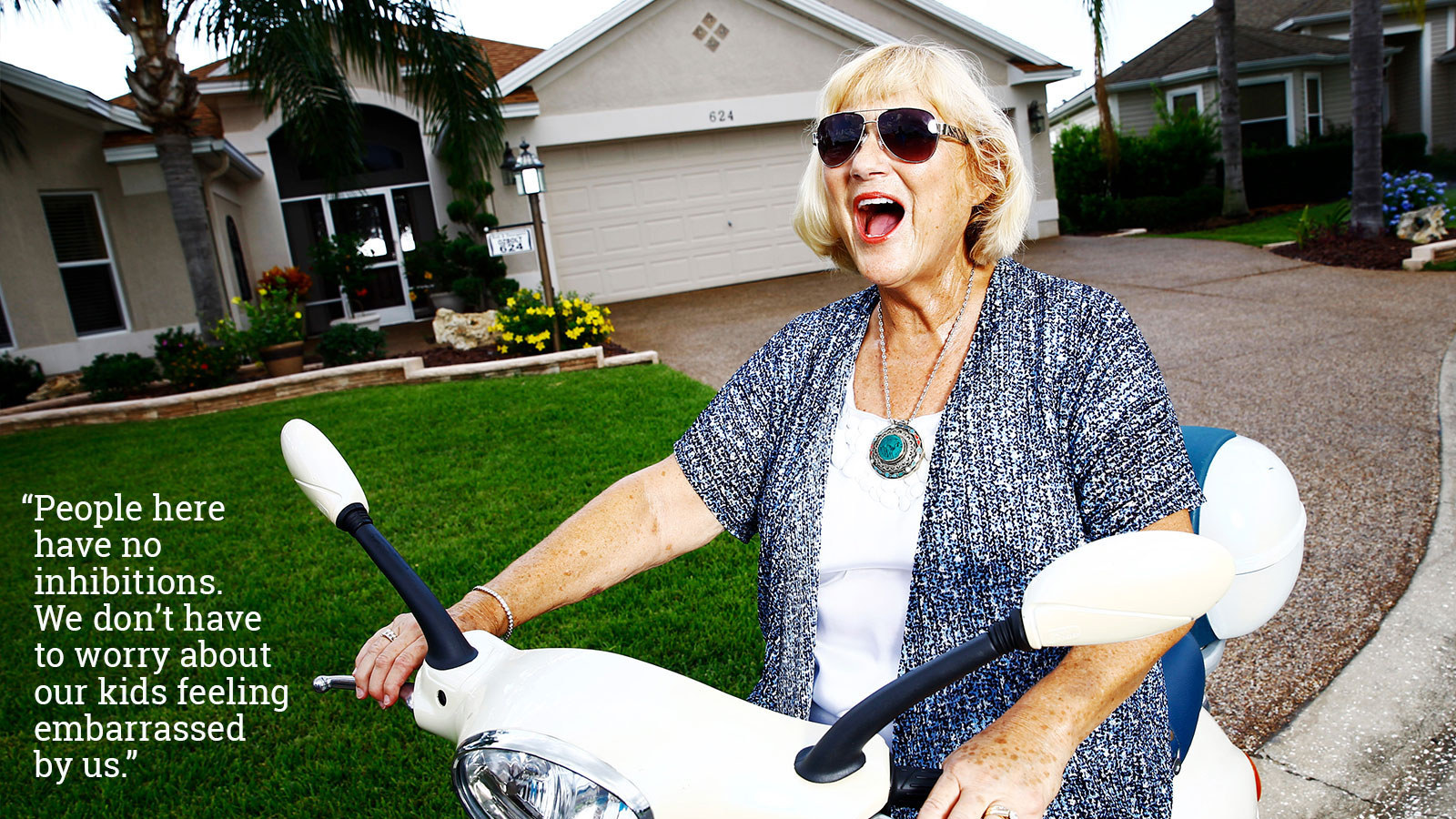 On day four I move out of Bob and Georgann's place and into the Waterfront Inn. My room is well-appointed with a balcony overlooking the lake. Every afternoon there's a happy hour in the lobby with a live band or DJ.
I meet Bob and Georgann for dinner at City Fire Grill and when I return the DJ is playing "Blurred Lines." The lobby is dark and hot and a pack of women dancing provocatively look at me like a well-marbled steak.
The sexual habits of The Villages' inhabitants have become the primary lens for the way that just about every media outlet covers The Villages. Maybe it's the only sane and easy way to deal with our most potent of our fears — aging, decline, impotency, death. The idea of olds fucking grosses us all out, but why is it so surprising? This place is inhabited by people who feel strongly that they're not beholden to anybody.
A waitress tells me about key parties at an Italian restaurant on Sumter Landing: "Golf cart keys get put in a fishbowl in the middle of the table, wives wait in the parking lot for their mystery dates." I'm told about a prostitution ring that has recently been broken up. Orgies are said to be a regular occurrence. I am warned about women prowling around bars indiscriminately offering oral sex. There is reportedly a black market for Viagra. One of Bob's buddies confesses to watching a couple fuck in a golf cart on a dead-end street. I'm told that sticking a loofah on your cart antenna signifies you're into swinging. So does wearing a crimson button. According to multiple people, wearing gold shoes or letting your shirt tag stick out in the back signals you're on the prowl. I hear a story about a scorned woman painting "YOU FUCKING PRICK YOU GAVE ME HERPES!" in red letters on her lover's garage door. Recently, a married 68-year-old woman became a folk hero after getting arrested with a 49-year-old man for having sex in the square at Lake Sumter Landing. The cops brought her to jail and a Villages restaurant named a drink after her — Sex on the Square. It involves whipped cream and a cherry.
One night at Redsauce we watch an early-sixties blonde seduce a mid-thirties male. She sits on his lap, leans backward, strokes his hair, and sucks on his earlobe. He asks for the check. We applaud.
"Go to one of those places and you'll see gals in there tryin' ta score a fella," says Patty in a sticky Midwestern accent. "They're drippin' in jewels and wearin' full-length furs. You gotta be careful, though. They're territorial and they're willing to put out because they figure, 'Hey, how much longer do I really have?'"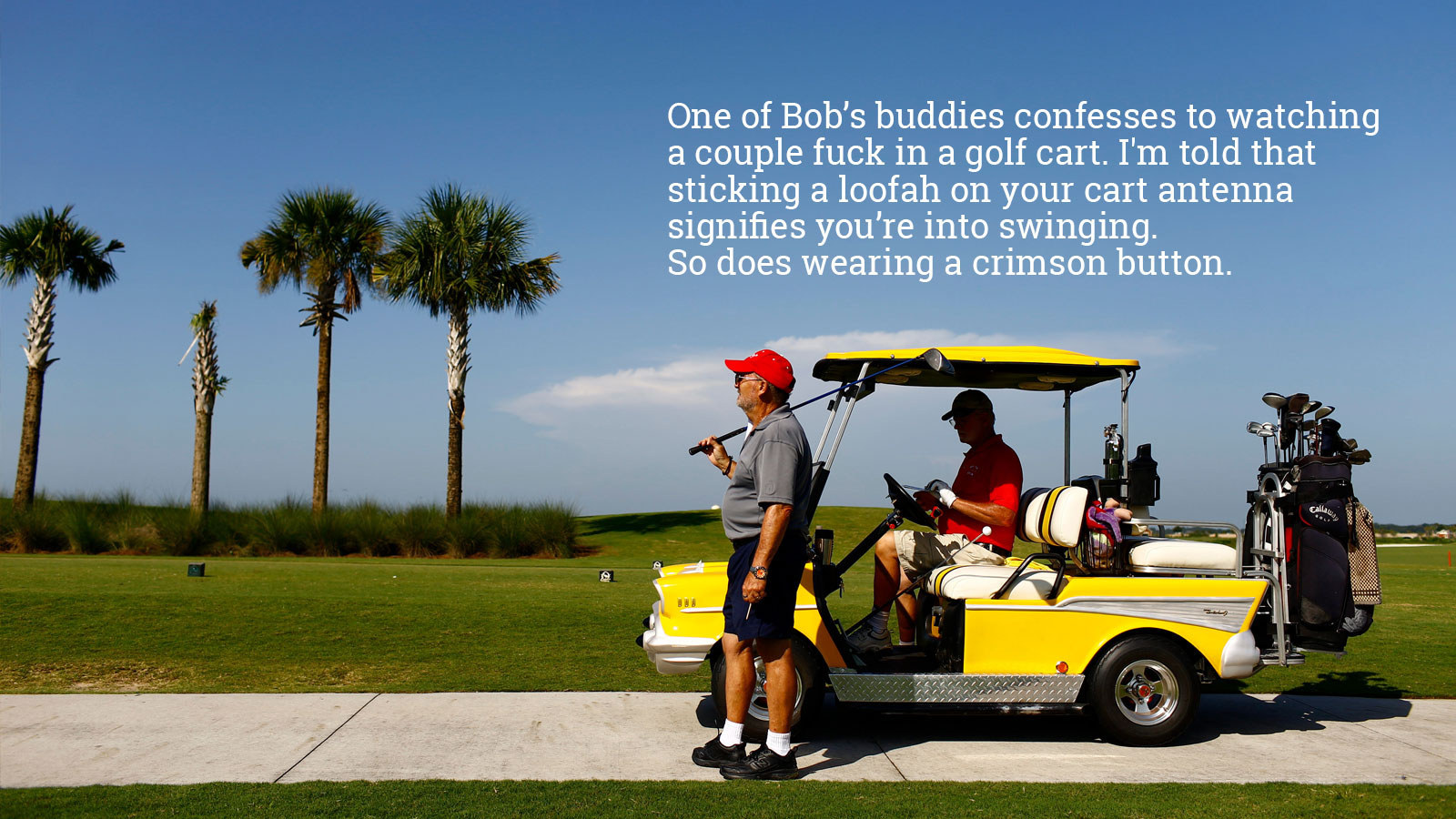 The Developer is a deeply private man. He doesn't mix with the locals. Nobody I meet in The Villages has ever met him and most aren't too sure they'd recognize him if they bumped into him at the local Panera. He lives on a massive, tree-enshrouded compound in the geographic center of The Villages just off Route 466. He has his own dining lounge above Redsauce in Sumter Landing and his own private viewing lounge in the movie theater. Residents like to point out that outsiders get so caught up in his mean-spiritedness that his brilliance has become obscured, and few I talk to seem to begrudge his fortune or how he amassed it. (A Villages media relations representative declined multiple interview requests for this story.)
Morse and his family are worth at least $2.5 billion, according to a 2012 Bloomberg estimate. He owns four jets and a 147-foot yacht and The Villages pays the U.S. Customs Department $120K per year to staff tiny Leesburg Airport with a customs official so he doesn't have to trek to Tampa or Orlando to fly internationally. He's passionate about polo so he constructed a massive pitch and stadium not far from where he sleeps and every year he pays the best players in the world to visit. When an unknowing employee of the Villages golf course told him that jeans were not acceptable golf course apparel, he had the dress code changed.
The Developer owns everything in The Villages — hotels, the newspaper, the radio station, the banks, the hospitals, the mortgage and insurance companies. He owns the real estate corporation too. He owns the golf cart dealerships that have sold just about every household in The Villages their rides (they start at around$10K apiece and top out at over $50K). He owns the trash collection companies and the assisted living facilities. The construction companies are his. He makes tens of thousands of dollars every year off tee times alone. He's the landlord to dozens of restaurants and retailers spread over hundreds of thousands of square feet of retail space.
According to the Tampa Bay Times, in the early 2000s Morse had grown tired of the limitations the municipal government placed on his expansion efforts and their continual insistence that he help pay for civic improvements, like road expansions to accommodate the Villages' growth. So he pushed to pass a ballot referendum ensuring that Villages residents, who comprised 65% of the voters, would effectively control elections. Two years later, the commissioners who opposed The Developer were voted out of office, and today all five Sumter County commissioners are supported by Morse. Multiple sources detail to me the way Morse handpicks his candidates — friends and loyal supporters — and gets them elected by funding their campaigns and giving them good press in his newspaper, the widely read Village Sun.
This reach extends beyond The Villages. Between 1999 and 2012, according to that same Tampa Bay Times report, The Developer and his family gave at least $6.3 million to state and federal races. In the last presidential election, he was Florida chairman of the Romney campaign and the Morse family, and its holdings sent $1.7 million to Restore Our Future, the main Romney-allied super PAC in 2012; Salon obtained a letter from Morse imploring all of his employees to contribute to the Romney campaign in an enclosed envelope.
The Sun carries columns by pundits like Oliver North and Ann Coulter. Fox News plays on the TVs at every restaurant and rec-center gym. Romney, Ryan, Palin, Huckabee, and Gingrich all make regular stops at the local Barnes & Noble for book events or the town squares for campaign stops. Registered Republicans outnumber Democrats by a margin of greater than 2-to-1 in The Villages, and in 2012, while Village Republicans enjoyed free office space to organize, one Village Democrat, who asked to remain nameless, tells me they were offered similar accommodations for $10,000 per month. She adds that cars with Obama-Biden stickers were reportedly vandalized, harassed, spit on, even threatened with shotguns. "Morse's attitude toward us was if you don't like it, you can leave." Another source, a retired Fortune 500 executive who has become active in local politics, says to me, "He's as powerful a man as there is in America."
One night Bob and Georgann escort me to the Laurel Manor Recreation Center, a huge brick colonial building decorated like a dollhouse, for the monthly meeting of the Property Owners Association (POA). The auditorium is packed and there's a full docket tonight; Bob jokingly refers to them more than once as "the conspiracy theorists." After the Pledge of Allegiance, the 250 or so attendees take up a collection for tonight's 50-50 raffle. Hours from the previous meeting are read.
Then the head of the POA, a wry Midwesterner named Elaine Dreidame, fields complaints from the residents. The snowbirds don't know how to drive the roundabouts! We need more stop signs on the cart path. I can hear noise from the polo fields and it's too loud! Elaine responds to almost every complaint with a glare of contempt. An administrator from the local school district is on hand to talk about the good work they're doing at the Villages charter school where all the local doctors and pool lifeguards and waitresses send their kids. A man in a tan jacket and tan pants walks to the microphone to complain that he shouldn't have to pay into the school system.
Chief among the challenges Schwartz faced during the early years of Orange Blossom Gardens was actually getting people to build homes on the land they'd purchased. He incentivized construction by offering landowners free cable TV, trash collection, and no trail fees on the executive golf courses for life. Over the next decade, as development spread to the other side of the highway, his son saw his opportunity to form a new corporation that would not honor the agreements they had with his father and pockets of resistance began to form.
All around me, men are dozing off. My head bobs too, momentarily, but Bob nudges me when Elaine gets to the main attraction: Tonight the POA is celebrating the five-year anniversary of its $40 million settlement in a class-action lawsuit against The Developer by inducting the five named plaintiffs (aka "the Class Action 5") into the POA's Hall of Fame. In 2007, they sued The Developer over his misuse of the monthly amenities fee that every household pays, claiming he'd failed to keep cash on hand for the maintenance of the swimming pools, rec centers, and golf courses. In the months leading up to the settlement, The Developer wrote a lengthy column in his paper describing what he termed the "politics" of The Villages:
The Villages' residents seem to divide into 3 basic groups. Group 1 is the silent group. They love living here. They don't want to bother with anything. They just want to enjoy the golden years of their retirement. Group 2 wants to help. They love living here and believe the can improve The Villages by working with their Developer. They gravitate toward the Villages Homeowner Association. Group 3 ... they love living here. But they believe the Developer's goal is to take advantage of the residents. They believe they can improve the Villages by challenging the Developer and fighting for residents' rights. They gravitate towards the Property Owners Association. The same one I worked with the day I arrived, March 1, 1983.
"We love working here. We love living here. But the residents need someone looking out for their interests," Elaine tells me. "One or two people complaining can't get anything here on their own." Elaine's other victories have been modest but vital: She helped 1,600 residents get replacement on vinyl siding that had been improperly installed; she saw to the repair of hundreds of leaking underground refrigerant lines, some of which had been capped with plastic shopping bags. Elaine's an Ohio girl, had lived there her whole life, and before she moved to The Villages she had no experience in local government. She was a college volleyball and hoops coach and was active in the push for Title IX. "I'm fighting all the time," she says. "It's in my blood."
Last summer The Developer put up a wall blocking golf cart access to a nearby strip mall with restaurants and retail and doctors offices that weren't affiliated with The Villages. Residents started calling the pastel pink structure "the Berlin Wall." Tensions ran high for a few days. As the Orlando Sentinel reported, someone even spray-painted "Mr. Morse Take This Wall Down." In short order a crane demolished the structure. Villagers gathered to watch the demolition. Afterward, refreshments were served.
Elaine and her friends on the POA are gearing up for another big fight. In 2008 an IRS agent took notice of some irregularities while doing an audit: After building a new amenity — i.e., a new rec center or swimming pool — The Developer then sells that amenity, along with the right to collect the $120 monthly fee that each household pays, issuing 30-year tax-free municipal bonds to the community development district (CDD) that he established to oversee The Villages. Put another way, The Developer is buying amenities from himself at an incredible profit and not paying taxes on any of it because he claims the sale serves a "wholly public purpose." The Developer has pocketed around a billion dollars this way. The IRS, though, now thinks The Developer "perverted" the law, as an Orlando Sentinel report phrased it. (A representative of The Villages did not respond to requests for comment.)
Now the POA is worried that the burden of paying back taxes on $426 million of municipal bonds' earnings will ultimately fall on the residents. The Villagers who are paying attention to the situation are scared: If The Developer doesn't step in and help pay those, the money will have to be drawn from the community's amenities funds and the physical plant could ultimately spiral into disrepair. Getting him to pay could require another lawsuit. "This whole arrangement is rotten," one politically active resident tells me. "It's like going down to Trump's estate at Palm Beach and having him pick your pockets for the spare change when you're not looking."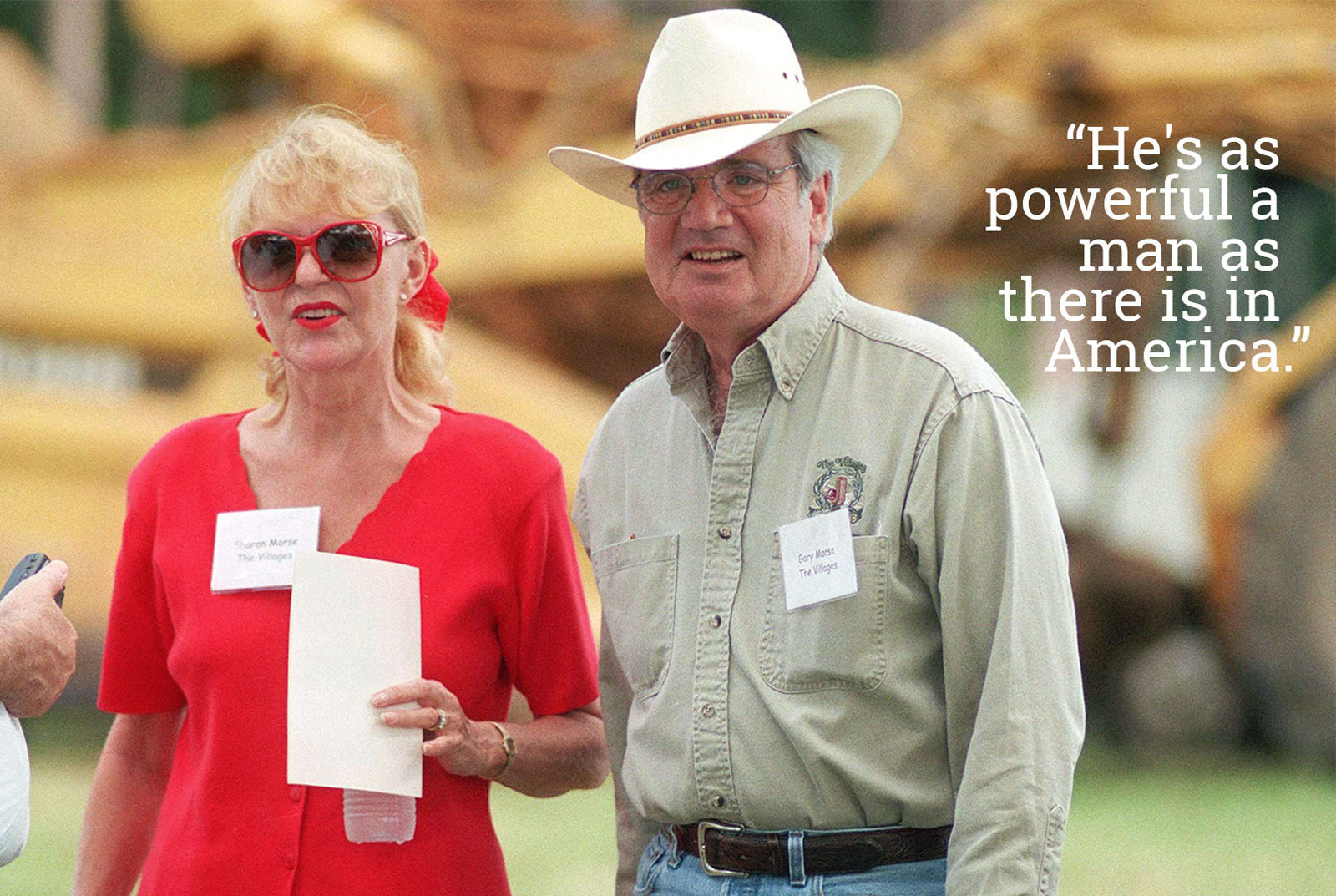 A culturally homogenous environment as big as this will still have its fringes. Wendy and Peggy were part of a vibrant lesbian community in San Diego. They'd never have left Southern California, except Wendy ruptured an aneurysm late in '95 — after two years of rehabilitation, Wendy spooked easily on the freeway and got lost in familiar places. We're sitting in Panera. Peggy's dressed in golf attire and a visor. Wendy, tall and blonde, is in a cobalt-blue short-sleeved button down. The Villages made sense for them because of the golf cart culture — it's less dangerous for Wendy to get around.
During their tour of retirement communities, they stopped in The Villages for a lifestyle weekend. The Developer puts you up for a few days in one of his villas, helps with tee times. "All of the activities were right here in front of us — all we had to do is walk right out the door and there it was. The motto is that this is America's friendliest hometown. That's because nobody is from here," Peggy says.
"We knew there had to be lesbians here," adds Wendy.
"Our first evening we went to a parade in Spanish Springs and all the sudden, marching down the street there are women from the local softball league," says Peggy. "'There they are! Found them!' We followed them over to the beer line and started making connections."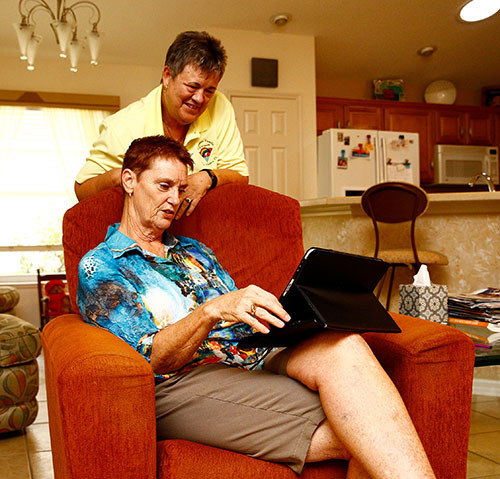 A few years after moving here Wendy and Peggy created Rainbow Family and Friends, The Villages' first and only LGBT group. They were prepared for a backlash from the Villages' overwhelmingly conservative populace and the area's evangelical groups, or even The Developer. "The biggest resistance came from the gay community," explains Wendy. "They'd come from the Midwest and South, from small towns. They were retired military and retired government workers who'd spent their entire lives looking over their shoulders, waiting to be fired or humiliated."
"At first people [LGBT individuals] were afraid to publicly gather," she continues. "So we had a party but we had to keep the doors closed because god forbid somebody see us dancing. They were scared about losing their retirement or of a neighbor burning a big 'L' on their front lawn. We've had to take the people in our community through baby steps." For seven years they've had weekly meetings. On any given Thursday night you can find a good contingent of the Rainbow Family and Friends in the lobby of Waterfront Inn dancing to a Pink cover performer named Petrina. They still have parties too, and the doors are always open.
A few times during our meetings Wendy starts crying without warning. Like when we start discussing their recent Pride Fest, when members of their group celebrate the states that have legalized gay marriage by marching around a ballroom with state flags. "It's from the aneurysm," she explains. "The filters that mediate emotion in the brain no longer work. Whatever I feel is like, 'Boom!' It's there and there's no stopping it."
She gets choked up too when Peggy starts talking about all of the ways their group has become powerful: how Peggy (a retired financial planner), along with a gay attorney and a gay CPA are working together to make sure that members of the community are well taken care of. They bought one of those big blank plastic checks, and over the past year they've given away about $50,000 to community organizations — Habitat for Humanity, a local hospice, animal shelters. Peggy has started working with Parents and Friends of Lesbians and Gays, a group that, at The Villages, counsels homophobes who are having a hard time accepting that that their favorite grandchild or niece is gay.
Wendy and Peggy don't have to do much recruiting anymore. They've got a website and now spend a lot of time talking with prospective residents who want to move to The Villages but also want to live their lives openly. "They come for their lifestyle weekend and they meet everybody in the group. Before they leave, they ask what village we all live in, as if we've taken one over. Wouldn't that be something?"
Over the course of my stay I become an enthusiastic and skilled pickleball player. Pickleball is a delightful hybrid of tennis and Ping-Pong. The rackets are similar to paddle ball rackets and the ball is plastic and Wiffle ball-ish. The court is half the size of a tennis court and you play with a partner.
One of Bob's buddies brings me to the Pimlico rec-center courts and we pass the morning engaged in furious competition against an aggressively friendly Nova Scotian named Dave and his partner, a friendly West Virginian with a limp. Dave's pretty good and really looks the part in his short shorts, nylon baseball cap, and wraparound shades. Dave loves the way I play: I run down tough-to-get balls and lash topspin-heavy balls deep into my opponents' court. I've got a lethal drop shot at the net too. Half-assing it would be disrespectful. Different courts around The Villages are attended by different skill levels. The competition at the Pimlico courts isn't as good as at Churchill, and Churchill isn't as good as Saddlebrook. Dave tells me in all seriousness that this is where some of the best pickleball players in the world hang out.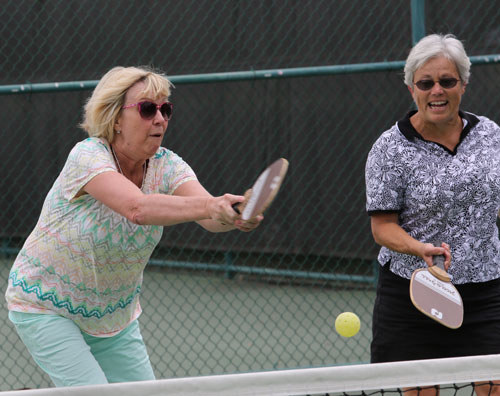 I become Dave's regular partner. We meet early every day and spend a few hours leveling our competition and when we're done, agree to step it up the next day at Churchill.
That's where we meet Sally and her husband Errol (not their real names). They wear coordinated tennis outfits. Sally's in a pleated skirt. Visors and wristbands. Top-of-the-line carbon-fiber rackets and bright white sneakers. They move in unison and hit the ball with incredible accuracy and paralyzing pace. Every time they win a point, Sally fist-pumps and it makes me fucking hate her, especially because in the first match they crush us 11-0. Dave and I silently sit on a nearby bench, stewing and waiting for the next open court.
We wait for another crack at Sally and Errol. They slaughter us. We wait again. It goes like that for over an hour until eventually Dave and I win one, 11-9. Dave starts talking shit. Errol misses a ball and Dave asks as patronizingly as possible if Errol's sciatica is flaming up. He pulls out his wallet and offers up his chiropractor's business card. We no longer meet at the net for friendly four-way fist bumps after each game.
Around 11 a.m., with all of the other games around us winding down, Dave announces that he has time for one more before he has to leave for golf. I have abandoned my strategy of sitting back and trying to scorch winners — too many unforced errors. Sally can't handle balls hit hard right at her shins, and Dave and I take a commanding 8-0 lead. But momentum swings. We give them back nine unanswered points before the wind grabs one of Sally's lobs and pushes it over the back line. We're down 10-9, match point for them, Sally serves: Dave hits a stiff return, all four of us rush the net. I hit a blistering ball at Sally, she shoots it at Dave, Dave redirects right at Errol. Errol hits a lob that Dave can't reach but I run and stretch for it and steer a backhand up the line, a beautiful shot. Sally can't quite get there. It bounces two inches inside the line. I see it so clearly. Sally stops, looks, pauses — and then says: "Out."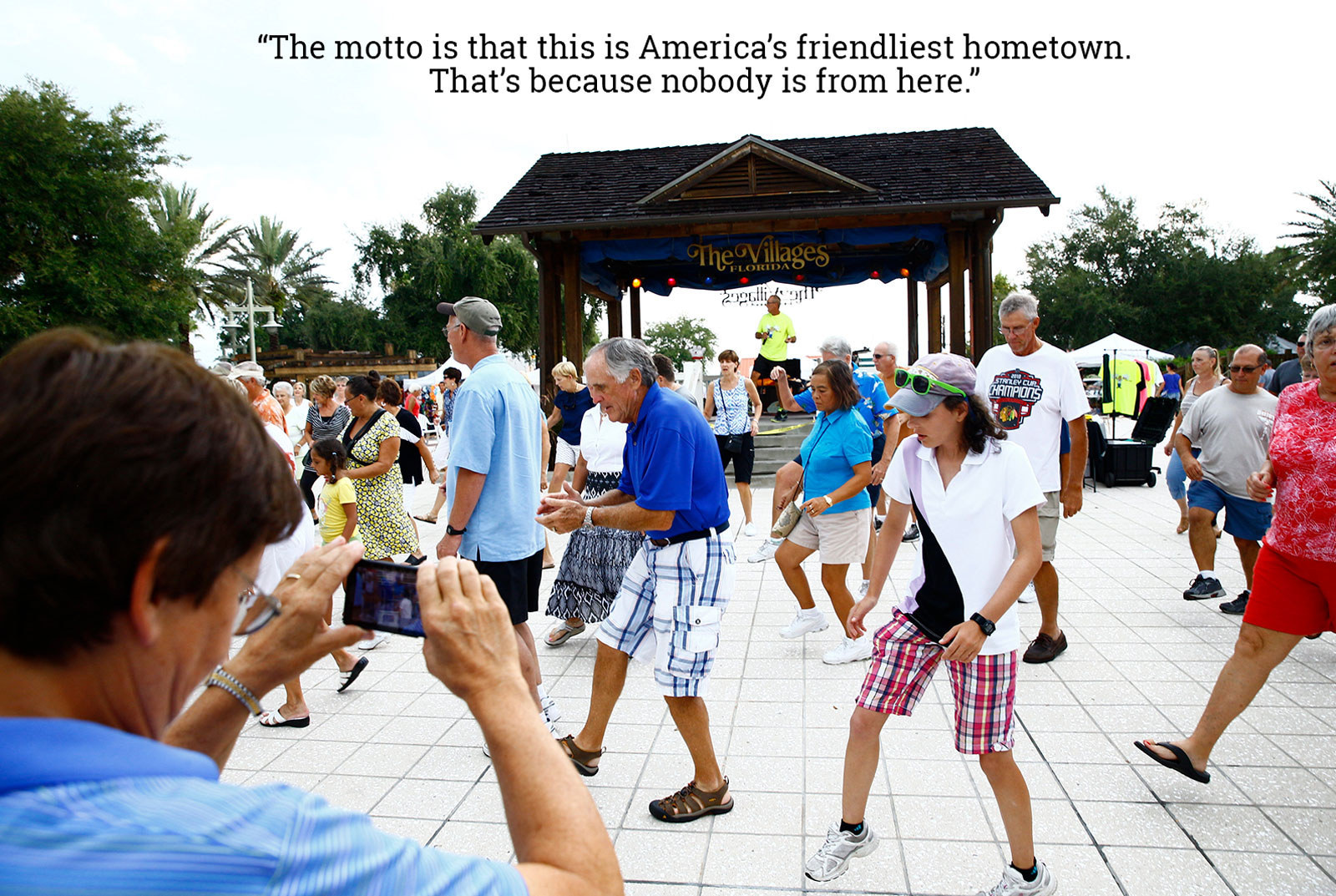 About 30 folks assemble in the auditorium at the Sea Breeze rec center on Wednesday afternoon to attend the weekly get-together of The Villages Bluegrass Club. The auditorium is sunny and decorated in the mode of an Outer Banks vacation rental: bleached wooden floors and pale blue-and-pink wallpaper with a busy seashell pattern. The curtains are identical to the wallpaper.
There are a bunch of guys onstage — professional musicians during their previous lives, no doubt — in a crescent formation with guitars, fiddles, and banjos, running through bluegrass standards and Vince Gill numbers. The bandleader has a sleepy Appalachian accent and an ancient guitar hanging from his shoulder. He mixes in a joke or two between numbers. A standup bass bumps along in perfect time. The mandolin player launches into long sonorous solos. After dozing off for a moment I wake up and look around embarrassed, only to discover a handful of others with their eyes shut.
Midway through a Flatt & Scruggs tune, a white-haired woman walks up the center aisle to the stage. The bandleader bends down to speak with her. After the song is over he grabs the mic and says, "We have just gotten word that our old friend Mel Harvey has passed away. He was a great bluegrass musician. He always said this band wasn't bluegrass enough for him. We're grateful to have had him in our lives and find comfort in the knowledge that he's not alone now."
One of the really difficult aspects of living here: You get to know somebody, you become close friends, and then one day they're gone. Some make the move to The Developer's gargantuan assisted living facility, which reminds me of one of those old Third Reich-era Nazi ministry buildings in Berlin. There's a crematorium on 466 next to a Mexican restaurant. There's no cemetery in The Villages, though. This place isn't really home.
A chaplain comes up and says a prayer and then the bandleader says, "Mel was a good singer and a good Christian and he got his ticket punched. He was a joyous man and he would have wanted him to celebrate his life, to have a good time and not to be sad. But first we gonna play something for him that's high and lonesome."
The mid-winter sky over Orange Blossom Gardens is going dark when I pull up in front of a neat single-wide. I choose this house because of the ancient gold Caddy — peeling paint and blistered soft top — sitting in the driveway. A man lumbers out the side door — white short-sleeve button-down, gray slacks. He's built like a bull, smells like hair tonic and beer. His name is Ray and he wants to know why I'm here after dark. "It's not even 6," I explain.
"People around here are afraid of the dark," he says.
We sit in his enclosed sunroom. Ray's wife Anetha settles in a nearby doorway. She wears a teal sweatsuit, an unglamorous dusty blonde bob, and big glasses. They've just finished dinner — chicken à la king. They haven't bought new furniture since the late '70s. The dark wood couch's cushions are decorated in a rust orange and brown pastoral pattern of an old water-powered mill. A train set on a side table, a cuckoo clock hanging just above where Ray breathes jaggedly, sunken into an easy chair. They don't have a computer, the TV has knobs.
In 1972 Ray spotted a magazine ad for a new Florida trailer park. He was in his late thirties, the manager of a clothing store in Ottawa, and he didn't think he'd be able to endure another winter. When they arrived, the sales office was closed for the Thanksgiving holiday. They bought this trailer from some people who were desperate to move back to Orlando. It was mostly watermelon fields back then. Livestock roamed freely.
"We were just going to come down for the winter months," Ray says. There was a golf course and a rec center with a dartboard and a pool table. They went to the dances, got to know people. For years they lived the life I've been dreaming of for the past week — thirtysomethings living in a retirement community. They made ends meet by caring for their neighbors' yards in the off-season. Ray points a thick finger at Anetha and says, "She still does lawns."
I ask Ray about his friends from back in those days. "They're mostly dead," he says. "I made new friends and they died too." And so did the next round of friends and the new ones he made after that. "After a while I stopped trying so hard," he says. They don't play golf anymore. They go into the town squares once a year for the Christmas tree lighting.
Ray says the only person he knows left from the early days is Mr. Fitzgerald, around the corner. I shouldn't bother him, though. His wife has recently died; he doesn't get out much these days.
I stop by Mr. Fitzgerald's place anyway. It's situated under a massive willow. Every light is turned on; the outer porch overflows with houseplants. The window sills are crowded with Hummel figurines. Mr. Fitzgerald comes to the door. He seems to think I'm here to sell him something — encyclopedias or knives: "I don't want you on my property. Go home." He looks more like an old man than any old man I've ever seen — small and weak, white hair, a crimson sweater over a dress shirt. I try to convince him to answer just a few questions, but he turns and walks back into his home.
A dance party is getting started at my hotel but I retreat to my room. I sit on the corner of my bed and just fall to pieces. It's happened a handful of times this week: After spending the day with Cork I phoned my dad and encouraged him to sell their house and leave the New England cold for this place. They'd be happy here. Their golden years could be filled with new friends and lots of free golf. They'd live longer. I began thinking about my dad someday dying. I tearfully promised that I'd call more and make more of an effort to see them.
I start thinking about my own end. What scares me the most? It's not the darkness or the ceasing to be while the world moves on. It's not being forgotten, either — that's inevitable. What scares me most is the moment, just before it happens, when you know this is it. That your life, all of it, is now behind you.
It seems to me that moment is hurtling toward Ray and he's resigned himself to waiting for it. I imagine that Mr. Fitzgerald had just watched his wife stare that down, too. I hate myself for going there. I've been trying for days to think about what I want the end of my life to be. How do I want to spend those final years?
I pack my bags and walk to a bar. I sit alone and watch these people who are all hurtling toward their ultimate moment. They've fought their fights and now all they want is to drink and fuck and play pickleball and hang out.
I don't lose my nerve, though. There's no falling to bits this time. I feel hopeful. I get drunk. Go to bed and wake up the next morning before the sun is up. I drive back to Orlando, to the airport, at breakneck speed.