17 Ways Tom Brady Is Adjusting To Life After The Patriots
TB12 has been having a great time in the Sunshine State.
Tom Brady shocked the world in March by announcing he would be leaving the New England Patriots and taking his talents to...well, not quite South Beach. About 400 miles northwest of South Beach: Tampa Bay.
Brady may have broken the hearts of countless Patriots fans, but he went out with a classy note on Instagram, where he thanked everyone for their support:
Even though his decision had monumental implications for the future of the league — and his career — Brady seemed to have a light-hearted attitude about the move.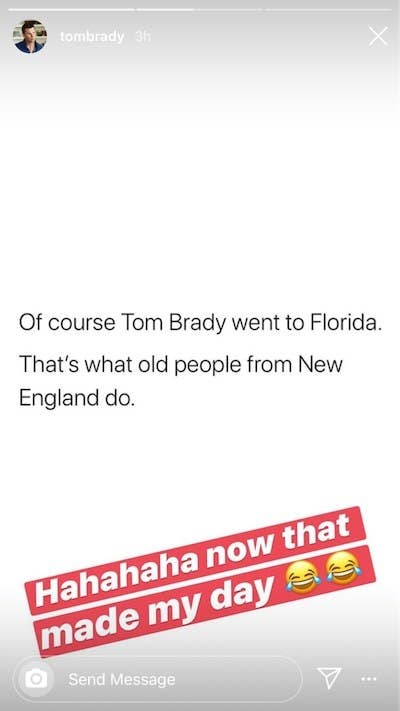 As sportswriters pointed out, Brady always enjoyed warmer weather, and he would certainly be getting that in Tampa Bay.
After two decades in the frozen tundra of New England, it seemed like he was looking forward to some beach time — or at least his own definition of beach time.
Brady figured out different ways to relax in Florida too, and it included pursuing his second favorite sport: golf. He even participated in a $10 million charity match in May where he showed off his smooth swing to Charles Barkley.
To make the Buccaneers feel even more like home, Brady convinced one of his favorite targets to join him down in Florida. He managed to pull the tight end Rob Gronkowski out of retirement.
Apparently, all it takes to summon Gronk is a conch shell.
Gronk also joined him in an ad showing off Brady's new bedroom decorations, decked out in Bucs gear. Not sure whether Gisele approved of the interior design.
In his first game as a Buccaneer, the 43-year-old Brady played against the Saints, led by 41-year-old Drew Brees. Against all odds, Brady's first touchdown as a Buc was a rush into the end zone.
Brady did the classic Gronk spike after the score too.
He wasn't so lucky the entire game though. He ended up throwing a dreaded pick six later on.
However, he proved to have more luck in Week 2, scoring his first win as a Buc against the Carolina Panthers.
During the game, Brady connected with one of his favorite new targets, Pro Bowl wide receiver Mike Evans, for a touchdown.
In Week 3, Brady led the Buccaneers to an even more decisive victory and threw two touchdowns to Evans this time.
The Buccaneers ended up beating the struggling Denver Broncos 28-10, and after the game, Brady posted a message to his fans on Instagram.
Brady's clearly having a great time with his new teammates. And it seems like he kept a few lessons from New England, including Coach Belichick's classic refrain: "On to [insert next opponent]."