Toronto Police are investigating after a woman posted photos on Facebook allegedly showing a cab driver groping her leg.
Gabrielle Angelina Sirois, a Toronto model, posted two images to Facebook on Wednesday showing a man's hand touching her leg as she sits in the back of a taxi.
"Okay what the actual fuck," she wrote.
"Your eyes are not deceiving you. He is groping my leg full out... I'm done with humanity and the day just started."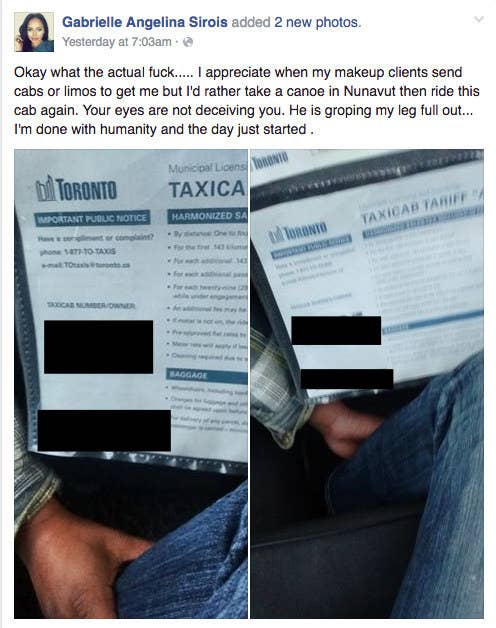 Sirois also wrote that the driver suggested she get into the front seat. She declined.
A Toronto Police spokeperson told BuzzFeed Canada that Sirois has reported the incident and it's currently under investigation.
The Facebook post has since been deleted, though Sirois said it was not her doing.

UPDATE
Rita Smith, executive director of the Toronto Taxi Alliance, told BuzzFeed Canada that the driver in question has been "taken off the road."
She said her organization reached out to Co-op Cabs, the company the alleged groper drives for, and they took action.
"Co-op Cabs contacted the police early this morning, and Co-op's supervisor visited the garage to identify and interview the driver, who was taken off the road immediately," Smith said.
She said anyone who experiences a problem in a taxi should email noriderefused@gmail.com to receive information and to report it.