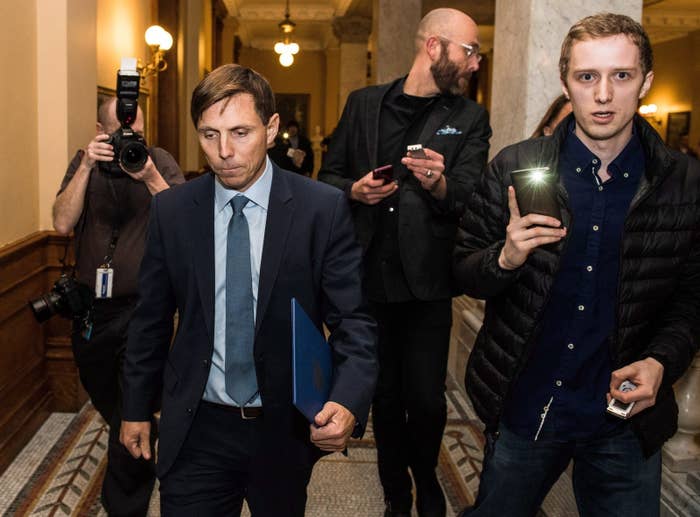 Ontario Progressive Conservative leader Patrick Brown is being accused of sexual misconduct two women — allegations he says are untrue. After initially declining to step down as party leader, Brown later changed his mind and is no longer head of the party.
CTV News reported that 10 years ago, when one of the women was a teenager, Brown exposed his penis and propositioned her to perform oral sex on him. At that time he was a federal MP representing Barrie. The woman also alleges that Brown provided her with alcohol, even though she was underage.
The other woman told CTV that Brown sexually assaulted her when she worked in his Barrie constituency office. She alleges that she was invited to Brown's house after a party, where he gave her alcohol and later forced himself on her.
According to CTV, she said:
The next thing I know he's kissing me. Sitting beside me, kissing me and then I was, I kind of just froze up. He continued to kiss me and he laid me down on the bed and got on top of me. I remember consciously trying not to move my mouth and I was just not moving, so I was laying there immobile and he kept kissing me.

I felt it was sexual. I could feel his erection on my legs when he was on top of me so I felt that it would have gone to sexual intercourse if I had not done anything. I would characterize that as a sexual assault.
CTV has kept the identities of the women private. Its report quoted other people who said the women told them of Brown's behaviour at the time.
"These allegations are false. Categorically untrue. Every one of them," Brown said at a hastily arranged press conference on Wednesday night. He said he only learned of the allegations earlier that day, but did not take questions from the media.
"I reject these accusations in the strongest possible terms. It's not who I am," he said, noting his two younger sisters are his "best friends."
Brown added that he will defend himself "as hard as I can with all means at my disposal."
Brown's chief of staff, campaign manager, press secretary, and deputy campaign manager all issued letters of resignation on Twitter. They said they advised Brown that it was "in the best interest of the PC Party" for him to resign, but that he refused.
Hours after Brown's press conference he issued a statement saying he will step down as party leader. The next Ontario election is scheduled for June 7, 2018.
Earlier Wednesday, Nova Scotia Progressive Conservative leader Jamie Baillie stepped down over allegations of inappropriate behaviour.
UPDATE
This story was updated to reflect the fact that Brown later resigned as party leader.