Members of Black Lives Matter's Toronto chapter brought the annual Pride parade to a halt for 30 minutes and refused to move until their demands for greater inclusivity were met.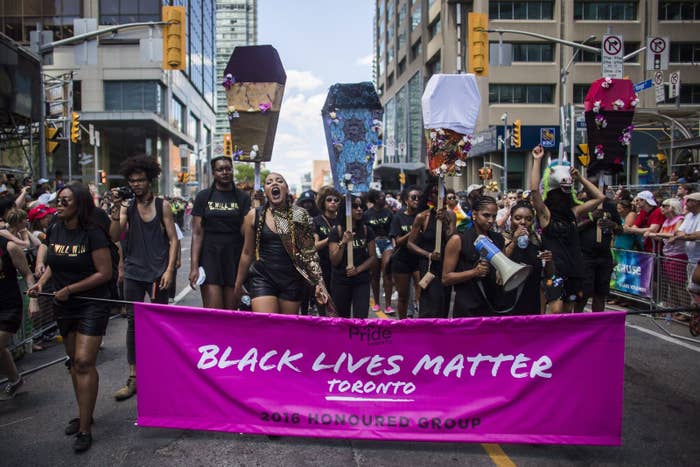 Although their actions and demands have proved controversial to some, they didn't come out of nowhere, and the annual Pride festival is no stranger to protest.
Here's how it all went down.

BLM was named Pride's honoured group of 2016 back in February. The announcement lauded the group's history of calling attention to police violence, among other accomplishments.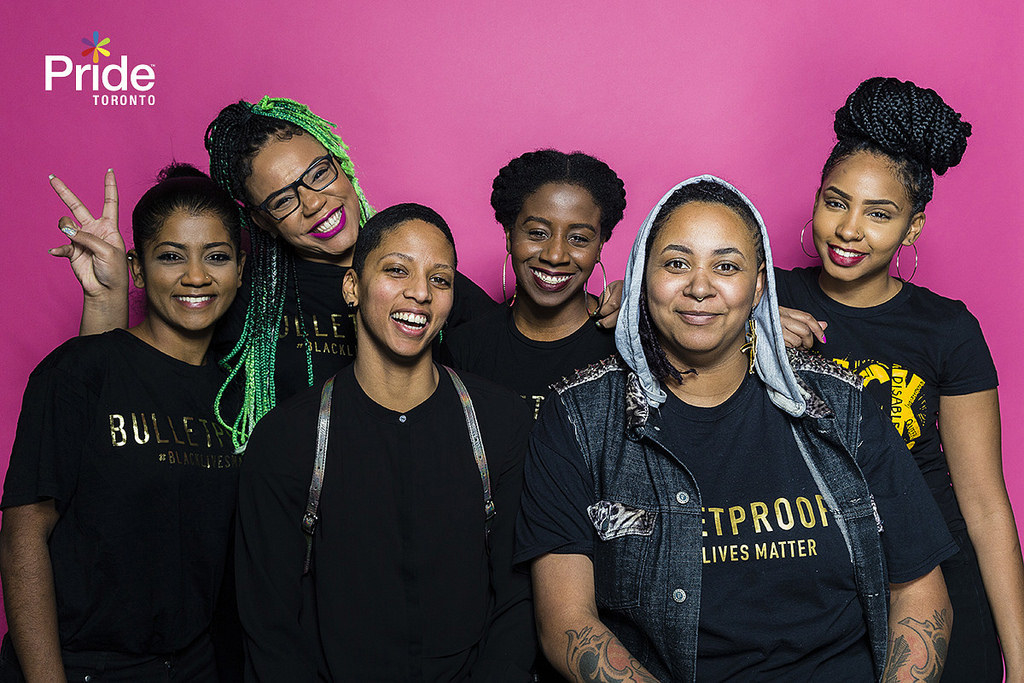 From disrupting police board meetings to camping outside of Toronto police headquarters for two weeks, BLM has been making headlines since its inception. Daily Xtra, a Canadian LGBT news publication, even named them "Toronto's most effective LGBT movement."
Given their successful track record of activism, it should come as no surprise that BLM planned to make use of their platform at Pride.
"When we were thinking about the issues that we may want to bring forward for the Pride parade, we started talking to different black LGBT community groups, some that participate in Pride and some that don't," LeRoi Newbold, a BLM spokesperson told BuzzFeed Canada.
What they heard were concerns about the funding and support for Pride programs run for and by black folks.
Blockorama is Pride's longest-running showcase and is presented by the group Blackness Yes!. However, organizers say they've had to fight for both stage location and accessibility accommodations. They also say they're well overdue for a funding increase. Another group, Black Queer Youth, has also faced issues, said Newbold.
These events are vital, said Newbold, because "a lot of black youth may not be connected to any other black queer community spaces."
Then there's the cops.
"The atmosphere of Pride [isn't] very inviting to black queer and trans community members due to the massive police presence," added Newbold.
While these issues did come up in dialogue between BLM and Pride, they started planning for the day of the big parade.

At around 3 p.m., at the intersection of Yonge and College streets, Black Lives Matter brought the Pride parade to a standstill amid plumes of rainbow smoke.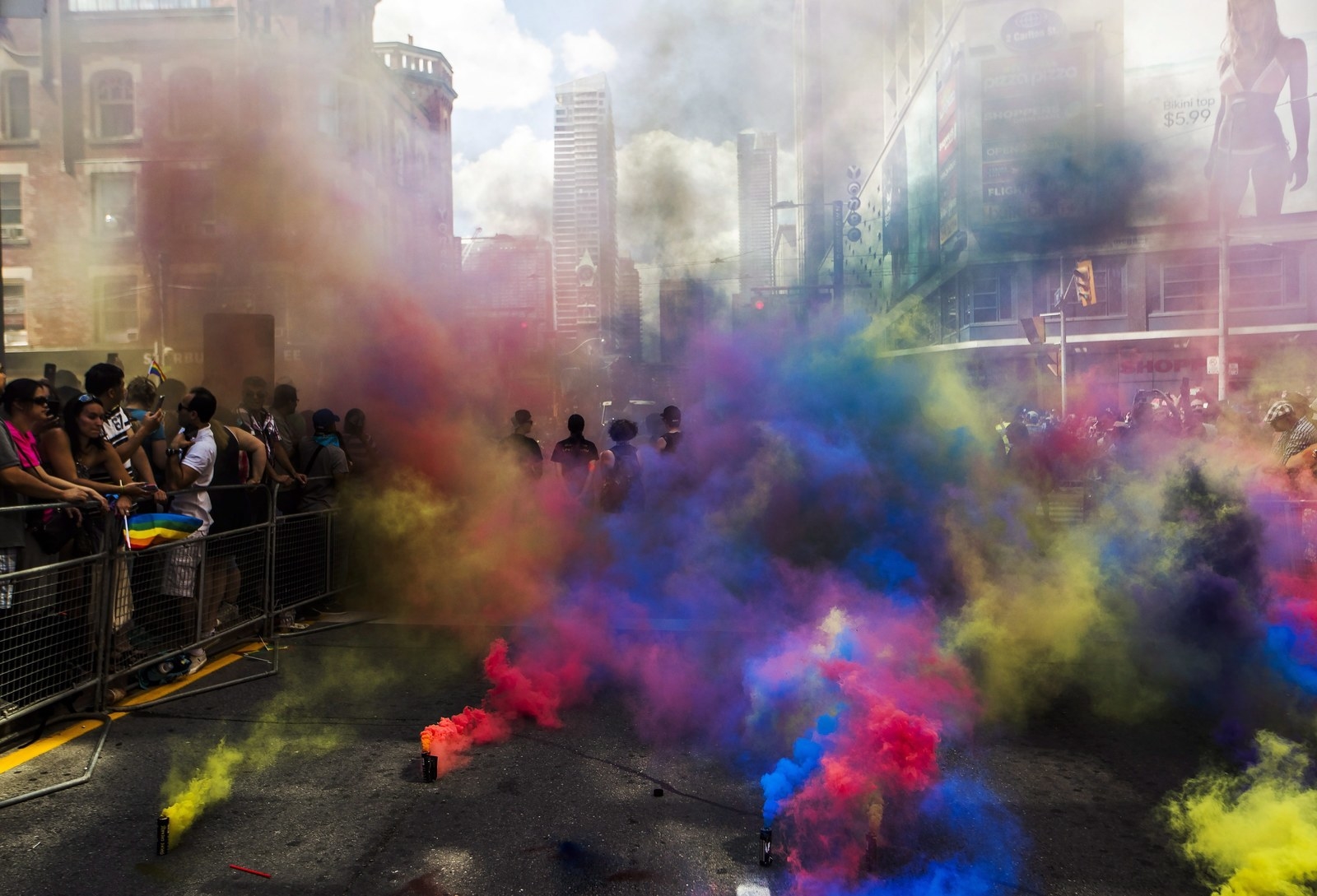 BLM presented a list of nine demands for Pride, including increased funding and support for Blockorama and Black Queer Youth. They also called for Pride to stop allowing police floats and booths at the festival.
"We decided to do an action during the parade because Pride itself is political," said Newbold.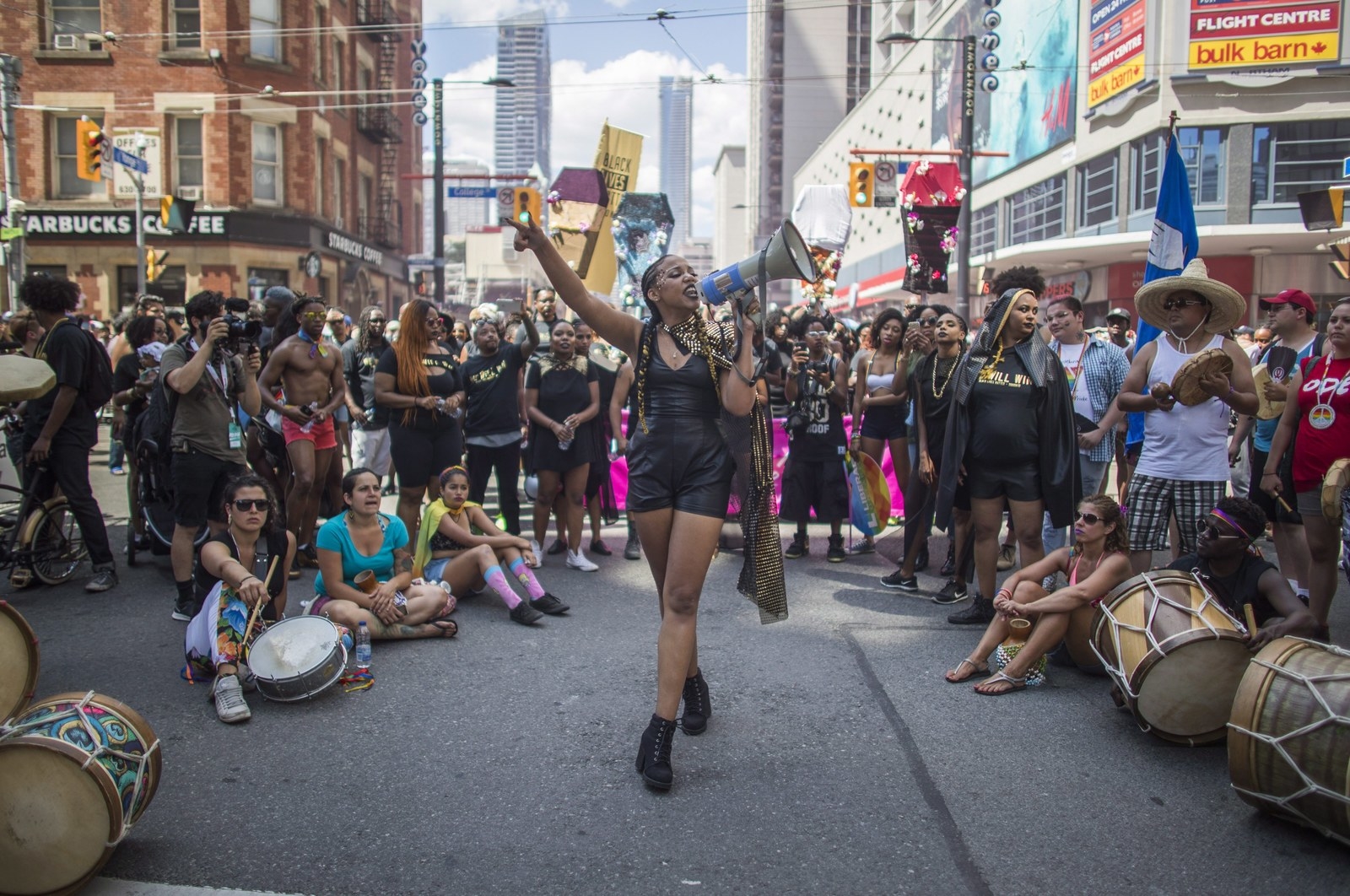 Indeed, trans women of colour such as Marsha P. Johnson and Sylvia Rivera helped make history during the Stonewall Riots of 1969. It's disruption like theirs that "carved out and created that space for Pride," said Newbold.
"Pride does have roots that are political, so we wanted to bring it back to that place."
After about half an hour, Pride Toronto Executive Director Mathieu Chantelois met the group and signed a document with the demands.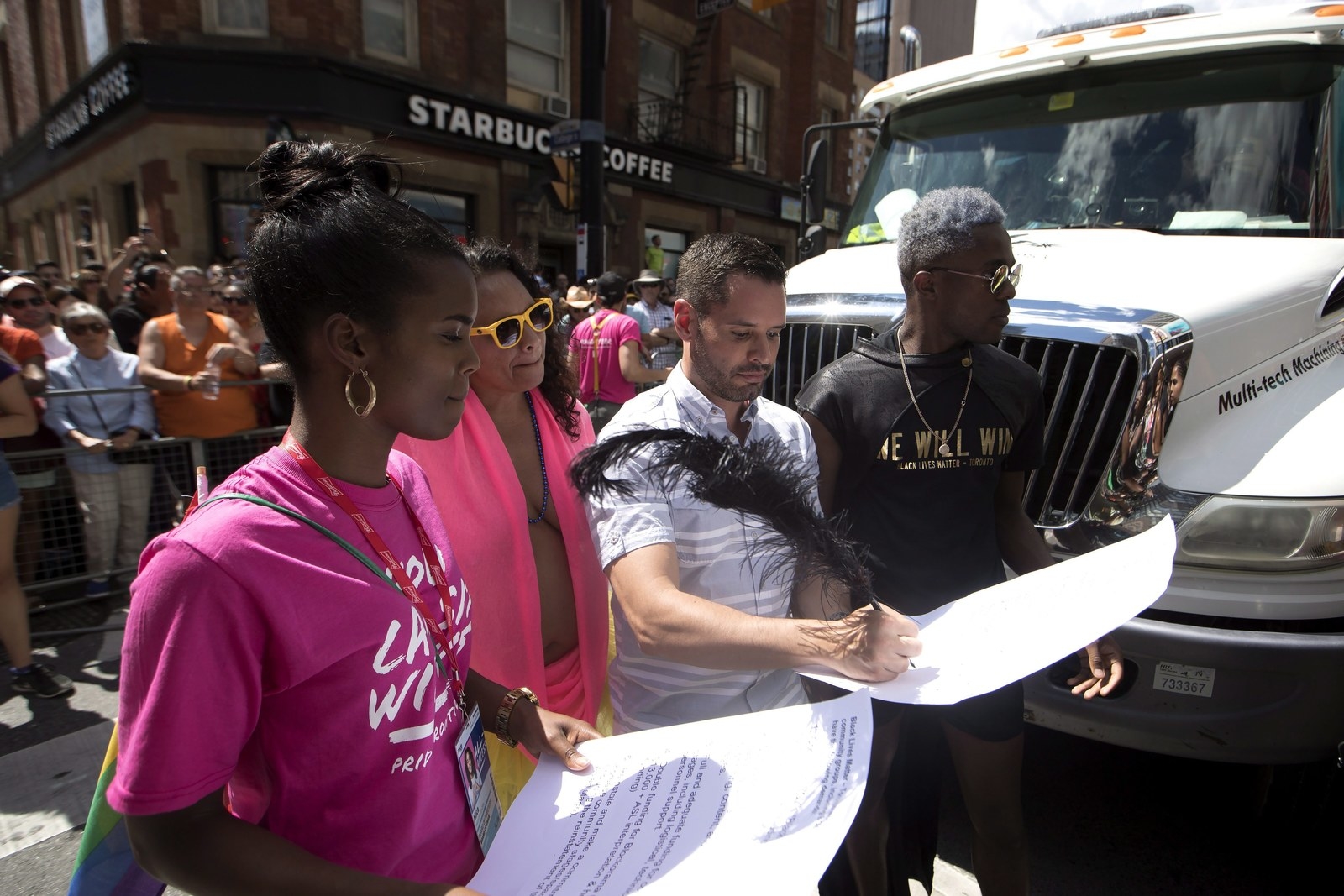 Newbold said Chantelois appeared cheerful as he signed, smiling and hugging BLM members.
At the time, Chantelois told the Toronto Star the demands were reasonable and "made a lot of sense."

Though Toronto Police Services has not been commenting on BLM's actions, the presidents of the union that represents officers isn't happy with Pride.
"Obviously this is not an unexpected tactic from Black Lives Matter," Mike McCormack told BuzzFeed Canada. "We're disappointed that the organizers of Pride accepted or signed a document that would have such inflammatory content, saying that police floats and participation in the future should not be allowed."
He also said it has left LGBT officers feeling "betrayed" and that Pride "allowed BLM to hijack the parade." McCormack said he understands if Chantelois "wanted to get the parade moving," but he also wants the organization to apologize.
"A simple apology will correct the record and that's what we're waiting for," he said.
Chuck Krangle, an openly gay Toronto police officer, also sent an open letter to Pride saying cops have just as much of a right to march as everyone else.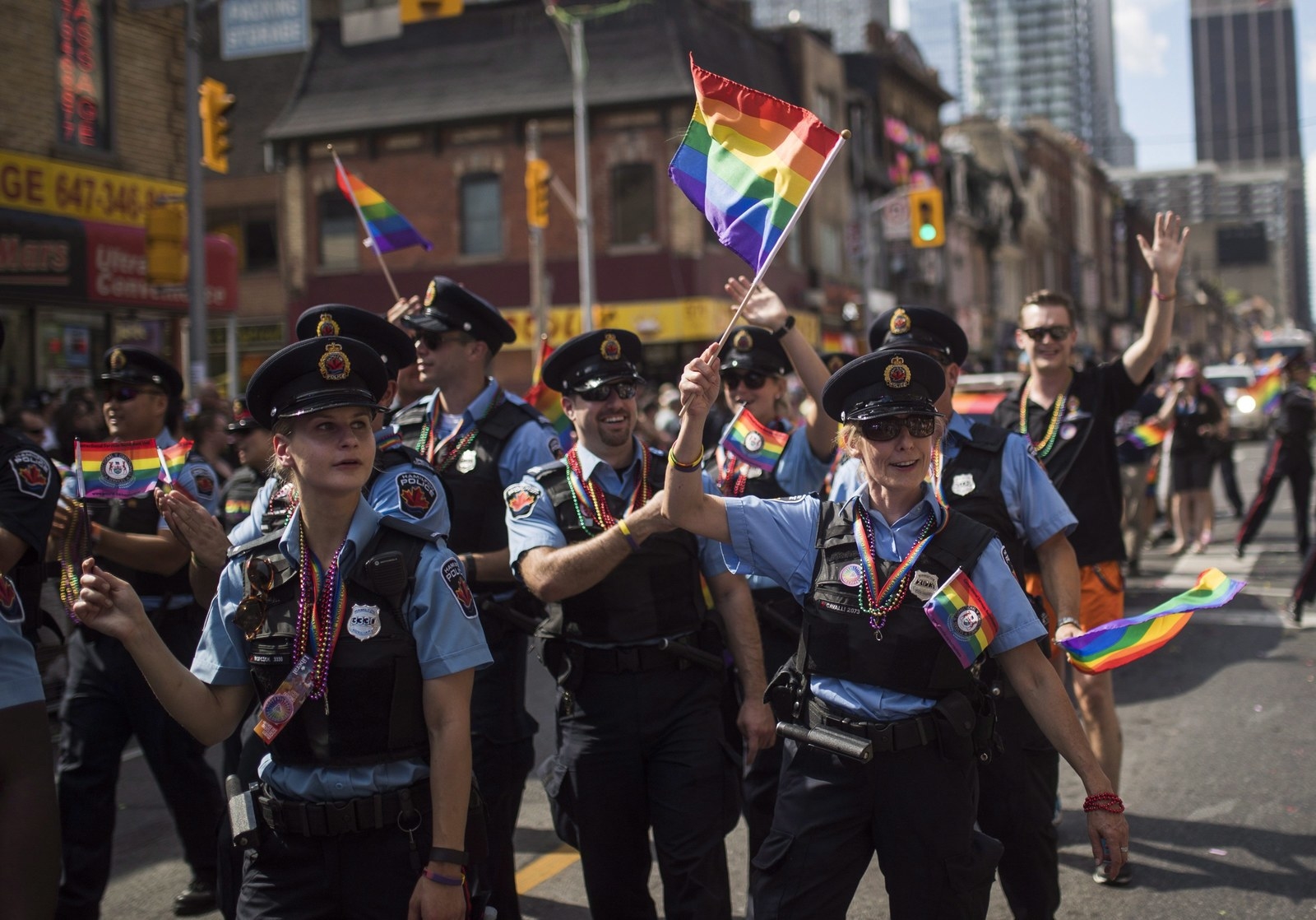 "Police officers are significantly represented in the LGBTQ community and it would be unacceptable to alienate and discriminate against them and those who support them," Krangle wrote in the letter published by CBC News.
"They too struggled to gain a place and workplace free from discrimination and bias."

Though BLM had declared their action a win, by Monday Chantelois was backtracking. He told CP24 he signed the demands only as a promise to hold discussions, not to take action.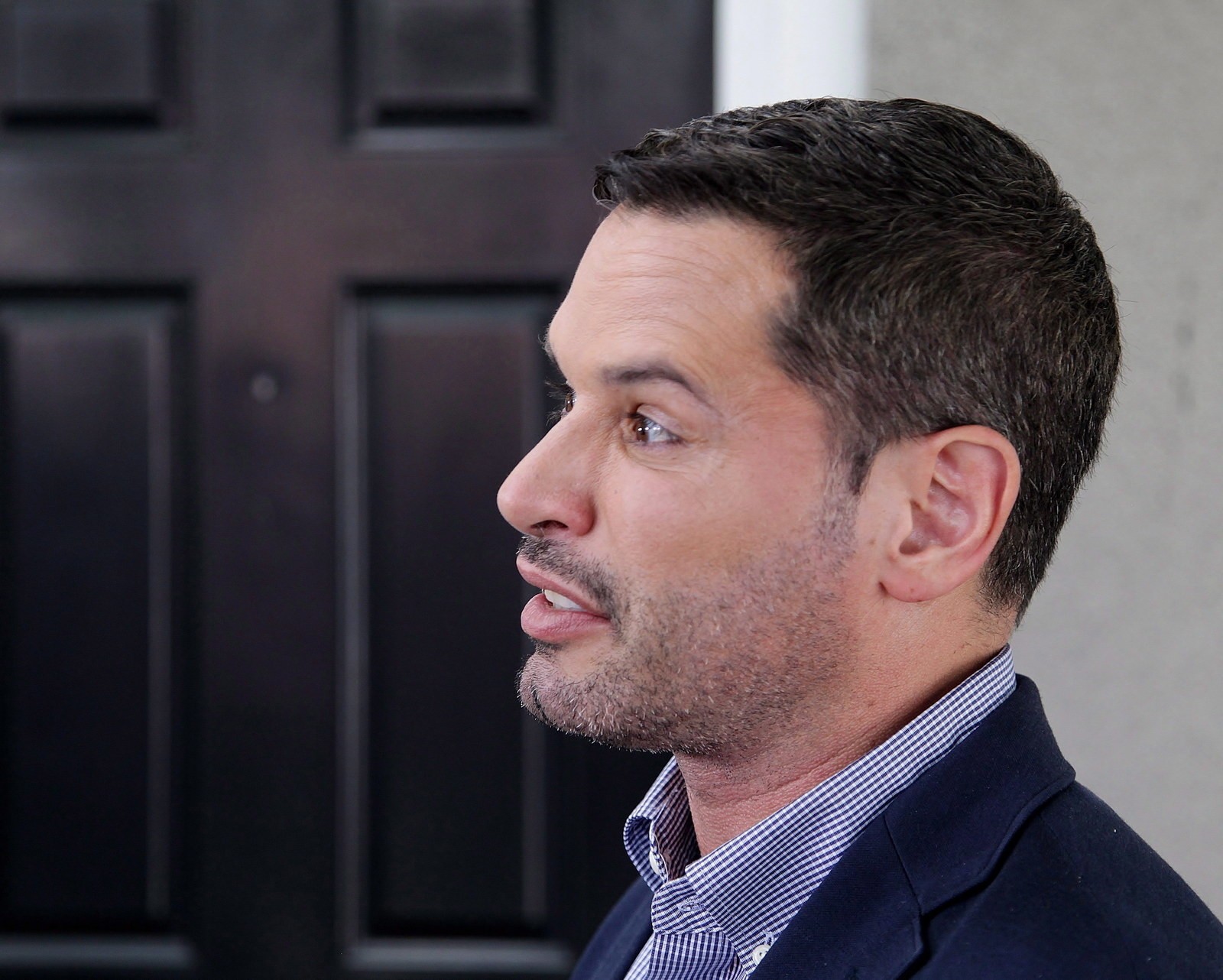 "Frankly, Black Lives Matter is not going to tell us that there is no more floats anymore in the parade," he told CP24.
"Yesterday, we agreed to have a conversation about this. We agreed that we will bring this to the community and to the membership, but at the end of the day, if my membership says no way, we want to have floats, they decide."
He was even more blunt with the Star, saying, "What I did yesterday was made the parade move."
"I would be really disappointed to hear that he is not going to honour the commitments he made to our community," said Newbold.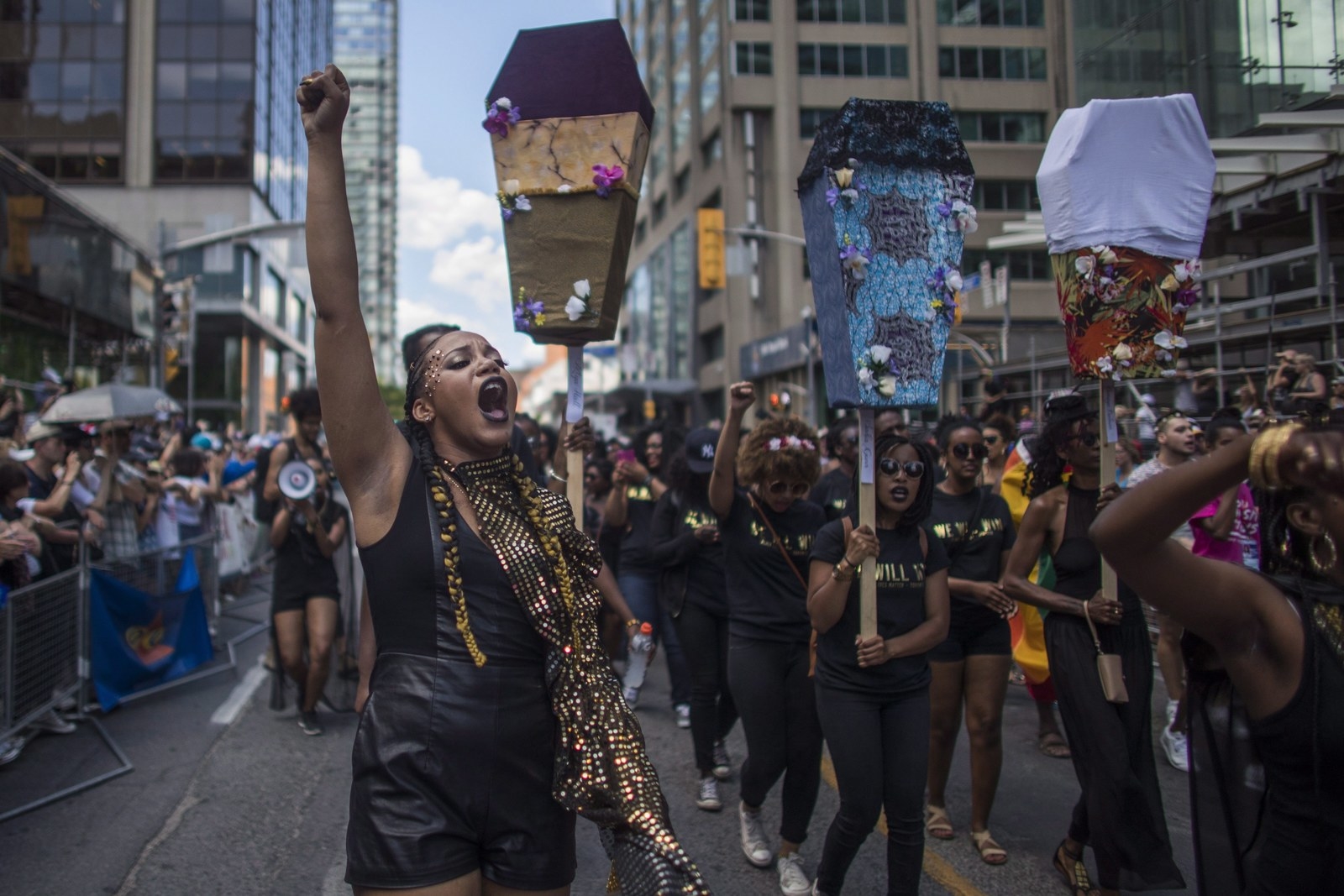 But, they added, Chantelois' comments also don't come as a surprise. Pride Toronto has faced controversy before, and they surely will again. In the meantime, Newbold said BLM will do what it can make sure Pride commits to supporting queer and trans black folks.
"We will be continuing to work to ensure that our demands are followed through and taken seriously."