A restaurant chain is backing down from a policy that would have female employees wearing short, tight dresses after CBC's Go Public team got involved.
Bier Markt employees in Quebec and Ontario were given notice that starting Oct. 5, women were required to wear sleeveless blue dresses. It was a big change from the black pants and polo shirts they previously wore.
"When the prototypes arrived at my location and I tried the dress on for sizing, I couldn't believe how skimpy they were," said Tierney Angus, a server at a Bier Markt location in Toronto. She told BuzzFeed Canada her main issue wasn't the length so much as the clingy, thin material.
According to Angus, a colleague complained that the dress showed her panties, so a manager suggested she wear a thong instead.
"The material is a stretchy, unlined, cheap polyester. I'm a pretty small, fit woman and I felt so uncomfortable in this dress that I wanted to cry," she said.
While women were expected to wear the dresses, the men's uniform changed to jeans, a collared shirt, and Converse sneakers.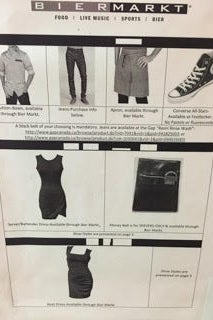 Angus said she wasn't the only staff member upset by the new requirements and several female employees hid in the kitchen, crying, on the day they were implemented. Male staffers were also upset that their colleagues would be performing the same tasks, but in much less clothing.
Overall, Angus told CBC, 40 women from four locations complained to the human resources department of Cara Operations, the company that owns Bier Markt as well as several other Canadian chains.
After sending a formal complaint, Angus said Cara's manager of training and development came to speak to her, saying the new uniforms were not intended to sexualize or discriminate against female employees.
Barbara Green, Angus's lawyer, said the Ontario Human Rights Commission long ago made it clear that it's "discrimination based on sex to require female employees to wear short skirts, high heels and tight tops."
Dissatisfied, Angus and others continued to write to the human resources department. Two weeks later, they all received a form letter saying women could wear cardigans and tights in colder months.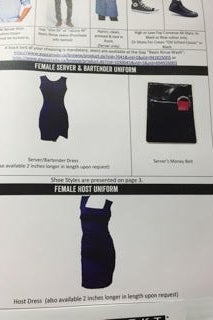 "This meant that in the summer I would have no option to cover up in any way," said Angus.
It wasn't until Angus went to CBC's Go Public team that Cara relented and announced that women had the option to wear the men's uniform instead.
"It's just disheartening that the only way to be treated as equals by our employers was by going to the media," said Angus.
"I don't think it should have been this difficult. I would have been happy with any uniform, even a dress, as long as it allowed me to do my job properly. I couldn't do that in a tight dress I couldn't bend over in without flashing people."
She said that the changes are a "step in the right direction" and that after 10 years in the industry, she enjoys her work and simply switching jobs would be missing the point.