Ashley Benson Revealed Her Wildest Fan Story: "I Was Like 'Whoa, I'm Literally Naked'"
"Shia LaBeouf is actually my crush. I just think he's so interesting and talented. There's something very sexy about him."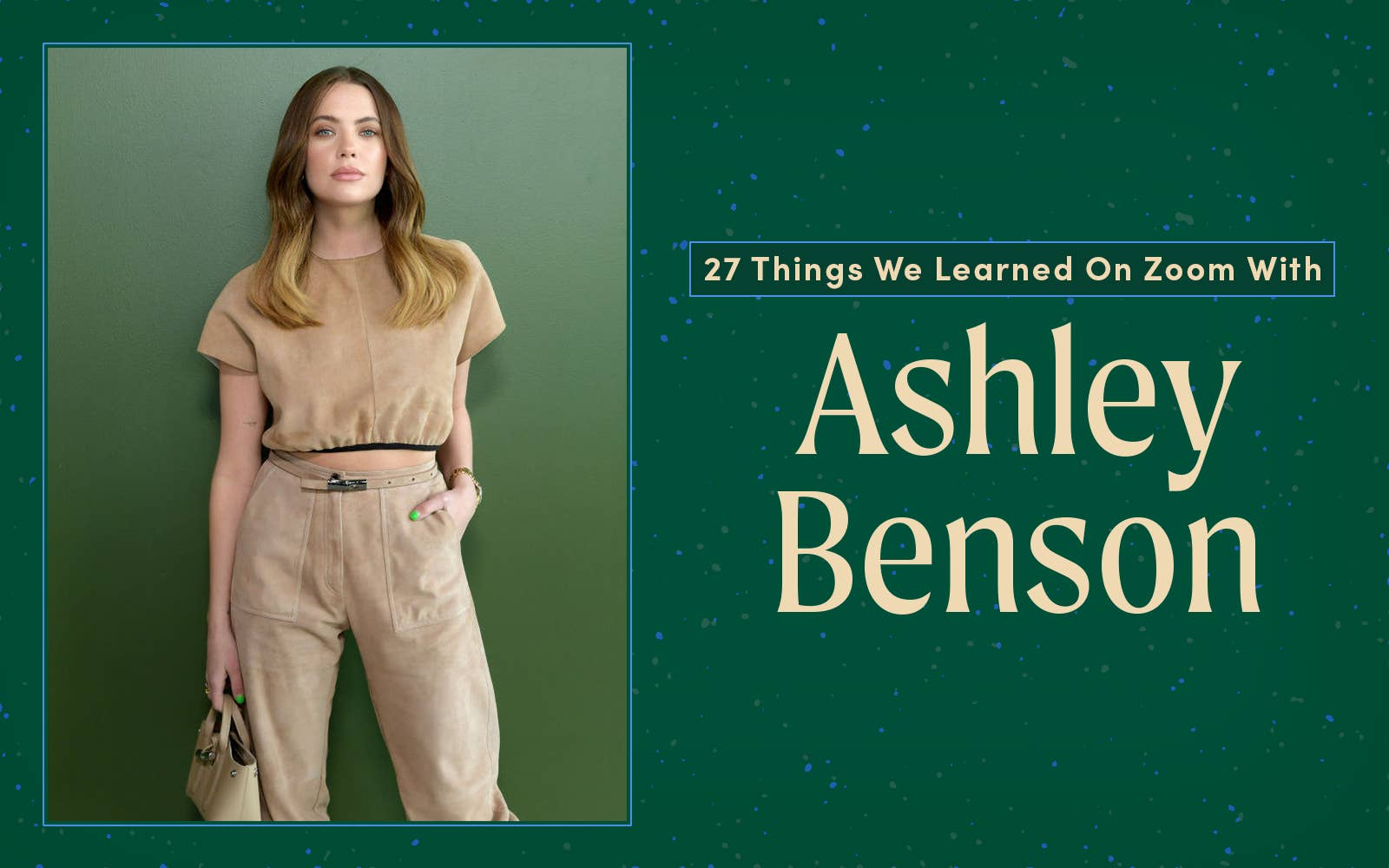 Last week, Ashley hopped on a Zoom call with us to talk about everything from her current quarantine obsessions and wildest fan stories, to her new sunglasses collab with Matt Bomer and Privé Revaux. Here's everything she shared:
1. First, if anyone could play you in a movie, who would you pick?
I'm obsessed with Scarlett Johansson. We kind of look similar.

2. What TV shows/movies are you obsessed with right now?
I haven't been watching that much TV, weirdly. But I just started watching American Pickle. It was very interesting. I'm a big fan of Seth Rogen. But yeah, I just started that last night and it's pretty good!

3. What emoji do you use the most?
Weirdly, now I've been using that little dinosaur for everything. I don't know why, but that's been my vibe.

4. What's your wildest fan story?
So, I was at a Korean spa — I've told this before, but like, it's just so insane that this happened. But I was in a Korean spa, and I was in the shower. And obviously, like, everyone is completely naked. This girl like came into my stall and was asking me questions like, "Who's A? Who's this?" whatever. And I was like, "Whoa, I'm literally naked." She fully came into my shower stall and was having a conversation. I was just covering myself so embarrassed and being like, "What is happening?" Then she was asking for photos. I was like, "This is insane. Oh my god."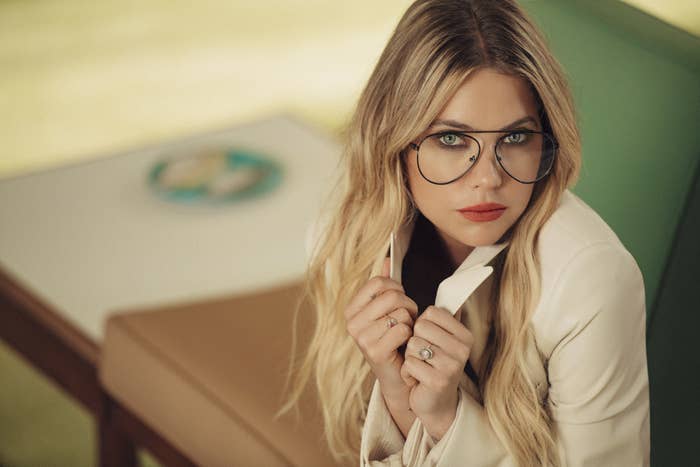 "Shia LaBeouf is actually my crush. I just think he's so interesting and talented. There's something very sexy about him."
5. Name a celebrity you wish you could star in a project with.
Meryl Streep.
6. Who's your current celebrity crush?
Shia LaBeouf is actually my crush. I'm obsessed with him. When I got Disney+, I was looking back at Even Stevens and all of the movies he's done. Honey Boy is one of my favorites I've ever seen. I just think he's so interesting and talented. There's something very sexy about him.
7. Name one beauty project you can't live without.
Eyebrow gel.
8. What's a typical day in quarantine like for you?
Wake up, make breakfast, try and work out — which has been so hard because I'm just not motivated. I've been doing a lot of music and I've been doing a ton of writing. So, every day I usually get together with my producing partners and I write during the day. I try to keep myself as busy as possible.
9. Have you picked up any new quarantine hobbies?
I'm trying to learn how to play the piano...not well. And then, recording music, which has been really, really fun.

10. When you walk into a bar, what's your drink of choice?
Probably a Casamigos with grapefruit juice.
"[Rihanna] always puts me in a good mood."
11. Name something on your bucket list.
I think a road trip through the South of France would be really fun.
12. What song always puts you in a good mood, even on your worst days?
Anything by Rihanna. She always puts me in a good mood.
13. What's your current phone wallpaper?
A picture of me and my boyfriend.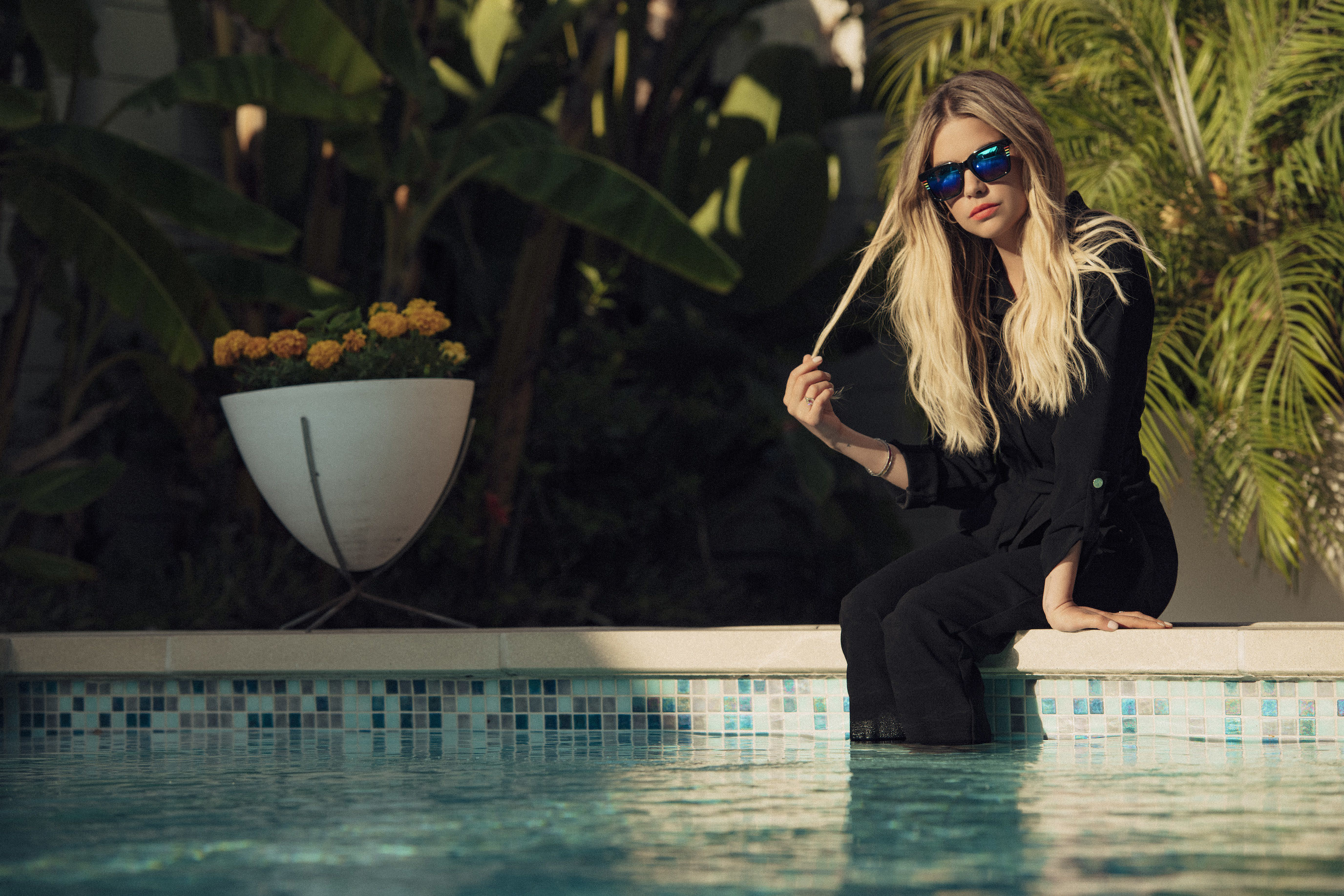 14. Do you have any guilty pleasures?
Reality TV. Any Real Housewives — New York, Beverly Hills, or Orange County are my favorites. It's very fun to put it on in the background and just laugh.
15. What's your go-to comfort food?
I like everything, but either Italian or Mexican is always great. Or a cheeseburger.

16. What's the most starstruck you've ever been?
I'm a very big fan of Mary-Kate and Ashley. I've met them before, but every time I see them I just don't know what to do. I love them so much, they're incredible.
17. Were you a big fan of their movies growing up?
Oh my god, I know every line from everything. Even though it's old, Passport to Paris is just a classic, perfect thing. Back then, I had never been to Europe, but I was like, "I want to do everything they're doing in Paris." I would dress like them. I think that was one of my favorites.
18. What's your biggest fear?
Spiders. If I ever see one, I'm terrified.
"Don't let 'No' get to you and never give up. I know it's so cheesy, but it's nice."
19. What's the last book you read?
Post Office by Charles Bukowski.
20. What's the last recipe you cooked?
I think the last thing was chicken Parmesan. I've been doing a lot of chicken dishes lately.
21. What's a movie people would be surprised you auditioned for?
Fifty Shades of Grey.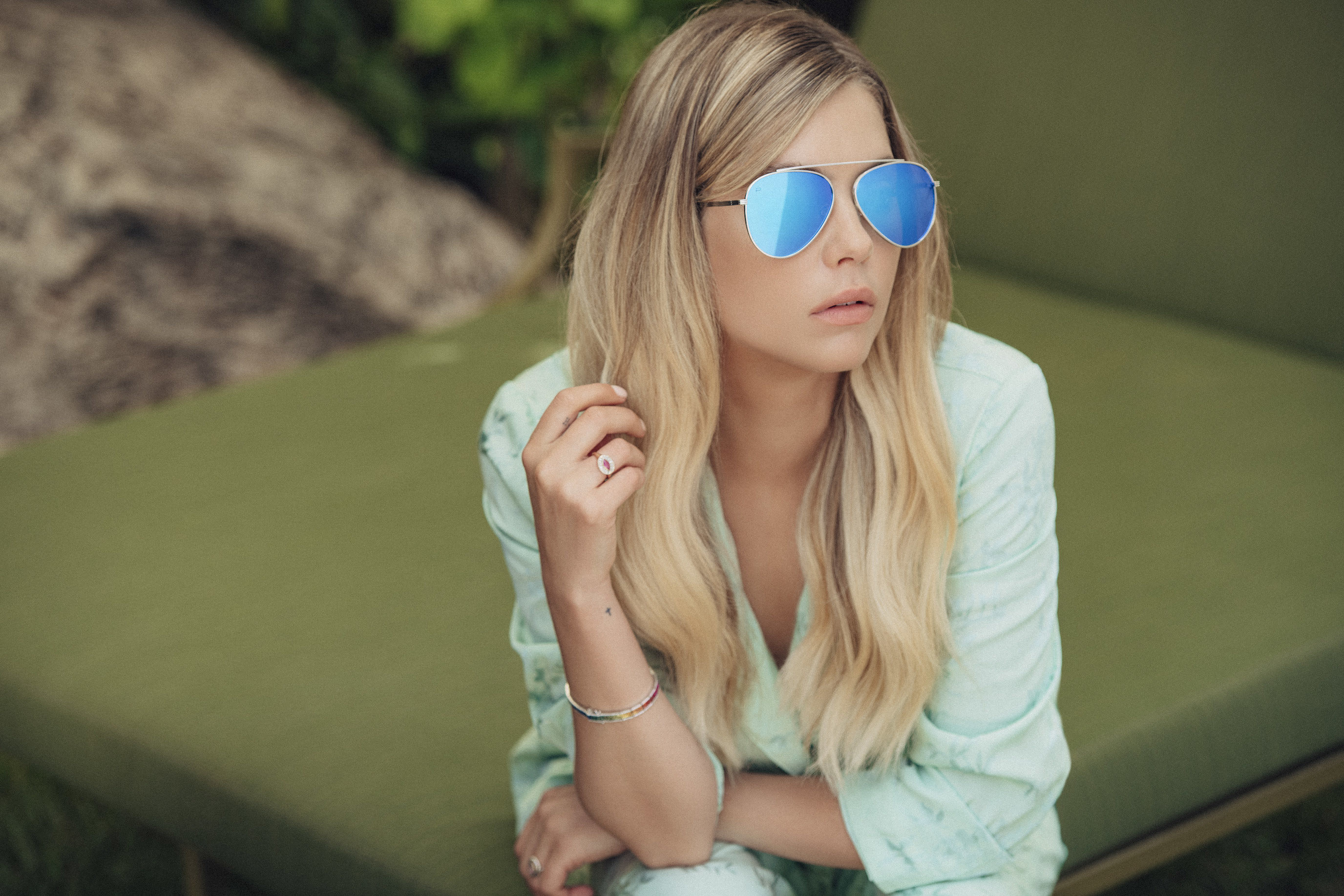 22. What's your favorite onset memory from Pretty Little Liars?

I miss Tyler [Blackburn] so much. I miss everyone. But, Tyler and I had such a fun time together on set. Just super early mornings doing intimate scenes or having to cry at 7 in the morning and being able to laugh and make jokes with Tyler was always super fun.
23. Describe your style in three words.
Casual, classic, and mostly everything is black.
24. If you could trade closets with one celebrity, who would it be?
The Olsen twins.
25. What's your favorite thing about your job?
Being able to dive into a different character and being someone else for, you know, a couple of months.
26. What's your favorite red carpet look that you've ever worn?
I went to this Golden Globes party this past January and I wore this really beautiful sparkly silver and pink two-piece set. It was just very out of my comfort zone but looked amazing and I was really happy that my stylist Jacqueline pushed me to do something that wasn't black. It was a really cool look.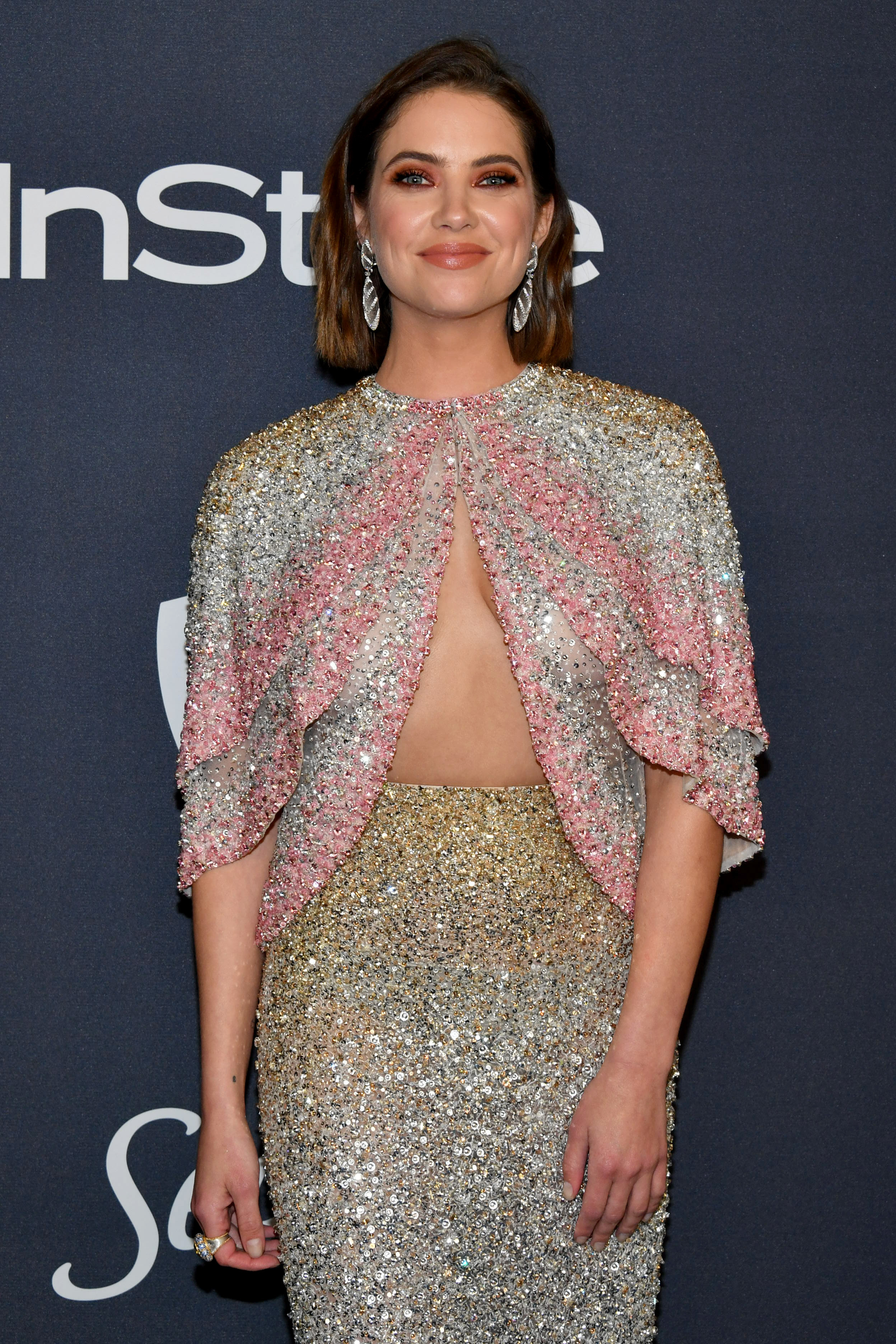 27. And finally, what's the best piece of advice you've ever received?
This is so cliché, but obviously, this industry is just neither here nor there. You never really know what's gonna happen. So, just don't let "No" get to you and never give up. I know it's so cheesy, but it's nice.
Thanks for chatting with us, Ashley! If you love Ashley's style as much as Ashley loves the Olsens' style, check out the new Bomer x Benzo collab with Privé Revaux.