This Doctor Says Ireland Will Still Export Abortion To England If It's Not Legalised
Dr Don Coffey has given harrowing descriptions of some of the women facing crisis pregnancies who he has treated during his medical career.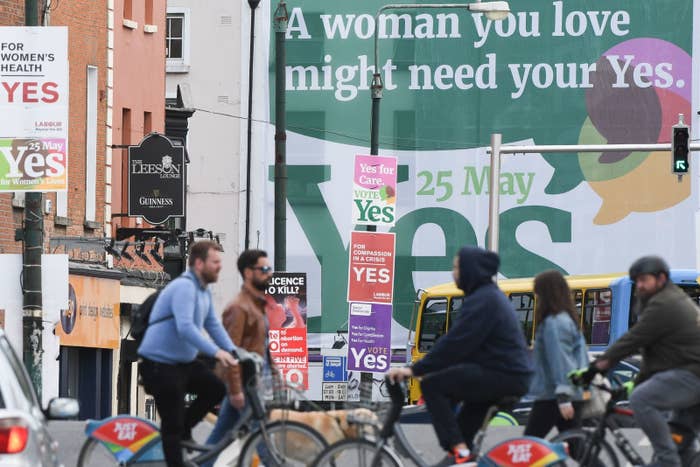 It will be "business as usual" for Ireland exporting abortion to England if the country's strict abortion law is not repealed in this week's referendum, according to a doctor who has cared for Irish women who have travelled for abortion.
"If this referendum isn't passed on Friday, we're going to be in the same place with Irish abortions on Saturday: nine a day [in England] and three women taking abortion pills," Dr Don Coffey, a GP from Cork and abortion rights advocate with Doctors for Choice, told BuzzFeed News.

"There are Irish abortions already and it will just be hiding the situation again."
According to the Eighth Amendment of the constitution, inserted by a referendum in 1983, abortion is illegal in almost all circumstances in Ireland. Since the law was made, an estimated 170,000 women have travelled from Ireland to England for abortions.
Coffey, who is among 1,500 leading doctors in Ireland who are publicly supporting a Yes vote, said that he was "very scared" undecided voters would not necessarily support repealing the Eighth Amendment in a referendum this Friday, meaning that the status quo of England providing Irish abortions would continue.
"Honestly, after Brexit, after Donald Trump's election, and after the Conservatives' win in England, where all the polls got it wrong, I don't think we're in a land where we can follow these polls," he said, referring to a consistent lead for the Yes campaign since the referendum was called.

"I hope that it does get passed, because if it's not it will be business as usual for every woman in Ireland on Saturday," he added.

During a panel discussion held by the Together for Yes campaign in Mallow, County Cork, on Monday night, he described some of the women facing crisis pregnancies he had treated over his more-than-20-year medical career in the Republic and in Northern Ireland, where abortion is also illegal.
"I remember about 2 in the morning one night a lady, I think in her thirties, came in with her husband and she was bleeding," he said.
"She whispered to me: 'I had an abortion in England yesterday and I just got off the plane last night.'
"It was like there was a shame and a secrecy because this was a Catholic hospital [in Belfast].
"I said, 'What's wrong with you? I'll help you,' and I did," he said, adding that he regularly encountered women in her situation.
He said that, working as a GP at a charitable centre he set up in Cork for women who needed post-abortion care after travelling to England, this fear of stigma was common among the women he treated.
"We discovered there were women coming back [from England] who were ashamed to tell their GPs," he said. "Or their GP had been their GP since they were a child and it was difficult to talk about these sorts of things. They didn't want it to be on their medical records."
He also remembered supporting a homeless woman facing a crisis pregnancy who had managed to raise funds to travel to England for an abortion.
"I've no idea how she got the money, but three days later she comes back to me, and this always makes me emotional, but she comes back to me with her passport form for me to sign," he said.
"She's never been out of the country before. She's never had a passport before and she's asking me to sign it so she can go and have an abortion."
Following the increased availability of abortion pills bought illegally over the internet, it is estimated that around three women a day in Ireland now self-administer medical abortion at home, according to Women on Web, which distributes the pills to women in countries where the procedure is illegal.
Anti-abortion group LoveBoth has called upon health minister Simon Harris to crack down on illegal use of abortion pills in Ireland, which is punishable by 14 years in prison. So far, nobody in the Republic of Ireland has been prosecuted for using the pills, although there has been an increase in the number of them seized at customs.
Coffey told us he thought it would be "extremely shameful" to prosecute women in this way for using the pills. "It wouldn't do society any good and it wouldn't do the women any good," he said.
He added that the availability of the pills, as well as the proximity to England, is the only thing standing in the way of Ireland seeing the kind of dangerous backstreet abortions that took place in England before the law there was liberalised in 1967, and that still takes place in some Latin American countries where the procedure is also heavily restricted.
"In Ireland we haven't had backstreet abortion because we have England," Coffey said.
One key theme of the anti-abortion campaign is highlighting the number of abortions that take place in England every year.
"One in five babies in England are aborted. Don't bring this to Ireland," reads one poster by the anti-abortion campaign Save the 8th, which appears on lampposts and buildings around the country.
"What is not Irish about these abortions?" asked Coffey. "What is not Irish about these 170,000 abortions?"
"They're our problems. We are exporting our problems to England like we always have done," he continued, his voice cracking with emotion.

"We sent our unemployed to England in the '30s, '40s, and '50s.
"We sent our single women who were pregnant to have their babies adopted in America. We sent off our gay and lesbian men and women. We sent off our HIV-positive people in the '80s.
"I just feel, as a doctor, it's time we grew up. It's time we take responsibility for our own problems.
"It's time we provided a safe, caring, medically supervised place where women who feel that they cannot go ahead with their pregnancies should be looked after."