Londoners Are Showing A Defiant Spirit In The Wake Of The London Bridge Attack
"This is our city. We will never let these cowards win," London mayor Sadiq Khan said following a terrorist attack at London Bridge in which several are reported to have died.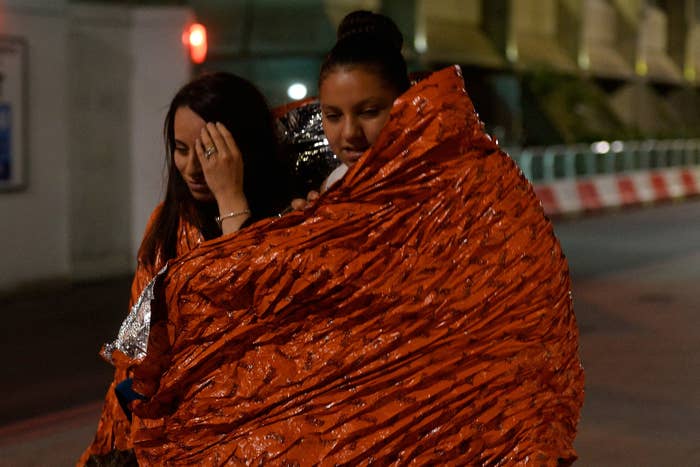 Londoners are responding to a terrorist attack in the city, in which seven people died, with defiance and offers of help to those affected.

"I condemn unequivocally these terrorists in the strongest possible terms. They are evil cowards and London will never be cowed. We will never let them win," London mayor Sadiq Khan said on Sunday morning.

Police were on the scene within two minutes of the attackers driving a van into pedestrians on the bridge, before entering nearby Borough Market and attacking people with knives. Armed officers shot the three attackers dead within eight minutes of the first emergency call.
Ambulance services are also believed to have been at the scene within minutes.

"I heard truly remarkable stories of extraordinarily brave actions," the Metropolitan Police's chief commissioner, Cressida Dick, said in a statement on Sunday morning.
She thanked "colleagues from other emergency services and members of the public who ran towards the danger as the situation unfolded".

"Many, many people risked their own safety to help others, treat the seriously injured, and to confront the suspects involved," she said.
"The courage of those during and following the attack was extraordinary."

On Sunday morning, staff from a supermarket in the area of the police cordon were seen offering food and supplies to officers on patrol.
Immediately after the attack on Saturday night, people offered shelter in their homes for people struggling to get home after public transport in the area was swiftly shut down.


Shortly afterwards, local taxi companies offered services for free to assist people trying to flee the scene.

"Anyone around London bridge who needs to get home let me or my cousin @TWEETMINICAB know," an account named The Khans tweeted, adding the hashtags #free, #nocharge, #londonbridge, and #londonwillnotfall.
Sikh temples across London also offered food and shelter to anybody affected.

Around the city, many tried to carry on as usual. Large Saturday night crowds were locked inside pubs in nearby Vauxhall after an incident, which was later confirmed to be unrelated, was reported in the area.

Rob Holley, who was shut in the Royal Vauxhall Tavern, tweeted a message of defiance. "We are safe. We have gin," he wrote.
On Sunday morning, US media outlets were criticised for overplaying the sense of panic on London's streets following the attack, which took place less than two weeks after a suicide bomber in Manchester killed 22 and injured more than 60 at an Ariana Grande concert.
A New York Times headline, "Terrorist attacks in the heart of London hit a nation still reeling," attracted particular criticism.

"The thugs who mowed down innocent people would love to think of the UK 'reeling' but it isn't. Don't confuse grief with lack of courage," Harry Potter author J.K. Rowling wrote on Twitter.
"This sort of hyped-up headline does the terrorists' job for them. UK isn't 'reeling'," novelist Robert Harris wrote.

Comedian and writer Robert Webb called the Times "silly twats".
"Criminal networks are being closed down, victims offered our love & support. None of this involves 'reeling'," he said.

US news channel CNN described London's quiet streets following the attack, which people were quick to point out was not unusual on a Sunday morning.
"They're not cowering in fear, they're having a lie in," a Twitter user named Scottieboy wrote.

Londoners appeared determined to continue as usual.

Pictures of people fleeing the scene of the attack, which took place around popular pubs and restaurants, showed some still holding their drinks.

"The bloke on the right isn't spilling a drop," Howard Mannella wrote. "God bless the Brits!"

Journalist Kadhim Shubber also shared a powerful message of defiance on Twitter.

"These attacks strike not only at our bodies but at our minds too," he wrote. "The loss of life is tragedy enough without also losing our souls."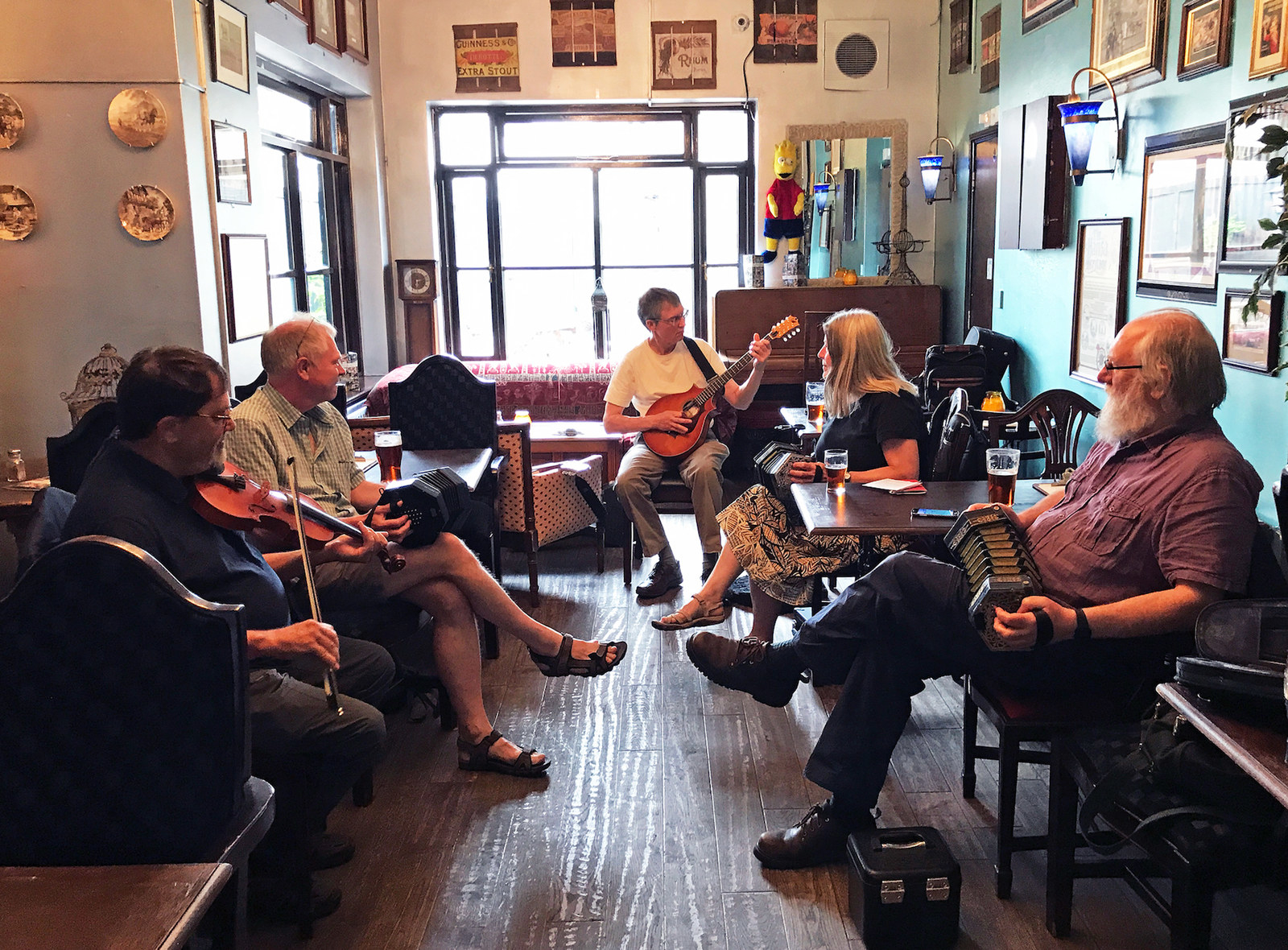 In the Horseshoe Inn on Melior Street, just behind London Bridge station, five traditional English folk musicians gathered for their monthly jamming session on Sunday afternoon.

Martin Nail, 70, one of the organisers, was playing the concertina. He said that they usually had around 30 people for the session.Though many had decided not to come, he was determined to continue as usual.

"We've been having a session on the first Sunday of every month since the 1970s. Once we knew the pub was open we came. You've got to carry on with life as normal, there's no reason not to."
Dave Legg, 59, also playing the concertina, said "I enjoy sitting playing music and it was really easy to get here, so why not? It's unlikely anything will happen in Borough today. You've just got to keep going."