Labour's Watered-Down Abortion Pledge Could Actually Be Bad News For Northern Ireland
An update to the pledge to legislate to legalise abortion in Northern Ireland in a leaked draft version of Labour's manifesto suggests the party would be unable to change abortion law in the country.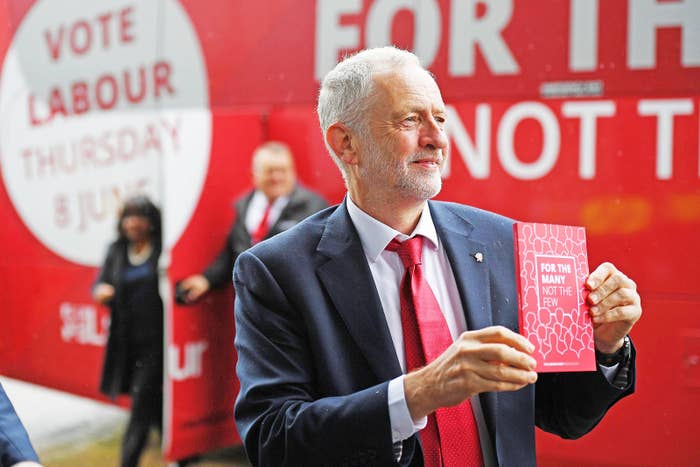 Labour has effectively dropped plans to legalise abortion in Northern Ireland despite pledging to do so in a draft of its manifesto leaked last week.
An earlier version of the party's manifesto that was leaked last Thursday suggested the Labour party would aim to override the devolved government to "legislate to extend [abortion rights] to women in Northern Ireland".
In the final document published on Tuesday, however, the line was significantly watered down to say Labour would "work with the Assembly", Northern Ireland's devolved legislature, to alter abortion law.
The change in wording was described as "disappointing" by politicians in Northern Ireland who want greater reproductive rights for women.
BuzzFeed News understands that Labour made the change in order to clarify a constitutional point.
The 1967 act that enables women in Great Britain to legally access abortion was never extended to Northern Ireland, where the procedure is completely prohibited.
Because Northern Ireland operates as a devolved power, Westminster does not impose laws on it in most areas. Health and social services, which includes abortion law, is one such area.
The change in wording essentially deflects responsibility for abortion law in Northern Ireland to the assembly, and suggests Labour would have no real involvement in implementing a change to Northern Ireland's abortion law anyway.

"I am very disappointed that Labour have pledged to fail to meet the minimum Human Rights standards for women in Northern Ireland," Clare Bailey, an MLA – a member of the devolved Northern Ireland assembly – for the Green party of Northern Ireland, told BuzzFeed News.
Historically, the assembly has been resistant to reforming abortion law in Northern Ireland, Bailey said.
"Westminster, as the state government responsible for Human Rights, have repeatedly been found to be in breech of minimum standards on abortion provision in Northern Ireland," she continued.
"By committing to work with the NI Assembly they are already promising to fail women here."

Northern Ireland's government is currently facing a period of uncertainty after power-sharing talks between its main political parties collapsed in March.
It now has a deadline of 29 June to come up with a deal, and if it can't, direct rule by whichever UK government is formed following June's general election could be imposed anyway.
"There is no sign at present that an Executive will be formed in the Assembly after this General Election," Bailey added. "So what will Labour do if we enter a period of direct rule? Will they put women first? Will they meet the minimum human rights threshold? I am very disappointed."
CORRECTION
Clare Bailey is an MLA, i.e. a member of Northern Ireland's legislative assembly. An earlier version of this post wrongly called her an MP.