Sorry If I Upset Anyone, But My Hitler Comments Were The Truth, Livingstone Says
In an interview with LBC, the former mayor of London said he was sorry for any upset and the "waste of time" caused by his comments, but would not apologise for the comments themselves.
Ken Livingstone has said he regrets the "all this disruption" caused by bringing Adolf Hitler into Labour's anti-Semitism row, but said he could not "deny the truth" and refused to apologise for the comments in a radio interview on Saturday.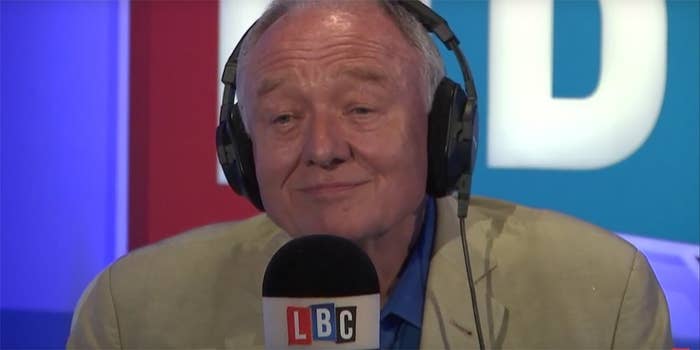 "I really regret saying it because it's caused all this disruption," he told LBC Radio's David Mellor and Michael Crick, but said he was not sorry for speaking the truth.
In the heated 30-minute interview, Livingstone was repeatedly pressed to explicitly apologise for his comments, but refused to retract his statements on numerous occasions.
On Thursday, Livingstone was suspended from the Labour party for making comments that seemed to suggest that Hitler was a Zionist.
"Are you sorry for mentioning Hitler? Just say it!" Crick insisted, as Livingstone continued to defend his comments, adding that similar statements had been made by the Israeli prime minister 48 hours earlier.
"If I'd known what a waste of time this was going to be I wouldn't have mentioned Hitler," Livingstone conceded, but added, "I can't bring myself to deny the truth".
"Anyone who was upset by what I said, of course I'm sorry about that," he added.
Crick said some had suggested Livingstone enjoyed stirring things up after he waded into the Labour anti-Semitism debate with his comments about Hitler when Naz Shah was suspended earlier this week for sharing anti-Semitic Facebook posts before she became MP for Bradford West.
"No, I hate this," Livingstone said.
He said he had hoped instead to spend the week celebrating his wife's 50th birthday or tending to his newts.
Livingstone accused "embittered old Blairite MPs," of whipping up a storm that was not about anti-Semitism at all, but about the division within the Labour party created by those opposed to its leader Jeremy Corbyn, a long-time friend and ally of the former mayor of London.
"I would take a bullet for Jeremy," Livingstone said, as Mellor recalled seeing a tear in Livingstone's eye when Corbyn was elected as leader.
Leaving the LBC studio after the tense interview, Livingstone was accosted by journalists who pressed him further on his controversial Hitler comments. He reiterated that he was sorry for any offense he had caused, but not for the comments themselves.
On Friday, Livingstone said he will fight his suspension from the Labour party, as he maintains that his comments over Hitler originally being a Zionist are historically accurate, and something he has been saying for 30 years anyway.
Corbyn has now launched an inquiry into anti-Semitism and other forms of racism in the Labour party. He will propose guidance on use of language and acceptable behaviour relating to racism to Labour's National Executive Committee – of which Livingstone is still a member – next month.