Jeremy Corbyn showed support for junior doctors on Tuesday as they staged their first ever full walkout, saying the NHS is "not safe in the hands of the government".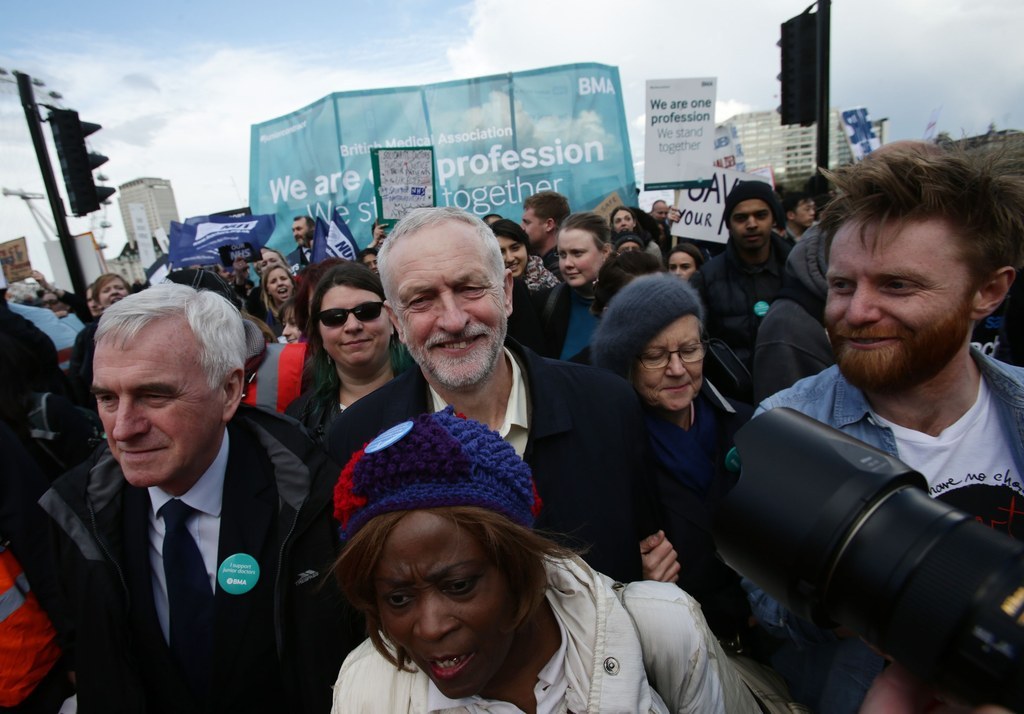 The Labour leader, who was joined by shadow chancellor John McDonnell, led a march of thousands of junior doctors and their supporters from St Thomas' Hospital in Westminster to a rally outside Downing Street and the Department of Health on Whitehall.
It was the first time Corbyn or any of his shadow cabinet have explicitly expressed their support for the junior doctors strike. Shadow health secretary Heidi Alexander has previously advised Labour frontbenchers to stay away from the picket lines, instead backing a cross-party proposal that urged health secretary Jeremy Hunt to pilot the new junior doctors contract rather than forcibly impose it.
Hunt's plans to change the terms and conditions of junior doctors pay and working hours have sparked a bitter dispute between the government and doctors that has been raging since last summer.
Speaking at the rally attended not only by junior doctors, but by teachers who themselves are embroiled in a battle with the government over major changes to schools, Corbyn said he was there to show his support to the NHS and everybody who works in it.
"I'm here to say to Jeremy Hunt that the NHS is absolutely safe in the hands of those who work in it," Corbyn told the unexpectedly large crowd outside Downing Street.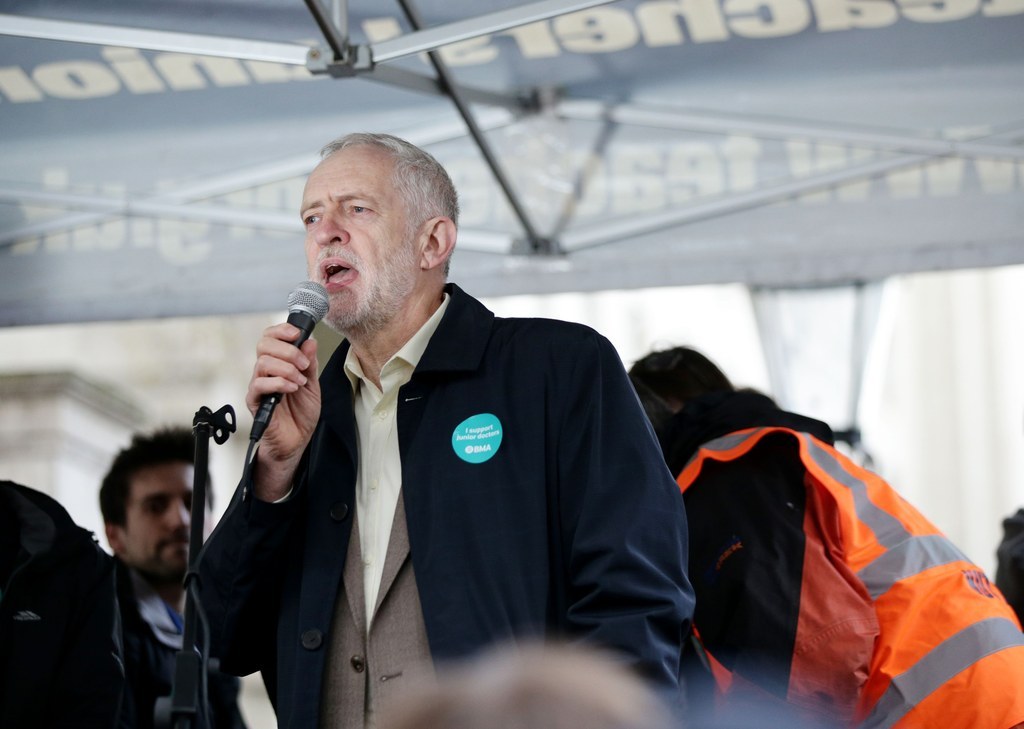 "It's not safe in the hands of the government that's more interested in attacking those who work in the NHS," Corbyn added.
Ahead of the strike, Hunt, as well as other senior NHS figures, including NHS England chief Bruce Keogh, have chastised junior doctors for their decision to strike, saying it puts patient safety at serious risk.
Corbyn said Hunt's handling of the dispute was "utterly contemptible" and that he had had every opportunity to reach a negotiated agreement with junior doctors.
"They are the ones who have behaved in the responsible manner by saying they're here to defend the NHS," Corbyn said. "[Hunt's] response is to try and impose a contract and that is no way for a secretary of state to behave towards one of he most crucial elements of the NHS workforce."
As mentions of Hunt's name were met with loud boos from the assembled crowd, Corbyn assured them: "Don't worry, not all Jeremies are bad."
McDonnell also expressed his support for the "heroes and heroines of this struggle to save the NHS".
"We're here because we promised – whether in parliament, on the streets or on the picket line – that we are with you, in 100% solidarity," he told the rally.
"To those junior doctors who have gone on strike today, you are the heroes and heroines of this struggle to save the NHS. I want to thank you for having the courage to stand up to Hunt and the bullying of this government. You've shown the way.
"Let's make it clear to Jeremy Hunt: We're not going away until we reach a just and negotiated settlement that protects people's jobs and livelihoods, their pay and conditions, and above all else, protects the patients.
"We are going to win this battle and we're going to win it through courage and determination."
Junior doctors will again withdraw services, including emergency care, from 8am on Wednesday.
NHS England estimates that around 78% of junior doctors did not attend work Tuesday, resulting in the delay of more than 110,000 outpatient procedures and more than 12,000 operations.
Speaking to BBC Radio 4's Today programme on the first morning of the strikes, Hunt said this was likely to be his "last big job in politics".