Junior doctors are calling on health secretary Jeremy Hunt to return to talks over their controversial new contract as the first all-out doctors strike gets underway.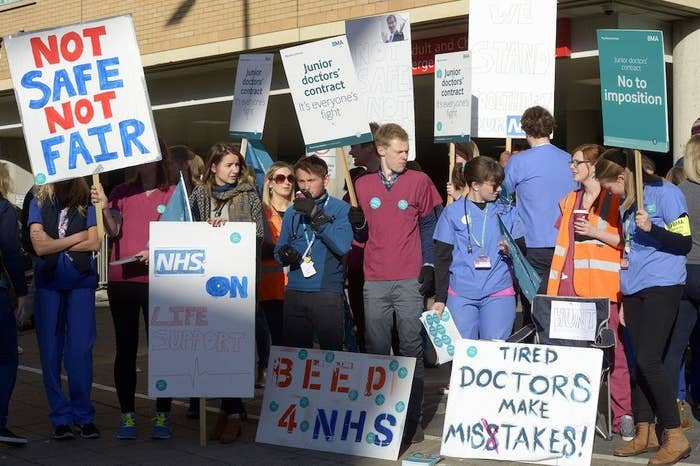 Junior doctors (medics below the level of consultant) have completed the first of two days of industrial action – they are withdrawing all services, including emergency care, from 8am to 5pm on both days. Seventy-eight per cent of junior doctors did not attend work on Tuesday, according to estimates by NHS England.
Emergency doctors looked tearful as they walked out of St Thomas' hospital in Westminster, London, when the historic strike began.
On the picket line the mood was determined as doctors implored Hunt to end the strike by dropping his threat to forcibly impose the contract and returning to talks with doctors.
"We really need to get the government back around the table," Dr Michael McLoughlin, an A&E registrar, told BuzzFeed News. "The contract is dangerous and will lead to compromised safety for patients." He said his message to Hunt was: "Please negotiate with us, it's all for patient safety."
Peter, a junior doctor of five years' standing who didn't want to give his surname, said: "The strikes are unnecessary – we don't want to do this but we don't have a choice."
He said he found Hunt's assertion that seven-day services were currently not provided in the NHS "insulting" given that doctors already work every day of the week.
"The NHS has been a seven-day service forever," Peter said. "For Hunt to continue to mislead the public is insulting not just to us, but to the public as well."
The health secretary is threatening to impose the new contract in a bid to fulfil the Conservative party's commitment to a "seven-day NHS", as featured in the party's general election manifesto.
Doctors are unhappy at the contract and claim changes to their working hours and pay structure are unsafe and unfair to doctors and patients.
At the Department of Health on Tuesday, a group of doctors continued a sit-in protest that has been underway since mid-April. Dr Dagan Lonsdale told us he had been outside the department all night "in a desperate show of how much we want there to be talks".
His message to Hunt was: "We want to work with you. We want to work together to make this health service the best it can be but that can only be done if there is willingness on both sides. You need to lift imposition and come back to the negotiating table with us."
Dr Johann Malawana, chair of the British Medical Association's junior doctors committee, called today's strike action the "saddest day in NHS history".
Speaking to BBC Radio 4's Today programme on Tuesday morning, Hunt admitted being health secretary is "likely my last big job in politics".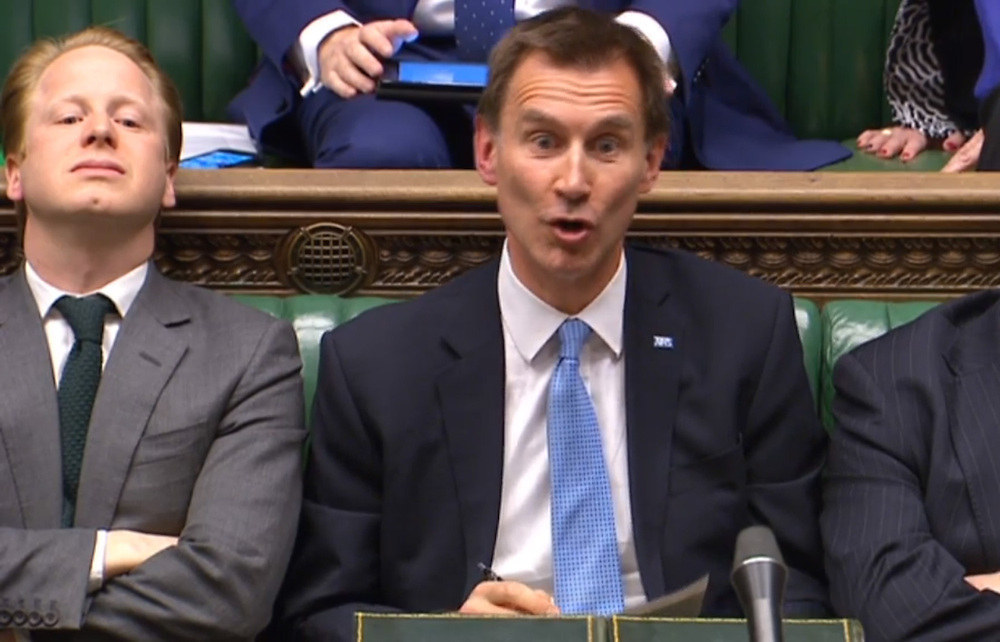 "The one thing that will keep me up is if I didn't do the right thing to help make the NHS one of the safest and highest-quality health systems of the world," he said.
Prime minister David Cameron told ITV News: "There is a good contract on the table with a 13.5% increase in basic pay – 75% of doctors will be better off with this contract.
"It's the wrong thing to do to go ahead with this strike and particularly to go ahead with the withdrawal of emergency care – that is not right."
More than 110,000 out-patient procedures and more than 12,000 operations will be delayed as a result of today's action. While public support has dipped slightly since the last junior doctors strike, during which emergency care was not withheld, some 57% of people still back the strikes, according to the latest poll by Ipsos Mori.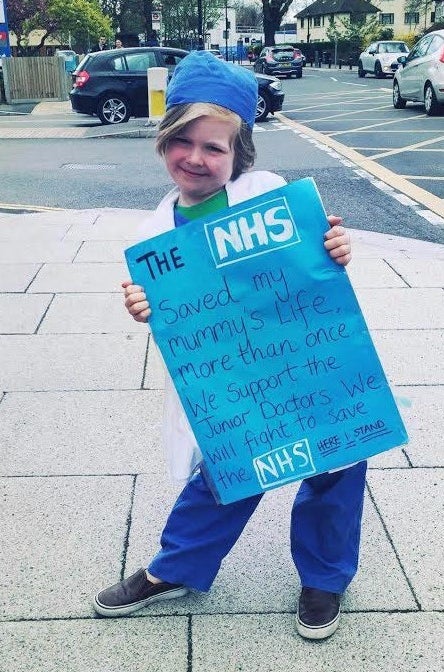 "The public support has been phenomenal today, there's no sign of it unwavering," junior doctor Sumeet Hindocha, who is on the picket line at West Middlesex Hospital told us.
Elizabeth Westcott, who recently had a stroke, told BuzzFeed News her appointment to have a heart monitor fitted at St Mary's in Paddington had not been cancelled as a result of the strike, but she was concerned there could be delays.
Nonetheless, she said she was completely supportive of today's action. "I think it's extremely important," she told us. "Doctors can't continue with the situation as it is."
At University College London hospital (UCLH), Patricia Dunnegan, who is awaiting a liver transplant, had a scan cancelled today but told us she was still "absolutely" in support of today's strike. "I'm happy to see them out here because everybody needs a doctor at some time in their lives and the government should listen to them," she said. "I can't understand why they won't give them what they want – they deserve it."
John, a terminal cancer patient at UCLH, told us he backed the strike despite also having a scan postponed. "I absolutely support the junior doctors," he told us. "If you treat them well, they will be able to treat you well."