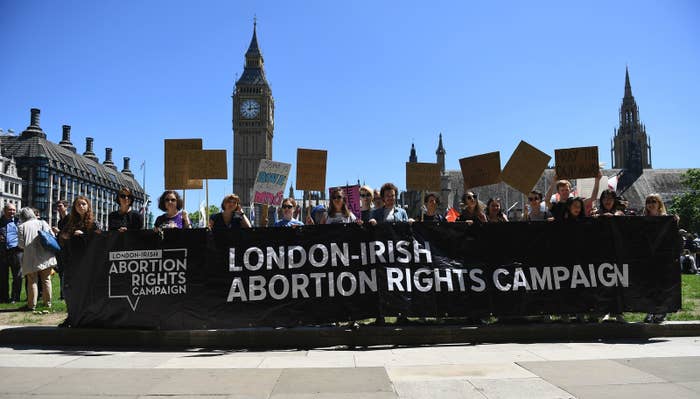 A Labour MP who began work to decriminalise abortion in England and Wales during the last parliament has said the issue must not now fall off the agenda, despite any likely opposition from the staunchly anti-abortion Democratic Unionist Party (DUP), with whom prime minister Theresa May is currently trying to form a government.
In March, Labour MP Diana Johnson tabled a 10-minute rule bill on decriminalising abortion and replacing the 1967 act with legislation that would make abortion fully legal in England and Wales, bringing the law into line with those in countries such as the US, Germany, and France.

According to the 1967 Abortion Act, the procedure is still not technically legal in the UK, but a woman is able to terminate a pregnancy up to 24 weeks without being guilty of an offence if she has the sign-off of two doctors. The clause was introduced as a caveat to a law that was originally passed in 1861.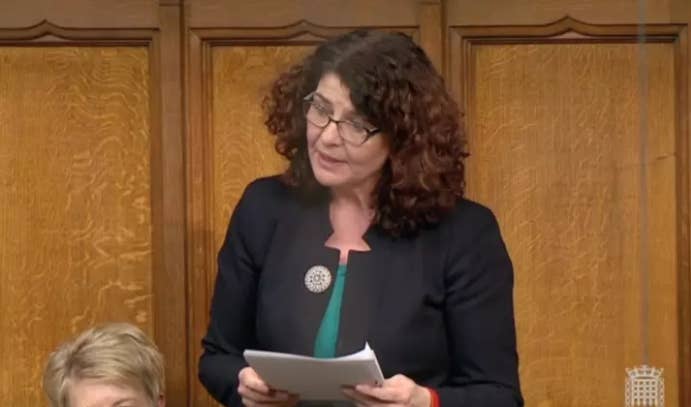 "That opportunity to raise [abortion decriminalisation] for 10 minutes highlighted that 50 years on, it's absolutely the right thing to do to review the 1967 act," Johnson said. "I don't think a lot of MPs fully understood the background was the criminalisation of women and doctors and nurses. I don't think they knew that it was the 1861 act that governs this whole area."

While the bill, which was voted to its next stage by 172 to 142, eventually fell to the wayside following the early cessation of parliament for the general election, Johnson told BuzzFeed News there would "certainly be an appetite" to bring it back in some form, especially in light of further restrictions on abortion that the DUP might want to impose.
Following a catastrophic election result for the Conservatives last Thursday, in which they ended up losing their majority, May is currently in discussions with the DUP and is seeking to use its 10 MPs to prop up her party and form a government.
On Saturday there was widespread concern over the way abortion might be used as a bargaining chip in any DUP deal after former Northern Ireland secretary and current Conservative MP Owen Paterson suggested the issue of abortion time limits could be debated in parliament.

Discussing LGBT rights on BBC Radio Four's Today programme, to which the DUP is also opposed, Paterson said that while he didn't foresee "major social issues coming up in the next parliament", he added: "You might get a debate, I suppose, on further reduction of abortion times as medical science advances."

Johnson told us she worried this meant that debate on abortion would continue to be about "restricting and reducing" abortion rights rather than considering more progressive changes to the law.
"I am just very concerned that if the DUP are given additional time in parliament – which I would assume would be part of the deal – for them to promote their particular issues, that this could be one of them," Johnson continued.
She noted that when MPs voted on her abortion decriminalisation bill in March, "the DUP all trooped through the lobby to vote against that bill", despite the fact that it only proposed changes to the law in England and Wales, but not Northern Ireland.
"The fact is, on a bill specifically about England and Wales, the DUP voted
to continue with the criminalisation of women. I think that's worth reflecting
on," she added.
In Northern Ireland, where the 1967 act was never applied, abortion is still completely illegal, leading thousands of Northern Irish women to travel elsewhere in the UK to access the procedure. The DUP has repeatedly blocked any attempts by Northern Ireland's devolved government to relax such restrictions.
"This is a party which fundamentally believes it moral and right to compel a woman who's say, carrying a pregnancy where the baby has no skull, where it's not going to survive to birth, to compel that woman to carry that pregnancy to term," Clare Murphy, director of external affairs at the British Pregnancy Advisory Service, said during a debate on the BBC's Victoria Derbyshire show on Monday morning.
"I think many people would describe that as an extremist point of view," she continued. "There is a strong groundswell of public opinion in favour of decriminalisation of abortion in Northern Ireland and for women to be able to access abortion, at least in certain circumstances."

Johnson agreed that popular opinion had evolved to support making abortion more accessible to women in Great Britain and Northern Ireland, and she said that Labour stood by its manifesto pledge to work with Northern Ireland's devolved government to loosen the country's abortion law. In the Republic of Ireland, where abortion is also illegal, it is widely expected that a referendum on legalisation could be called early next year, and it is indicated that the public would vote in its favour, putting further pressure on the DUP to cease its opposition to the procedure.
"Society is moving on, and if southern Ireland is going to make a decision on this, Northern Ireland does look very out of step," Johnson said. "There's unfinished business here about how that part of the UK is going to deal with this issue, and it's a real issue."

Johnson added that it was now more important than ever to have strong voices in parliament seeking reassurances on women's reproductive rights. "I know Ruth Davidson has had a conversation with the prime minister about LGBT rights and wanting guarantees there, but I'm not sure quite whether that extended to women's rights," she said.
On Monday it was announced that a group of women and their supporters plan to march to Downing Street on 24 June to protest the Conservatives' involvement with the DUP as a result of the latter's stance on reproductive rights.
"We are marching in support of the right to access abortion in NI and against a Tory working agreement with no democratic mandate with a political group known to promote policy which restricts the rights of women and LGBT people and is known for links to far right politics," a spokesperson for the march wrote on its Facebook events page.