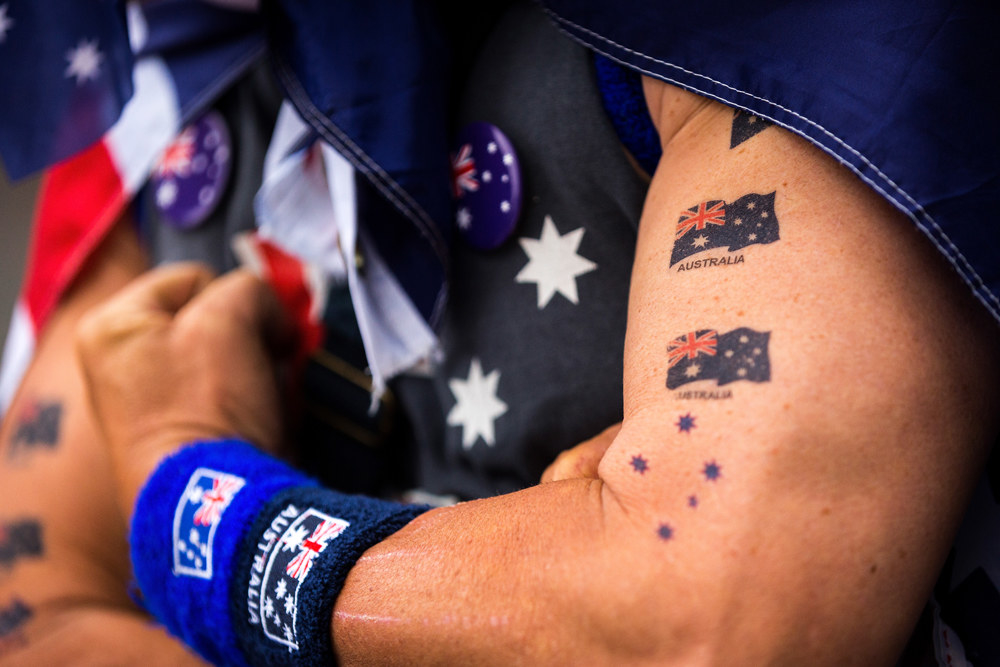 A clear majority of Australians do not care when Australia Day is held, and almost half think it should not be held on a day that is offensive to Aboriginal Australians, a new poll suggests.

The survey, conducted by the Australia Institute, comes amid heated debate over whether Australia's national day should be celebrated on January 26, the day the First Fleet from Britain landed in Sydney Cove in 1788, or moved to a different day.
For many Aboriginal Australians, January 26 is a date to be mourned, not celebrated, as it signifies the beginning of a violent invasion that continues to this day. January 26 is commonly called "Survival Day" or "Invasion Day" by many Aboriginal Australians, as well as by those who support changing the date.
A growing movement to change the date has this year seen the popular Hottest 100 countdown on youth radio station Triple J move away from January 26, as well as the Greens launching a campaign for a new date.
The Australia Institute polled 1,417 people from December 5 to 7 last year. Questions about Australia Day knowledge were asked first, then opinions were sought about when Australia Day should be held.
More than four in five (84%) respondents said it was important for Australia to have a national day.
But a clear majority (56%) said they did not really mind when Australia Day was held, as long as there was a national day.
Just under half (49%) said Australia Day should not be on a day that is offensive to Aboriginal Australians, but only 37% thought January 26 was offensive.
Respondents were able to choose the date of three historical events as Australia Day.

The most popular options were the First Fleet landing in Sydney Cove (23%), the day Australia was named "Australia" (18%), and the day the Australian Constitution was signed (17%). When the responses were totalled, 70% of people selected an option other than First Fleet-related dates.
Respondents also had a lack of knowledge about Australia Day itself, with 77% wrongly saying it had always been held on January 26 — it wasn't until 1994 that January 26 started to be celebrated as a permanent public holiday by all states and territories.)

Only 38% of respondents knew that January 26 was the date the First Fleet landed in Sydney Cove. Another 11% said it was the First Fleet establishing the NSW colony.
Of the remaining half, just under 20% chose events that happened before the First Fleet (for instance, Captain Cook first sighting Australia); 12% chose events related to Australia becoming an independent country; and 4% optimistically chose events that have not yet happened, such as becoming a republic or signing a treaty with Aboriginal Australians.
Only 14% of people confessed that they did not know.
Prime minister Malcolm Turnbull and his government have regularly shot down proposals to change the date. In a video on Twitter, Turnbull said changing the date would be akin to denying history.
"I'm disappointed by those who want to change the date of Australia Day ... seeking to take a day that unites Australia and Australians and turn it into one that will divide us," he said.

Labor spokesperson for human services Linda Burney, who was the first Aboriginal woman to be elected to the federal House of Representatives, told ABC radio she found Australia Day difficult, but stopped short of backing moves to change the date.
"This Australia Day there needs to be a massive undertaking by Australians to think deeply about the truth and the true history of this country, and it be a day of reflection and absolute recognition that Australia Day is an extremely painful day for First Australians that represents to the First Australians the usurping of Aboriginal culture, the attack on sovereignty in many ways."

Burney said she was advocating within the Labor party for a national day to celebrate Australia's Aboriginal people and history.
Meanwhile, Australian Conservatives leader Cory Bernardi has taken the time to craft a Spotify playlist, following Triple J's decision to move the Hottest 100.
After tweeting out the playlist, he became ensnared in a Twitter argument with Savage Garden's Darren Hayes, who objected to being placed on the list.
Looks like there are no comments yet.
Be the first to comment!