A university bake sale aimed at raising awareness of the gender pay gap has led to rape and death threats after a Facebook post complaining about the sale went viral.
Held as part of Feminist Week at the University of Queensland in Brisbane, Australia, the bake sale charged women and other marginalised groups less for baked goods in an attempt to highlight the wage gap between women and men.

"For the Gender Pay Gap Bake Sale, you self-identify with us to find out how much you must pay for the goods as a proportion of what you earn out of $1.00," read an explanation of the sale.
"For instance, a middle-upper class male in Australia would be charged the full $1.00 (as they earn the full wage). Comparatively, a woman who works in the legal profession, self-identifies as LGBTIQA+ and has a disability, will only be charged 64 cents (because that is the proportion she would make out of $1.00 in the professional work environment)."
Currently, the Workplace Gender Equality Agency places the gender wage gap in Australia at 17.3%, with an average earning difference of $277.70 per week.

The fundraising bake sale received national attention after a post in the Facebook group UQ Stalkerspace criticising the sale went viral.
"UQU, which is meant to represent all students, is engaging in conduct that's blatantly discriminatory against men to try and make some asinine political point," wrote student Ashley Millsteed.
"What's interesting is that this bake sale itself constitutes discrimination under both Queensland and Federal Anti-Discrimination law."
Madeleine Price, vice-president of Gender and Sexuality at the UQ Student Union, told BuzzFeed News that organisers received violent messages after news of the bake sale blew up online, including rape and death threats.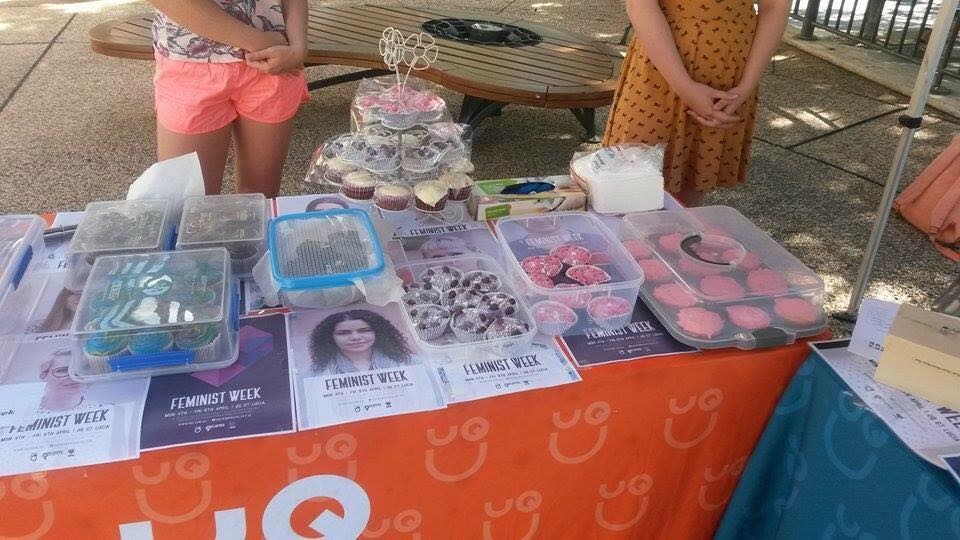 "It's an expected part of daily life at this point that if you raise your voice on the internet as a woman, as a feminist, talking about equality, there will be a backlash," she said.

"It is disappointing that none of it is constructive – it's just vile threats."
Price said most of the online outrage and vitriol came from people outside the university.
"A lot of it were direct threats against women commenting, a lot directed towards the organisers," she said. "Members of the Women's Collective had their personal accounts tracked down and threats issued through that."
However, Price said, the bake sale went ahead on Tuesday without incident – in fact, it was a raging success.
"It's very rare that keyboard warriors leave their keyboards," she said.
"We started just before 10 and we sold out by quarter past 11. We had three, four times as many baked goods as we would normally have for a campus bake sale – so quite a big rush!"

UQ chemistry student Mike Wood told BuzzFeed News he sought out the bake sale to show that he thought the fuss was "ridiculous".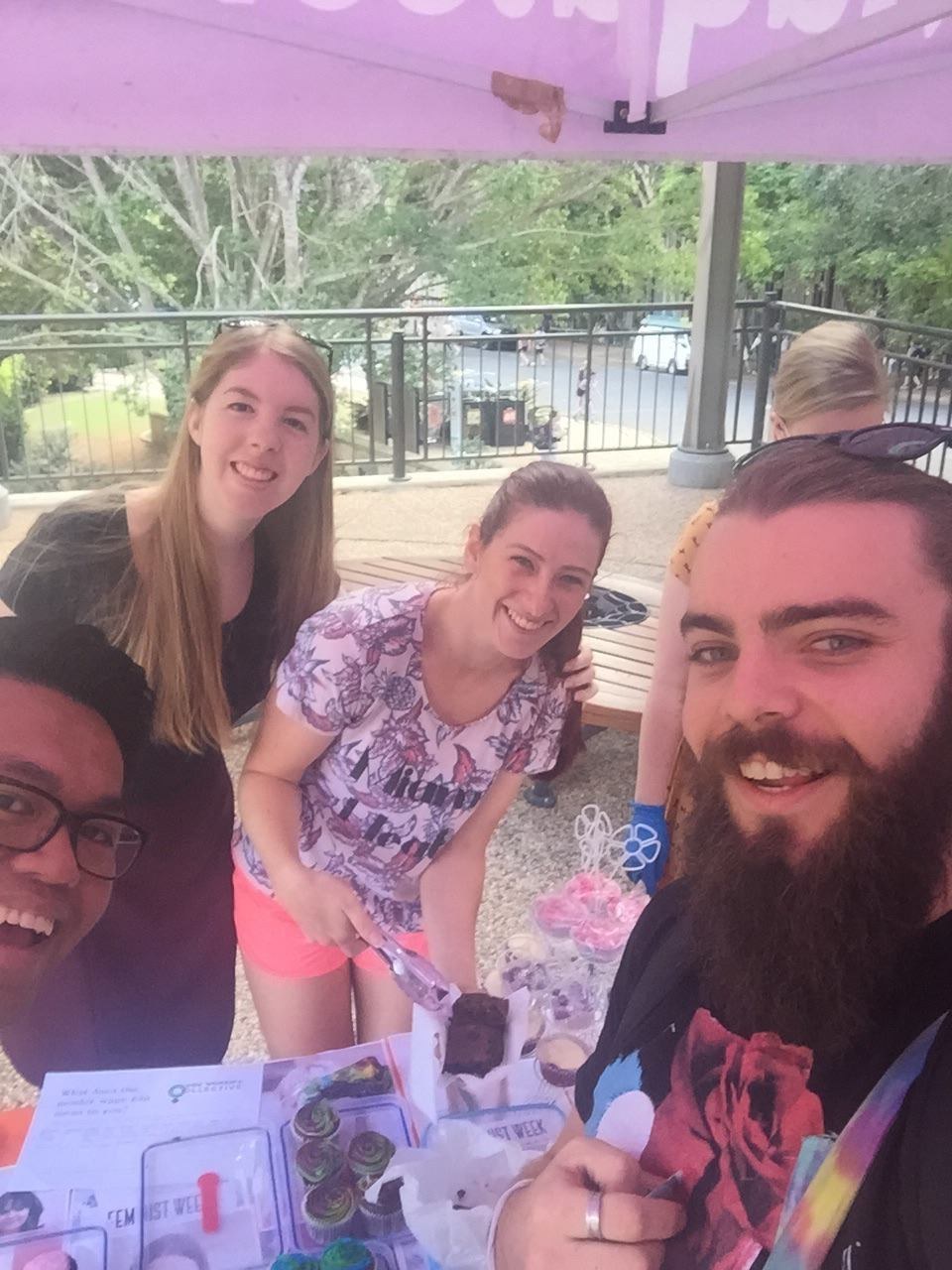 Wood bought three brownies, for himself and two friends who are also men.
"The girls who were selling them were lovely and they asked if I identified as a white male and I said yes," he said. "Which meant that I paid the price of $1 each."
Wood enjoyed his brownie and said the bake sale was "very civil and happy" while he was there – with no sign of the outrage seen online.
"That's one of the other reasons I sought it out – I wanted to see the keyboard warriors try to protest in real life," he said.

"Also, $1 for a quality brownie is good value."
Meanwhile, the UQ Stalkerspace page has been flooded with terrible bake sale memes.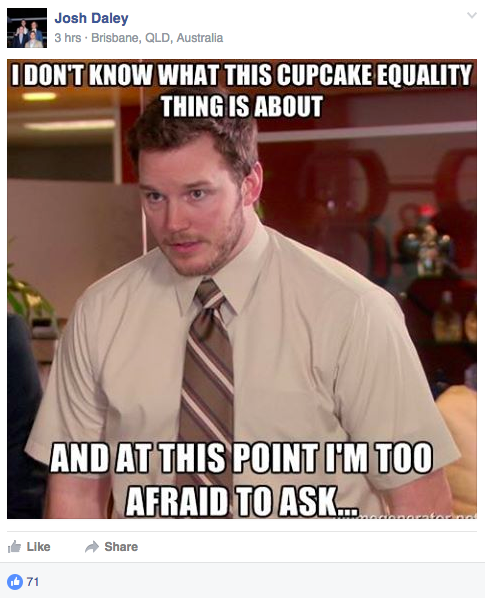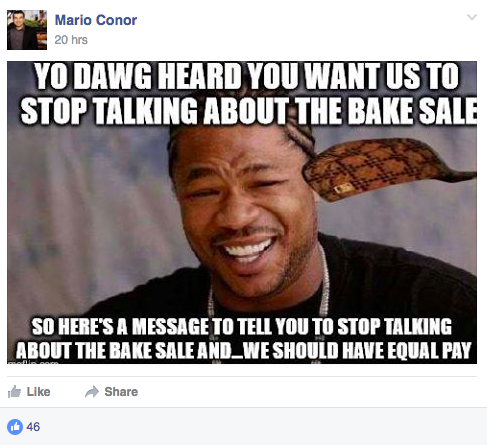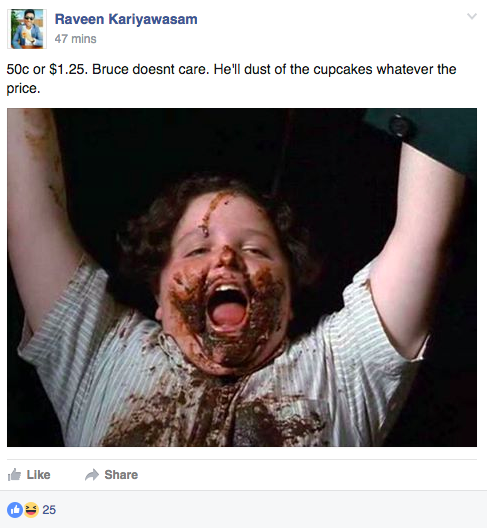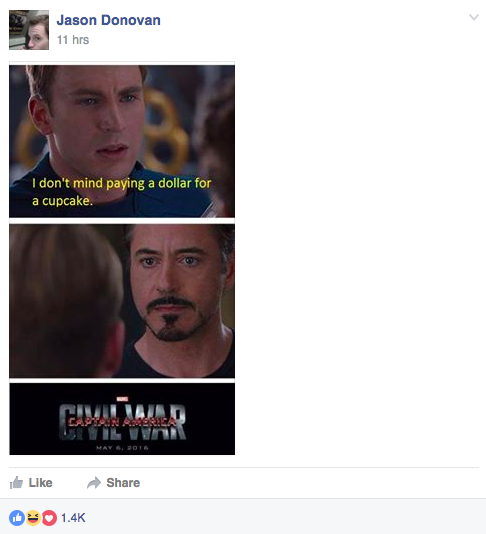 And despite all the fuss, Price said she was pleased for the opportunity to discuss the wage gap.
"I would definitely do it again," she said. "We never expected this much controversy, but it was a good way to start discussion."