These Marriage Rallies Clashed And Things Got Really Heated
"Hey Fred Nile, you're so vile! Homophobia's out of style!"
Warring rallies met in Sydney's CBD on Sunday as same-sex marriage opponents across the nation came out to support marriage as between a man and a woman.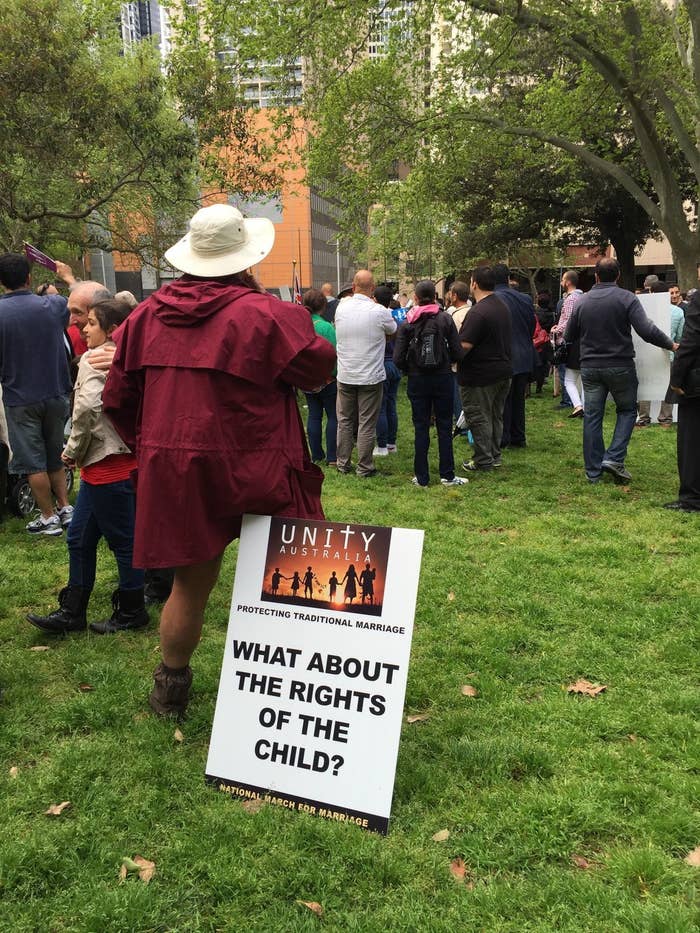 In Sydney, the protest against same-sex marriage clashed with a smaller counter protest in Belmore Park on Sunday, before marching to Martin Place.
The protest, organised by Unity Australia, swelled to about 300 people throughout the course of the afternoon.
The small counter-protest of 50 people tried to confront the Unity Australia gathering in Sydney, but the two groups were kept apart by a police line.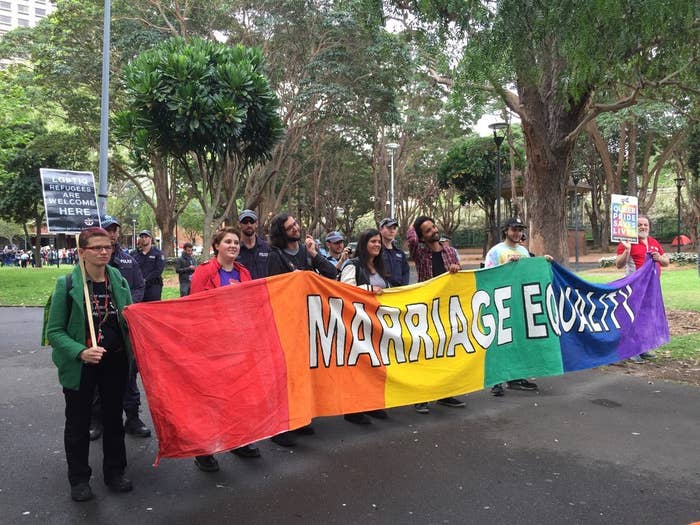 Some small scuffles broke out as people from the traditional marriage protest approached the counter protest, but they were quickly driven back by mounted police.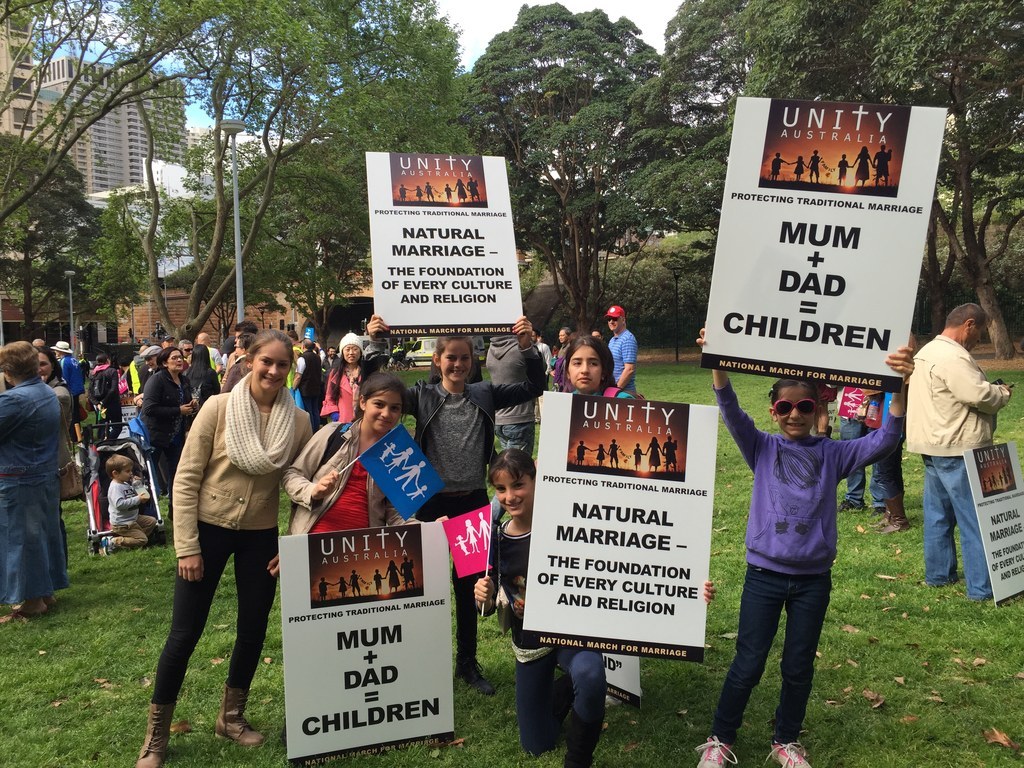 NSW Police told BuzzFeed News two people, a 23-year-old man and a 28-year-old woman, were issued with court attendance notices.
It was alleged the pair, both part of the counter protest, were using megaphones to chant "offensive language" at the protest.
The counter protest shouted several different chants - lines like "Hey Fred Nile, you're so vile! Homophobia's out of style!" and "2, 4, 6, 8, are you sure your priest is straight?"
Another chant went "I say bigot, you say fuck off! Bigot! Fuck off! Bigot! Fuck off!"
At Martin Place, the anti same-sex marriage protesters were met by a band and choir and proceeded to sing along to various Christian rock songs for about 45 minutes.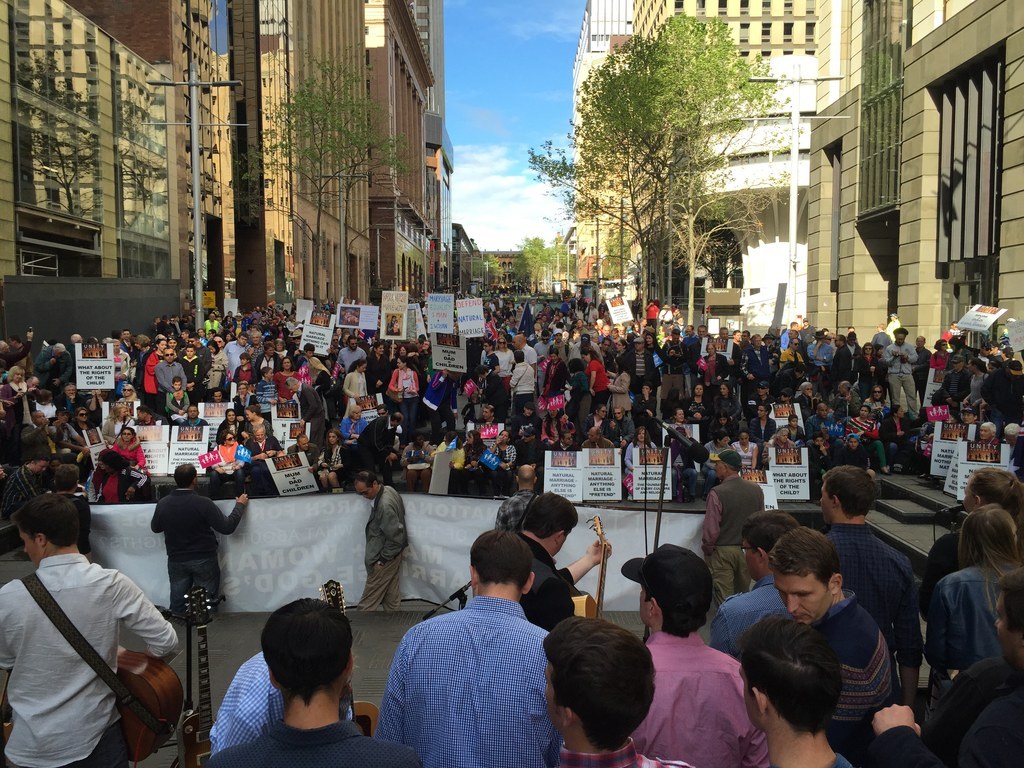 The speeches were hosted by NSW Christian Democrat Fred Nile, who introduced a host of religious leaders and others speaking about marriage.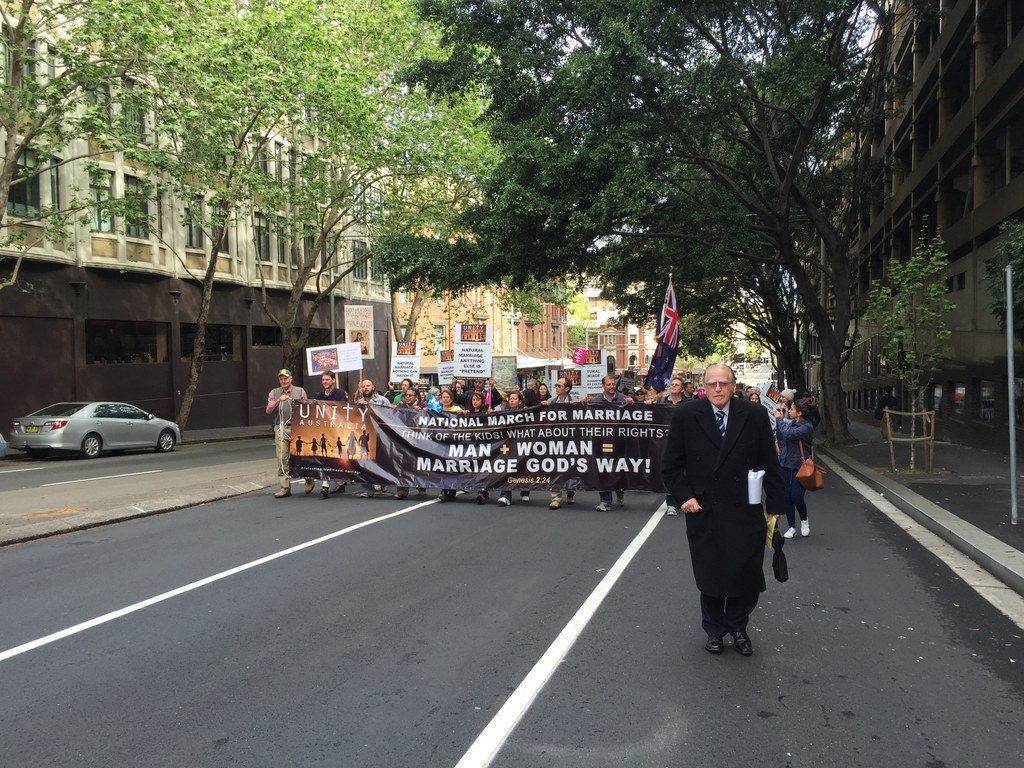 Ross Clifford, president of the NSW Council of Churches, argued that support for marriage equality was not as widespread as it seemed.
"The NSW Council of Churches affirms marriage as between a male and a female. I'm starting to wonder, who is not saying that?" Clifford asked.
"It's time for us to take the ground back! It's time for us to very clearly say, the Bible says marriage is between a male and a female, we know that's how it works, we know that's the way of nature, and we are going to win this!"
Clifford also borrowed the Asian century argument put forward by federal government senator Eric Abetz in recent months.
"None of Asia's going that way. Portugal is, who cares about Portgual? India's not, Indonesia's not, Asia's not."
The Australian Catholic Bishops Conference, who led a highly visible campaign called "Don't Mess With Marriage," sent a statement to the rally, arguing marriage has an "intrinsic, or natural meaning".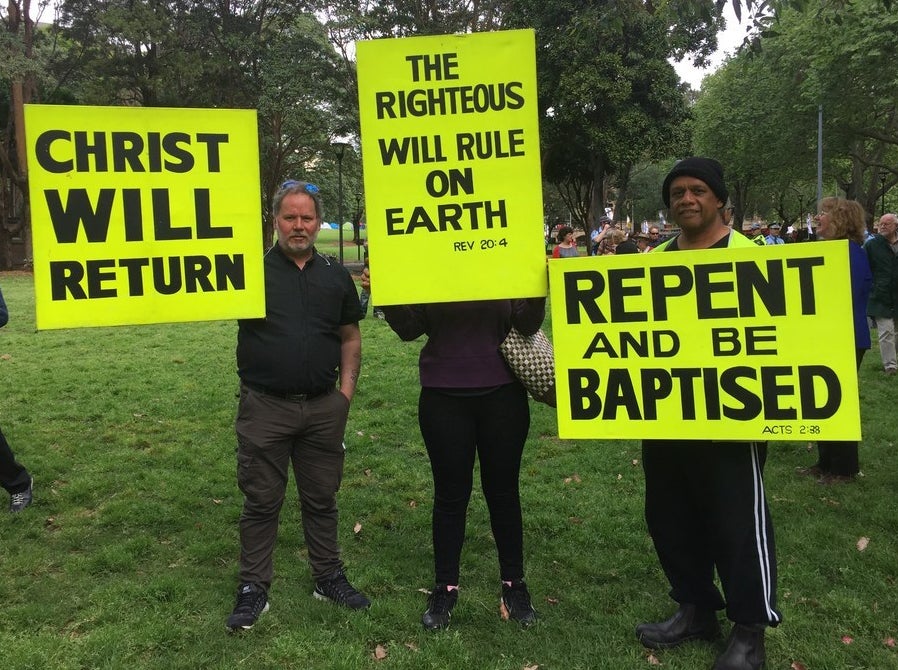 "To think that other friendships are not marriage is not to demean those other friendships or the individuals concerned, but merely to recognise that marriage is the covenant of a man and a woman to live as husband and wife exclusively and for life, and to open to the procreation of children."
"We all know people with same-sex attraction," the statement continued. "They are our brothers and sisters. Sons and daughters. Friends and neighbours. They need love and support like anyone else. But pretending their relationships are marriage is not fair or just to them."
Joe De Bruyn, the powerful head of the Shop, Distributive and Allied employers association, the largest trade union in Australia, also sent a statement, arguing same-sex marriage "tramples" on the rights of the child to the benefit of same-sex couples.
Maureen O'Brien, a Campbelltown resident, told BuzzFeed News that coming to the rally "wasn't an easy thought".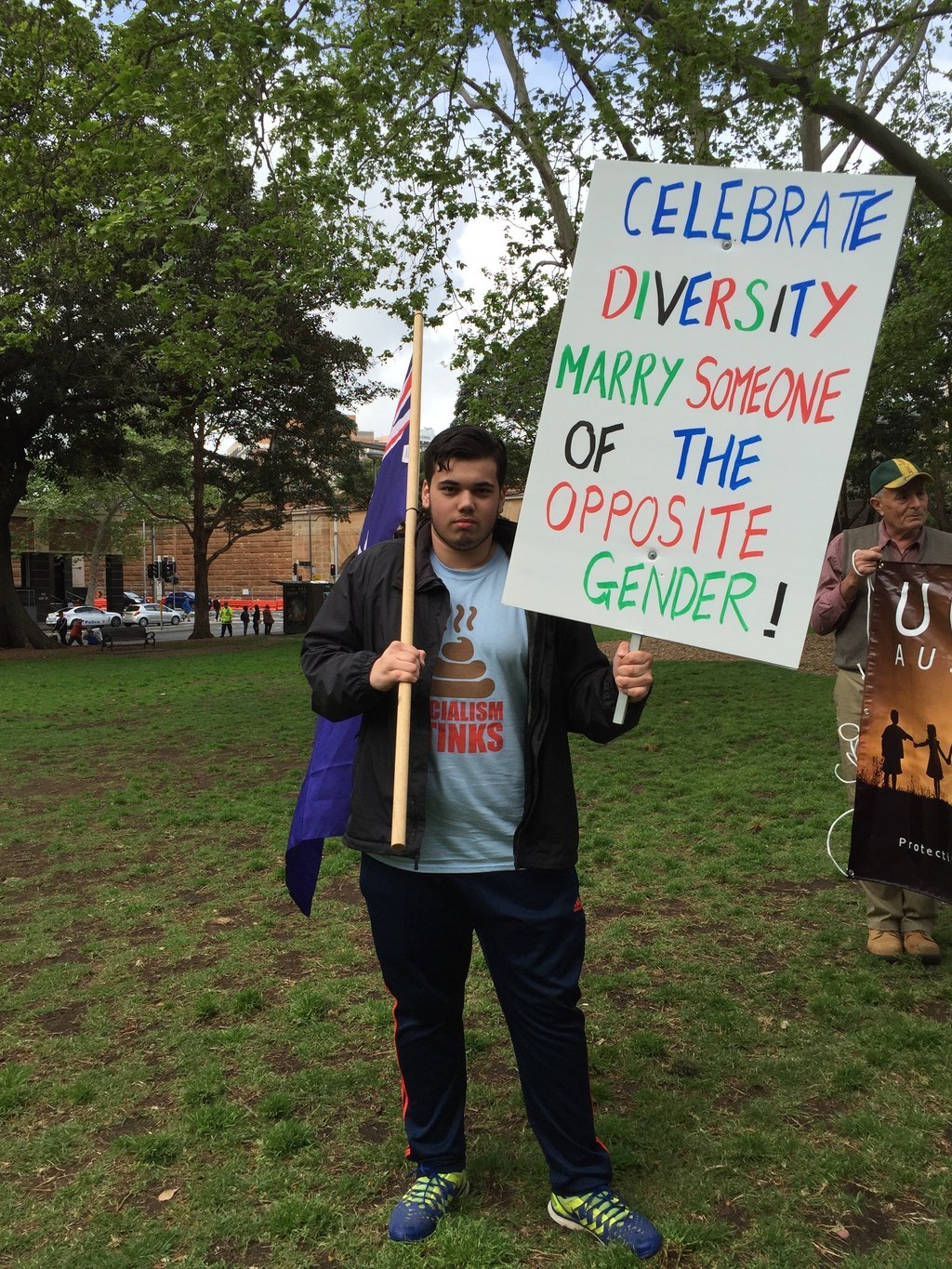 "I asked the lord whether I should do it or not, and I feel comfortable in doing it, because sooner or later we have to stand up for what we believe in."
"Any nation that allows the laws to go against God's law is going to fall," O'Brien said.
"You can't change God's laws, whether you believe them or not. It's a bit like Einstein's theory of relativity, whether you like it or not, it all falls, the apple. And God's law is the same. You cannot go against God's law. Because you suffer when you do."