Rainbow Noose Meme "Probably Too Dramatic", Says Anti-Marriage Equality Campaigner
"Probably too dramatic."
Two prominent anti-marriage equality groups have admitted a meme that showed a woman with a rainbow noose around her neck perhaps went a bit too far.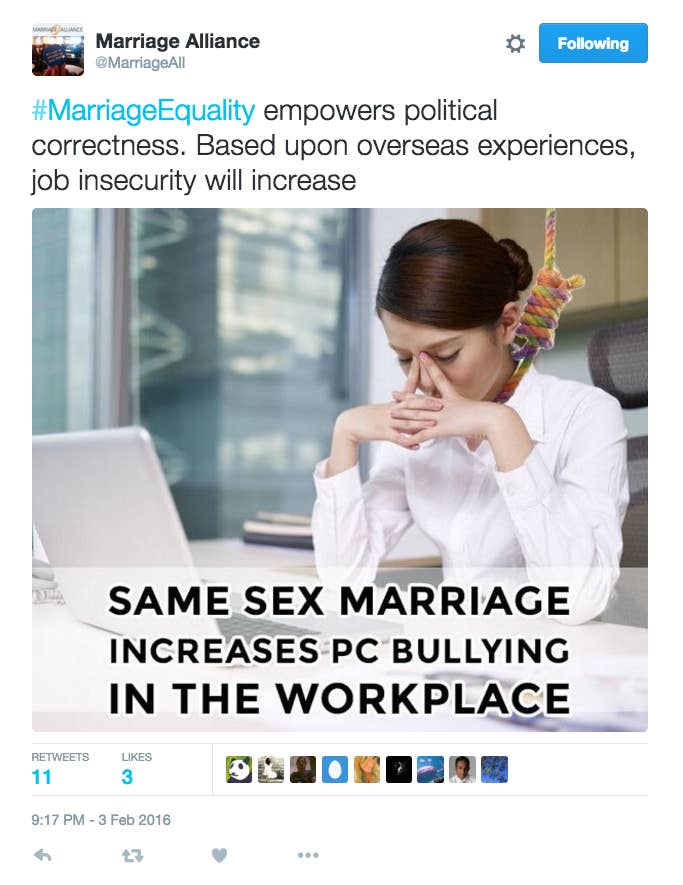 In February this year, anti same-sex marriage group Marriage Alliance posted a picture on Twitter showing a stressed woman sitting at a desk with a rainbow noose around her neck.
The tweet claimed marriage reform would lead to people who oppose same-sex marriage being bullied in the workplace, and that it would affect job security.
The "rainbow noose" meme was slammed by mental health bodies at the time, who said the imagery was harmful and promoted stigma. It was later found to have breached standards by the Advertising Standards Board.
Speaking to the ABC's Four Corners program on Monday, Marriage Alliance spokesperson Sophie York said the meme was "probably too dramatic".
"We actually took this down in the end because the feedback was that, you know, it was probably too dramatic," she said, adding that she would not personally have chosen it.
York said the incident came about because of some "workplace incidents" that had been told to Marriage Alliance.
"So for example, one guy that worked at a major bank got an email, he's a team leader in a major bank and he got an email saying it's Wear Purple day coming up, you have to wear purple, you have to make sure all your, all the employees are wearing purple. And he felt very put upon by this."
Lyle Shelton, the managing director of the Australian Christian Lobby, told the ABC the meme was "regrettable".

"I've made my views about that particular meme known to Marriage Alliance," he said.
If you need to talk to someone, you can call Lifeline Australia on 13 11 14.