This Gay Man Confronted His Politician Sister About Her Views On National TV
"What impact do you think the debate will have on gays and lesbians like me?"
Nationals senator Bridget McKenzie was faced with a question close to home on ABC's Q&A on Monday, when her gay brother asked if the government's proposed plebiscite on marriage would affect his emotional wellbeing.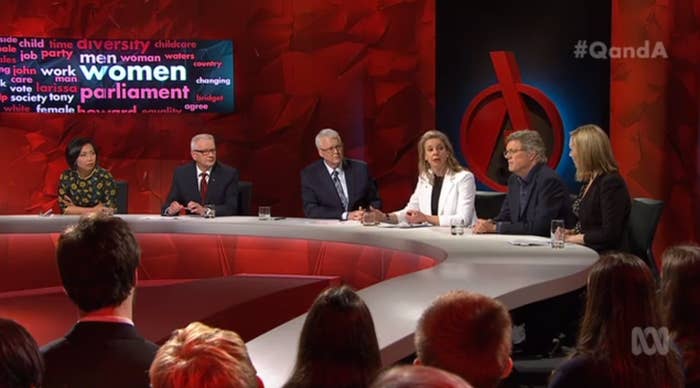 "Given the majority of parliamentarians and Australians now support marriage equality, is a $160 million plebiscite necessary, and what impact do you think the debate will have on the emotional wellbeing of gays and lesbians like me?" Alastair McKenzie asked the panel via a video question.
Bridget McKenzie, who opposes marriage equality, said the Australian people could choose to have a non-damaging debate.
"I think it will only be damaging if all of us as Australians choose to actually not respect each other's views in this particular debate," she said.
The senator said the government had taken the plebiscite to the people at the election.
"I believe it is a conscience issue, and that the definition of marriage is between a man and a woman. Polls would suggest I'm in the minority."
She also suggested a plebiscite should be binding to resolve the "tension" felt by MPs who oppose marriage equality but wish to respect the will of the Australian people.

"That's my personal view," she said.
Alastair McKenzie has previously criticised his sister's views on marriage, writing a letter to the Bendigo Advertiser in 2015 describing comments from McKenzie opposing same-sex marriage as "extremely hurtful".
"As you can understand this is deeply personal and the latest statement from my sister has been extremely hurtful," he wrote.
"Public statements promoting inequity only serve to perpetuate the isolation and marginalise those youths questioning their sexuality.