On 8 December 2007, Stephanie Bolt and Lisa Buss said their vows on a chilly Canadian morning, looking out over a magnificent Pacific Ocean vista from Tofino, a coastal hamlet on Vancouver Island.
Only five people were at the basic ceremony: the brides, a civil celebrant, and two witnesses – gay men who ran the bed and breakfast where Bolt and Buss were staying.

The celebrant sealed the deal while one of the unlikely guests took a wedding video and the other wept, moved by the union of two people he had just met.
Technically, the wedding had occurred on Bolt and Buss's honeymoon. Six weeks earlier, the Australian couple had had a commitment ceremony in Adelaide, which Bolt, who is the sister of conservative commentator Andrew Bolt, described as akin to a "conventional wedding" surrounded by family and friends.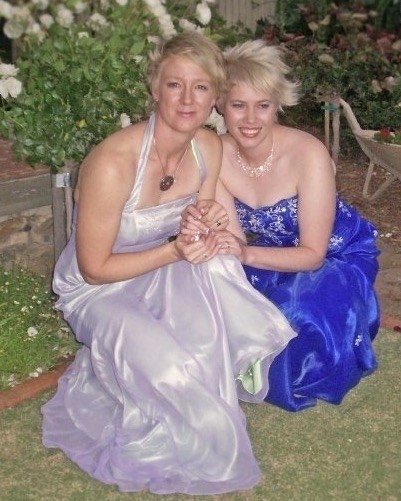 To make the marriage legally binding in Canada was important to them both. But Bolt anticipated it would feel like an administrative step after the big Australian do.
"We would say the same vows in front of a couple of strangers – I'm sure it will be lovely, you know – but I wasn't expecting to be blown away by this moment," she said. "And what surprised me the most was that I was."
That night, a young man working at the bar of a seaside restaurant asked the newlyweds: "What have you been up to today?"
Bolt replied: "Well, we've just got married!" – and the bartender's unfettered acceptance and congratulations have stayed with her since. "He said, 'My goodness, congratulations!' He gave us free Moët ... and was so heartfelt in his congratulations that I just wept, really.
"There was something woven in, in the whole thread of that experience, which was quite profound. I thought, This is what it can be like. This is how it is for so many other people, and this is what we might experience in Australia, maybe one day."
A decade later, to the moment – on the morning of 8 December 2017 – governor- general Sir Peter Cosgrove signed Australia's own same-sex marriage bill into law. And when the clock ticked over to midnight on Saturday, Bolt and Buss's marriage was finally recognised here.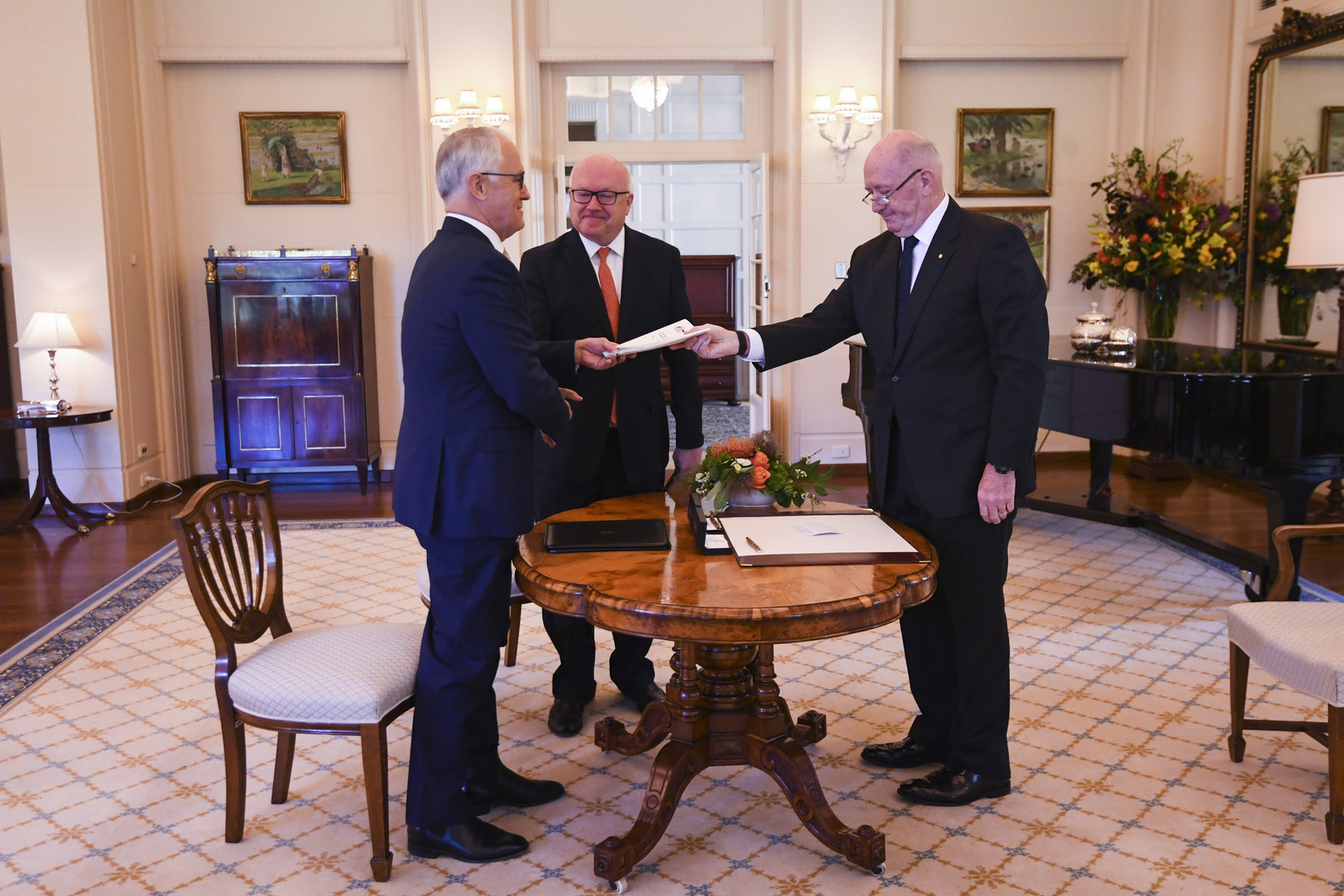 In the decade in between, Bolt and Buss had a son, who's now 7, and twins, now 4. A slew of reforms in their home state of South Australia last year corrected some inequalities for same-sex couples, automatically recognising their relationship, granting them the right to adopt, and allowing lesbians to access IVF.

But still, Bolt felt on the precipice of being married.
"My language was still very much 'partner'," she said. "I didn't think of calling Lisa my wife. It would have felt...fraudulent is a bit too strong a word. But it would have felt like I was stealing language that wasn't mine.
"I didn't want to be laughed at. I feel very accepted in my own sexuality in my community, by and large. I am old enough to feel a sense of uncertainty whenever I come out to someone, and that happens still – you meet people all the time. But that language was something that other people would look at me and go, 'What? Who?'"
Now Bolt is determined to use the word "wife" — which she said will be difficult to adjust to.
"You're married, you've got a wife," she said. "And now I do. I will use it, every time. I will not use the word 'partner' any more; I will use the word 'wife'. And that is a big psychological shift in us, in myself as a lesbian woman."
These considerations – how we think about and talk about people's spouses and families – will be among the echoing ramifications of the marriage legislation, said Bolt.
"Ten years later, it's so much about our children not having to ever diminish in any way the relationship of their parents," she said. "They can say they're married. And it's true, they are married. It's not something they've thought up. It's not just an idea, it's a fact.
"I went to my work Christmas function on Friday and I wore rainbow-coloured jewellery, and for the first time I felt like I could talk about my wife – not my partner."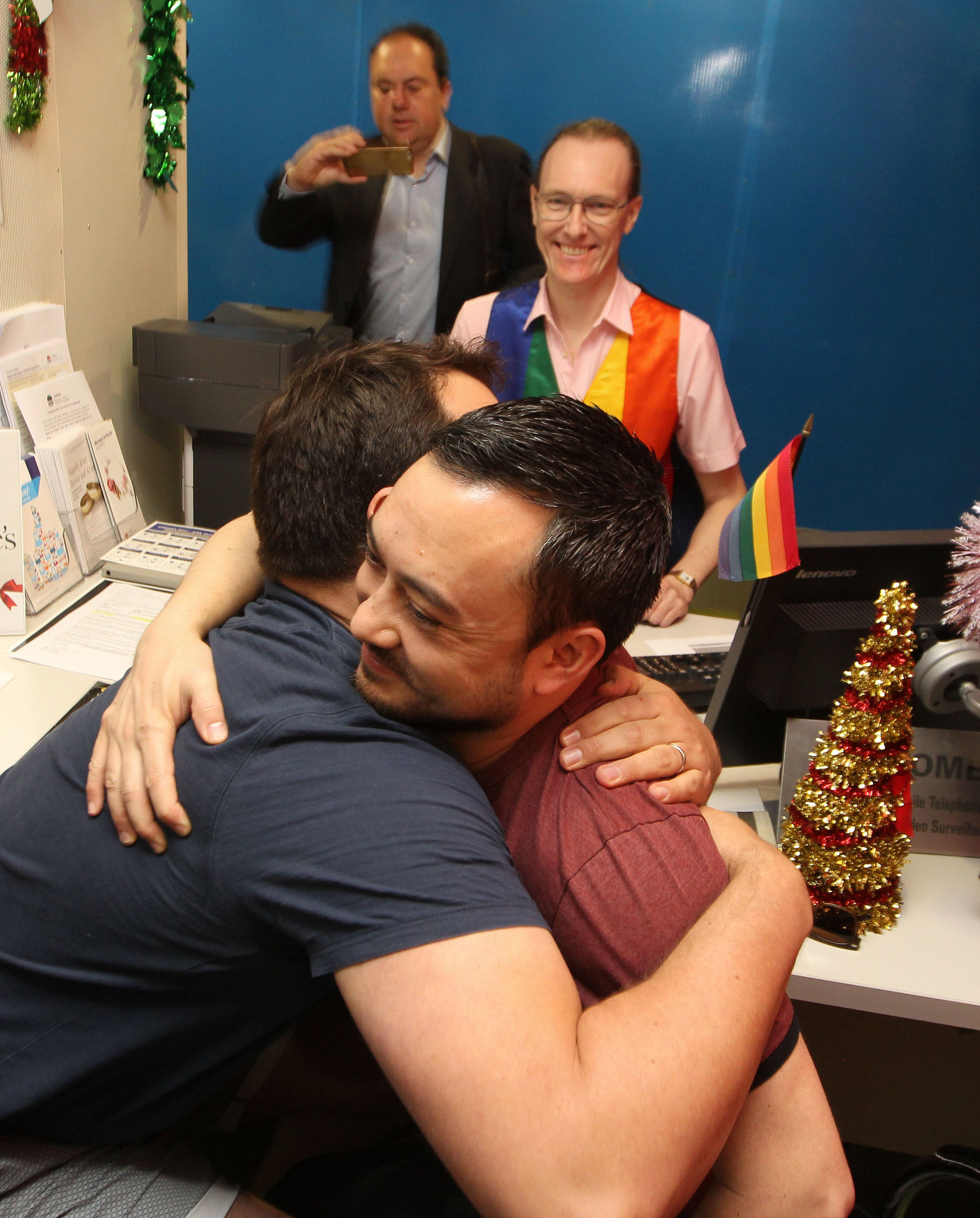 Bolt and Buss were one of thousands of couples who became automatically married in Australia when the clock ticked over to Saturday.

Meanwhile, couples who had instead waited for the Australian law to change could register their notice of intent to marry from 9 December, at least in New South Wales, where registry offices in Sydney and Parramatta took the unusual step of opening for six hours on a Saturday.
Many took advantage of the extra time. Daniel Gray-Barnett and partner Daniel Barnett signed the form at 9:10am, witnessed by marriage officer Nigel Thomas, who was resplendent in a rainbow vest as he looked over the highly administrative, yet unspeakably meaningful, proceedings.
The earliest possible same-sex wedding in Australia can happen on 9 January, just over a month after the jubilant scenes in parliament last week.

When the bill passed, on the evening of 7 December, Bolt was watching the parliamentary proceedings live on the TV at home.

Seeing all but four politicians move to one side of the House of Representatives (bar those who left the chamber to abstain) was a moment she will never forget. Like the partner/wife dilemma, it transcended the legality of marriage, becoming a stunning statement of acceptance.
"You go through so many scenarios on a weekly basis when you're meeting new people, and you're determined to be out and very honest about who you are, but you still feel that little churn in your tummy about what sort of reaction you're going to get, even though 95% of them are positive and unfettered in their acceptance," Bolt said.
"That sent such a strong message. I will never forget that."
Buss wasn't watching with her. They had been together, but as the debate dragged on, Buss left her wife and kids on the couch in order to make it to a Thursday night game of nine-a-side footy.

But when the "extraordinary" vote happened, the couple got in touch on the phone to celebrate what Australia had finally achieved, 10 years on from their cold morning in Canada.
"It was very emotional," Bolt said. "Lisa came home later that evening with champagne and said, 'We're really married now.'"