Thousands of people gathered in Sydney on Saturday morning in one of the first "Women's March" events happening around the globe to coincide with Donald Trump's inauguration.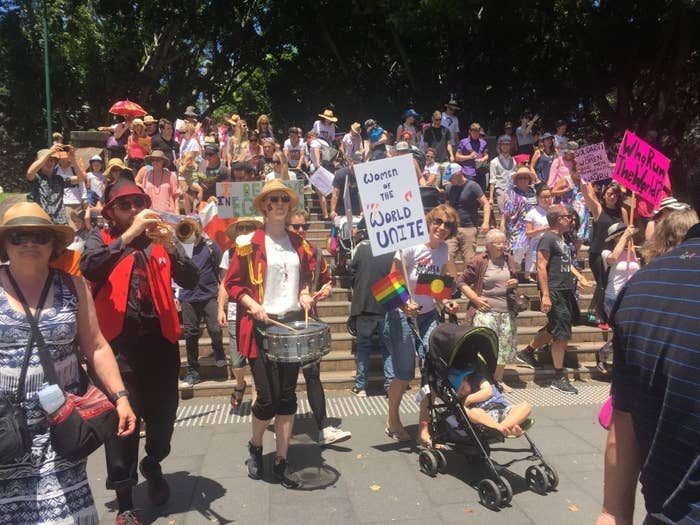 In Hyde Park, a sea of signs bobbed above thousands of heads, invoking everything from Trump's infamous "grab them by the pussy" comment to fictional pop culture icons Dora the Explorer and Princess Leia. Feminist throwback Rosie the Riveter made a few appearances, as did the Grumpy Cat meme.
The crowd was just as colourful. One woman wore tampon earrings, complete with sparkly red "blood". Several prams had signs on them, one reading "My mum is a nasty woman!" Another marcher, dressed in a bra and skirt, had "Still not asking for it" proudly emblazoned across her chest.
A resolute crowd parked in the summer sun in front of the podium to listen to speakers, including Indigenous elder and activist Jenny Munro, lawyer and Muslim community advocate Mariam Veiszadeh, and journalist Tracey Spicer.

Others dwelled on the fringes, silently holding up signs, keeping kids entertained and making last-minute alterations to hand-crafted signs, ready to march from Hyde Park to Martin Place in the centre of the city.
BuzzFeed News asked several marchers why they were there.
Emily Wolfinger told BuzzFeed News she had "reached a boiling point" over her frustrations about how women and other minorities are treated.

"I'm angry, and I want to find a way to express that," she said. "When I heard about the march today, I thought, 'excellent'. I can come together with like-minded people, in a safe space, to express my legitimate anger in a public way."

Her partner, Kumar Satchi, said he believed women and other minorities were in the same battle for equality.
"We're all in the same fight. A win for women's equality is a win for all other minority rights. I truly believe that," he said.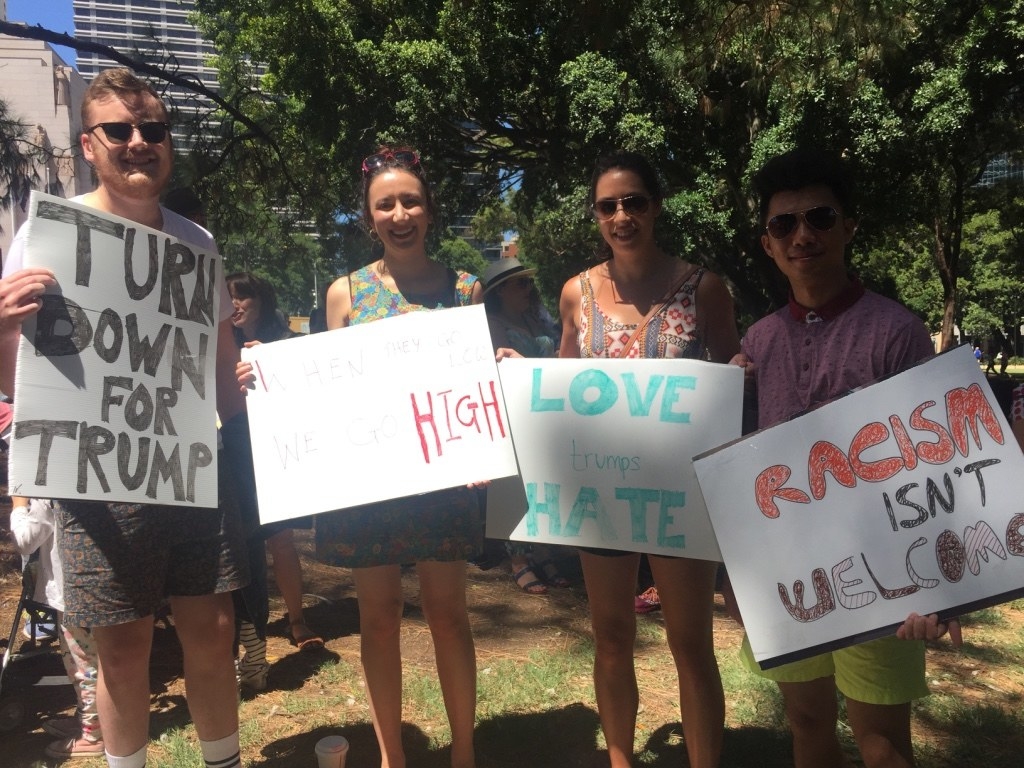 Kate Coleman, who was at the march with three friends, all clutching makeshift signs, is an American who has called Australia home for almost two years.

She's worried about the effect a Trump presidency may have on her friends back home.
"This is my way of supporting them from afar," she said. "I have some cousins who flew to DC [for the city's Women's March]. I have friends marching in Ohio, friends marching in California."
Her colleague Ella Bickley, along with several other women who spoke to BuzzFeed News, mentioned abortion rights as an issue of great concern for Australian women.
"We're still not where we need to be," Bickley said. "Things like abortion, laws around that. We still don't have legal abortion in many states here. It's an issue we don't talk about as much, but it's still an important issue."
In Australia, abortion is still in the criminal code in two states: Queensland and New South Wales.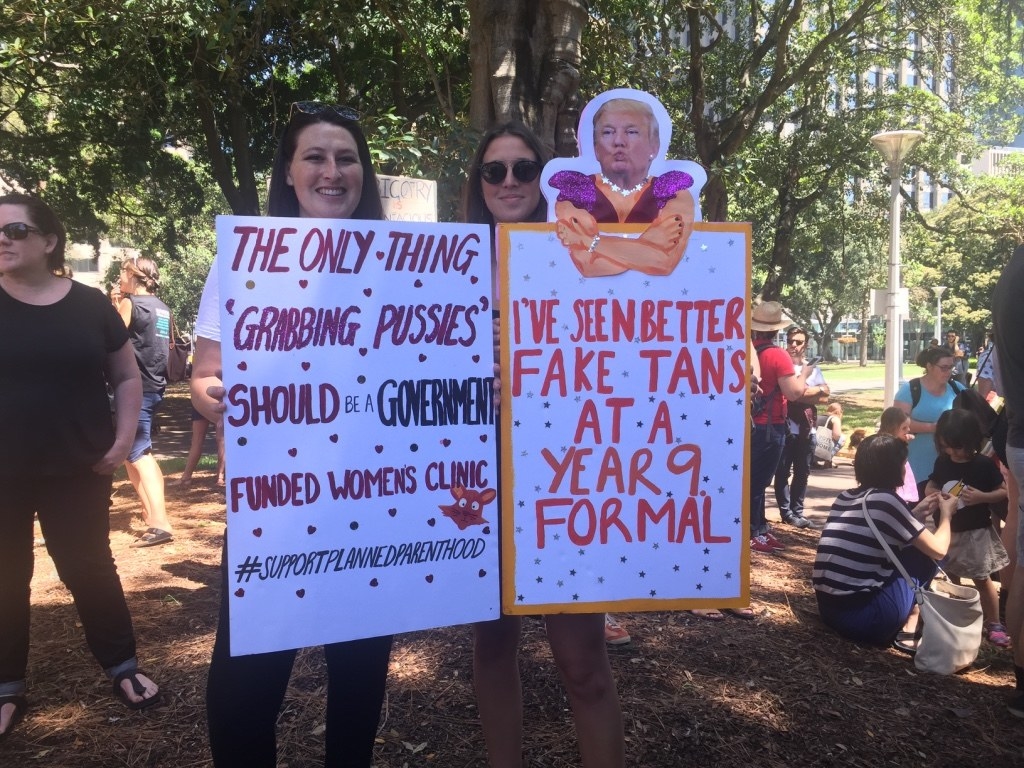 Geena, 23, said the stigma around abortion has to go.

"The ability to have the right to choose what happens with your body, especially in cases such as rape, that shouldn't even be a discussion. It should be how it is," she said.
Her friend Cailie, 20, said that women's representation in government was essential to preserving women's rights.
"How are men meant to make a decision about women's bodies when they have no understanding of that experience?" she said.
Caitlin Vincent, a mother of three from the Blue Mountains, west of Sydney, said she feels a responsibility to her daughters to speak up about women's rights.

"I'm concerned about basic things. Pay equality, the right to a safe and legal abortion, freedom from violence, domestic violence," Vincent said. "I don't think we have the option to stay silent anymore."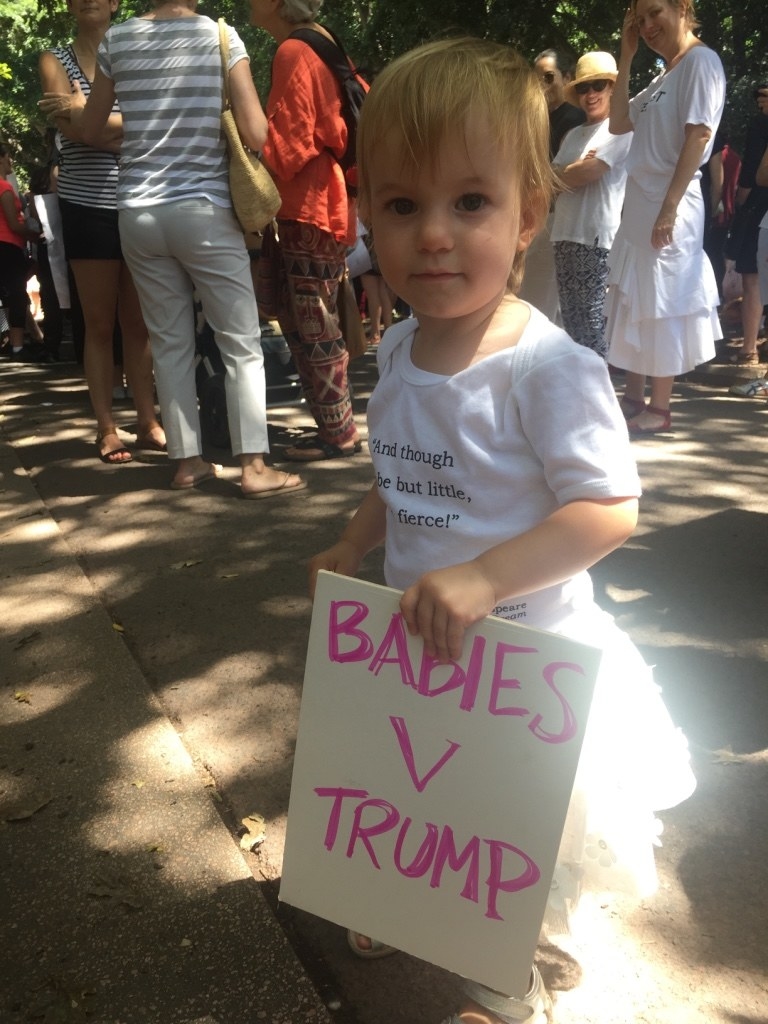 Sarah Gilbert's toddler, brandishing a "Babies v. Trump" sign, was a hit with the crowd. "She's become a mega-star!" Gilbert joked, watching people snap pictures of her daughter.

Gilbert told BuzzFeed News she was marching to show solidarity with women in the United States, who had "every reason to fear what a Trump presidency might look like for them".
"For American women, a lot of their rights – abortion rights, the voting rights for women of colour – a lot of the rights we take for granted here are a lot more fragile over there," she said.
GIlbert added that she was there to support those fighting for women's rights in Australia, too.
"I don't do much, so [I'm here] to support activists in the community who work really hard to support women who live on Nauru, Indigenous women, women who are subject to domestic violence. To show my solidarity with those women who work on behalf of all of us."
After an hour of speeches – and kids starting to ask their parents "How long are we staying here?" – the march set off towards Martin Place, where passers-by stopped to cheer and take photographs, and cars honked horns at the procession.
"A lot of reasons, I think, for the march," said one onlooker to another, remarking upon the multitude of signs.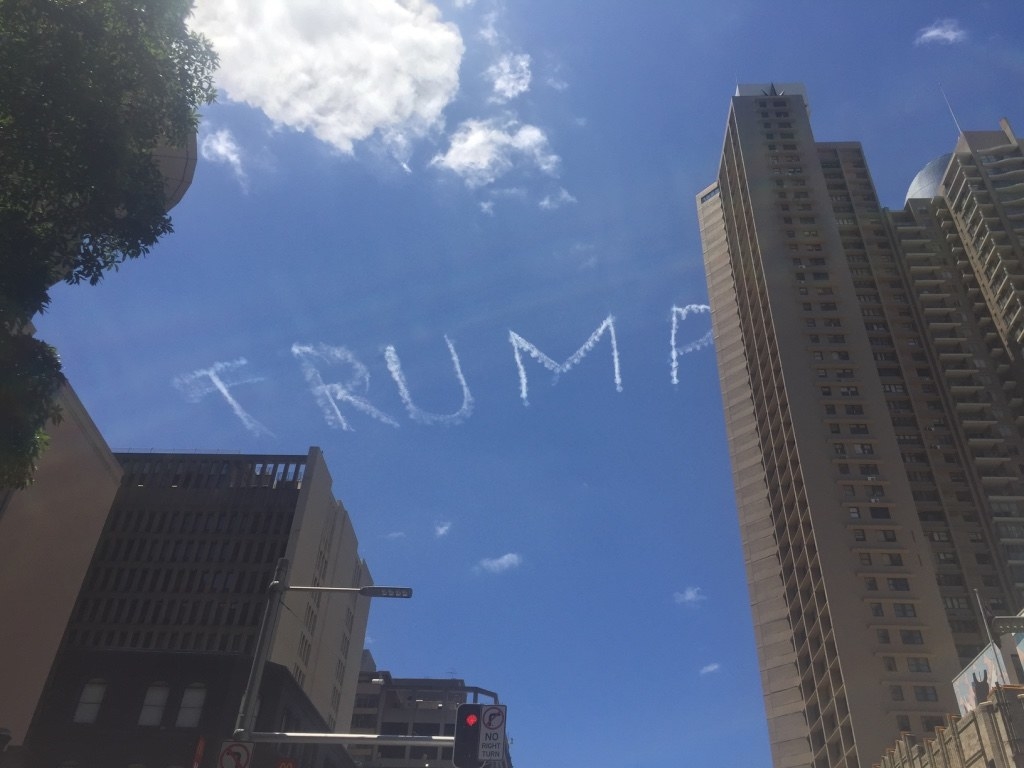 As thousands snaked through the Sydney high-rises, a skywriter wrote "TRUMP" in enormous letters over Sydney. The message was met with a chant: "Women, united, will never be defeated!"

When the procession ambled through the Pitt Street Mall, a group of young teenagers danced on a bench and got the crowd singing: "We're women and we're proud, we're here, we're loud!"
A group of about 25 Trump supporters from the Party for Freedom and Alt-Right Australia also set up in Martin Place, around 100 metres from the Women's March, trading insults with passers-by.

"Sucked in, losers," yelled one woman brandishing an "Aussies for Trump" sign. "Fuck Trump!" a woman yelled back as a ring of police separated the two groups.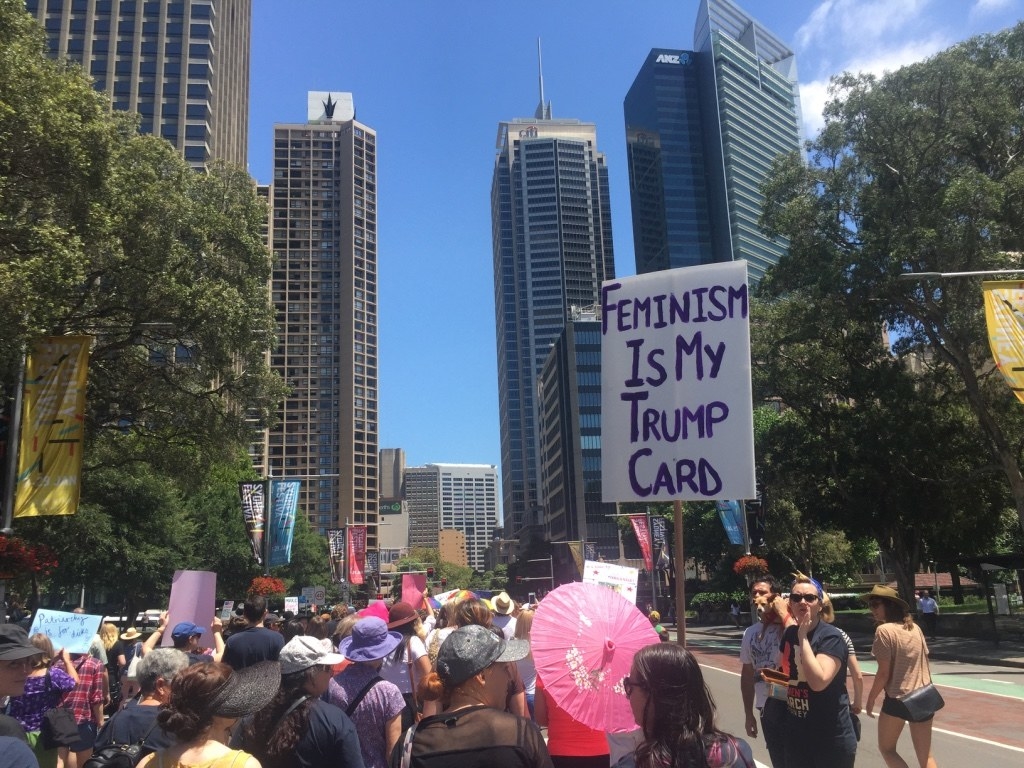 But overwhelmingly, the message of the Sydney Women's March was a peaceful one: solidarity, strength, and a determination to keep speaking out.

Teenagers Erika D'Souza and Zoe Victoria had travelled to the Women's March from Blacktown, in Sydney's west.
They didn't come with signs – rather, just to "see what everyone's thinking" about women's rights. But watching the crowd left them with much food for thought.
"[The people at the march] don't seem worried that it's holding them back, they've come out here to say 'No, it's not holding us back, we're going to get this done, no matter what'," D'Souza said.

"It's not like we're complaining about what is happening to us. Instead, it's like, 'We're not going to let you do what you want to do to us without our permission'," Victoria added.
"Yeah!" replied D'Souza. "Don't get mad, get even."