Students Were Handed A "Merry Christmas" Package Containing An Anti-LGBT Message
Exclusive: A stranger boarded a bus in regional Victoria to hand out the gift-wrapped flyers.
Students on a public school bus in regional Victoria have been handed gift-wrapped flyers railing against marriage equality and the Safe Schools Coalition.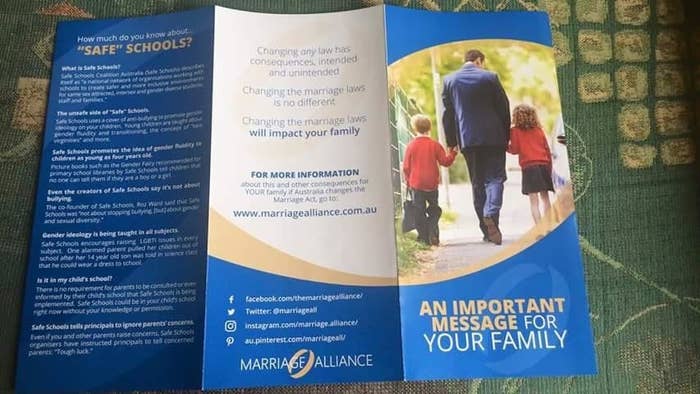 The flyers, made by the anti-marriage equality group Marriage Alliance, argue against the Safe Schools Coalition's LGBTI anti-bullying program, linking it to marriage equality.

Natalie*, the older sister of a 13-year-old student at Kyabram P-12 College, told BuzzFeed News her younger brother had been handed a gift-wrapped flyer as he got off his school bus stop on Wednesday morning.
"Somebody got [on] the schoolbus yesterday at the school with gift-wrapped packages with these Marriage Alliance flyers in them," she said.
The man got on the bus and handed them to the bus driver, who then gave them to students.
The 13-year-old student took the package home to his parents, who opened it to find a Marriage Alliance flyer inside.
"They thought, 'Oh, it's wrapped, it must be a Christmas card or something,' and it wasn't."
On the front of the package there was a note that read, 'To the wonderful people who care for me every day – Merry Christmas!"
"It was clearly intended to go to the parents or the guardians," Natalie said.

Natalie said that it would have been fine to hand out the flyers down the street, but she did not think it was appropriate to give out gift-wrapped flyers to kids.
"If you're going to hand out something like that, hand it out in the school newsletter or something... Don't gift-wrap it."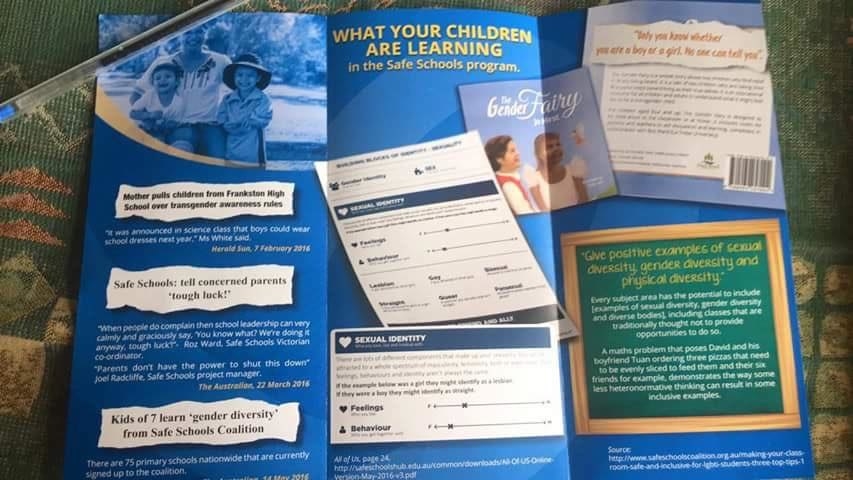 School principal Stuart Bott told BuzzFeed News the flyers did not reflect the stance of the school and that he is in contact with families who received the flyer.

"We're apologising to our families that this incident occurred," he said.

The school is currently working through addressing how the man was able to board the bus. Bott estimated between 50 and 100 flyers may have been sent home.
UPDATE
Marriage Alliance has responded to the incident, saying it does not condone or endorse the action.
"Marriage Alliance has been made aware that a volunteer was recently handing out flyers on buses in Victoria," a spokesperson said in a statement to BuzzFeed News.
"This was not an action that was part of a campaign from Marriage Alliance and is not condoned or endorsed by Marriage Alliance. This action was taken by an individual who has since been contacted regarding this matter."
* Name changed to protect anonymity.