"I Lost My Soulmate": The Family Of A Man Slain By His "White Witch" Ex-Wife Has Spoken Out
"I know the pain we feel at losing Brett is the price of deep love. He always said 'I love you, mum' when he called and I can still hear him say it now."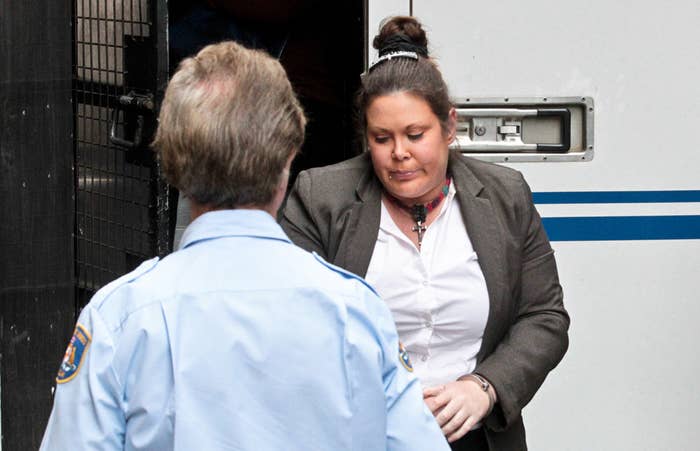 The family of a man who was brutally slain by his "pagan white witch" ex-wife have told a court of the "overwhelming pain" of not only losing their loved one, but also seeing his name "smeared" during his killer's trial.
Raquel Hutchison, 40, and her fiancé Paul Wilkinson, killed her ex-husband Brett Walker* in 2014 when they lured him back to his St Marys house, where he was ambushed, and household cleaner Exit Mould was used to subdue him.
Walker died from asphyxia arising from multiple injuries he suffered in the beating – most of them inflicted by Hutchison – including a broken nose, injuries likely inflicted by a low-voltage taser or cattle prod, and a cord used as a ligature around his neck.

After the attack the couple put Walker's body in the boot of Wilkinson's car and dumped him near Wisemans Ferry north of Sydney.
Hutchison and Wilkinson were accused of murdering Walker, but both were found not guilty of murder and guilty of manslaughter in the New South Wales Supreme Court earlier this month.
At Hutchison's sentencing hearing on Thursday, Walker's mother Helen said her son had been passionate about helping the underprivileged and fighting injustice since he was a teenager volunteering in a soup kitchen.
"Raquel, you were at the receiving end of his help many times," Helen said, noting that her son had helped Hutchison take steps that led to the eventual conviction of the person who had sexually abused her when she was a child.
"He had hoped that in taking these steps he would help you heal that aspect of your past life," she told Hutchison.
Helen described the "interminable and overwhelming pain" of losing her son, saying: "It is now with us forever and is part of our family history.
"I know the pain we feel at losing Brett is the price of deep love. He always said 'I love you, mum' when he called and I can still hear him say it now."
Hutchison was found guilty of manslaughter rather than murder as she was acting in "excessive defence" of young relatives who, she argued at trial, she believed were being abused by Walker.
It was possible Hutchison believed her conduct was necessary to protect the children, but her response was "unreasonable and disproportionate", the court found.
She was also found to be substantially impaired at the time by PTSD, borderline personality disorder and depression.
Justice Peter Hamill did not make, and was not required or asked to make, a finding on the allegations of abuse in his judgement. He noted several people who testified at trial had "raised no concerns" about Walker and that he was "supported and remembered by a loving family".
Walker's father Ian told the court he had been deeply affected by the "cavalier" manner in which his son's name had been "denigrated and his reputation smeared" at trial. He said he believed his son was killed because Hutchison was jealous, rather than over the alleged abuse.
"To lose a son at 41 for some imagined impropriety just makes no sense. It is my opinion Raquel took the action she did based on jealousy over the loving relationship between Brett and [his partner] Maryam."
Helen also said part of her "unbearable situation" had been "attempts to make [Brett], the victim, into the perpetrator".
The trial had also traversed the esoteric, with Hamill finding it was likely Walker had involved children in his interest in paranormal activity, including demonology and ghost hunting, which concerned Hutchison.

Hamill also noted Hutchison's own "dalliance with mystical things", saying there was evidence she considered herself to be a "pagan white witch" and that she had, with a child, made a voodoo doll of Mr Walker that she stuck pins in and later burned.
Ian said "much was made" of Brett's involvement in ghost hunting, but there was "nothing sinister" about his son's interest. He remembered his son as a dedicated carer and loving relative who jokingly referred to people as "Boofhead".
"When he died, the family purchased a star in a faraway galaxy and called it Boofhead Brett," he said.
A young relative who witnessed the brutal killing and cannot be identified told the court that he had great difficulty working through his emotions and suffered flashbacks, worry, and trouble trusting others.
"I feel sometimes like it's a horror movie and I'm stuck in the middle of it," he said. "I find it hard with my friends because they don't understand what I've been through."
Walker's partner at the time he died, Maryam Montagami, said when she met Walker she was "emotionally and financially broken".
"I was homeless and living in my car … Brett gave me hope when there was none," she said. "I lost my soulmate. The only person that showed me true love. I felt that somebody had put their hands inside my chest and pulled my heart out. Once again, I was broken."
Hutchison's barrister Belinda Rigg SC said that although there were "terrible features" about the crime, that a balanced sentence also needed to take into account the "extraordinarily unusual" circumstances surrounding the manslaughter.
Hutchison's mental illness was "pivotal" to the crime and Hamill should take it into account in sentencing, Rigg said.
She also said Hutchison had a "reasonable" chance of rehabilitation and noted there were some people in the community who had indicated a willingness to support her after her release.
"Her mental health problems are serious and require great assistance," Rigg said. "That will hopefully be forthcoming."
Crown prosecutor Margaret Cuneen SC said it was a "very serious aggravating factor" that Hutchison had chosen to commit the offence in front of a child.
Cuneen said "very great harm" had been done to two young relatives in particular by Walker's manslaughter.
Domestic violence is recognised as a "terrible scourge" in society and the community "begs the courts" to give significant weight in particular to the harm inflicted on children in domestic homicides, she said.
Both barristers agreed Hutchison was entitled to a 25% discount on her sentence because she had offered to plead guilty to manslaughter in 2015.
Hutchison will be sentenced on Jan. 31, 2019.
Her co-accused Wilkinson will face a separate sentencing hearing in February 2019.
*Name have been changed for legal reasons.