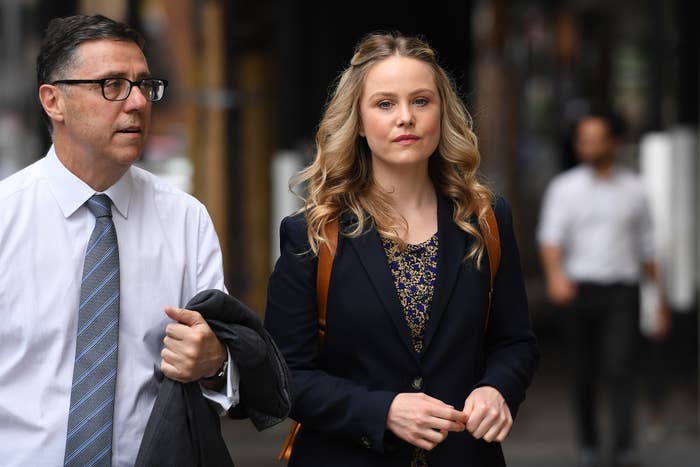 Yes, there was an imbalance of power between film star Geoffrey Rush and rising actor Eryn Jean Norvill — but not one that stopped her from making complaints or that forced her to praise Rush in public, a court has heard.

On the second day of the appeal against Rush's $2.9 million defamation win over a Sydney newspaper, his barrister Bret Walker SC confronted the issue of power, prompted by a question from the only female judge to assess the Rush case so far.
Rush was awarded the sum earlier this year by Justice Michael Wigney, after he sued the Daily Telegraph for publishing articles accusing him of inappropriate behaviour towards a then-unnamed younger female co-star in a 2015-16 stage production of King Lear.
Norvill, who did not participate in the story, was excoriated in Wigney's judgement as an unreliable witness who was prone to exaggeration. One of the Telegraph's grounds of appeal is that Wigney was wrong to dismiss her evidence.
Justice Jacqueline Gleeson asked on Monday if the judgement had addressed at all the imbalance of power in the relationship between Rush and Norvill.
The barrister for the Telegraph's publisher Nationwide News, Tom Blackburn SC, told her "No, His Honour doesn't address that at all". He later revised his answer to yes, but said it wasn't considered in relation to whether Norvill should have been believed.

On Tuesday, Walker said "of course there is a difference", explained by their respective ages, in the CVs of Rush and Norvill.
He said it had been addressed in the judgement: "Care should be taken not, as it were, to cry down the achievements at a relatively young age of Miss Norvill, but it's plain there is a fairly considerable disparity and His Honour doesn't hesitate to point that out."
But, he added, "what we don't find" in the judgement is any suggestion — from Norvill, Rush or any other witness — that the power imbalance worked to stop Norvill from complaining about Rush's alleged behaviour, or that it made her say nice things about him.
"We don't find anything that points to a disparity of power in effect so cowing of Miss Norvill that [there were not on] occasions what I'll call complaints made, but also that she felt compelled to make statements of a benevolent and praising kind about Mr Rush himself," he said.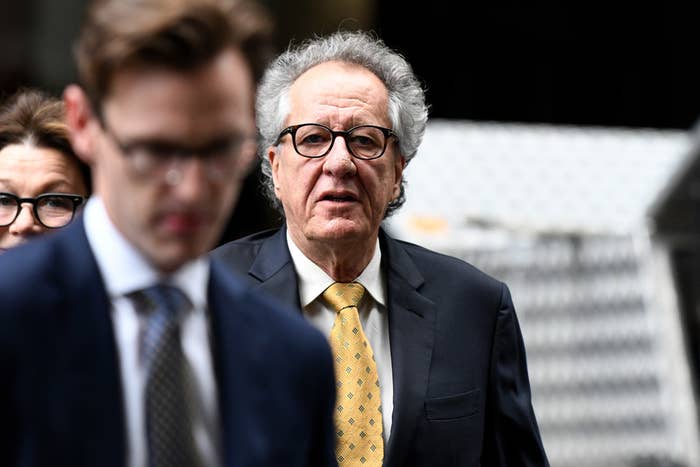 Walker referred to texts between Rush and Norvill prior to the King Lear production, saying that Wigney had found "It would appear [they] got on well and were on familiar terms".
"Now that doesn't preclude one being more powerful in the sense of having more clout in an industry than the other. But it certainly is not indicative of someone under the thumb of another," he said.
Blackburn replied that Norvill had in fact given two "very pointed" examples of a power imbalance at play when she was on the stand.
He quoted her telling the court in November 2018: "I was at the bottom of the rung in terms of the hierarchy and Geoffrey was definitely at the top. That was in play."
"I have to be honest and say that his power was intimidating and his person. I wanted to be a part of his world and we were also playing father and daughter. I felt that if I was to speak or reprimand the behaviour I might jeopardise – I would jeopardise that relationship, the tenderness, the closeness, the love that is needed in those two roles."

Walker also described the Telegraph's argument that Rush had not properly proved that he was unable to work because of the articles as "an over-egged pudding".
He said Wigney had taken care in considering a range of evidence to find that Rush hadn't worked because of the articles, and that it would have in fact been an error for Wigney to have not reached that conclusion.
He also hit back at Blackburn's description of Rush having "delivered lines" in the witness box, dismissively calling the comment a "zinger".
"Was there ever put to Mr Rush the proposition that as a skilled and eminent actor who takes on roles foreign to his real character, who pretends to be that which he is not and to utter words that are fiction rather than fact, where was it ever put to him that that was what he was perpetrating in the witness box under oath?" Walker asked. "It was never done."
The Telegraph is appealing the decision on a number of grounds, including that Wigney was mistaken to dismiss Norvill's evidence, calculated excessive general damages, and should not have allowed in two expert reports.
The newspaper had also intended to argue there had been an apprehension of bias — that Wigney had appeared to prefer Rush's side throughout the trial — but unexpectedly dropped the argument on Monday at 3.40pm.
Justice Gleeson, Justice Richard White and Justice Michael Wheelahan will hand down their decision at a later date.