Australian journalist Peter Greste is "sickened" by the decision of an Egyptian court to sentence him and his Al Jazeera colleagues Mohammed Fahmy and Baher Mohamed to prison.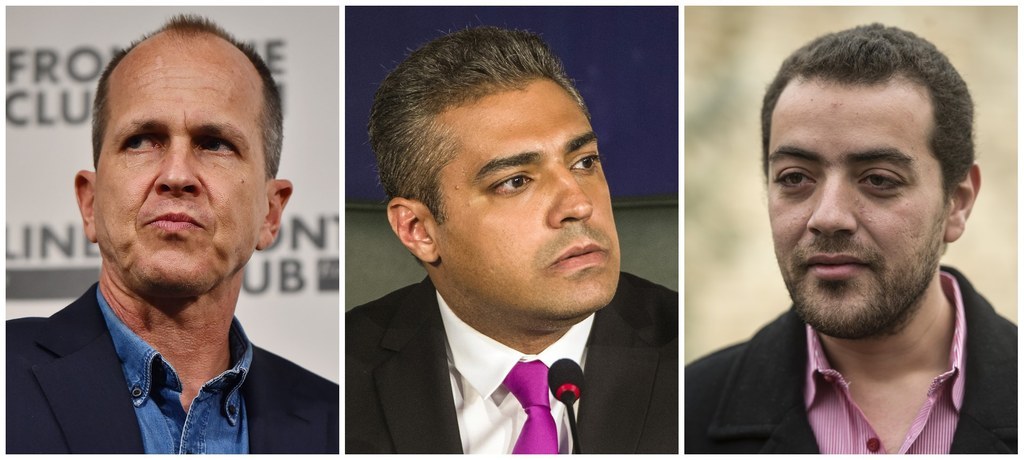 The decision, handed down in Cairo on Saturday, sentenced Greste and Fahmy to three years, and Mohamed to three years and six months in prison.
They were convicted of operating without a proper press licence and broadcasting content that was "harmful to Egypt".
Greste, who was deported to Australia in February, was sentenced in absentia. Fahmy, a Canadian citizen and Mohamed, who is Egyptian, were present for the sentencing.
In a press conference on Sunday, Greste said he was "sick to [his] stomach" at the ruling, and called on Egyptian president Abdel Fattah al-Sisi to issue a pardon.
Greste expressed great concern for his colleagues Fahmy and Mohamed.
"This is an injustice, this is a form of suffering that they and their families are having to go through," he said.
Saturday's conviction and sentencing is the second time Greste, Fahmy and Mohamed have undergone trial in Egypt. They were initially detained in 2013 and spent over a year in prison before having their convictions overturned. However, a re-trial was ordered for this year.
Greste questioned the validity of the ruling, saying the court failed to present evidence that supported the allegations against the trio in either trial.
He was unable to defend himself in court as he was deported to Australia and the court did not permit him to appear via video link.
Earlier on Sunday, Greste told the ABC that the verdict had a "chilling effect" on journalism in Egypt, and that he was deeply concerned for his colleagues.
"The only conclusion we can come to, in the absence of any evidence, is that this verdict was politically motivated which flies in the face of everything that the Egyptian authorities have ever said," said Greste.
"They've always insisted that the courts are politically independent... that they are free of political influence and yet we see a verdict like this. It's really quite staggering."
Prominent human rights lawyer Amal Clooney, who acted for Fahmy, criticised the legitimacy of the verdict and said it sent a "dangerous message".
"Every single third party that has looked at this case from the beginning, from the UN, to the EU, to the US, the UK, everyone has said there is no evidence to sustain any of the charges," she said to reporters outside the Cairo court on Saturday.
"It sends a message that journalists can be locked up for simply doing their job, for telling the truth and reporting the news," she said. "And it sends a dangerous message that there are judges in Egypt who will allow their courts to become instruments of political repression and propaganda."
Clooney appealed to Egyptian president Abdel Fattah el-Sisi, saying he had previously indicated he was against the charges being brought, and could issue a pardon to the journalists.
Minister for foreign affairs Julie Bishop said she was "dismayed" by the decision.
"This is a distressing outcome for Mr Greste, his family and supporters," she said.
"I have spoken with Mr Greste today and reaffirmed that I will continue to pursue all diplomatic avenues with my Egyptian counterpart to clear his name."
Bishop's sentiments were echoed by Labor and the Greens.